Interior design trends in the new decade continue to evolve towards creating the most comfortable environment for a person, using natural materials, comfortable furniture, pastel shades and much more.
Interiors decorated in a particular style are gradually fading into the background, now personalization prevails. The transformation of living spaces is in fashion, according to lifestyle and personal comfort. Since most people live and work in an urbanized environment, the tangible sense of a forest or meadow is lost. Therefore, many of us seek to find peace in the midst of the noise, creating well-articulated functional design concepts. Hence the need for natural elements: traditional wood, stone, an abundance of light sources, groups of green plants – everything that reminds of nature.
Interior style trends
Personal space design can usually tell a lot about a person. For a modern person, his home is a real source of strength and inspiration, so the atmosphere should fully correspond to the lifestyle of the owners. In the new decade, an individual approach will be more and more in demand in residential interiors. Convenience and practicality also play an important role – the functional content of the interior should not only reflect the mood and character of the owners, but also improve their lifestyle.
Ecostyle
Residents of a metropolis often lack natural aesthetics. Ecostyle returns to nature and characterizes biophilia – love for nature. Most people strive to create the most calm and comfortable interior for themselves, while using as many sources of natural light as possible (large windows, many mirrors), sometimes choosing light garden furniture instead of massive furniture for living rooms and dining rooms, decorating living spaces with indoor plants. You can form a green oasis at home with the help of stabilized moss and large living plants, and complement their composition in an unusual way – using tropical prints in the decor. The selected materials for decoration are of natural origin – wood, stone, bamboo, concrete or cork. Ecostyle welcomes such decorative details as wicker or earthenware, stone coasters, textiles made of linen, silk or wool. In other words, aesthetic consumption implies that we care where, by whom and how the chair or glass is produced.
Mixing styles
In other words, when creating a modern style in the interior, rely on eclecticism. In this case, you no longer need to search for many identical chairs or cutlery. We need a design not for everyone, but for everyone. The organization of the living space is designed to combine different styles, textures and time. Oval shapes and flowing lines became the favorites of this trend. Eclecticism remains one of the most difficult styles, since when creating an interior it is sometimes difficult to maintain the line between contrast and the chaotic use of different design elements that at first glance do not go well with each other. Here, it is best to follow the rule of combining no more than 3 styles. It is better to observe a sense of proportion than to overload your interior and then experience psychological discomfort. Natural materials also remain companions of the style, light shades and functional furnishings. Furniture is selected ergonomic, compact size.
Minimalism
Minimalism in interior design focuses on maximum simplicity and clarity. People no longer seek to fill their home with unnecessary things. Only the necessary remains in the interior, which gives the development of that very aesthetics. Such an interior can also be enriched with unusual finds, for example, sculptural elements. But still, the peculiarity of this style lies in the use of restrained natural materials that give a sense of space and light. For example, the decoration of the walls can be completely different: from textured plaster to wallpapering. It is important and correct to choose a color combination without a pattern – white is suitable as a base, and graphic gray can serve as a contrast. You can also combine glass, concrete or natural stone with a pronounced relief.
Neoclassic
Refined classic lines of the interior are always in trend. Neoclassicism, in comparison with classical design, is more laconic, restrained and harmoniously combined with innovative approaches to creating functional housing. The interiors of the apartments in the neoclassical style are also luxurious, graceful with a moderate amount of furniture and decor. This style is ideal for large apartments with high ceilings and plenty of natural light. Neoclassicism implies a combination of calm tones (or playing on contrast), correct symmetrical proportions, the use of noble materials for decoration, an abundance of mirrors, graceful details and shapes, but not too lush and pretentious.
Color trends in the interior
The first thing that forms the image of an interior is color. Today, fashion is accompanied by a sense of lightness, which is also transmitted to our living spaces. Modern technology, cultural and economic factors, as well as environmental problems affect our lives. Paint experts offer a variety of colors, from light pinks and field shades to deep blues and greens. But the most important thought remains the desire to strengthen man's love for nature, forest and ocean. The key colors for the 2022 season are the following shades:
Pink color in the interior is not losing ground. For the beginning of the next decade, the shade was not chosen by chance, it is intended to symbolize a new dawn of thinking and a rosy perspective with the maximum optimistic outlook on the future. In the interior, the shade looks great as a total dominant, use it to paint walls, floors or ceilings, and you can also complement other colors in the form of accents. The most interesting combination, according to world designers, is the combination of this shade with last year's favorite – cold-gray Metropolitan Gray.
Back to Nature has a positive effect on our well-being, the shade can reduce stress, enhance creativity and improve problem-solving skills. This meadow-inspired color is often combined with pink in modern interiors. This tandem is ideal for decorating a living room – the shades create a lively, effective combination. Using trendy green to decorate the living room, designers transform the space in different ways: paint the walls or add pink or green furniture as accents. If you have the idea that such a range might bore you, then we recommend taking a neutral base as a basis, in the future this will help to complement the interior only with decor in fashionable colors, which can be easily replaced over time.
One of the colors of the year is mint green – a delicate pastel color that truly brings freshness and lightness to the interior, and in combination with more complex shades makes the space livelier. The psychological direction of the chosen shade is associated with the emotional contradiction of modern people in the era of high technology. According to world designers, the mint color in the design of living spaces saturates with oxygen, contributes to the creation of harmony, tranquility, tranquility, and also combines science and technology with nature. The tint can be used, for example, as an alternative to white – for walls, ceilings or to highlight certain surfaces.
Deep dark green also continues to be popular for a wide variety of interiors. Designers are united by the idea that fine art should shine in everyday interiors. The dense green color is able to create a calm, natural atmosphere in the apartment, and due to its versatility, it is actually suitable for decorating any room. Especially, if you combine this color with metal elements, the interior will be filled with a certain drama. As an ideal partner to the shade, you can consider a vertical print in the form of wallpaper with English floral designs of primroses, chrysanthemums and roses. Also, a trendy solution is the combination of this shade with mint tones.
The deep, catchy blue is inspired by travel and history. At the same time, the shade brings it closer to nature, the sea and the sky, creating extraordinary tranquility in every interior. Most designers suggest combining it with shiny textured wall surfaces or decor items.
The deep and down-to-earth shade of yellow has been an absolute hit for several years now. It goes well with bright colors as well as more saturated dark colors. In the design of spaces, the shade is well revealed as a basic one – in the form of an unobtrusive background, or it can take on the role of an accent. The best solution would be to apply it to decorate a living room or kitchen, while maintaining it with a combination of calm light shades and balancing the furniture with chocolate or gray color. It is also possible to use a mustard shade in the interior in an absolutely unobtrusive way – in the form of upholstered furniture or a separate decor. Furniture upholstery in this color looks aristocratic and gives the space some charm. Perhaps,
A sophisticated shade of base blue is also popular this year. It is versatile, but at the same time, it can be bright and creative. Cool blue-gray goes well with warm beige tones, as well as pinks, yellows, greens, whites and dark woods. It looks good in traditional and modern classics, vintage style and is suitable both for painting walls and as upholstery or curtains.
The shade of black currant looks great as both the main and accent tone in the interior. He is able to correctly reveal the attractiveness of pink, as well as give depth to purple. It is best to use it to decorate a kitchen or living room, but in the bedroom, limit yourself to small decor items. The effect of enveloping and comfort is guaranteed.
This shade can be described as a muted version of orange tones, which is both upbeat and uplifting. The terracotta shade will be a real alternative to yellow, and can also complement it. It goes equally well with a calm gray, green or beige color. It looks interesting in the restrained interior of the living room, for example, if a leather sofa or armchairs are made in it, a certain note of optimism and a correctly placed accent immediately arises. It is quite possible for them to paint the interior of a children's room, hallway or kitchen, as well as use it in ceramics.
Material trends
In the use of finishing materials, preference remains in favor of natural ones. World designers also recommend, when decorating spaces, to pay maximum attention to soft fabrics and other materials that you want to touch. Tactility is another trend in the interiors of the new decade.
Marble, concrete or terrazzodo not give up positions – materials are used both for decoration and in interior elements. Marble is increasingly used as a floor covering, when decorating window sills, fireplaces. In the kitchen, countertops can be made from it, which, in addition to an impeccable appearance, have high wear resistance. Terrazzo is a material that is made from fragments of marble, stone, glass, bonded with lime. It is actively used in the creation of countertops in the kitchen, suitable for finishing furniture. Concrete is used in bathrooms – sinks and fonts treated with impregnation immediately acquire an aesthetic unusual look.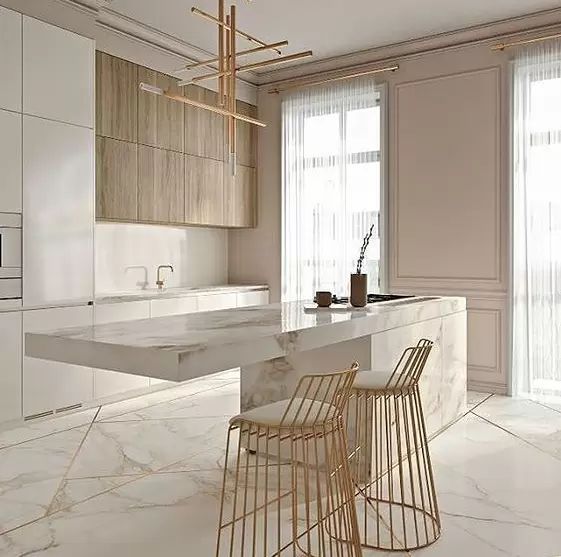 Natural wood is the second most popular natural material for finishing living spaces. Among the most popular species are ash, oak, walnut. Wood is suitable both for finishing various surfaces and for furniture. Recently, modern residential interiors have been showing us wood as wall panels that have been successfully integrated into various styles, such as eco-style.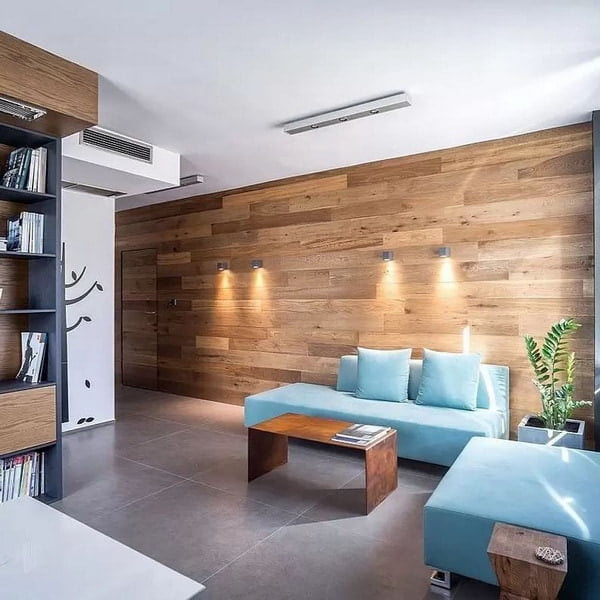 Glass in interiors is becoming more and more popular due to its "reflective" characteristics. This material is able to add light and space to the room, while not reducing the functionality of the interior atmosphere. In small rooms, it is worth using mirrors, which will visually increase the area.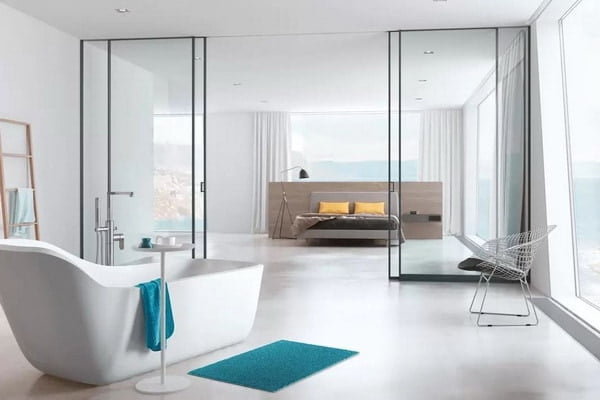 Metal is truly valuable in the design of kitchens and bathrooms. The popular style of the interior – eclecticism – mixed and materials. The mix of silver, gold and copper now shows us the interior of a new level, while revealing its depth and volume. Warm tones and wooden elements will help to combine metals of different colors, which will slightly "melt" the excess cold. Such a strange, at first glance, combination will help to correctly zone the spaces.
The fabric is selected as a multifunctional, lightweight material that will help transform and complement different interior spaces. The trend is suede, velvet, an abundance of fringes and tassels in the decor. Natural fibers – silk, high quality cotton, linen or wool are also a priority, as they are generally suitable for almost any style. Perhaps the most important accent and at the same time an artistic object in any interior is a carpet. It can be very different, depending on the concept of the interior, both in an oriental style, and in a more futuristic or neutral base.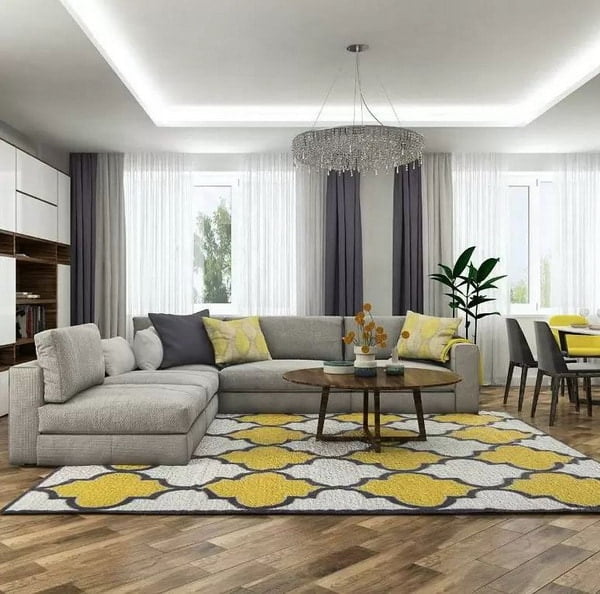 Furniture trends
The furniture arrangement is considered the finishing touch on the finish line of any interior. In 2022, the concept of elegance and simplicity is gaining relevance – do not overload your interior with unnecessary furniture and useless things. A thoughtful minimum of interior objects will ultimately provide a feeling of free space in the premises. When choosing furniture, you should first of all take into account your lifestyle, your own concepts of beauty and comfort.
Furniture made of glass or transparent plasticas relevant as last season. Tables, shelves, shelves or bedside tables made of them are distinguished by some lightness, thereby not overloading the space. Vintage furniture is still trending too. When choosing such a set, you should take into account the color, shape, and functionality that suits you – the furniture should be compact in size in order to take up a minimum of space.
The art trend continues to flourish in the new season. The use of antique and rare things with character, history and soul in interiors is arousing more and more interest in modern people. The presence of paintings, unique figurines, old books, tableware collections, textile sets in apartments, as a rule, always decorate the space in a special way.
Floating structures, chandeliers and lamps add a special note to the interiors of 2022. Such an illusion of flight is created in different ways: with the help of supports, magnets hidden from the eyes, the use of LED lamps mounted in the base of the bed or headboard, table or shelf.
Expert opinion
The new decade is a time of change for mix and variety. Style in its "pure" form is encountered less and less, individualism is a trend. The apartment becomes a mirror, a combination of memories, views and habits. Emotional design is what most people want to see. Therefore, the main style of interior trends 2022 can be called eclecticism. Freedom in everything does not allow you to focus on one current. If it is Scandinavian style, minimalism, classics and art deco, where there are a lot of overloaded details, all this may get bored after a couple of years. Therefore, an eclectic approach helps to combine times and textures. Nowadays, it is no longer strange to see new furniture and items from a flea market, as well as items brought from travels in the same interior. Such a mix is perceived with special interest, things add expressiveness and modulate the space, where it will be more pleasant to be. Eclecticism is good because it can be very different, both "naive" design, simple in form, and "brilliant" postmodern. Thus, different generations and people's lifestyles are connected.
Simple and understandable minimalism is expanding and gradually gives way to a minimalist interior filled with some kind of philosophy. That is, there is a certain transformation of minimalism into eclecticism. Usually it is a laconic, calm interior in restrained colors with a few bright accents. Mixing digital technology, a shabby book and a simple table, "smart technology" and "grandma's" plaid – all this is fresh eclecticism. It tells us about individualization, the desire for which was formed as a result of the appearance of a large number of identical interiors – loft or scandi, stamped pieces of furniture. Now the mood has changed to personalization of its space and purity of forms.
As for finishing materials, the trend for wood remains timeless in interior design, it is always relevant. You can combine a tree of completely different shapes and sizes, while individual elements can also be framed with it. It is interesting to supplement the natural material with metals. The key metals for decoration are gold, brass and bronze. All shades of marble and travertine will also continue to delight us and will be used both in the decoration of the bathroom and, for example, on the floor in the bedroom. Simple materials such as concrete, plywood, cork and rattan will contrast with the pomp of metal and marble. The move is tried and tested, but very modern. The terrazzo trend is no longer at the height of fashion, but it will still hold its position in 2022.
Color combinations in interior design are welcome, ranging from complex, rich and dramatic tones to soothing pastels. Also, two palettes – dark and light – will always find their adherents. The institutes of color dictate their versions to us, but at the same time they are all united by one main idea – to connect man with nature. Therefore, among the popular shades of the 2022 season, you can see: classic blue, rich dark green, deep sea shade, delicate green, sky blue, pale pink, positive lemonade shade.
In furniture trends, as in decoration, a lot of attention is paid to environmental friendliness, which implies a preference for higher quality and durable items, as well as furniture made from recycled materials and recyclable materials. The abundance of mass-market goods has given rise to interest in collaborations, a kind of collections that come out in small series, emphasizing the elitism and originality of the product. Modern man no longer likes to meet the same thing on every corner. Individuality is a trend. If we talk about functionality, then the priority is the correct organization of storage, built-in furniture, everything that does not allow cluttering the interior, while not losing comfort. To organize the space, modular furniture is used, which simultaneously performs several functions and takes up little space. These are shelves, sofas, armchairs, pedestals, forming convenient links to use. The fashion for rounded furniture has been holding on for several years. Bay window sofas, cozy armchairs, consoles, poufs, tables have become common use of flowing lines and serve as inspiration from the 1970s.