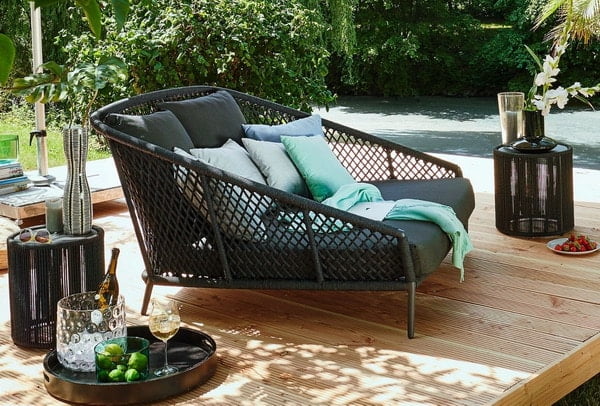 Natural materials or modern metals? Pastel lightness or rich autumn colors? Straightforward design or playful flourishes? The answer is: anything is possible in 2022! In this article, we will show you which garden furniture trends 2022 have accompanied us through this season.
Recycled materials in a new shine
Global issues such as scarcity of resources and climate change dominate public discourse like never before and also influence things that surround us every day. When buying garden furniture, more emphasis is placed on sustainability and environmental awareness.
More and more garden furniture is therefore made from recycled materials. Above all, tropical wood such as teak or acacia, which is extracted from old boats and houses and has been recycled in the garden furniture sector for several years. But plastic has also recently experienced a "green renaissance" in the world of garden furniture: Seat shells or even complete lounge furniture are made from plastic collected and processed from land and sea.
So if you want to focus on more sustainability when designing your terrace, you will find furniture made from recycled raw materials more and more often in the coming season.
Industrial style now also outdoors
The furnishing trend "Industrial Style" has been finding its way into the indoor area for a long time, in 2022 you will discover the simplicity and simple design language, which is inspired by the look of old warehouses, factories and other industrial buildings, also on the terrace.
The interplay of metal and wood is typically industrial – the materials are often kept in what is known as the "used look". Scratches and nicks therefore contribute to the authenticity of the look. In the coming season we will see tables, chairs and benches made of black powder-coated metal combined with "old teak". Skid frames are typical of the industrial design idiom for tables and garden chairs. In our range you will find a large number of sled-base tables and chairs from famous manufacturers.
Industrial-style accessories such as black powder-coated metal shelves and pillows made of coarse linen or worn, brown leather underline the look.
Coarsely woven fabrics and haptic textures
No other material gives the patio at home as much a living room flair as textile. As the "sofa" for outside, the lounge has been an extension of the inner living space for several years. In addition to completely fabric-covered lounge furniture and innovative textiles, such as Sunbrella or Olefin, there is another innovation in terms of fabric this season: for the first time, the upholstery and covers come in a coarser weave – as we have only seen from indoor upholstered furniture.
In general, there is much more "feeling" in 2022: whether textiles or other materials such as wood or plastic – haptically conspicuous surfaces that you can not only feel but also see will play a major role on the terrace this summer.
Extravagant table frames
Four legs, one plate – the table is ready. That used to be! In 2022 we will have enough of boring four-legged table frames and admire the extravagant table frames from this year's collections of the premium garden furniture manufacturers. The offer ranges from minimalist column frames in the middle of the table top to industrial skid frames to the unusual "cross" version, in which a cross forms the table leg.
When choosing the right frame, the required legroom and of course the desired look are decisive. With all legs placed in the middle, you can sit comfortably around the table, but legroom is somewhat limited. With table legs that are more likely to be attached to the outer edge of the table top, you benefit from a lot of legroom, but it is difficult to create an additional seat at these points.
As tender as candy – garden furniture in pastel
In 2022 our heart beats for pastel colors – Neo Mint was even named the most important color in 2022.
Due to the high proportion of white , pastel tones always appear friendly, gentle and reserved. The more white there is, the more muted the tone appears. However, pastel garden furniture still manages to bring a subtle color to the terrace, and balcony. A single garden bench or a compact seating group as a conspicuous but not too flashy eye-catcher can give the garden that certain something.
In addition to garden furniture, you can of course immerse the garden or balcony in a delicate color scheme with accessories. Pastel-colored cushions, cushions or decorative objects are ideally suited to sprucing up the terrace. If you prefer bright garden furniture but don't want snow-white furniture, this year outdoor furniture in pastel colors is the perfect choice.
How to bring light into the dark – smart lighting for outside
What could be nicer than sitting outside late into the night on a mild summer evening? Right – nothing! And with the right outdoor lighting, you can create not only useful light sources but also an atmospheric atmosphere on your terrace. Whether hanging or table lamps, fairy lights or lanterns – in the coming season we will be offering a wide range of outdoor lighting. Modern, straightforward items made of stainless steel or die-cast aluminum as well as increasingly romantic vintage lights with LED filament lamps in lightbulb optics are particularly popular this summer. Regardless of the design, the outdoor lamps 2022 are of course smart: They can be easily integrated into the smart home system and switched on and off automatically with the desired brightness and light color.
Bohemian Rhapsody – strong autumn tones & ethnic patterns
The trend towards boho chic is becoming more and more evident not only in cushions, pillows and accessories, but also in the garden furniture itself. Textiles come up trumps with exotic, folkloric ethnic patterns and the furniture itself shows its ornate side in natural materials.
Whether loungy rattan furniture, teak furniture decorated with carvings or chilled hanging chairs – the trend furniture 2022 exudes the artistic charm of the bohemian.
Furthermore, colorful carpets and pillows with pompons and tassels provide the boho flair.
The back cushions of lounge sofas are not always smooth, but have characteristic button stitching. And this season, the color spectrum also shows strong autumn colors such as saffron, orange, bordeaux red or bottle green instead of cool shades of gray.
Which trend of the 2022 garden furniture season do you like best? We are excited for your opinion! Just answer us in the comment field.