Discover the interior color trends in 2025 and renew your home with style. Dark green, earth tones, pale pink, intense blue and soft yellow will be the trending colors. Get inspired now.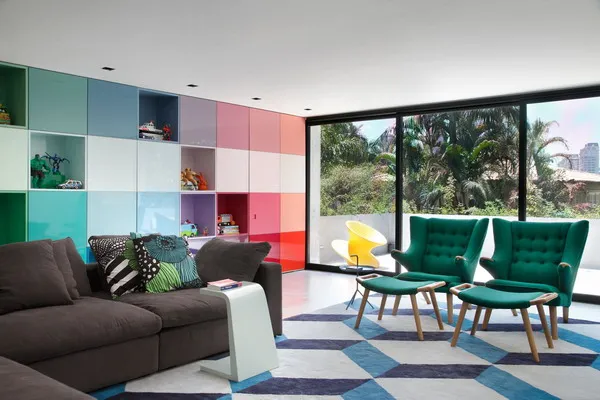 If you are thinking of renewing the decoration of your home, it is important that you take into account the color trends that are coming for 2025. Just like fashion, decoration is also constantly being renewed and it is important to be up to date to achieve an atmosphere attractive, modern and harmonious.
In this article we present you the colors that will be the trend for interiors in 2025. Get ready to be inspired!
Trending colors in the interior in 2025
Looking to add the latest color trends to your home? We have compiled for you a selection of the most interesting colors that are already relevant and popular in interior design in 2025. And also we will tell you some useful tips and recommendations from experts on how to use these shades in your home. The color trends for 2025 are bold and calm at the same time, dramatic and calming at the same time. They accentuate both beautiful brights and soothing neutrals. There is definitely something for everyone in this article, no matter what your preference.
Interior Color Trends 2025: Gorgeous green hues
The influence of nature on interior design will always be timeless. Green, synonymous with nature and the beauty of the natural world, remains one of the most popular colors to use in interior design in 2025. Strong yet soothing green room ideas can give a space an enveloping feel. They can also look quiet and serene, allowing other materials and bright color accents to take center stage. Of all the cool colors, green is perhaps one of the most versatile. It all depends on what you combine it with. Green on a blue background looks very impressive. Therefore, the use of soft tones of clay white and chalk gray in furniture and accessories, while maintaining a light floor, gives the color scheme a balance of brightness and a calming feeling.
Popular Color Trends 2025: Earthy-neutral tones
There is a lot of debate about how to define neutral colors. We tend to think of them as tones like white, beige, grey, ivory and khaki that don't show up on the color wheel. Neutral room ideas are soothing and easy to use and pair with just about any other color. There is a difference between warm neutrals (with a green or yellow tint) that work well in north-facing rooms as they diffuse light, and cool neutrals (with a bit of pink, purple or blue). When decorating in neutral tones, texture and layering are very important. Combine warm metal elements such as brass or bronze, natural wood with linen, velvet, sheepskin and thick knitwear. Or choose bright color accents for an elegant contrast.
Wall Paint Colors 2025: Warm browns
A palette of warm taupes and caramel tones is becoming extremely popular in everything from paint to upholstery. The nuances of decorating with brown are often underestimated, but one look at "stone brick" shows how complex and interesting a shade can be. Part chocolate, part forest, with a touch of purple grapes – an unexpected richness that can manifest itself in many ways. In north-facing rooms, this creates a cozy "pod" feeling, while in lighter rooms, it allows you to use other shades of brown for more effect.
Interior Colors 2025: Traditional color combinations
Even last year, people and designers have become more and bolder to take risks with shades. Expect to see bolder color combinations and unique interior color combinations. Whether it's a dramatic accent wall, a standout sofa or ceiling painting ideas. For many of us, bolder and more dramatic color choices will only help make our homes more unique, fun, and reflective of our personality. Such solutions add drama, even more creativity, uniqueness and intrigue to the space.
Color Trends 2025: Vintage yellows
Vintage yellow can look wonderful in both old and new spaces and can create a striking and luxurious atmosphere. The right shade can have amazing longevity and add amazing richness to a range of shades. Yellow is also a shade of happiness, it gives our homes a refreshing and joyful look. There has been a lot of research into how colors affect our mood. Yellow room ideas are known to be upbeat and can create a playful summer vibe.
Interior Paint Colors 2025: Raspberry red
These are rich, deep pink tones with elegant red-crimson and purple hues. Its description characterizes it as rooted in nature and derived from red hues. It is a fearless and bold color, the abundance of which contributes to a joyful and optimistic mood in any room. We agree that pink decor or the interior as a whole is not suitable for everyone. But maybe this year you will be ready to experiment with color schemes in your home.
Paint Color Trends 2025: Blue shades
Colors in a cool spectrum from vibrant blues to hues of aqua, cobalt, violet and lavender bring calmness to the space, so are perfect for your living room decor ideas and bedroom color schemes, not only in 2025. Blue is both calming and invigorating and offers great design versatility. When used with white, it creates a soothing coastline vibe, while as a single color element, it can be a breath of fresh air.
The most fashionable interior colors 2025
In the color trends of the new season, designers and architects will discover many opportunities for implementation. Fashionable interior colors in 2025 are not only neutral and calm shades, but also rich energetic solutions. Let's talk about them in more detail.
Popular Paint Colors 2025: Dusty lavender
A calm shade of purple is defined by leading designers as the trendy interior color of 2025. The soothing shade of powdered lavender is associated with sleep culture, the beauty industry and the beauty of nature.
2025 Color Trends: Cherry
Among the favorites of interior design in the coming season is a quite mature and expressive cherry shade. With this sensual shade, you will definitely add sophistication and nobility to the design. The color will look good with neutral shades, especially if you use cherry on textile details.
Trendy Colors 2025: Almond
A very gentle and at the same time multifaceted almond shade (Wild Wonder – the Magic of Nature) was named the color of 2025 according to the English paint brand Dulux. Perfectly this tone will be combined with both natural shades and dynamic blues, greens and graphite. For information on how to apply this fashionable shade in interiors, read our article " Color of the Year 2025 in interiors ".
Interior Colors 2025: Amber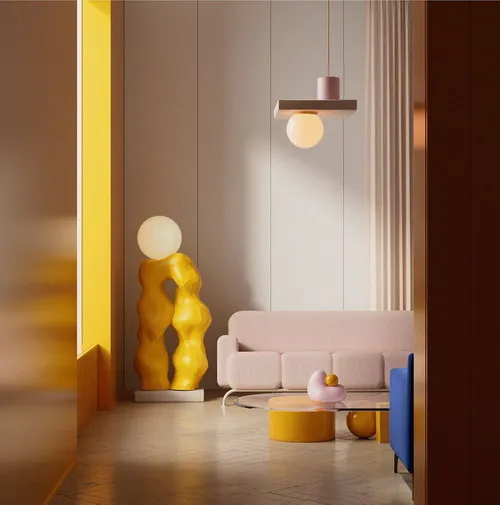 Accent amber color can be used in the design of a living room, nursery or office. This optimistic shade not only improves the mood and overall atmosphere in the room, but also "starts" the thought process.
Wall Color Trends 2025: Cobalt
The leading shade both on fashion shows, and in interiors of houses and commercial premises for many seasons. Designers deftly use cobalt in the detailed design, as well as as a background.
What is the color of 2025, we found out at the very beginning of this article. But there are also collections of new colors presented by paint brands. Favorite colors, noted by experts and designers, that will be popular in 2025. With the move away from classic neutrals like gray and beige, 2025 will also see a resurgence of reimagined neutrals. All the while, sustainable classics inspired by nature, such as green, brown and blue, will continue to be popular.
Did you like one of the trendy interior colors of 2025? Use it to decorate your interior!