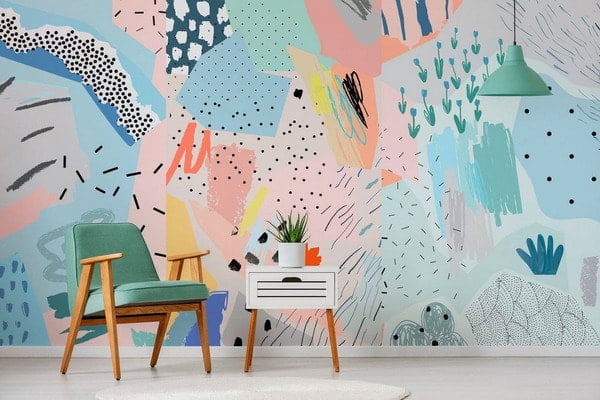 Wallpaper is a wall decor item that many people love and is easy to work with. This is a versatile material. Today in building materials stores you can find beautiful wallpaper 2024 that will fit perfectly into any interior. In this article, we will try to answer five main questions:what are the features of this type of finishing material, how to choose and combine wallpapers correctly, what new wallpaper trends 2024 and why they will never lose their relevance.
Wallpaper trends 2024 – the right choice
You need to prepare for the choice of wallpaper in advance, collecting as much information as possible and understanding the nuances. Unlike Soviet times, the trendy range of wallpaper 2024 is so large that it's easy to get lost in this limitless world of modern wall coverings.
How to choose the wrong wallpaper ? Oddly enough, it's very simple! Go to a store or market and buy what we liked – a pattern, texture, or what we saw about the same in the photo on the Internet. But this is the wrong approach to such a serious matter as choosing trendy wallpapers 2024!
There are certain rules here. For bedrooms, living rooms and nurseries, uncoated wallpapers are suitable, and for bathrooms, kitchens, hallways – choose vinyl, washable wallpapers 2024.
For uneven walls, choose textured or embossed wallpaper 2024 with a beautiful design. They will help hide small flaws in the walls. Smooth wallpaper will emphasize any wall defect.
If you have no experience with pasting walls, choose wallpaper without a pattern or with an irregular pattern to begin with, so that when joining the seams you do not have to adjust the wallpaper, you will have one less worry.
On a note! The heavier the wallpaper, the easier it is to stick. Thin wallpapers are easily torn, wrinkled, there are a lot of problems with them.
To calculate the number of rolls for a room, take a standard 530mm roll as a measuring stick. Include medium-sized doors and windows in the calculation: the excess will go to alignment or matching the pattern. Wide windows and doors can be ignored. Now multiply the height of the room by the number of stripes. Thus, we get the total length of the wallpaper. Next, divide this number by the length of a standard roll, that is, by 10.
When choosing modern wallpaper 2024 with a beautiful pattern in the store, be sure to check that all rolls have the same series number, as color shades may differ from series to series. It would be useful to buy one roll more than you counted. Carefully read the instructions on the packaging list of wallpaper to choose the "right" adhesive.
How to combine wallpapers – basic principles
In order to successfully implement the presented idea in your home, you need to know the basic rules for combining. After all, you then live with it.
Color solution
The combined wallpaper in any case should be combined according to the laws of harmony. The word "harmony" (Greek harmonia) means "consonance". Use wallpapers of the same color range (presence of one main color in related colors), one gamut (monochrome harmony), combined with each other according to the laws of polar harmony (opposition, contrast of two main colors). Conflicting wallpaper combinations are not allowed! Brown and green, pink and orange, gray and dark green do not match.
On the contrary, shades of beige (sand – ivory – chocolate) and blue will be well combined. Such combinations are suitable for lovers of calm, discreet interiors.
Wallpapers of the same color range include combinations such as red and red-orange, yellow and yellow-red. In these color combinations, harmony can be achieved.
The polar combination is, for example, cyan (blue) and yellow, yellow and lilac (violet). Polar harmonization allows you to combine more than 2 colors. For example, dark green – olive – pink. Taking into account that the polar combination has a significant activity, combine wallpapers of different saturation.
And one more important rule: the color palette of the combined wallpaper should be repeated in the interior.
Picture
Here the main rule is not to combine small and large drawings. And the rest – as your imagination allows! For example, a strip (cage) is a floral pattern, a strip is peas or an oriental ornament.
Texture
It is advisable to combine wallpapers of the same texture. Only a combination of silk-screen printing with a fabric texture will look pretty decent. But the same silkscreen in combination with vinyl wallpaper will create dissonance in the interior.
Modern wallpapers 2024 – the perfect combination of contrasts
Vertical stripes. The easiest way to combine. Use it if you want to expand the space. Also, this method will allow you to emphasize the protruding parts in your interior – arches, columns, niches. Alternate the selected wallpaper one after another or through 2-3 stripes.
Horizontal combination. Significantly expands the space of the room, but visually slightly lowers the ceiling. With this method, a combination is allowed not only in pattern and color, but also in texture. Decorate the horizontal joint of the wallpaper with a border (wallpaper, polystyrene or polyurethane).
Wallpaper inserts. An excellent reception for zoning space. Inserts can be of various sizes, for example, they can occupy an entire wall, a corner of a wall, a niche in a room. Or it will be inserts with a rich pattern, a pattern in the form of paintings or "medallions" within the framework.
"Patchwork" combination or "patchwork". A very interesting combination. Suitable for children's room. Different wallpapers are cut into squares or rectangles and pasted in a "creative mess". The main thing is not to lose a sense of proportion and style. You can use wallpaper for a patchwork combination, for example, with similar motifs in the pattern, with different patterns, but with a repeating color.
Good to know! Wide wallpapers provide easier gluing. Instead of buying two standard rolls, you can now purchase one meter roll, saving you money.
Wallpaper 2024 – new collections that are always in trend
The range of trendy wallpapers 2024 is so huge that it is easy to get lost when choosing. They come in different textures, densities, sizes, colors. There are special wallpapers designed for subsequent coloring. Any person can cope with pasting walls, the main thing is to have a little idea about it.
In many ways, the result will depend on the type of wallpaper and the surface being treated. Therefore, you need to make the right choice, and for this you need to know some of the nuances that will help you avoid mistakes.
Fitting
You can not choose modern wallpaper 2024 without trying them on the wall. Feel free to ask the seller to unwind the roll at least one and a half meters in order to evaluate the texture, color and pattern. Please note that in bright light, the wallpaper looks completely different than in the twilight. So, it will not be superfluous to look at them in these two conditions. The problem with all salons is the lack of good lighting. But you can go outside with a roll or go to the window to more accurately examine the material.
Try to evaluate the options you like from a distance. Let the consultant hold them against the wall, and you, moving a couple of meters away, re-evaluate your choice. If doubts are strong, then it is better to purchase a trial roll, try it at home. And then make the final decision.
When combining collections of trendy wallpapers 2024, try to buy products of the same series, because you should be comfortable in the atmosphere created by them. As practice shows, it is much easier to combine such things. And the risk of making the room too colorful will be minimal.
Considering that almost every new 2024 wallpaper collection has special companion wallpapers that differ only in a few parameters (ornament, color, structure), it will be much easier to decide on a purchase than trying to choose compatible options from different batches.
Search and compare
Do not immediately grab the first wallpaper you like. Do not be lazy, visit several stores, review all possible offers, and only then make a final decision.
A clearly defined goal will help to significantly facilitate the task of finding suitable wallpapers. Before you go to a specialized store, decide on your desires for the stylistic design of the room. This will immediately sweep away dozens of options and reduce a lot of time.
Having an idea about the future environment and curtains, you can immediately decide on the color scheme. It is ideal to take samples of future furniture veneers with you to the store. This will allow you to more accurately choose the color scheme of the walls.
For space zoning, you need to look only at companion wallpapers, and if you need to create a classic interior, then all the colorful and bright options will go aside.
When visiting stores specializing in the sale of wallpaper, do not rely only on large salons. Sometimes in small shops you can find really unique and interesting wallpapers 2024, released in small quantities. In this case, you can say with confidence that such wall decoration is only in your home.
Environmental friendliness of the material
In addition to the color scheme, wallpapers are divided into several types: ecological, vinyl, non-woven, paper. Vinyl and interlining will be a great decoration for the living room, hall, corridor, hallway. The advantage of these wallpapers is the ease of maintenance. They are washed and even brushed. It is easy to work with them. Due to their base, they slide along the wall, so they "join" well.
Another advantage of non-woven fabric is the ability to stick to not perfectly even walls. Wallpaper will hide the flaws. But silk-screen printing will only emphasize the presence of bulges on the treated surface. These are very beautiful wallpapers, but you need to choose them very carefully. It is better not to paste them over the entire space of the room, but to make a small panel or highlight some area.
For the bedroom and children's room, natural wallpapers 2024 are suitable, made from environmentally friendly materials: bamboo, paper. They do not emit any harmful substances, and therefore are absolutely safe for humans. But sticking them is a real problem.
Bamboo is very thick, you will need special glue and some skill here. Paper ones are very thin. They are hard to work with, as they quickly soak from the applied glue and do not fit well, especially if the wall is not perfectly flat. Therefore, it is better to take such wallpapers with a margin to compensate for the damaged material.
Quality certificates
To be convinced of the quality of the material, you must carefully read the certificate. The seller must have it. If for some reason you are not shown the document or are told that it is not there, go to another store. Otherwise, you can purchase low-quality goods, which can create a lot of problems, as well as provoke some diseases. Therefore, carefully study the composition of the product, the date of manufacture and operating conditions.
Do not aim at grandiose design projects. Ask for help from an experienced designer who will not only create the room of your dreams, but also independently select beautiful and stylish wallpapers 2024.
With a margin
When purchasing wallpaper, take a roll more. This stock will insure you against losses, because often small pieces of material are simply thrown away when cutting due to too short a length. Such a precaution will protect against the search for the "same" roll, spent on this time.
Never throw away the label under the roll packaging. It has a lot number by which you can find the missing wallpaper. After all, choosing the color "by eye", you can buy something completely wrong.