New Interior Decoration Trends 2020
In each season we look to give the decoration of our home certain details that will transform it, as well as the seasons, so decorators and designers around the world, show us the trends in decoration that they are imposing in order to beautify our living spaces.
And as it is now close to the end of 2019, now we can already know what are the new trends in decoration for 2020. Ready to meet them?
Main objective in the decoration during 2020:
The proposals that we will see in the interiors during the next year, seek a common goal: to give the house a comfortable look and inspired by nature.
This, because in trends to decorate homes reign materials such as wood and lots of vegetation, so it will also be a bright decoration, as metals like silver, gold, come with force.
As we mentioned, the common goal to decorate houses will be full of ideas and extremely cozy proposals for the use of textiles and ethnic details that allow us to give a personalized touch thanks to the variety of options that we will have.
If you like your home to be the latest fashion craze, in today's book we will see decoration trends 2020, through the designs of  our professionals , which we are sure will fill you with inspiration.
1. Trends of decoration 2020: division of environments with natural materials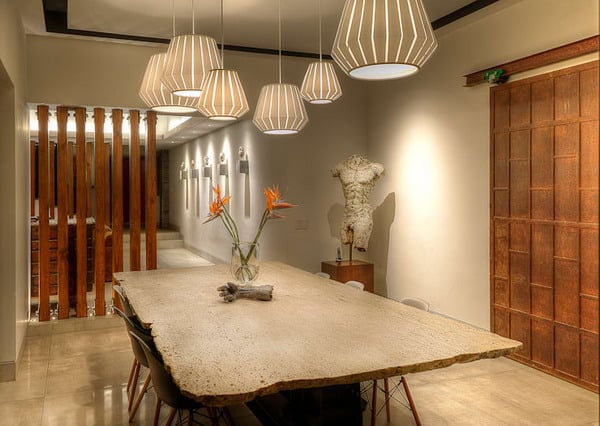 Unlike in previous years in which open spaces with communicated environments were sought, in 2020 we will see designs that opt otherwise. The tendency will be to look for divisions that grant greater privacy and intimacy to each environment, so that they are more welcoming.
2. Trends to decorate your house in 2020: more intimate and welcoming environments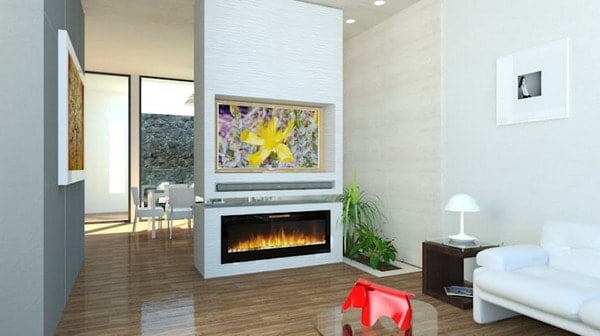 Although we can not deny that open spaces give the feeling of having a larger house, we must also recognize that there are times when that open communication can diminish comfort, such as having kitchen smells in the room or having a lot of noise when you need more peace of mind.
3. These colors are trends in interior decoration in 2020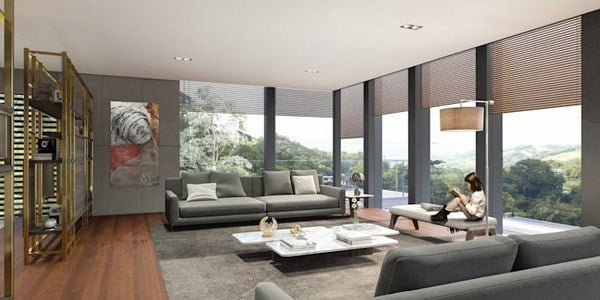 The color trends change constantly and in 2020 we will see cheerful and sober tonalities, which makes their choice very versatile and simple. Let's see one by one the colors in furniture, in textiles, in walls for interiors …
Color trends in the decoration of 2020: gray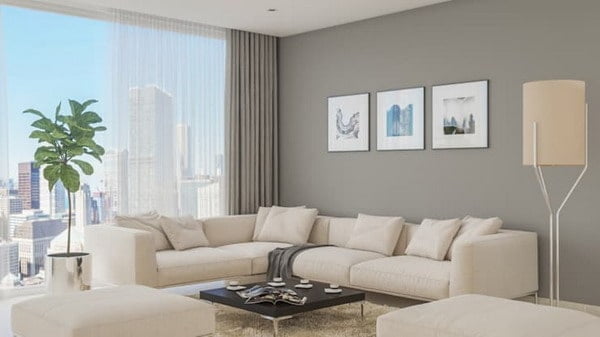 The gray color is still a trend because being a neutral color covers a wide range of combinations and styles that in the next year will be bolder when combined with vibrant colors. It can be applied to paint interior walls and furniture decoration. Also in carpets and textiles.
The gray color to paint walls and furniture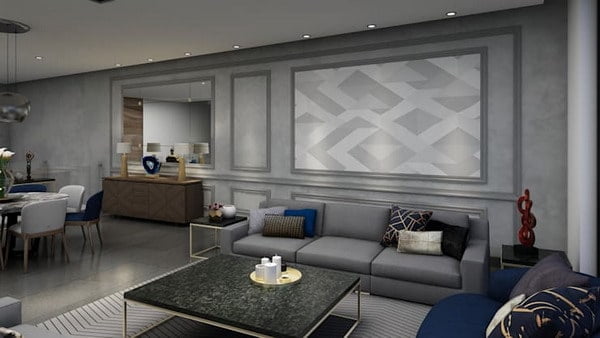 The gray color is not limited only to the walls of the house; It will also be present in the furniture to decorate any room of the house.
Color trends in the decoration of 2020: pink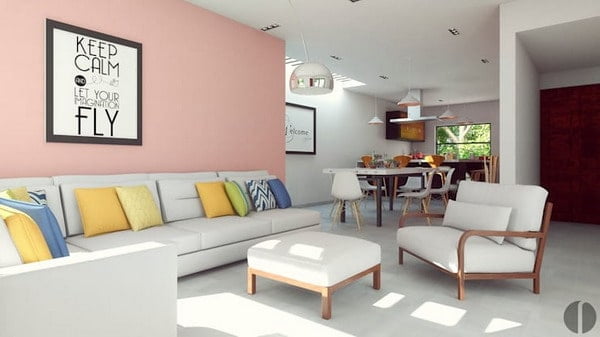 The pink color has already been present for several seasons in interior decoration and we will continue to see it next year.
The pink in the decoration of houses in 2020
Whether in the walls, textiles, accessories and furniture, the pink color in almost all its shades, from pastel pink, old rose, peach pink or pink-lila, will give a serene touch, delicate and elegant to the home decor.
The purple in the trends of color 2020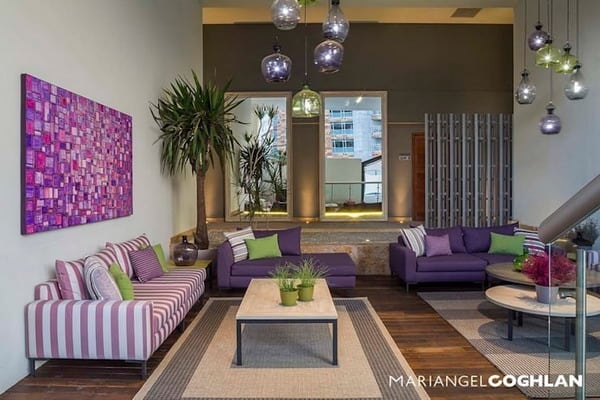 One of the most attractive proposals in 2020 in terms of interior colors of houses, will be the presence of purple in furniture, textiles and accessories such as lamps or pictures on the walls.
The purple color present in 2020 in all its shades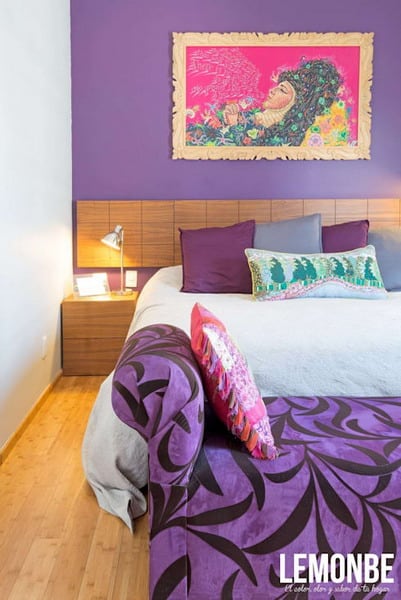 From tenuous to intense, the color lilac, violet and purple, in all its shades and combinations will come strongly to the avant-garde interiors.
Trends of colors, the green present in 2020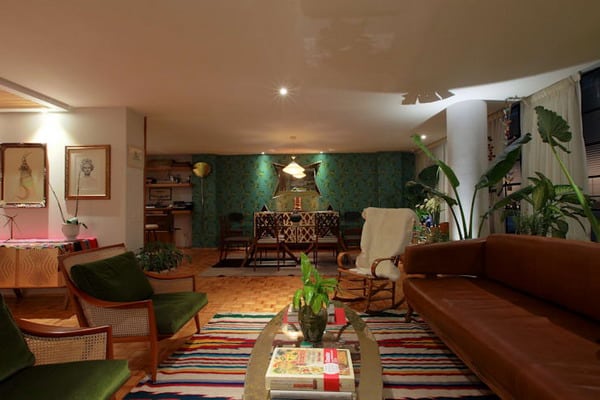 Having a clear proposal for the natural, the trends of 2020 have as one of the favorite green color in all its shades. Let's see some examples in all the rooms of the home.
Dark green color on the furniture and textiles of the house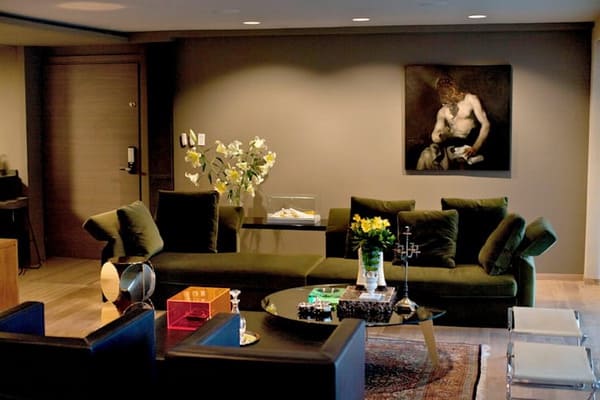 The dark and deep ranges will be seen in the furniture of the house, in the upholstery of the chairs and armchairs, creating an accent in the decoration.
Color trends in the decoration of 2020: blue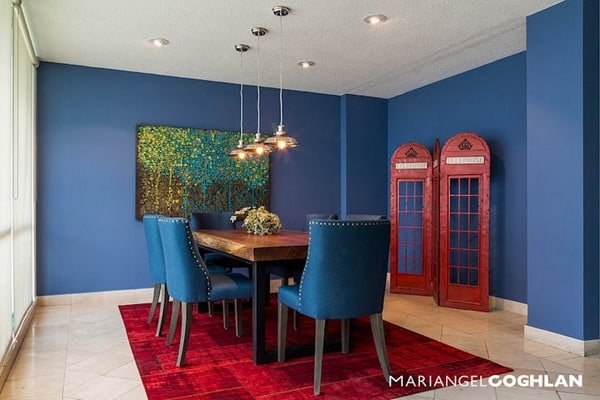 The blue color will also continue to be present next year as a decoration trend, both in walls, textiles and upholstery furniture.
Blue in all shades to paint and decorate the house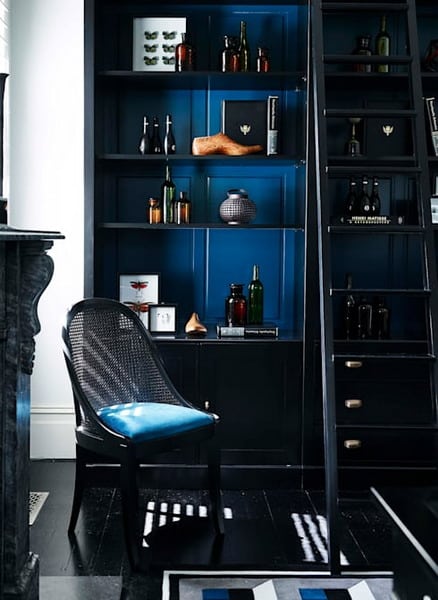 All shades of blue color are accepted, but especially cobalt blue will be the star of the interiors.
Color combinations in interior decoration in 2020: green and pastel pink
How to combine colors on the walls and in the furniture of the home? In this year that almost begins, the soft and delicate tones of pastel colors, especially roses and greens, continue to trend.
This combination of colors can be used in dining rooms, kitchens, bedrooms or receivers. If you combine these colors with natural materials in the furniture, you will create exactly the concept of the main proposal 2020: natural and welcoming environments to inhabit.
4. What are the materials that will be used in 2020?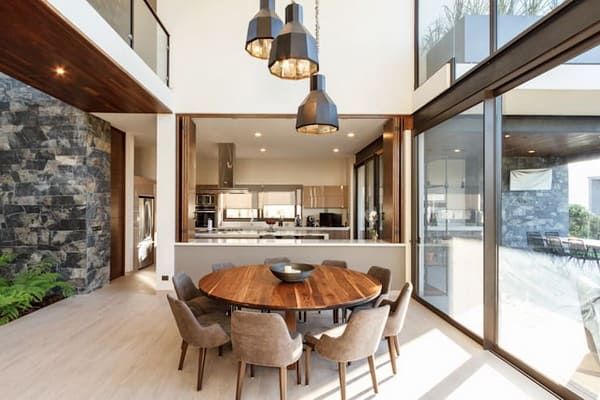 In terms of materials, decorative trends show wood as the main material. The wood, from pine, oak, mahogany, or imitation wood, is still present in force in 2020.
Wood in house structures, such as ceilings or columns.
Wood in interior and exterior floors
Wood furniture in all rooms
Wood in decoration
Wood in finishes
Wood in doors and windows
Wood to the fullest!
Dark wood is a trend in decoration 2020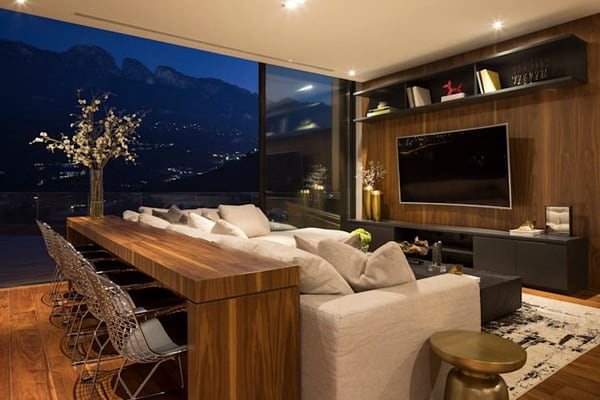 Unlike previous years in which the light wood was the star, next year dark tones will be the pampered, looking to give the house decoration greater elegance and a touch of luxury.
Material trends in the decoration of 2020: vegetable fibers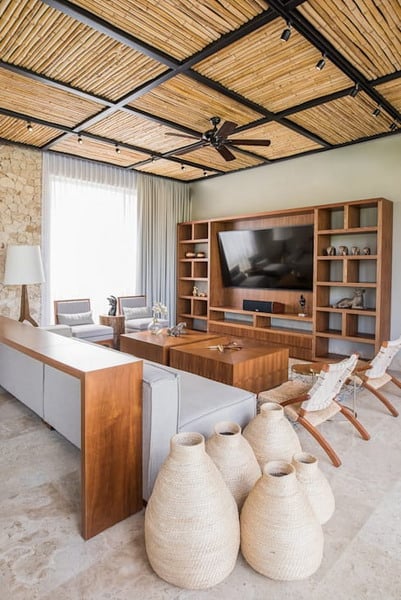 In addition to the wood in furniture, floors, ceilings and decorative accessories, the trend towards the natural is imposed on the decoration of next year and we will have the presence of wicker, jute and rattan in our interiors. These materials will provide a greater amount of textures to the decoration and will make them much more welcoming to our environments.
Leather, another of the materials that are expected for 2020 in interior decoration
Although there are materials that never go out of style, there are seasons in which they are unmissable in the decoration and is the case of leather armchairs such as Chesterfield, which is widely used in decorations of industrial trend and as next year we will see many metals What better idea than to take advantage of the presence of a beautiful armchair like this.
Material trends in the decoration of 2020: metals

The metals will come with force to the decoration of 2020 in all its variants, from those of industrial aesthetics such as steel and those of oxidized aspect, to gold and silver.
The metals can be incorporated into the decoration through the lamps and various accessories such as the frames of the mirrors, the legs of some furniture such as coffee tables and other small decorative pieces.
Metal and metal colors as material to decorate houses in 2020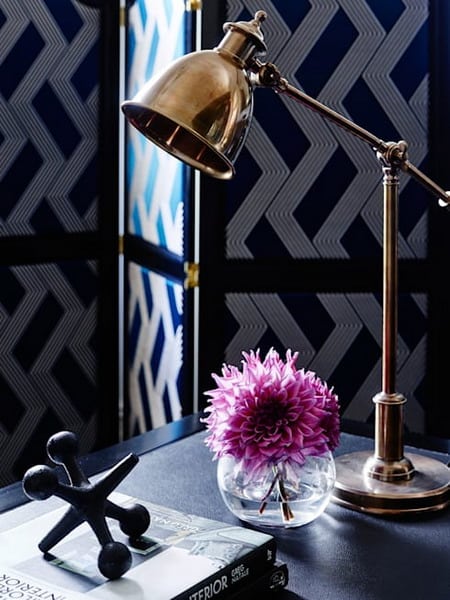 The metals will bring greater brightness and luminosity to the decoration of the different rooms of the house. In addition to that the metal material can be adapted to decorate any style of house:
Modern style
Classic style
Eclectic style
Minimalist style
Vintage style
5. How to decorate the walls of the house in 2020?
Regarding trends to paint or decorate the walls or interior walls of your home in 2020 are the following:
The wallpaper is one of the pawns to decorate the walls of the home and in 2020 will be designs of artistic touch, simulating a canvas with a beautiful work of art.
Wallpaper as the protagonist in 2020, motifs that evoke nature
Tropical prints on the walls (and textiles) for this 2020
But in 2020, we will also see rainforests in the decoration, from the walls to the patterns of cushions, quilts, towels, etc. Evoke nature, proposal no. 1 of the decoration in 2020.
Pictures to decorate the walls of all the rooms of the home
Another option to decorate the walls, is to hang pictures and combine colors and natural motifs. For example, paintings that combine green and white, as well as images of cactus and pineapples.
6. Have an indoor garden in 2020! – Strong trend and to stay
Such is the force that inspires the natural in 2020, that the interior gardens can not be missing in the decoration of the house, looking for a space of relaxation and tranquility for the whole family.
To accompany the interior garden, you can place a small chair or armchair, which allows you to enjoy the stillness and beauty of your garden.
7. Decorating trends 2020: accessories
How to decorate the house? What accessories to use? At the beginning of this book, we mentioned that ethnic motifs take their place in the interior decoration of 2020, so it is the perfect moment to exhibit the pieces you have acquired during your travels. The presence of objects and accessories from other cultures adds a touch of magic and adventure to home decoration.
Combination of colors, textures and cultures
There are so many options in terms of colors, textures and cultures that you can incorporate those with which you identify yourself.
8. What is the trend in kitchens 2020? Decoration trends 2020: kitchens in black
Decoration trends 2020: kitchens in black. The kitchens in black come with great force. Although it is a bold color for this area of the house, the proposals appeal for totally black kitchens.
Trends to decorate your kitchen in 2020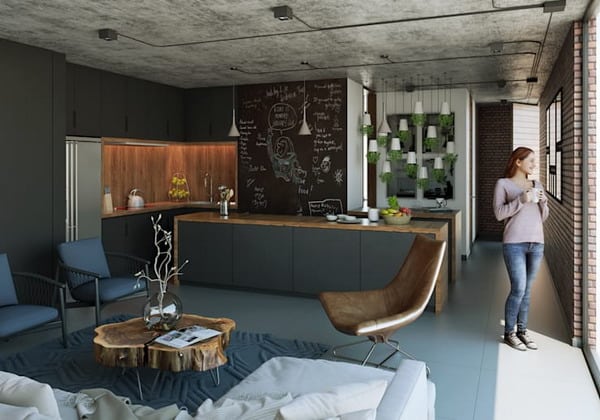 To decorate your kitchen, if you are thinking of renovating it soon, what do you think about this proposal? Combine black color with metals and natural materials.
Black is a very elegant, sophisticated and avant-garde color, which will undoubtedly make the kitchen super attractive.
In order not to cause an overwhelming sensation, these kitchens are balanced by the brightness of metals and the presence of some plants.
9. Decoration trends 2020 for bedrooms: upholstered headboards
How do you decorate the bedrooms in 2020? The upholstered heads, upholstered heads, will be trend in the decoration for next year's bedrooms. Whether upholstered or simply coated, do not hesitate to renew the look of your bed with this trend.
For more ideas, we invite you to visit the book:  Headboards for the bed: ideas and great designs
And if you want to make your own header, we share this project:  How to make a Chesterfield-style bed headboard
10: Decorating trends 2020: naturalness, brightness and charm!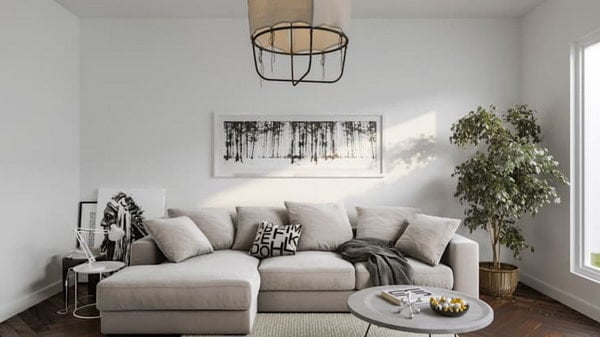 As we have seen, the interiors in 2020 will be dressed in glamor and naturalness at the same time, thanks to the presence of natural materials such as wicker and wood (furniture, carpets), but with the sophisticated touch of metals.
Interior Design Trends 2020
Interior fittings change and adapt to new styles. Like the fashion. Although less common than fashion, these changes are reflected in many homes and manifest themselves in the manufacture of decorative items and furniture. When you plan to decorate your home this year, here are 9 decorative design trends to consider.
Interior Design Trends for Your Home in 2020
DYI Custom Spaces
2020 is the year of the possession of your space, people are looking to add a personal touch to their home (following the repetitive number of designs provided by designers elsewhere). There is a change to interior decorations that show character and personality. This has brought DIY interior design to the general public.
People want precisely what they have in mind; they are hardly satisfied with the shop's drawings. A quick and easy way to leave a mark in your home is to create wallpapers or custom wallpapers with your favorite photo collection. It can hold pictures of your children, your pet or beautiful travel memories. If you're looking for bedroom wallpapers, check out these 2020 collage-style wall decorations. Follow the simple steps to create a beautiful wall art that showcases your life!
Curved furniture
We will see more furniture with curved edges in 2020 instead of the usual square edge trends. People are tired of square and rectangular furniture and aspire to something different. He will see furniture such as cabinets, sofas, sofas and more, abandoning mid-century straight designs for a more rounded, rounded back and sides. It will be a resurgence of the interior trends prevalent in the 80s. This furniture will feature smooth materials of bright colors. With this trend, it will be easy to incorporate round back chairs into smaller rooms while keeping enough space.
The re-emergence of the wallpaper
As for smooth walls, removable wallpapers would be a trend this year. There was a notable use of wallpapers in the decorating trends last year. However, this year will see a resurgence in the adoption of wallpapers instead of works of art and other works of art in various homes. Wallpapers are affordable and add an exciting touch to any blank wall. Popular wallpaper motifs to present this year include 3D motifs, watercolor art, geometric shapes, art deco and bohemian motifs.
Consider going natural
Last year, many people opted for an eco-friendly interior design. This trend is expected to continue into 2020. Many warm and natural elements will combine with the luxury of the land in homes. It was also a popular trend in the 70's, and it's here to stay, at least for the next few years. We will see an improved application of natural wood on doors and windows as well as on furniture. In addition, more people will adopt the use of hand-made and recycled furniture and accessories. There will also be wider use of natural stone materials like granite, a pebble to complement other natural elements. We can see it with the emerging popularity of the bohemian interior style.
Paintings Decoration Design
Decorative paintings with floral or 3D motifs have been used at a minimal pace in the interior decoration, but this year will see an upsurge in patterned acrylic glass paintings. The flowers printed on a glass table make a strong comeback on the walls. It's just the perfect piece to add a vintage and modern touch to a room. For Plexiglas paintings, we consider less. Instead of covering the whole piece of paper, try to have a very large one in a visible corner of the room.
For accent walls, you have the possibility to add a strong painting without overloading the whole room. Popular choices include tables wall in the forest, the mural paintings on the beach or beautiful paintings acrylic glass illustrated urban illustrations.
Wall lamps Innovations
Lamps have been an element present in the interior decoration, but they are mainly table lamps. This year, we will see new lamp designs in different homes. These differ from the old lamps we know; its silhouette is inspired by art, which makes them beautiful.
These lamps provide the same essential brightness to give a room a feeling of warmth. The lamps can easily fit into any interior decor. You must make sure that you buy one that complements the colors of your existing interior decorations.
Darker Kitchens
White has long been ideal for kitchens. From the walls to the cabinets, it has always been white. All of this is about to change in 2020, as more and more people are turning to darker kitchen designs. Darker colors are easier to clean, unlike white. Painting the walls of your kitchen with these colors will conceal the flaws of everyday use. You can also integrate dark colored wood cabinets and cover your counter with dark colors.
Reporting furniture
Design furniture will be a major trend in interior design in 2020. There is a major shift from rigid and formal interior designs to maximum designs, which do not have special rules for interior design. We will see unique and ready-to-use furniture that spark conversations. Instead of having a standard sofa in your living room, you can opt for something unusual like a couch or lounge chair. You can place the chairs around a table in the living room. This will make your home more spacious and more welcoming.
More black
While green, brown and gray should be the dominant colors of the year, we will witness an upsurge in the application of black. It seems that people are now realizing that they can never go wrong with black. We will see an increased use of black in interior decorations; black furniture, fixtures, finishes and black walls. According to a misconception, black makes a room smaller, but when paired with other colors, black can give your home an enchanted atmosphere. It can be used to print wall painting patterns on brightly colored walls to create an airy atmosphere in your home.
We will also see walls decorated with paintings, but this time, we will not limit ourselves to putting one or two, the more works you exhibit on your walls, the effect will be much better. No matter which style you choose to decorate the interiors of your home, the above is what you should take into account … then, tell us: which of these trends is your favorite?
2020 interior design trends
Fashion is a capricious lady, but it is impossible not to follow her. In interiors, trends are changing rapidly, and sensitive designers instantly capture them, embodying them in the projects of your apartments and houses. If you are not alien to constant changes and creative ideas, then this article is for you: so, trends in interior design 2020.
Stylish trends in the interior of 2020: current colors
Scientists have repeatedly proved that the color of the room directly affects our psychological state. Even the mood of a person who has been in the room for a long time depends on the color scheme. This year, designers attach importance to softness and tenderness, a popular color scheme clearly speaks of this:
frosty blue (light);
shades of red that are close to pink;
clay red;
Violet;
brown red;
cold shades of silver gray;
cold shade of dark blue;
warm beige;
mustard.
As you can see, there are many options – new trends in the interior of 2020 do not put us and designers in a strict framework, as it was a few years ago. If you professionally approach the interior design, then many, even the most incompatible tones from this palette can look good together. However, it is worth remembering another trend: the atmosphere of the room should not be overloaded.
Modern trends in the interior: current materials
Marble this year has become perhaps the most important material. However, this is not about plates that look like Greek stylistics, but about the texture of the stone. Thanks to this imitation, designers can create the so-called "marble rooms". As accents, you can use a variety of decorative pillows, which are also made under marble.
The next trend material is non-ferrous metal. There is no limit to creativity and imagination! And the last relevant material is tile. Choose the most natural shades, and the ocher color will look stylish, as well as copper in tandem with dark tones.
New trends in interior design: why minimalism?
This trend has returned to fashion this year. The basic rule of minimalism is not only limited in quantity, but also the simplicity of each thing, its functionality. Many people mistakenly refuse minimalism, considering such rooms "empty", not comfortable. In fact, the task of style is to create in the room as much space as possible, in which it will be "easy to breathe" and move around.
Interior trends 2020: which furniture to choose?
This year, designers are advised to choose compact and modular furniture. Retractable surface is a special trend. It will not do without built-in cabinets. Particular attention is recommended to give retro furniture, which was created around the fifties: such things have a special mood and atmosphere. You can add color to the design with such furniture with the help of a round lamp: it takes a little to the Japanese theme. By the way, such lamps were incredibly relevant in the thirties of the last century.
A significant factor is furniture, which was made on the basis of environmentally friendly and natural materials. This means that rattan furniture, wicker items and genuine leather are returning to the trend again.
As for furniture accessories, this is ivy. It looks pretty noble, and you can decorate it with almost any room in a house or apartment. The design of the head of the bed in the bedroom will look especially stylish: take this idea into account. Also, it can be safely used on the backs of chairs and ottomans. Premises with ivy are original and cozy in their own way.
Kitchen Design Trends 2020
The kitchen is unconditionally the main feminine virtue in every house or apartment. And the most fashionable kitchen design this year is a design using bright, sunny colors. To be in trend, it's not worth doing a global repair, the right atmosphere is easily created with a bright tablecloth, curtains, a kettle and even a well-chosen kitchen oven holder. The task is not to change, but to transform, add colors.
The modern design of the kitchen involves an abundance of green, blue or red shades. The simplest idea of how to transform the kitchen is embodied in an elementary way: you can make a stylish designer wall in one of these colors, and the fashionable design of the kitchen 2020 is ready!
Still relevant in the kitchen and retro style. Moreover, this year it is rapidly gaining momentum and changing facets. Diversify the kitchen with old colored plates, colorful ornaments and vintage accessories. Photos of new products in the design of the kitchen 2020 see below.
Living Room Design Trends 2020
As we said above, this year the trend is minimalism. And initially he should be embodied in the living room. The modern design of the living room 2020 will turn out to be quite elegant and elegant, but not loaded with unnecessary details.
As for furniture, modern living room design ideas say – a simple form and the exclusion of any grandiose, elaborate elements. By the way, when designing such a living room, all principles that are close to the Scandinavian style will be appropriate.
A few words about the approximate image of a modern living room: this is a pair of armchairs and a comfortable sofa. You can also put a small-sized wardrobe and chest of drawers. Feel free to complement the room and a beautiful picture.
Bedroom Design Trends 2020
The design of the modern bedroom 2020 is not indifferent to yellow. Not everyone is ready to make a choice in favor of such shades, however yellow will surely give you a great mood every morning. This choice will be especially true if you live in a latitude with few sunny days.
They should warn you that such a "cute" color is quite dangerous. It must be muffled or diluted with shades of green, brown or juicy raspberry. These color schemes look great in contrast.
As for the furniture, there should not be much of it in the design of the small bedroom 2020. Focus on free space. The image of your bedroom may look like this: a pair of bedside tables, a bed, a chest of drawers or a dressing table, as well as a wardrobe (preferably a built-in and small size).
Bathroom Design Trends 2020
In the case of this room in 2020, absolutely any color treatments and styles are appropriate. But again, it is important to focus on minimalism, which means to create maximum free space and add a minimum of furniture and decor to the design.
The bath is best chosen from natural stone, and the flooring is made of wood. In a particular trend this year, the Mediterranean combination of blue and white. If the classic style is closer to you, then use natural marble, as well as good ceramics in soft pastel shades. Feel free to add paintings, flowers, non-ferrous metal details.
This season the bathroom is not indifferent to the country style. Then choose brown and green shades, use the abundance of shelves and buy wicker baskets. The bath in this case can be iron, and the floor is wooden. As for the ceiling, there are no options: you need to paint it white.
Finally, when decorating your home this year, here is the major design trend to keep in mind and good luck to you.
Which of these trends is your favorite?