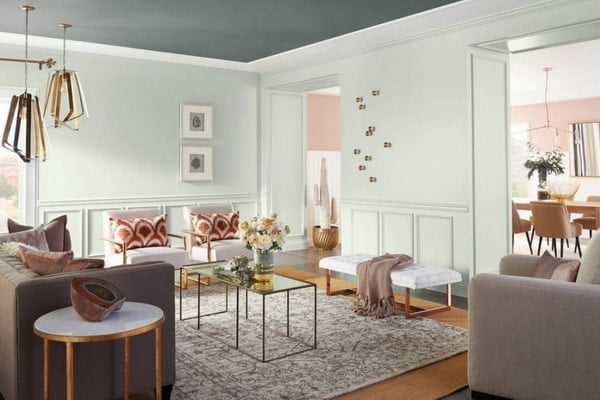 The main interior design trends in 2021 are comfort and proximity to nature. Design proposals of the new season are aimed at creating a living environment that is as comfortable as possible for a person. All relevant ideas on interior design come down to one thing: it is necessary to use natural materials, trying to keep their color palette unchanged.
Top trends in the interior of 2021
Most people, especially those living in large cities, dream of suburban life – calm, comfort, proximity to nature. That is why in the interior of 2021 the most fashionable styles – bionics, eco, rustic, as well as everyone's favorite Provence and country.
The main differences between such interior solutions are the combination of environmentally friendly materials with technological innovations, non-standard methods of zoning, the lack of uniformity and everyday life.
It's easy to create a trendy interior in 2021 with the help of designers:
Feel free to combine the details of styles focused on the environmentally friendly home: ethnic, shabby-chic, grunge and others;
use furniture with rounded smooth lines, and natural fabrics in soft pastel colors;
complement the design of the apartment with point accents in the form of fresh greenery in decorative tubs, dried flowers in elegant vases, wood products or ceramics with aging effect. All these details and other decor can be found in the Lavender Decor online store.
See how the top new interior design trends 2021 in the apartment looks in the photo – an impressive harmony of simplicity and comfort.
New interior trends 2021 open up scope for creativity. Do not be afraid to collect antiques and a new modernist chair in one room. In the field of design in 2021, the main concept is the personalization of interior projects. This means that the main thing is not a blind imitation of fashion, but the desire to emphasize the individuality and even some intimacy of the home environment.
Current trends in fashion plans in the interiors of 2021
The popular open space is becoming a thing of the past, for example, when the kitchen is combined with the living room, because it turns the home into a faceless space. However, owners of small-sized housing often have to combine a bedroom with an office, and a living room with a kitchen. That is why new trends in interior design 2021 include partitions. You will be able to rationally divide the space into zones, using such interesting structures as vertical or horizontal partitions.
Their main advantages:
muffle or completely drown out sounds;
do not let odors pass;
do not interfere with the penetration of light;
decorate the room.
Partitions can be motionless, sliding or rotating around its axis. They are made of transparent or frosted glass, acrylic, rattan, bamboo or wood. Due to the fact that the partitions are thin (and sometimes transparent, transmitting light), they do not burden the interior and occupy much less area than the walls. Real salvation for cramped rooms, which you still want to distinguish into functional zones.
What finishing materials are trending in the interiors of 2021
Designers shared a list of popular materials that can be safely used in interior decoration this year:
Metal parts. In the interior solutions of the new season, mirror frames, lamps, vases, furniture legs made of brass, bronze or chrome steel are considered especially fashionable.
Natural wood. Now the demand for the use of different types of wood is growing. From the massif of oak, wenge, pine, teak, walnut, they began to produce not only furniture sets, but also floor coverings, wall cladding, various ceiling structures, wall panels, decorative panels and much more.
Original finish with natural stone. In the interior design 2021, fashion trends are the original versions of window sills, countertops, fireplaces, floors. For example, inserts from separate slabs of granite or marble and chipped stones rolled into concrete (terrazzo), etc. look good.
Natural fabrics. Of these, curtains with lambrequins are sewn, bedspreads on the bed, wraps on chairs and armchairs. Tapestry fashion has revived since This is a stylish element of decor.
At the peak of fashion – two new items: wallpaper with imitation of fine hand-painted paintings and mirror panels with patterns applied using sandblast or laser. A very good option – panels of mirrors and wood.
Popular colors in the interior 2021
You will probably be surprised to find out that the simplest room can be radically transformed using just five tones and shades. It is enough to use them in decorative elements (for example, pillows, bedspreads, curtains, etc.) to make the apartment or house more fashionable and modern:
Mint. Fits seamlessly into any surroundings. It softens the excessive expression of "hot" colors – orange, yellow-orange, scarlet, saturated red. Perfectly complements the Provence style and all shades of lavender.
Gray green. It is ideally combined with blue, white, beige tones, favorably shading their freshness and airiness.
French vanilla It is a mixture of yellow and cream. Visually expands the space and seems to flood it with streams of sunlight.
Silver gray. It supports virtually the entire color scheme, highlighting the advantages of each tone.
Hazelnut. A calm light brown tone contributes to a visual increase in the size of the room. Gives a balanced atmosphere.
Decorators are unanimous in their opinion: the 2021 color favorites will satisfy the general enthusiasm for the aesthetics of nature.
Furniture trends in 2021
The mainstream of the coming season – furniture sets made of pine, ash, beech, larch or birch. The natural wood pattern is emphasized, even small flaws.
Sofas, armchairs, chairs, although made without frills, but at the same time they are distinguished by high-quality fittings and upscale finishes made of velor, suede, eco-leather and velvet. The nuance that creative will bring is the LED strip under the bed, wardrobe, chest of drawers or cabinets. This creates a stunning effect of light and floating furniture in the air.
No less popular pieces of furniture made of transparent plastic. They do not clutter up the room and will be almost invisible in a small apartment.
Your house, decorated in accordance with the latest trends in 2021, will turn into that special space where you can relax after a working day and gain strength for new labor achievements. And you can choose a decor that will correspond to fashionable trends, where the main role is assigned to natural materials, in the Lavender Decor online store. You will find a large selection of positions that fit perfectly into the classics, Provence, country, as well as mixed styles. In the catalog you will find many products that meet the design trends of this year, including those made of natural wood.