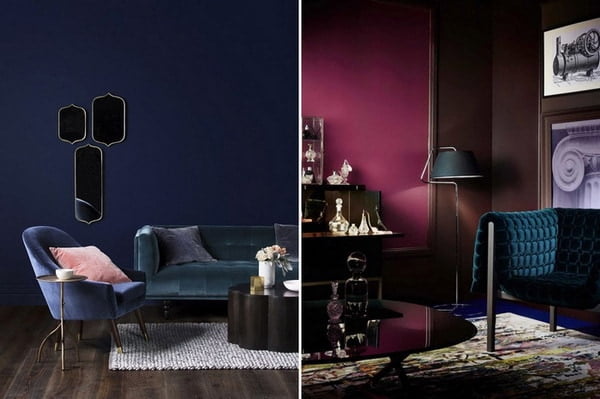 This year, naturalness and functionality remain in fashion in interior design. The design of the rooms, in comparison with previous seasons, becomes more comfortable and individual. The most popular interior colors 2024 are classic blue and green. The trend is also earthy shades, light and classic pastel colors.
The most popular interior colors 2024
Muted natural shades in the current season are still relevant. But at the same time, saturated, even flashy or acid colors, dark tones, bold combinations and contrasts are beginning to gain popularity.
Classic blue
This color has become one of the sensations of 2024. Classic blue, reminiscent of the sky at dusk, is simple and calm. Hue makes the space more comfortable, gives confidence and tranquility. By making it the main one, you can create a fashionable and at the same time comfortable interior.
Dark blue and dark green
Instead of the classic blue, when decorating the interior in 2024, you can choose a dark blue shade as the main one. This color of the deep sea is also stable, creating an atmosphere of calm and tranquility in the room.
Dark green is another color that is the epitome of balance and security. A room with walls painted in this natural natural shade will have a therapeutic stress-relieving effect on the people in it.
Expert comment
"Classic blue, navy blue and dark green are the hottest interior colors for 2024. These shades are especially well suited for large spacious rooms. You can use them in the interiors of small apartments and houses, but in this case, you should be careful. It is advisable to dilute dark colors in a small area with light ones from the same or contrasting palette. Going too far with classic blues or greens can make a room feel too dark and uncomfortable."
Earth tones
Another trend in the interior wall paint colors in 2024 is earthy tones. It can be:
mustard – can be used both as a main color and as an accent color in a light interior;
milk chocolate – let's say both in the design of furniture and the decoration of the room itself;
orange is an optimistic color suitable as an accent.
White, cream, beige
For those who do not like dark or earthy tones, you can choose light colors for decorating your home. Classic whites, beiges and creams are great for wall painting in trendy 2024 interiors. Also this season upholstery, carpets, textiles, decorative elements of light shades will look stylish.
Pastel shades
In trend in 2024 and pastel colors:
mint;
light yellow;
dusty pink;
light purple.
These colors are perfect for a small room. A room decorated in such colors will look not only cozy and stylish, but also more spacious.
The choice of color for room design – modern solutions
It is best to decorate apartments and houses in 2024 in a single color scheme. The owner of the apartment, who wants to stylishly decorate his home, needs to choose the main color and look at several of its palettes. Such palettes, in addition to the chosen color itself, may include its similar shades or contrasting accents. The blue palette, in addition to classic or dark blue, may include:
light blue;
gray shades;
purple;
accent orange.
The green palette, in addition to dark green, may consist of:
mint;
grey-green;
sea wave colors;
mustard;
olive.
Living room colors 2024
For the living room in the design in 2024, it is recommended to choose the most daring fashionable shades.
Dark colors
If the living room is large, all its walls can be painted in dark blue or green. In a small room, it is better to make one accent wall in a dark shade. Lighting in a blue or green living room, so that it does not seem gloomy, should be given maximum attention. If the living room does not have a large number of windows, the lighting should be multi-level. This means that the room provides not only a chandelier, but also lamps, floor lamps, sconces.
Earth tones
Earthy shades in the living room are best used in fairly light colors. It is not necessary to decorate the living room completely in dark brown tones. Milk chocolate in the interior of the living room in 2024 will look more stylish and interesting.
A living room with orange walls will also look fashionable this year. But this color as the main one is not suitable for everyone. If too bright colors irritate, orange can be used in small quantities – in textiles, carpet patterns, and decorative elements. Also in 2024, it is allowed to decorate living rooms in muted terracotta colors.
Living room in light or pastel colors
Beige, white and cream are classic interior colors that have stood the test of time. Decorating living rooms in such colors this season is recommended with the simultaneous use of contrasts. This can avoid unfashionable fading. Light beige or cream walls can be paired with light brown floors and dark cream upholstery.
Pastel colors in the interior of the living room in 2024 should be used carefully. In such a palette, the room can look old-fashioned.
If it is decided to use pastel for decorating the hall, it is better to choose only the most fashionable shades.
Kitchen color trends 2024
The color design of the kitchen in 2024 should be done taking into account the range of the living room and other rooms in the house. Dark colors for the kitchen, since in most cases it has a small area, it is hardly worth using. The walls in this room are best made light.
If the living room is decorated in a blue palette, then for the interior of the kitchen you can choose such trendy colors in 2024:
light blue;
light gray;
light purple.
From the green gamut fit:
mint;
olive;
aquamarine;
mustard green;
grey-green.
In the design of a large kitchen, you can use dark shades. But in this case, you should also not paint all the walls, ceiling or floor in dark. Such a room will look too gloomy.
It is enough if the facades of the kitchen set, dining table or one of the walls are dark blue or dark green.
Bedroom interior colors 2024
This room in the current season can be decorated in both dark colors and pastels. It all depends on the design of the living room and the preferences of the inhabitants of the house. Of the dark shades, in addition to the classic blue and green, fit:
grey-blue;
grey-green;
light terracotta;
muted olive;
milk chocolate.
Pastel colors can also be used:
mint;
light olive;
soft purple;
dusty pink;
light yellow.
Bathroom colors 2024
The bathroom and the bathroom in 2024 are best decorated in light colors. These can be colors:
light blue;
blue;
light green;
light olive;
mint.
Light earthy shades are also acceptable – muted terracotta, light mustard, olive. A bathroom decorated in very light classic shades will also look fashionable this season: cream, beige, white.
Children's room colors 2024
For the nursery this season it is worth choosing brighter colors. The walls in this room can even be completely painted in orange, olive or terracotta. But very bright shades are suitable only for the rooms of calm, balanced children. In children's very active kids, a large number of bright colors should not be used. In this case, it will be enough to make a few juicy accents.
Fashionable interior color combinations – ideas for 2024
This year it will be fashionable to combine both similar colors in tone and contrasting ones in the interior.
Blue combinations
Dark blue will look great with similar ones:
grey;
light blue;
blue
purple.
Very well, this color is also combined with white, yellow, light brown, green. To create contrasts, you can use orange or terracotta.
Green combinations
Dark green paired with natural wood will be one of the most trendy and winning color combinations in 2024. Such a composition can be diluted with beige, purple or muted blue.
Also, dark green this season in interiors can be combined:
with olive;
lime;
pistachio;
emerald and mint.
Earthy shades: what to combine with
A combination of mustard and white colors in interior design will be very fashionable in 2024. Also, the rooms decorated in milk-chocolate tones, complemented by:
muted beige;
wood texture;
green;
white and light grey.
Pastel color combinations
Dusty pink in the interior in 2024 will be harmoniously and stylishly combined with peach and light gray. Mint can be diluted with light green, pale yellow or aquamarine.
Light purple color looks great with malachite, olive, mint shades.
Light classic: combinations
When using beige, white and cream colors in interior design, in addition to contrasting brown and chocolate, you can include colors such as:
grey;
ecru;
terracotta;
orange;
black;
Navy blue.
Unusual solutions in choosing colors for houses and apartments
If the usual palette, dark, light or pastel, seems boring, you can choose some more original design for the interior. Very fashionable this year will be such types of unusual design as:
geometric wall painting;
ombre.
In the first case, the wall is visually divided into several sections – rectangular, round, triangular, square. Next, each section is painted in its own color.
Ombre is a gradient technique in which walls are painted in several steps – one color, but in different tones or shades. In this case, spots, stripes, "burn marks", etc. can be applied to the surface.
Ideas of popular colors for interior in 2024
Classic blue, dark green, mustard, chocolate and cream are the most fashionable colors in the interior in 2024. But any other shades can be used in the design of rooms this season. The main thing is that the colors are well combined with each other, and the owners of the house liked the design itself.
When choosing a color scheme for the interior design this season, you should pay attention to fashionable dark and bright shades. But it is important not to overdo it with such colors. Fashionable light colors should be enlivened with contrasts, while pastel shades are best used in the most trendy range.