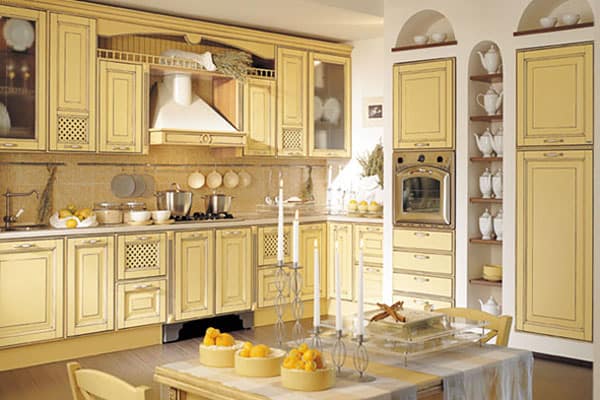 Modern stylists reject the usual patterns and rules. Today, everyone can choose for their kitchen exactly the design that will be ergonomic, attractive and will create maximum amenities. When creating a kitchen decor project with your own hands, you need to consider many factors: the size of the room, its shape, the possibility of combining it with the living room, the location of communications, and calculate possible financial investments.
Small kitchen – interior problems and innovative solutions
One way to create the illusion of a solid space and place all the necessary functionality in a small kitchen is an individual order for furniture:
A table or cabinet that will be a few centimeters narrower or shorter than standard options will greatly simplify the life of the housewives.
Hinged shelves, narrow pencil cases – salvation for residents of old houses in which kitchens have an area of about 6 m 2 or less.
Transformer kits have become fashionable and practical. For example, in a few seconds, a cozy cabinet can turn into a dining table with folding chairs. A hanging wooden bread box at the right time can become a cutting board.
Invisible objects, transparent inserts as part of shelves, tables, plexiglass cabinets or resistant plastic will make the kitchen more spacious and wider. And the non-triviality of the designs will impress every visitor.
If there are several household members in the apartment, then you can use a window sill connected to a folding tabletop.
A tall object is placed in the far corner. The main rule is not to "overload" the kitchen block. Nothing but the most important! It is better not to take out the dishes of first necessity in the living room.
The decor of a kitchen of this size does not accept luxurious draperies, and massive pieces of furniture will be irrational. All the elements of a small room should "work": a luxurious dish on the wall is useful during the holidays, in beautiful containers that stand on shelves, tea, coffee, cereals are stored.
Stylists note that the optimal interior solution for such a room is a reasonable minimalism. The window will look great ergonomic blinds or Roman curtains that are draped on the principle of sail. It is recommended to place the eaves slightly higher than the window – such a simple technique will allow you to "make" the ceiling higher.
For a visual increase in space, it is worth using light shades. It turns out by the way the color scheme of the Scandinavian style or romantic motifs with a small pattern on a soft background. Possible juicy emphasis on one of the walls or the original subject, the use of photo wallpaper or paintings on tiles with a perspective. A game of contrasts will make the kitchen non-trivial. The "glossy" surface of furniture in combination with a checkerboard or diagonal floor pattern will "push" the walls. Strict lines, conciseness are the main rules for organizing the interior of a small kitchen.
Creating a kitchen decor with your own hands, you need to remember that a small room should be filled around the perimeter along the walls, leaving the central part free for movement. Even evening light will turn out to be spectacular evening lighting: this can be achieved using lamps with several multidirectional shades, as well as combining a central chandelier with a sconce system or placing point sources of light.
Kitchen in the cottage: opportunities and expediency
The most grateful option is kitchen facilities in a private household. A sample design project should exist already during the construction of the house. If a finished building was purchased, then in this case it is easier than in a high-rise building to make a redevelopment. In this case, professionals recommend combining the kitchen space with a cozy living room. For extra convenience, a zoning option is offered. Allocate:
The area in which the refrigerator is located, cabinets with other products.
A place with cooking equipment installed. It has furnaces, ovens, countertops for cutting, butchering products and other equipment.
A place for washing and storing dishes. There can be a sink, a dishwasher, a rack for plates and a cabinet in which pots and auxiliary items are stored.
Dining space, a place to relax.
Each part can be decorated independently or contact a professional stylist. All utility areas are conveniently placed along the wall, and the table will be located in the center of the kitchen-living room. The bar between the two zones can be a bar counter of different configurations or a two-level floor – working areas rise to the podium, under which you can hide many communications. Since a return to basics is especially relevant today, designers advise using natural materials or their imitation when creating decor for the kitchen in a private house.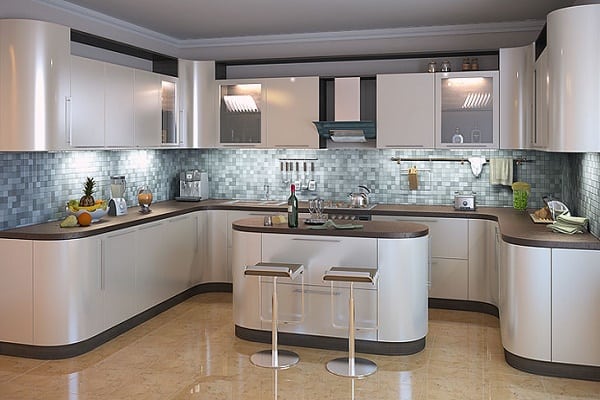 The kitchen interior of the cottage is expediency plus aesthetics, it successfully combines with innovation with comfort. The proximity to nature reminds of folk motives, therefore, in the suburban possessions the country style often reigns. In such kitchens, there is usually enough light, so the use of saturated and dark shades in combination with light entries is quite acceptable. For example, dark furniture, soft colors of walls and flooring in combination with positive curtains will be original, cozy. Simple interior lines complement curtains with drapery and lambrequin.
For the "country" is characterized by a small floral pattern or an American cell.
Reliable and comfortable double-glazed windows will allow you to design a kitchen with northern or western windows in a Scandinavian style: a transparent wall that provides access to the sun's rays at any time of the year, a cozy fireplace or its imitation, many additional spotlights above the workplace or dining table. Tinting solutions – from dazzling white to delicate cream.
Inhabitants of a country house may find closer the romantic style, comfortable "fusion" with unusual combinations. The main difference between the kitchen facilities in such houses is their space and the ability to choose interior items according to their worldview. Do not overly save on high-quality furniture and appliances, because it will serve its owners for more than one year.
Themed kitchen design options
Owners of ordinary kitchens of new high-rise buildings can afford to decorate the premises at their discretion, choose a style or an original form. National exotic colors are especially popular today:
A wonderful "Provence" successfully combines simple solutions and the unique coziness of the French province. Such an interior is the embodiment of practicality, elegance. Romantic shades prevail: muted terracotta, lemon, soft beige, all the tones of sky blue and greenish. This includes neat, slightly brutal painted walls, romantic carved or wicker furniture, and air curtains. Doors and windows – only from natural material or the like!
The Mediterranean style recalls the southern sun, the sea breeze. Only exotic combinations of fittings: a mixture of green, yellow, blue and coral creates a positive atmosphere. Furniture without sharp corners, with smooth bends, marine ornaments on the walls or the corresponding mosaic as a kitchen apron. The presence of forged elements, the imitation of dark ceiling beams that contrast with the general background are welcome. Furniture combines light shades and all the colors of oak wood.
An eclectic English style combines elements of all European cultures. Strict lines and clarity of forms, maximum natural materials, textiles with luxurious texture will become an integral part of such an interior. The decor for the kitchen in such a context is sustained in the spirit of aristocracy and self-sufficiency, therefore, it does not accept cheap fakes. This style is characterized by: massive furniture of solid size, calm shades of all objects, diffused dim light, symmetry and severity. All warm colors, burgundy, mahogany are acceptable. And the walls can surprise with floral motifs, a cage, vertical stripes with a pattern.
Stylized kitchens are considered fashionable. Leading eco-design. The design is dominated by wood or its imitation. Furniture is not covered with paint, preserving its natural beauty. Frames, lampshades, blinds are also made of wooden battens or planks of other shapes.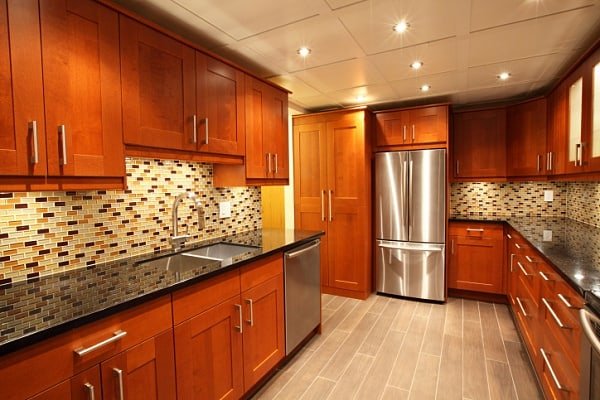 Ship topics. It requires the maximum number of colorful details. Wooden structures, work items on the ropes, cyan and blue enhance the effect.
The loft style, which imitates the attic studio, European motifs, is also popular, and luxury lovers can recall the romance of medieval European palaces with magnificent decor and gilding.
Any kitchen should be combined with the general interior solutions of an apartment or house, be as convenient and enjoyable as possible for the owners.