Interior doors: amazing transformations
Often, looking at the standard dull interior doors that have come into our interior since the Soviet uniformity, residents of houses or apartments want to change something in the form of such functional things. Creative people begin to independently decorate their home using non-trivial ideas and a variety of materials. Everything will come in handy – from the latest 3D pictures to beautiful applications created from improvised things. Home decor trends 2021 doesn't have to be expensive.
Designers offer many ways to refresh a bored door in an apartment: it can be covered with a tint varnish or painted in a new tone, adding special charm with the help of modern moldings – straight-line or bizarre figured pieces can completely transform the canvas and bring it closer to the general interior.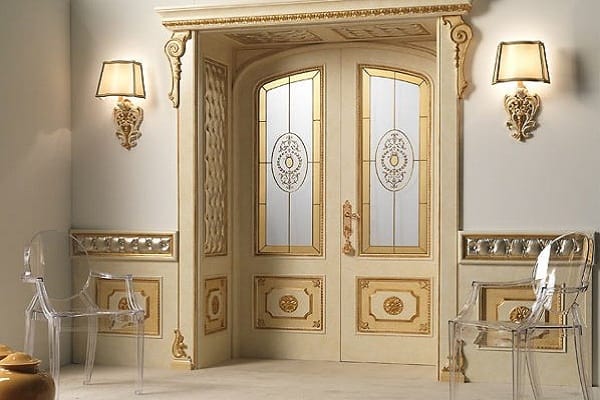 Polyurethane sockets for chandeliers framing unusual door handles will look interesting. It is not necessary to make the doors monochrome: if you are able to paint a picture with your own hands, then do not be lazy! Or make an interesting stencil that simulates any contours you like. For those who want a quick result, invented special ornamental nozzles on the rollers. And paint moldings and sockets with juicy, cheerful colors.
Today, the trend is the decoration of interior doors, furniture elements with wallpaper and self-adhesive. Respectable will be fabric options, spatial images, glossy coatings. Positive accents are fashionable: on a plain door, a bouquet of homemade or dried flowers may well "bloom". Here you can arrange an unusual application: in the nursery from the remains of linoleum, wallpaper, scraps of fabric, it is easy to build a model of the hero of your favorite fairy tale or a cute hare, and beautiful home-made stars or clouds will decorate the door to the bedroom against the corresponding background.
If the door is planned to be visually disguised with the preservation of functionality, then decorators recommend making a small rack with narrow shelves for souvenirs, photographs and other trifles with your own hands.
The use of acrylic panels with an amalgam is considered an innovative decoration, if the door does not fulfill the role of an obstacle, then modern designers recommend creating a bold asymmetric pattern from through holes.
For lovers of retro, vintage-style decoration is suitable: with the help of abrasive paper they achieve the aging effect, fragments of wallpaper, sheets of newspapers or notebooks can be glued to panels and arbitrary parts of the door. Further, the surface is varnished, and stripes of baguette are placed around the perimeter.
Stained-glass windows, paintings, home hand-made
Stained-glass windows in a spacious apartment can replace ordinary window or door glass. For small spaces, use them carefully.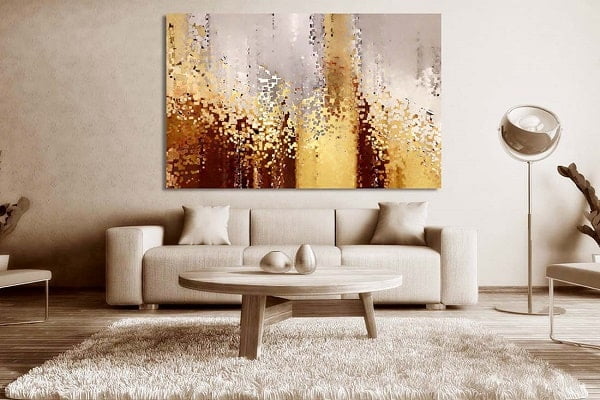 In old houses, the stained-glass window will perfectly replace the transparent huge glass on the door to the kitchen and will be appropriate on the small windows of the bathrooms. Such decoration will allow light to enter the room, but will protect the room from unwanted eyes. The selected palette will create a bright accent or "collect" soft pastel colors. In the cottage, bold designers suggest changing the shape of the additional window: round, asymmetric contours will be very attractive.
It is difficult to create a classic stained-glass window with your own hands: you will need colored glasses of different sizes and a profile of tin or copper to fix them. Seams are soldered.
Today, film stained-glass windows are more popular and simple in execution.
The glass base is degreased, and the film is applied in accordance with the intended pattern. Borders and borders are imitated using lead tape, which is sold in specialized departments.
Homeliness and special attractiveness will be brought to any apartment by a hand-made painting or composition. The main rule is nontriviality. Artistically gifted people can create beautiful creations with the help of canvas and paints, and resourceful and creative designers are able to create an exceptional panel from the most unexpected materials.
We call on the inspiration to help and take out all the beautiful and long-stored items from the boxes. A spectacular picture of shells collected on the shore of a reservoir several years ago will become a chic decoration of the corresponding interior. To give the product a special flavor, it should be coated with regular or tint varnish.
In recent years, needlewomen began to create real masterpieces from a multi-colored flap, complemented by patterns from ordinary buttons. Bright fabrics or combinations of calm tones are pulled on special baguettes.
Stylish, unusual look floral images from buttons of various shapes and colors.
Button flowers, trees are especially popular, craftsmen even create quite realistic or stylized landscapes. Such compositions are effective both in the ethno-style and in the vintage interior or in the formation of the likeness of art nouveau. Such home decor does not require special financial costs, the fantasy plus the proposed idea will be more valuable.
The decoration of the living room or bedroom can be the most diverse: creative housewives are quite capable of creating modular volumetric paintings with flowers, leaves or other images from moderately stiff fabric.
Carved elements will fit into country or other ethnic style. They can be used as a frame for window or doorways, as a baguette for a picture. Depending on the level of skill and desire, you can do carving using natural workpieces, or purchase a clever imitation of elements made of foam or polyurethane.
Interesting ideas: how to make ordinary objects original
Many household utensils, ordinary functional items can be turned into amazing, admirable things with their own hands. Simple flower pots on window sills can easily turn into beautiful mini flower beds with wrapping paper, ribbon and scissors.
Craftsmen make balls, vases, candy boxes from the remnants of yarn. The algorithm is simple: the form is wrapped with threads, then dipped in a solution of PVA glue or a simple mixture: diluted in two glasses of water, one and a half tablespoons of sugar and half a glass of flour. The ball is punctured and gently pulled out, and a foil layer is applied to the remaining initial forms, which is removed together with the thread base and carefully separated from it.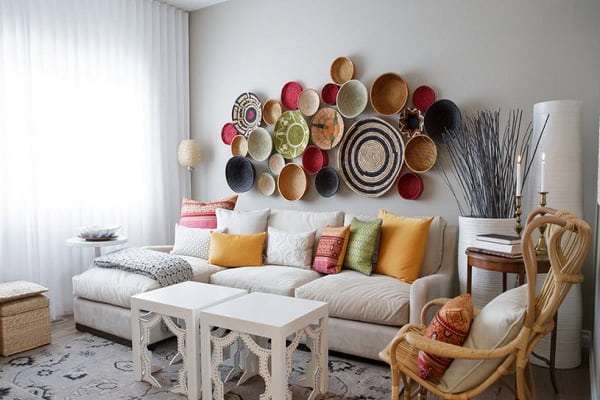 Home decor can be very personal: self-made photographs will become the backdrop for the watch dial. The usual decorative options for much-needed items have become familiar and uninteresting. A gorgeous photo under the arrows will remind you of the best moments.
Many different mirrors are on sale today. You can even choose models with ornamental design. But even your favorite old mirror, if it is quite suitable for use, should not be put aside. Stylists suggest simply transforming it.
Decorating a mirror is an exciting process. To facilitate the work, designers are advised to purchase hot glue or glue gun. First, it is advisable to degrease the old frame. Prepare the elements selected for the decor – for example, shells collected by the children, decorative stones from mica – to prepare in the right amount. The "fitting" follows: the samples are laid out in the desired order and the technique is adjusted along the way, the pattern changes. It is advisable to alternate large and small parts, and after gluing (the same shell or a piece of mica) it is worth holding it for a few seconds. The Spider Web is removed from the glue with a hard bristle brush, and the final result can be varnished.
With your own hands you can create beautiful multi-style floor lamps, lamps.
Decorating them is not considered difficult – bright fabric or modern types of paper, stable synthetic materials stretched over frames, can be a wonderful part of the interior.
DIY accessories are fashionable today. Flower stands, unusual towel mounts, amazing book shelves or functional shelves in the bathroom, in the kitchen will not only be beautiful, but also useful. The decoration of such things is to change the appearance: here you can recall the frieze, amalgam.
Old shelves should be "redrawn" in a new way: by dividing the usual "boxes", you can create a stepped structure on the entire wall. Also, fixing several instances with his own hands end-to-end, the master will receive an air rack in the middle of the surface.
Safe rugs or pads-puzzles from bright old rags will please the kids – this decoration is beautiful, appropriate and useful. And as a filler, a synthetic winterizer from a jacket abandoned on the mezzanine is suitable.
Creative works wonders: amazing vases from plastic bottles for artificial bouquets, decoration of a traditional boring "glass" using "hard" fabric, kraft or corrugated paper will transform any thing. Any combination of materials, self-formed folds, chic ribbons or inconspicuous pins will make an old vase unrecognizable.
It is worth paying attention to the forgotten weaving from vines, macramé, the creation of home woven accessories from strips of fabric. Color your life with unconventional things and bring a little positive into it!
With your own hands you can make a lot of non-standard, amazing, functional and simply cute objects to the heart. All you need is desire and a little imagination. And then the selection of materials will be a joy, and the workflow and the result itself will exceed expectations.