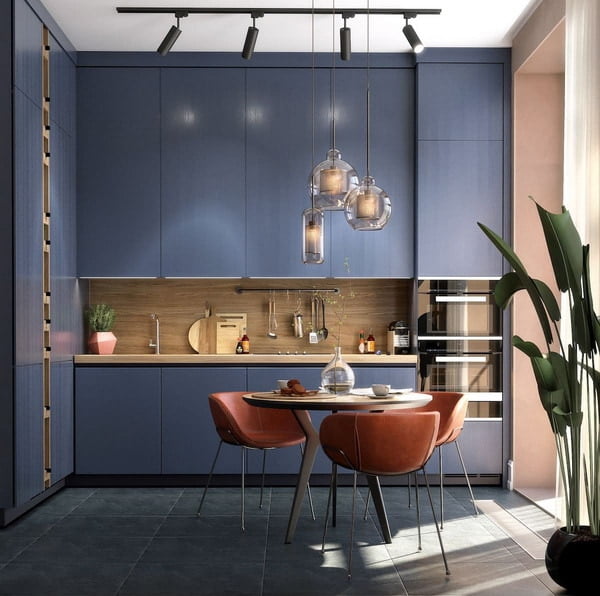 You are constantly looking at various kitchen design options on the Internet and wondering which kitchen design will be fashionable in 2023? Or maybe you are choosing furniture for the kitchen and do not know which solutions you should pay attention to? A practical and functional kitchen is a space where cooking is productive and enjoyable, and every thing always has its place. Find out how to perfectly tailor your kitchen to the needs of your household.
Kitchen design 2023 – Top trends
There is no perfect design that fits every home. Before you start designing or planning the trendy 2023 kitchen interior, define your lifestyle and the main expectations associated with this space, because it must be adapted to them.
Are you a homebody and love to cook? Is your favorite hobby baking cakes and cookies? Do you eat all your meals with your family and enjoy spending time talking at the kitchen table? Or maybe you don't like to cook and only heat the food you buy in the kitchen, or are you used to eating outside the home? As you can see, the kitchen must be adapted to your needs – it depends on them which solutions to use in it.
The design of the kitchen decor trends 2023 is influenced by many factors, the main of which is the area of the room. The smaller it is, the more original ideas and non-standard solutions should be in it. It is equally important to know whether it will be a separate room or a place connected to the dining room or even the living room.
Rational use of space in the kitchen
Comfortable use of the kitchen space will ensure compliance with the appropriate distances between the central points, that is, the sink, stove and refrigerator – this is the so-called working triangle.
The distance from the sink to the refrigerator, between the sink and the stove should not exceed 210 cm, and from the stove to the refrigerator no more than 270 cm.Thanks to this, when preparing food, you do not have to travel too long distances (for example, with a hot or full dish in your hand). Of course, we shouldn't apply this principle to every furniture arrangement.
How the furniture will be arranged in the interior of the kitchen 2023 should be thought out in advance and, if possible, adapted to the size of the room (if we buy an apartment for a ready-made apartment) or agreed at the design stage.
In addition to the distances, the length of the countertops is also important. The main worktop should be about 80 cm long so that you can easily cook food on it. In a large kitchen, an island can be an additional countertop, and a bar counter can be an alternative to an island in a smaller open kitchen. This has become a very popular trend lately.
The kitchen island not only beautifully divides the space into the kitchen-dining room and the living room, but also allows you to hide the clutter that often reigns on the kitchen counter. The selected stools will give your 2023 kitchen a modern touch. To make the most of the space, we can place additional wardrobes in the bar or on the island.
Cabinets, shelves and drawers – the right organization
Good organization is very important, especially in the kitchen, so choosing cabinets and properly decorating their interiors is another important step towards a practical kitchen. The amount of equipment and utensils (as well as how often we shop or have pantry) also depends on how many cabinets we need. When it comes to planned storage, the less we use something, the less convenient it can be stored.
Equipping cabinets is also important – this should be as practical as possible. For example, pay attention to the location of the shelves (the distances between them should be different so that you can easily store items of different heights, including taller ones, for example, a bottle of oil).
For corner cabinets that are the most difficult to arrange, use revolving shelves or pull-out systems to make the most of this space. Cabinets with load baskets are also ingenious – they are extremely comfortable and allow maximum use of space, even in the case of very narrow cabinets.
Another practical tip: at the bottom of the kitchen, use the drawers. They are much more convenient than the shelves, because when we take them out, we see all the contents at once (we do not need to bend down, for example, in search of a deeply hidden dinner service). Drawers are ideal for storing pots, food items such as flour, sugar, pasta, cereals and rice.
We can also supply special inserts in the boxes that will allow you to organize everything. An interesting option for a very small kitchen is a retractable tabletop. Railings, that is, metal pipes usually attached to the wall above the countertop, have also become fashionable lately. You can hang on them, for example, a shelf or basket for dishes, jars of spices and even pots of garden herbs.
As you can see, the practical and modern kitchen décor trends 2023 is a place that simultaneously combines new ideas and solutions with proven principles of design and furnishing. Knowing them will help you create the perfect cooking and eating area that will become a real diamond in your home.
Interior style for trendy kitchen 2023
The kitchen is one of the most important rooms in the house. The range of styles for modern kitchen interior design 2023 is quite wide and varied. The choice depends on the lifestyle and views of the person. The most comfortable stay in this room is the dream of every housewife.
Scandinavian style kitchen decor trends 2023
Those who choose the Scandinavian style love functionality and simplicity. It is perfect for the modern kitchen 2023. This style may not seem like the best option at first glance, but its characteristic minimalist approach to the interior is impressive in its elegance.
The accent is white, visually expanding the space. This effect is also achieved through lighting. The diffused light of functional spotlights and diode strips psychologically increases the area of the room.
Sand, light brown and beige shades are allowed. The whiteness of the interior can be diluted by combining this color with wood, multi-colored tiles.
The austere beauty of the style will be emphasized by light walls and solid beech kitchen furniture. The emphasis in the furnishings is on the finishing of leather, metal, linen wool.
Leading world designers most often complement the fashionable interior of the kitchen in 2023 with stone and mosaics, enrich the space with accompanying decorative elements – glass items, soft carpets, removable covers, various pillows and tablecloths. We are talking only about the most necessary things that must be in every kitchen.
Vintage style in the interior of the kitchen 2023
Have you ever thought about vintage style? If you prefer antiques, then this style is what you need. Such kitchens are significantly different from others, they radiate warmth and comfort, bring elegance to the interior, create a unique charm, thanks to which everyone who looks into your kitchen will be amazed by its appearance.
Indoor plants will perfectly fit into the interior of a vintage kitchen, giving it freshness and cheerfulness. You can use natural or artificial flowers, ornamental grasses and herbs. When it comes to choice, tropical evergreen vines will be the most attractive.
Peace, simplicity and nostalgia are what characterizes the vintage style. It is dominated by unobtrusive calm colors that very easily turn the clock back and make you think that you are in a kitchen belonging to a previous generation.
Use in large quantities a range of neutral tones, combine them with cream, beige and light gray shades that can be applied to walls and floors, use in lighting and furniture selection.
On a note! A 2023 vintage kitchen should be filled with useful details. Therefore, you will need original designed spice shelves or organizers (metal hanging baskets) for canned food. These details will put things in order in your kitchen, help to keep and arrange all the necessary products in a compact way.
Country kitchen 2023
Recently, country style has come to the fore, bringing a touch of innocent charm to even the most modern homes. In a world dominated by artificial finishes, shiny and featureless surfaces, rustic style will provide a personalized, unique approach.
How to start creating a beautiful rustic 2023 kitchen interior? It's important to remember that in a country kitchen, functionality is more important than aesthetics. The good location of the appliances, kitchen island and work surfaces are what you need to pay attention to before thinking about finishes and nuances. In the kitchen in this style, each item has its own purpose.
The basis of this style is furniture made from recycled wood, on which all its imperfections (signs of aging and wear) are visible, giving a special charm to the room. In this case, darker shades of wood are preferable to lighter tones.
If you're just starting out with this style of kitchen, combine wood elements with vibrant details. A kitchen island or a red accent wall will create a unique ambiance.
A sleek range of stainless steel cookers, refrigerators and hoods look great in the modern kitchen. But if you want to give it a rustic character, look for more suitable textures. Materials such as artificial stone and ceramics from which the worktops are made will help to contribute to the unique look of the kitchen.
Retro kitchen 2023
Remember what kitchens looked like in the recent past. Cheerful vibrant hues like rose petals are perfect for bringing a retro look to your home. Colors like orange, lemon green or red will cheer you up, while muted pastels, browns and elegant blue give your kitchen the look you want.
Each of us can paint the walls and individual elements in our kitchen without the help of a master using a suitable roller (or brush), having previously selected the color we like. Two-tone options for kitchen sets are very popular (radically opposite shades or similar in tone).
Find textiles with distinctive geometric patterns in vintage stores and instantly create a retro look. Surely you know someone who, for little money, would sew for you a pair of curtains or pillows from these materials.
Advice! For a retro-style kitchen to look harmonious, you need antique pieces of furniture in warm colors. You can easily add a retro look to a tall wooden bar, upholstered chairs or a small round table.
It is worth emphasizing that for a retro style, you can choose any palette, except for fancy shades that are traditionally not used in this style.
The combination of colors in the interior of the kitchen 2023
Not everyone can master the art of the correct use of color combinations in interior design. You can choose a colorful palette for beautiful kitchen decor trends 2023, which will be used in the design, only after some aspects have been taken into account. Namely:
purpose and size of the room;
its geometric parameters;
features of temperament, character, age, lifestyle of the owners;
the desired emotional result that you achieve when arranging a room.
This is not to say that there are "right" and "wrong" color solutions in kitchen design 2023. Everything that matches your vision of beauty can be used here. Each color has its own properties and it is advisable to pay attention to them if you want to know exactly what effect you will get from its application.
The palette of cold tones (blue, light blue, gray, green) makes the kitchen fresh and cool, helps to reduce appetite, relax and calm down. Warm colors (shades of yellow, red, orange) improve digestion, increase appetite. They raise the tone, warm, give vigor, activity, energy.
There are endless variety of colorful color combinations to create a stylish 2023 kitchen interior. The design of each area will require careful study and attention to every detail. Otherwise, the aesthetic perception of the room will not bring pleasure.
Monochrome kitchen design 2023
Monochromatic or monochrome color combinations are characterized by the use of many halftones of the same color scheme. The base color has varying degrees of intensity and saturation to help achieve the desired effect. The use of a large number of shades allows you to get a more interesting kitchen design 2023. Using only one color and its midtones is considered the most unobtrusive, calm and pacifying.
To avoid monotony and "boring" in a monochromatic interior, you can use skillfully selected shades and textures that will help create a result no less stunning than using a color palette. Adding rhythm and depth to the design of the room will help the introduction of white into the general background.
Silver paints also do a good job with this task. Silver is very often used in glamorous interior decoration. Adding black color will help to add a contrasting accent. But only it is necessary to use it in small doses.
Triadic color scheme – popular trend of 2023
A three-color or triad scheme involves the use of three colors of the color wheel, which are at an equal distance from one another. The interior design of the kitchen 2023 should not be too overloaded, therefore, it is undesirable to use a large number of colors and their halftones at the same time. The optimal amount is up to five tones. Such combinations are considered ideal.
Adding depth and saturation to the color scheme will allow the use of various textures. It is known that gloss makes the color deeper, brighter and more intense. In contrast to the matte surface, which mutes and softens the saturation of colors.
When developing a design project for a fashionable kitchen 2023, it is important to remember that very light and dark colors should occupy the smallest proportion of space – no more than 10%. Decor elements will finally help to place accents in the room. Such decorative blotches should look bright and catchy against the general background.
In addition, the level of illumination must be taken into account. Whites, blues, purples and grays will appear washed out in dim natural light and even create a cool feeling. In sunny southern kitchens, cool pastel shades will look fresh. On the other hand, warm colors look depressing in bright light.
Kitchen 2023 – Color Tips
There are several tricks that professionals use to get rid of the monotony of a kitchen space. Fresh ideas and photos of the design of beautiful kitchen interior decoration trends 2023, presented in the article, will help create a soulful, stylish and harmonious interior, which will be very pleasant to be in.
Don't break the structure
The main feature of monochrome design is the use of one color. Choose your "main violin" and complement it with two shades that will play in your kitchen. You can get excellent results when priorities are clearly set.
When designing a modern kitchen interior in 2023, it should be well understood where is the main tone and where is the auxiliary one. It is necessary to use several halftones of the base color. This method will bring an intriguing touch to monochrome kitchen decoration, add variety to the design and zone the room into separate areas depending on their purpose.
Such a visual highlighting of functional areas will help correct the unsuccessful geometry of the room and add rhythm to the overall picture. Use different shades of blue for a nautical look in your kitchen. It can be sky blue, azure, royal blue and even indigo.
Add contrast to the room
Breathe life into the stylish kitchen design of 2023 with a kind of contrasting accent – a colored island. After all, it is enough to include one large or several small noticeable accessories in the kitchen decoration, as it will sparkle with new chords.
Complementary decoration of the kitchen space
The complementary scheme is also called contrasting. The principle of combining colors in it is based on the choice of opposites, that is, colors are used that are on diametrically different sides of the color wheel. So you can combine shades of purple and yellow. One of the colors will become the base color, and the other will balance it.
You can achieve a soft or sharp result from such a color symbiosis by varying the depth and saturation of the main background, as well as its contrast. Furniture in Contrasting Kitchen Design 2023 – Should be lighter in relation to the floor, but darker than the walls.
The complementary interior is very catchy, but quickly loses its sense of novelty and just gets bored over time. You can avoid this result if you use limited use of easily replaceable contrasting details in the decoration of the kitchen. Changing the "scenery" can breathe new life and change the mood of the room.