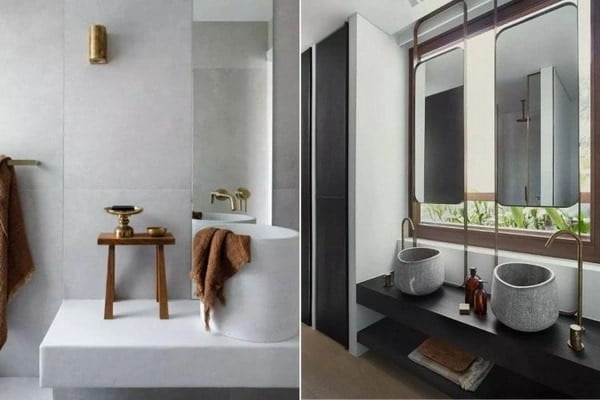 Tiles made of valuable natural materials, a simple, puristic look and bathroom furniture with clear lines: 2023 is all about timeless elegance. This year, the bathroom collections of well-known designers have taken up and further developed the trends of the previous year. We explain what the current bathroom trends for 2023.
The current bathroom trends for 2023 at a glance
Which bathrooms are modern in 2023? Naturalness is a top priority this year. At the same time, the bathroom appears in a new light and fascinates with a spa ambience. Fine materials such as marble, bathroom furniture with clear lines and sculptural fittings enhance the modern bathroom.
What's trending in the bathroom? Wabi-Sabi style naturalness
This year, too, a lot of value is placed on naturalness – but this time in the form of the minimalist naturalness of the Japanese Wabi Sabi style. The bathroom furniture has organic shapes, the floor tiles fascinate with their subtle motifs and the walls are plastered instead of tiled. Thanks to the choice of materials, natural stone and wood, the Wabi Sabi bathroom has a particularly homely feel and relaxes the senses with its neutral colour palette of sand and stone tones.
Current bathroom trends: fittings in anthracite
The bathroom in black and white has successfully asserted itself in recent years. In the past, anthracite was often chosen as the wall colour, nowadays the dark nuance is used as an accent. Black sinks and bathroom fittings give the room that certain something. Matt surfaces create attractive contrasts to glossy marble tiles. The interplay with a black washbasin is particularly effective.
How do you tile a bathroom today? Marble as a trendy material for walls, granite tiles on the floor
Marble is not only high-quality, but also very trendy. The large- format marble tiles give the room depth and make it appear larger.
Granite tiles are also increasingly adorning the modern bathroom. They make great flooring and add a luxury upgrade. The matt surface of the granite tiles contrasts particularly attractively with the high-gloss marble tiles. Together they form the perfect monochrome background that best accentuates the simple design language of modern bathroom furniture.
Wooden bathroom: modern designs
Wood gives the bathroom a touch of coziness and warmth. The material will be used sparingly this year. Above all, bathroom furniture made of pine, oak or walnut is very popular. These woods have the property of absorbing moisture in the bathroom and then giving it up again.
Current bathroom trends for 2023: the shower cubicle
Style is also very important in the shower cubicle. The new shower cabin has a floor in anthracite or gray and is tiled with terrazzo. In this way, the shower zone is optically emphasized.
In addition, new shower heads bring relaxation and comfort. Various types of jets ensure a true wellness feeling. Many showers are also equipped with dimmable LED lighting, the colour and intensity of which can be adjusted as desired and mood.
How do you tile a bathroom today? Terrazzo flooring and terrazzo slabs are enjoying increasing popularity
The terrazzo slabs are made of coloured rock chips. The small pieces of stone are bound with cement. The terrazzo floor has established itself as an alternative to the classic natural stone floor. Depending on which types of stone are mixed in, different effects and play of colours can be created. A terrazzo floor not only scores with an attractive appearance, but also offers many practical advantages: the high-quality floor covering is extremely durable, easy to care for and suitable for underfloor heating. No wonder it has become very popular in recent years.
This year we will also decorate the walls with terrazzo tiles. The result: a modern bathroom with an elegant touch.
Current bathroom trends for 2023: copper or brass accents
So that the bathroom does not appear sterile and boring, use copper or brass accents. Together with wooden bathroom furniture, the warm metallic colours ensure comfort. They harmonize well with both white and black vanities and tiles and turn the bathroom into a relaxed oasis of well-being.
What's trending in the bathroom? Free-standing washbasins and washbasins with clear lines
Washbasins with clear lines give the room structure. They can be perfectly combined with an illuminated mirror with a minimalist design. Generous oval countertop basins loosen up the strict, puristic look of the washbasin and at the same time underline the modern look of the room.
Freestanding sinks are making a real comeback this year. Washbasins designed as monoliths with a sculptural character are particularly popular. As a single or double solution, made of high-quality ceramic or natural stone: the free-standing washbasins are guaranteed to attract everyone's attention.
Current bathroom trends: shower zone with bathtub
A different kind of shower zone: this year, the bath tub will find its place in the shower zone. A practical design idea as it keeps the rest of the room dry. It is best to place the shower zone near a window. So you can ventilate the bathroom directly after showering.
Bathroom trends 2023: wallpaper
The last trend is for those who want to add more character to the bathroom. You can highlight individual areas in the room with a wallpaper with a stylish pattern. However, be sure to use durable models. Fiberglass and vinyl wallpapers are best suited for use in the bathroom. Choose models that are washable and scrubbable because they can be cleaned with a soft brush.
Decorating bathrooms: The trends for 2023
A stylish decoration should not be missing in the modern bathroom. Accessories in green are currently in fashion – they blend harmoniously into the modern colour palette and give the room a fresh kick. Traditionally functional objects such as laundry baskets and side tables can also have a decorative effect. Scented candles make staying in the bathroom even more pleasant and various towel holders tone-in-tone with the colour of the fittings give the design the finishing touch.
The bathroom trends for 2023 are all about naturalness. We briefly summarize the most important trends again:
Materials: Granite tiles for the floor, marble for the walls, terrazzo slabs for the shower zone and wallpaper as accents above the vanity.
Colours: sand, cream and white for the walls. Anthracite, slate gray and black for an accent wall and for the floor respectively. Bronze and copper for the fittings, green for the accessories.
Motifs: Geometric patterns, but also motifs inspired by nature such as waves, spirals and circles.
Living style: minimalism, purism, wabi sabi.
Bathroom furniture with clear lines, free-standing washbasins.
Room division: Shower zone separated from the rest of the bathroom by glass walls.
Bathroom colours 2023
What is the 2023 trend colour that will dress up your bathroom? We invite you to discover which bathroom colours 2023 and ideas to watch out for!
The decorative atmospheres of the year 2023 will be strongly influenced by a return to nature, a trend that started a few years ago, but accentuated by the Covid-19 and confinements! A real need for nature which is reflected in the bathroom by floral motifs, raw materials such as wood, stone or marble, as well as colours approaching natural shades such as brown, terracotta or forest green. But 2023 also gives way to beautiful surprises with stronger and tangier colours! Discover with us the trendy bathroom colours 2023.
Khaki, green in 2023 trend colour
Khaki green is a 2023 trend colour for the bathroom, in its matte version! This colour goes well with white and black, especially for basins. Turn to a light khaki to brighten your room, it will be easier to combine with other colours, or to install in a small bathroom.
The khaki green can also land on your walls. Avoid colour overload by integrating it only on a single green bathroom element: either your furniture or your walls. This shade of green echoes a more natural side of the decoration.
Terracotta, the terracotta colour
Terracotta has already appeared for two years as a popular colour in interior decorations. Between brown and red, this "earthy" colour brings warmth and escape. The other advantage is that terracotta is associated with a wide range of colours, so no need to completely redo your bathroom if you integrate terracotta!
This colour is a call to escape, it recalls in particular the colour of the Australian Outback and the American canyons, where it is naturally present.
White, the essential bathroom colour
White is THE colour of the bathroom and sanitary rooms in general. A symbol of purity and cleanliness, this colour never goes out of fashion because sanitary brands reinvent their vision of the bathroom each time through it.
White is the neutral colour placed in opposition to a strong colour, the light against the darker colours of your bathroom decor, but it is much more. White in bathroom furnishings truly serves as the basis for freely creating your space. Like a blank sheet, it allows you to carry out all your bathroom projects without great difficulty.
Camel, warm and restful atmosphere
Another trendy escape colour for 2023: Camel. A warm, luminous and restful colour, of course, but also a strong and complementary colour! The Camel arises by key to associate with another colour, or in total recovery with neutral elements, even white, to avoid the overdose.
Camel also evokes rather mineral materials; associated with terracotta, the "terracotta" colour, they create an atmosphere that is both warm and calls for escape. Higher up, the Sanijura Camel vanity unit is placed on slender legs to give it an airy dimension, and on a jungle wallpaper tiled wall; always in the theme of escape and nature.
Forest green, green intensity
The green is renewed each year to offer us very interesting variances. In 2023, forest green, more intense and deeper than duck green (from the 2021 decoration trend), is given a prominent place in our interior decorations. In the bathroom, forest green plays with the light and neutral colours usually present and arises as a strong and very distinctive colour.
As indicated above, the decorative trend of recent years follows a clear red thread: the return of nature to our interiors. Forest green is no exception. From its name is derived the colour of the dense and dark forests, still wild. Natural materials such as wood, stone or iron are readily associated with neutral colours such as black, white or chalk. For a chic vibe, consider gold and copper.
Chalk, the colour of softness
New bathroom colour trend 2023, the popularity of the chalk colour is born from the Scandinavian and hygge decorating trend, which gives pride of place to neutral and light tones, in addition to natural materials. Chalk makes it possible to create more soothing atmospheres and to adapt the interior decoration to all spaces and desires.
Yellow and curry, solar colours
In 2023, you will have understood it, it is easier to dare colours, and especially warm and joyful colours. With this in mind, yellow and its variations such as ocher are welcome!
A very strong colour, yellow is to be integrated as a small touch: a piece of furniture as above, or a small bathroom furniture set. Ochre, on the other hand, can dress up a larger part of the bathroom, but to maintain visual harmony, consider pairing it with softer colours.
Acidulated green, a surprising pop touch
In 2023, we energize our interior decoration atmospheres and we dare more shimmering colours! The tangy green arises as much on furnishings as on the walls, in a measured way of course. This is the art of decoration: daring while knowing how to dose.
This 2023 trend colour may be surprising, but its presence instantly brightens up your room. Attractive colour, preferably integrate it on an important element in your bathroom: a wall to bring out a frame, a piece of furniture to define a space, etc.
Caning, back to sources
The caning, this mesh element in wooden rattan, is the ultra-trendy decorative element of this last year. It represents this retro trend that inspires interior design today and creates an interesting game of hide and seek. Caning in a bathroom is also appreciated because it can fit into a contemporary, design or retro decor.
It also covers bathroom elements and in particular cupboard doors and other openings. The Burgbad brand offers in its Max collection an interesting retro wood vision of bathroom furniture.
Browns find their place
Variances of brown are part of the 2023 trend colours! A warm and relaxing colour, brown presents itself in 2023 in a variety of shades that combine well with different materials and designs.
Easily adaptable to different moods, brown can be used as an alternative to black or other dark colours to create a warmer atmosphere.
The other bathroom trends 2023
The year 2023 gives way to a lot of new things! If certain trends keep a place of choice, such as marble with large veins, certain colours will be more and more present. We can note for example the play of materials and colours such as wood accompanied by coloured elements within the same piece of furniture.
Bright colours make a particularly good appearance in our interiors to give more pep and personality. The tangy green presented above is one of the interesting bright colours but fuchsia is also very popular.
Tiles with floral motifs and XXL decors are given more space because they allow you to create a visual identity and a special atmosphere in the bathroom.
On the faucet side, black metal and chic coatings such as gold or copper are still popular and trendy. Brushed rose gold, brass and stainless steel are also present. Bathroom accessories such as handles or furniture feet are also dressed in it to match the faucets!
Bathroom tile ideas 2023
Are you looking for creative ideas for bathroom design? In the following article you will find a lot of inspiration on the subject. Create the place of your dreams with the following modern bathroom tile ideas 2023.
Bathroom tiles – aesthetics and benefits
Modern bathroom tile is the most common coating and it is not by chance. The tiling is functional. Its practical advantages are numerous: it is resistant to humidity and possible shocks, it is easy to install and maintain and, having a smooth surface, it is very hygienic. On the other hand, it lends itself to every taste: the sizes, colors, materials and designs on the market are so numerous that it is impossible not to find the right design for you that meets all your requirements. If you can't decide on the model, we've compiled a collection of photos to inspire you and make your choice easier. Of course, it will combine well the different materials and styles to create a particular effect or simply to express your creativity.
Modern bathroom tiles: extravagant ideas
There are several decorative designs that are extraordinary, even avant-garde. You can simply use them to set accents here and there. Or, if you are passionate about the classic style, you can do without these products and opt for pure and simple models.
In the bathroom, where we start and end the day, it is very important to create a comfortable and natural atmosphere, so that each member of the family is comfortable there. Contemporary versatile materials for bathroom tiling fulfill the increased criteria of knowledgeable modern people. Trendy porcelain stoneware tiles are characterized by their durability, easy maintenance and aesthetic appearance of major impact.
Bathroom tiles in snow white and sky blue
How to tile your bathroom to get a seaside spirit? Nothing could be simpler than opting for the blue-white duo and you're done. We prove it to you with this bathroom which is dressed in wall tiles available in snow white and dark blue. The idea to sting? Sprinkle the entire wall with a series of decorative accessories that will transport you to the coveted maritime universe. Decorative boats, frames and paintings with a marine theme, shells… the list is not complete.
Bet on bathroom tiles in taupe gray to create a Zen atmosphere!
Light gray, solid wood and touches of greenery: this is what you need to seize to create a bathroom with a Zen atmosphere. Here, the light gray is reflected in marble-style tiles, while the wood comes in small touches on the furniture and decorative elements. And to make the setting more idyllic, don't hesitate to sprinkle touches of green here and there. The goal is to confer a resolutely vegetal atmosphere.
Marble look bathroom tile
Does your interior exude the elegance of the mansions of yesteryear? You might as well create a piece of water that mixes elegance, modernity and the chic of yesteryear. It's up to you to choose between high-quality tiling and marble or onyx cladding. Admittedly, noble materials may punch a hole in your budget, but nothing can match their exceptional properties.
Round Patterned Bathroom Tile
For those who do not wish to spend a fortune for the installation of a marble coating, know that there are a whole host of possible alternatives. The latter are, of course, much more affordable in terms of price. Above, a bathroom in light tones, which is adorned with mosaic-style tiling and a free-standing bathtub.
Natural looking wall tiles
This is a bathroom that seduces above all with its beige marble imitation wall tiles. Contrasted by the floor tiles decided in immaculate white, this wall covering is suitable for both cramped rooms and XXL bathrooms.
Vanity top in Asian style and teal tile
When choosing the color and pattern of bathroom tiles, you should ask yourself if you will like them in a few years. Ditto for the colors you intend to use to dress the interior of the water feature.
Modern bathroom tile idea in porcelain stoneware
Ceramic tiles with an extremely smooth glazed surface, which combines well with chrome elements in the bathroom, can introduce luxury and brilliance to the bathroom. To enhance this effect, add furniture or accessories in vibrant colors.
Modern interior and bathroom tiles in pearl gray
Which bathroom tiles to choose to create a minimalist atmosphere? When we talk about minimalist style, we also talk about clean lines and subdued colors. It is therefore necessary to avoid patterned coatings as well as colors that risk stifling the atmosphere. On the other hand, monochrome shades are to be preferred, as are tiles with silver reflections. Be careful not to overdo the bling-bling reflections which risk overloading the space!
Cement tile floor and wall mosaic with scale effect
If you dream of a glamorous atmosphere but do not want to fall into kitsch, opt for a bathroom tile similar to this one. Cement tiles with graphic patterns could very well liven up the floor of your bathroom, while a superb mosaic tiling in glass paste will bring a touch of glamor to the whole. To make your bathroom look like a high-end fitness center, you can distil here and there fragrant candles and small bouquets of flowers placed in original vases.
Design bathroom tiles – small relief tiles
Why opt for a bathroom tile made up of small relief tiles? Easy to install and clean, black and white tiles are the best way to bring a note of retro chic charm to the contemporary water feature. Combined with a wooden vanity top and decorative accessories in the same spirit, this vintage-inspired tile will do wonders in any room that dreams of a look with the charm of yesteryear.
Gray stone look mosaic wall
The authentic side of this modern bathroom will make more than one crack! With its gray stone effect mosaic wall covering, this contemporary water feature has everything to please admirers of the rustic style!