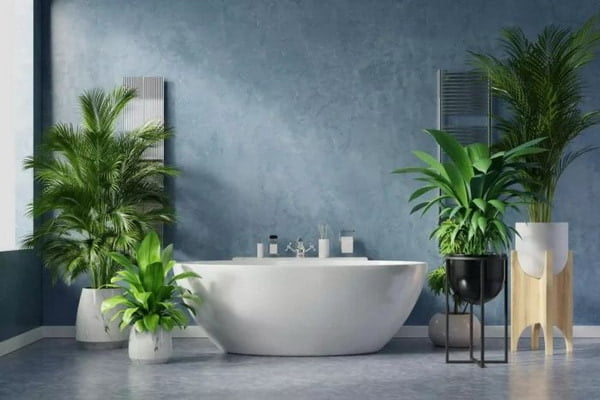 Bathroom design 2024 is dictated by current trends, behind which lies convenience, ergonomics, natural materials. Much attention is paid to lighting and color in the interior of the bathroom. The design of the bathroom in the same style is in fashion: Scandinavian, loft, minimalist.
Bathroom design 2024 – top 10 trends
Trend 1: Home Spa
In addition to functionality, bathroom 2024 should be convenient and comfortable. Everything in it should be organized so that it becomes a place of rest after a hard day. Being in the bathroom should be conducive to relaxation.
Trend 2: focus on lighting
Gone are the days when there was only one lamp on the ceiling. Attention is paid to additional lighting in the area of mirrors, shelves and a shower cabin. Due to the fact that there is often no natural light in the bathroom, there should be enough light in this room.
Trend 3: beautiful lighting fixtures
The issue of lighting flows smoothly to the choice of a beautiful chandelier. That's right: a chandelier in the bathroom. This is a new trend in 2024, when a luxurious lamp is the main focus in interior design. The range is great: the market includes models made of metal, glass, crystal, textiles.
Trend 4: the use of natural materials in design
The environmental friendliness of the materials used in the bathroom comes to the fore. Natural materials include: glass, wood, stone, metal. The stone floor, wooden shelves on the walls, a glass shower partition change the general mood of the water treatment room. The result is health benefits and a stylish bathroom look.
Trend 5: wallpaper on the walls
From the point of view of practicality, wallpaper and a wet bathroom are incompatible things. But now this trend is heard by all designers.
Modern materials provide moisture resistance to this type of finish. The variety of patterns and textures of wallpaper will make a real masterpiece out of the bathroom.
Expert commentary!
Wallpaper does not have to be glued around the perimeter of the room. It is enough to focus on one of the walls.
Trend 6: technology at the service of comfort
The development of technology allows you to add comfort to life. If earlier the use of a warm floor system was a rarity, now this trend can be implemented on a permanent basis.
Plumbing engineers have developed photocell faucets. Water turns on automatically when a hand is brought to the mixer.
Trend 7: indoor plants
It is accepted that flowers in pots grow on windows and in flowerpots. But now their habitat has expanded: designers have placed them in the bathroom. Green flowers in pots not only freshen the air, but also dilute the interior with colors.
Expert comment
Moisture-loving plants are placed in the bathroom, which easily tolerate temperature changes.
Trend 8: minimalism
Simplicity in the design of the bathroom is convenient. A minimum of things allows you to create the necessary comfort. The main principle of minimalism is not to overload the space. The look should not "cling" to unnecessary accessories; the bathroom should have only everything you need.
Trend 9: discreet lockers
The storage system, according to the designers, should be closed: no shelves or hanging elements. Visually, the furniture in the bathroom should be on the same level.
Often cabinets are made in the same color as the walls. When planning, every centimeter is taken into account.
Trend 10: Paintings on the walls
Pictures in the bathroom are the top decor. The bathroom has become an extension of the aesthetic space of the living space. Art lovers can place pictures on the walls.
Works of art are selected according to the design style: from neoclassical to loft. Walls can be decorated with:
portraits;
landscapes;
still lifes;
graffiti.
Bathroom Trends 2025: 10 TOP Ideas
Trendy Bathroom Interior Styles 2024
There are a lot of trendy bathroom interior styles in 2024. Consider the most popular and interesting:
minimalism;
modern;
Scandinavian
Scandinavian;
loft;
Provence.
Minimalism style
Quality materials are considered the main trump card of minimalism. Of particular value are natural ones – stone, glass, metal. Minimalism lies in simplicity, in the absence of unnecessary details. If you want to make an accent in such an interior, you can use designer fittings or lamps, unusual mixer taps.
Modern style
Modern style combines luxury and convenience. All the details are perfectly matched to the range. Reliable and proven materials are used: marble, wood. Modern doesn't mean boring. It just reflects comfort and tranquility.
Scandinavian style
The bathroom in this style is always neat and comfortable. Its highlight is the floor of a white or milky shade. It can be decorated with ceramic tiles or natural wood.
Loft
A brutal and stylish loft has been a trend in bathroom design for several years. This style is both simple yet functional. Its main constituent elements are:
tree;
concrete;
lighting;
brickwork.
The loft originated from abandoned industrial premises, former factories. Designers have finalized the concept of a loft and brought their own vision of this style. Old-school objects are combined with modern ones, rough textures, a large number of light sources, industrial design, open spaces prevail.
Provence
Aesthetes with impeccable taste opt for the Provence style. The bathroom is decorated in pastel colors. Mixers and taps are made of ceramics. Natural fabrics and natural materials are used for decoration. Characteristic elements of Provence style:
tree;
White color;
prints with birds and flowers;
compositions from dried plants;
figurines, vases, cute little things;
daylight.
Selection and arrangement of furniture
The main rule for arranging furniture in the bathroom is ergonomics. All items must be functional, and display not only aesthetic taste, but also convenience.
Before buying bathroom furniture, you need to carefully plan everything. Designers recommend sketching and putting furniture on paper. An abundance of cabinets and cabinets can clutter up the space, making the room lose its appeal.
In small bathrooms, they equip built-in wardrobes and experiment with shelves. Rationally use the front door and the space under the bathroom. The void under the bathroom can be filled with drawers.
For furniture to last longer, it must be placed away from the source of moisture – baths, showers, washbasins. To maintain cleanliness in the bathroom, it is better to choose furniture without a solid fit to the floor. So it will be possible to frequently clean, wipe the floor and furniture from splashes.
Furnishings should not interfere with free movement in the room in order to exclude the possibility of injury. In the arrangement of furniture, you need to use all the features of the layout, and original plumbing will help to add more space for furniture.
Modern bathroom finishes 2024
A modern bathroom performs not only a hygienic function, but also an aesthetic one. In the decoration of the premises, the latest achievements in the field of repair and plumbing are used. The bathroom can contain a shower, bidet, mini-sauna, Jacuzzi. Plumbing manufacturers show their imagination and release novelties: shower heads that create the effect of the tropics, holders for washcloths and backlit soaps.
Manufacturers of finishing materials also release new collections every season. Market trends set trendy color palettes. It is not necessary to make plain boring walls. They can be varied:
mosaic;
tiles;
stone patches.
In the photo with the design of the bathroom in 2024, tiles are presented in a wide variety, as well as waterproof wallpapers.
Suspended plumbing is in fashion. A heated towel rail can also become an elegant finishing element. Much attention is paid to lighting. The main lighting can be supplemented by small lamps.
Finishing the floor should be first of all safe. If you're laying tile, make sure that it doesn't get slippery from the water.
Bathroom interior colors 2024
The color in the bathroom should be chosen according to your taste. Designers recommend not making the interior too dark and oppressive, as the bath is a place to relax. In general, blue and its shades are popular for the bath. In 2024, the trend is shades of pink, gray, green, mustard yellow, caramel, burgundy.
Lighting and decor in the bathroom
The most important role in the bathroom is played by lighting, especially if this room does not have windows. Even a small bathroom can be illuminated so well that it will become very cozy.
Lighting must be functional. A small space can accommodate at least three types of lighting fixtures:
a bright beam of light from a ceiling lamp;
soft dim lighting from side lights;
mirror lighting.
Ceiling lamp will create the effect of visual enlargement of the room. Suspended ceiling can be decorated with spot LED lighting. Lamps for these purposes are used in a variety of colors:
golden;
silver;
black;
white;
grey.
Lamps can be placed around the mirror in order to create the perfect make-up or hygiene procedures. In the photo with the modern design of the bathroom 2024, you can see the backlight of the shower stall. One of the modern bathroom lighting ideas in the photo with design in 2024 is the use of waterproof LED strips with warm lighting.
Plumbing – new solutions
Beautiful and reliable plumbing is able to decorate the design of a small and large bathroom. Trends in the photo of 2024 confirm this. The bathroom has long ceased to be only a hygienic room. Plumbing in modern baths solve the problem of functionality and aesthetics.
New solutions in this area bring the room to a new level of comfort. Photos with the design of the bathroom in 2024 can be seen in the catalogs of plumbing manufacturers. Faucets have become more concise and environmentally friendly. Their task is to rationally use water and increase the comfort of use. In addition to standard chrome, plumbing manufacturers produce multi-colored models. Black faucets are still in fashion.
Shells also go through their evolution. Smooth edges and textures have given way to sinks made from:
The round or oval shape of the bowl became irregular and asymmetric. Enclosed showers have also lost their popularity. Now the trend is an open shower. Massive structures have been replaced by light glass partitions. In this case, a shower drain is created for a good outflow of water.
Toilets, in addition to their direct function, began to combine a bidet. Modern faucets are ready to provide many features for convenience:
setting water heating to the desired temperature;
aerator;
retractable watering can.
A toilet with a bidet helps to solve the problem of lack of square meters. It is used where it is impossible to put both devices at the same time.
Bathroom interior design ideas 2024
Bathroom design trends for 2024 are very multifaceted and varied. It is impossible to bring together all the proposals in the field of design, decoration and plumbing together. Exploring trends, you can crystallize your vision for bathroom design. A variety of styles can be a guide in choosing a rational solution. The main thing is to create comfort and functionality in your bathroom.
2024 Bathroom trends
Fewer tiles, but more warm real wood veneers, plants and home accessories: These 2024 bathroom trends bring a homely ambience to the dreary wet room and prove that a bathroom doesn't just have to be functional. All trends for the modern bathroom at a glance.
Wooden floorboards, indirect lighting and black cupboards: it is completely understandable that you might not immediately have a bathroom in mind here, but rather a modern living room in the style of an old building. In fact, these are the hottest bathroom trends, to name just a few.
We will show you exactly what this can look like and provide inspiration for your modern bathroom planning and design.
Bathroom trend 1: Natural materials for the homely bathroom
Bathroom equal to living room? Almost, because washbasins and cupboards with lacquered surfaces are increasingly being combined with real wood veneers made of oak, walnut or sustainable bamboo for a more homely ambience.
And: In addition to classic white and light earth tones, you will now also find more pastel tones or even black on the color palette for the bathroom. Also popular: fronts with a concrete look and walls in the trendy terrazzo style as well as washbasins, bathroom furniture and marble tiles.
The classic angular shapes for cabinets and mirrors are still popular, but rounded shapes are no longer uncommon in the bathroom. You will also see handle-less fronts with push-to-open drawers, as you already know them from the kitchen, more frequently in modern bathrooms in the future.
Bathroom trend 2: The bathroom as an oasis of well-being
Modern bathrooms have the motto "Bathroom for Wellbeing", according to the exhibitors, the world's leading trade fair for the bathroom, building technology, energy technology, air conditioning technology and renewable energies. A bathroom must therefore not only be functional, but should also have a health-promoting effect and make you a little bit happy. The current bathroom trends will prove it to you.
Selected home accessories are no longer reserved for areas such as the living room or bedroom. For example, there are now decorative elements in the form of a bench or a free-standing towel rail in a minimalist design for the bathroom too.
The luxury version is equipped with a whirlpool, a sauna or an individually programmable shower. With lush plants for the bathroom, the oasis of well-being is complete, in which one would like to linger longer. If you don't have a window in your bathroom, you'll find plants for the dark bathroom here.
Whether it's light and spacious or windowless, these are the top ten plants for any bathroom.
Bathroom trend 3: Practical washbasin fittings
They have long been established in the kitchen, and now they are also being used more and more often in the bathroom: pull-out sprays enable convenient use of the washbasin faucet, be it to wash your hair, to rinse off the children in the spacious washbasin or to clean it quickly and easily.
Do you not only want to make your bathroom modern, but also barrier-free? Find out more here: " Age-appropriate bathroom: Ideas, costs and funding for barrier-free bathrooms "
Bathroom trend 4: soothing LED lighting for more atmosphere
Lighting also continues to play a major role in the hottest bathroom trends, because it is no longer intended to serve just a functional purpose. Accordingly, bathroom furniture backlit with LED light strips ensures more comfort in the bathroom.
In addition, LED lamps have the advantage that their light color can be adapted to any mood. So you can turn on bright lights when you get up in the morning and choose dim lights for the evening. Everything is controlled by remote control or app. Incidentally, the same also applies to integrated sound systems, which should not be missing in modern bathrooms.
Bathroom trend 5: Tiles only in wet areas
Fully tiled bathrooms are no longer a must these days. Rather, such bathrooms are in vogue in which only the wet area is tiled. You can also design all the other wall surfaces with wallpaper or clay plaster. You can read about which wall colors are popular here.
A look at the floor reveals that white-tiled bathrooms are out. If you want to be trendy, look to natural stone, concrete or cement and tiles with a wood look. You can also put real wooden floors in the bathroom, but they have to be specially treated beforehand. You can find out more about this topic here: Flooring in the bathroom: These are the alternatives to tiles
Bathroom trend 6: A modern bathroom entirely in black
A bathroom all in black? Hard to imagine for some, but more and more bathroom furniture and bathroom tile manufacturers are offering black fittings, ceramics or even black tiles for the bathroom.
If the all-black bathroom is a bit too much of a good thing, you can alternatively find smaller accessories such as toothbrush holders or shelves in black that can be used to set accents. Thanks to special adhesive technology, it is no longer necessary to drill a hole in the tile joint to attach them.
Or you combine black with white elements. This classic color mix is also very trendy.
Bathroom trend 7: smart home in the modern bathroom
We have already shown you everything that can be smart in your home in our article " Smart Home: What can be intelligent in your home ". But smart home technology has also arrived in bathroom trends. Whether smart bathroom mirror, individually controllable shower programs, shower toilets or those without a flushing rim: the range of high-tech for the modern bathroom is now really impressive.
In some countries, shower toilets have long been standard in most bathrooms, such as in Japan.
Bathroom trend 8: sustainability in the bathroom
Sustainability has long been one of the central bathroom trends: Whether bamboo toothbrushes, washable make-up remover pads or soap bar holders, there are already numerous sustainable alternatives to plastic products when it comes to bathroom accessories. Sustainability is also playing an increasingly important role in bathroom furniture. Furniture for the bathroom that says "Made in Germany" not only has a better ecological balance, it usually also stands for good quality.
Sustainability in the bathroom is once again one of the top bathroom trends 2024: the "Sustainable Bathroom" is presented as the concept of the future. It's not just about water and energy-saving products, materials with a good ecological balance and zero waste, but also about a feeling of closeness to nature, which can arise when brushing your teeth or taking a shower. This is ensured, among other things, by natural colors such as brown and sand tones or the trendy shade of pear green, and a simple design.
Bathroom trend 9: Modern, walk-in showers
Anyone who builds a house or buys an apartment naturally wants to stay in it for as long as possible. With increasing age, however, there are – literally – more and more barriers in everyday life, including in the bathroom.
Many sanitaryware manufacturers are therefore increasingly offering barrier-free solutions with walk-in showers when planning bathrooms. Smart house builders now plan accessibility throughout the house right from the start, because retrofitting bathrooms, doors and windows to make them accessible can be expensive.
Bathroom trend 10: Tiny bathrooms with comfort
Living in just a few square meters is becoming increasingly popular due to the lack of living space and rising costs. Keyword: Tiny House. Even modern bathrooms go with the flow. Compact bathrooms with small floor plans are one of the big trend themes in 2024. Maximum comfort is combined with modesty. Simple aesthetics meet smart solutions and tailor-made bathroom furniture.
Bathroom design trends
Bathroom furniture in black, tiles only in wet areas, open design thanks to walk-in showers and free-standing bathtubs, bathroom ceramics with a function for even more hygiene – these and a lot more are the bathroom design trends 2024.
Plan and implement a refresher for one of the most important comfort zones for you and your family. Regardless of whether you want a breath of fresh air for the existing bathroom, whether you are planning a complete renovation or whether you will soon be moving into a new building. Here is an overview of what will be trending for the bathroom in 2024.
Bathroom design trends 1 – bathroom furniture in matt black combined with a stylish wood look
The new furniture releases are presented more and more in cool dark tones such as anthracite and black. The surfaces contrast with rustic and honest wood decors such as oak. The decors are lively and strong: flowing grains, knotholes and changing colors are not only allowed, but desired. Elements such as the vanity top made of real wood or with a wood look are also allowed stand out while the vanity unit and sinks themselves remain neutral. Both single-colored, dark surfaces and natural decors are matt. If you don't like it so woody, you can choose simple, single-color fronts for numerous bathroom furniture models. A lot of bathroom furniture has surfaces with a velvety look that are very hard-wearing and easy to clean with an anti-fingerprint coating.
Bathroom Trends 2 – natural tones and home accessories in the bathroom
In addition to black, the trend color for the bathroom in 2024 is green. A rich forest green in combination with bathroom furniture in anthracite, with a wood look or in white not only looks modern and elegant, but also ensures a good dose of cosiness in the bathroom.
If you need even more wood look to feel good, you can choose from a huge selection of chic floor and wall tiles with a wood look in addition to the furniture. There is a wide range of variants on the market, all of which are non-slip and easy to care for and available in both stoneware and ceramic models.
Absolutely trendy and always an enrichment even for little space: small furniture for your bathroom. A bench that invites you to linger, or a sideboard that can be decorated with pictures, stones and candles. An open shelf or a glass showcase provide the additional feel-good factor. The living room furniture for the sanitary area is consistently equipped with hard-wearing and easy-care surfaces and visually matches the furniture ranges for the bathroom. Decorative items made of real wood and with a natural character stylishly round off the cozy ambience in the bathroom.
Bathroom design trends 3 – fittings, bathroom accessories and sanitary ware in black
So cool and loungy, and yet so cozy in the bathroom: black is the new chrome. This applies to washbasins, bathtubs, shower trays and toilets as well as all bathroom fittings. Many models are available with a black, matt coating. You have the choice between straight types and series in retro style, whose design language is rather playful and goes with the vintage look. Of course, this also applies to accessories such as toothbrush cups, soap dispensers, towel rails and the like.
Bathroom Trend 4 – Practical and comfortable: the walk-in shower
One thing is clear: a walk-in shower not only looks nicer, it is also easier to maintain and you even take care of old age. Whether completely open, partially closed or closed depends entirely on the individual user. Shower should rather use a partially closed, such as so-called walk-in showers or a closed shower cubicle. Those who are not so sensitive can even do without a shower partition and turn the shower zone into their own small room, accessible and integrated into the floor. Advantage: The annoying removal of the shower wall is no longer necessary. On the other hand, there are now also super easy-care shower cubicles, provided with a precious glass coating and hinges that are flattened on the inside, which can be removed in no time at all.
Matching the "black bathroom" theme, profiles and hinges for shower cubicles and shower walls are also available in the trendy color.
Bathroom design trend 5 – The free-standing bathtub as an eye-catcher for every bathroom
Make the tub the focal point of your wellness zone. Pure relaxation with candlelight and soft music in your free-standing bathtub, your own personal spa area. Here, too, the advantages (in addition to the increased feel-good factor) are obvious, because a free-standing tub can be kept optimally dirt and lime-free, as there are no joints. Here, too, you can choose between linear models and retro-style bathtubs. If you don't have enough space in the bathroom but don't want to sacrifice the look, you can use semi-freestanding bathtubs (back-to-wall bathtubs).
Bathroom design trends 6 – More plastered surfaces and tiles only in the wet area
Also, this year, the trend is that the bathroom is no longer completely tiled up to the ceiling. So it just looks more homely and much more comfortable. The wellness and spa idea is becoming more and more important. In recent years and decades, the bathroom has increasingly become a place of rest and relaxation. Away from the purely functional wet room.
Tiles are usually only used in wet areas, i.e. showers, washbasins, bathtubs and toilets. The remaining areas of the wall are plastered or covered with wallpaper. On the other hand, if you want to do without tiles in the bathroom entirely, you can use wall coverings. These wall panels are very popular, especially for renovation work. Laying is relatively easy and the unloved old tiles disappear behind it.
Bathroom design trend 7 – rimless toilet or shower toilet for more comfort and hygiene
It has long since found its way into the public sector. Now it is also gaining ground in the private sphere: the rimless toilet. With this technique, the flushing water from a central point ensures cleanliness throughout the toilet bowl through balanced pressure and good distribution. The shower-toilet adds another plus point: it already has a rimless flush and cleans like a bidet with a small shower attachment. This is the latest state of the art, which also meets the highest standards of hygiene. Take your time to look around our range and contact us if you have any questions or find out everything about the function and the advantages and disadvantages of rimless toilets here.
Bathroom design trend 8 – Round mirrors and indirect LED lighting built into the bathroom furniture
Make the design perfect and emphasize the space with indirect lighting. LEDs behind the mirror or for discreetly emphasizing room edges and furniture round off the bathroom ambience. However, the rule here is to make a mess, not a big one: indirect lighting should be used sparingly in order to create an effective effect in the bathroom. Optional motion sensors provide sufficient light when you go to the bathroom at night, without having to search for the light switch in the dark.
A trend product that will become even more popular in this context in 2024 is the round bathroom mirror. An absolute eye-catcher and a must for trendsetters who do without storage space in this area or can use it for other purposes.
Bathroom design trend 9 – mirrors and mirror cabinets with smart home function
The latest trend and already established in many other living areas is the smart home function. Smart mirror lighting or integrated screens are finding their way into modern bathroom technology. Control the switching on and off of the light using a smartphone app or swipe through various multimedia applications on the touch panel integrated in the bathroom mirror. We offer some models in our range that are equipped with Smart Home functions. Different sizes and shapes are selectable. Treat yourself to a piece of state-of-the-art smart home technology for your bathroom.