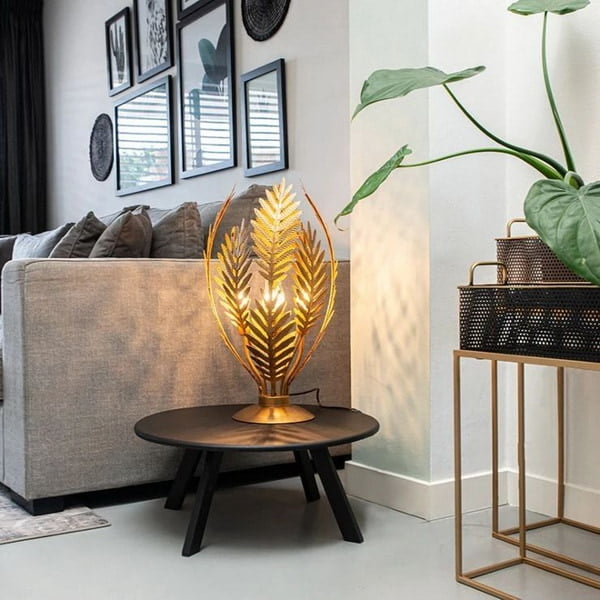 Unfortunately, lighting is not always the top priority when designing or redeveloping a space. Of course, we want to have enough light and fixtures placed in the right places, but the majority of people do not care too much about the choice of a wall light, a suspension or a table lamp. The truth is, the right lighting can really make or break the decor and design, in general, of a home. It is not surprising, therefore, that according to some interior designers, it is with the choice of lighting from which to start. The editorial team has compiled all the news in the lighting trends 2023 for you to start the new year on the right foot. From lamps to chandeliers, including finishes and smart solutions – we lift the veil on the key pieces that you absolutely must consider.
The big 2023 lighting trend is sustainability and natural materials
No surprises – the predilection for natural and sustainable materials will continue in 2023 which will have a direct influence on the trendy luminaires of the coming year. Given that the use of certain materials has already established itself in the sector (in particular: wood, glass, bamboo, fabric, leather, paper and even seagrass), the next season will also impose as a reference the use of twine, rope, burlap and wood beads. Imagine chandeliers made of pearls and decorated with rope and stone pendants.
Natural materials aren't the only way to embody sustainability and nature in lighting trends. The luminaires will take organic and fuzzy shapes and they will be accessorized with elements promoting the delicacy of nature, such as details in the form of graceful leaves, glass pendants resembling drops of water etc.
In order to embrace the nature-inspired 2023 lighting trend, consider the following:
Natural materials: bamboo, rattan, wood, burlap, rope;
Neutral or natural shades such as earthy brown, ocean blue, sand yellow, forest green;
Organic shapes that make you think of twigs, flowers or other plants.
Cocoon style for a warm environment
The decoration trends for winter 2021-2023 put comfort on a pedestal. This is perfect because cocooning lighting will be the star in any self-respecting warm habitat. Think about neutral colors and soft fabrics that will create a feeling of elegance and softness. Cocoon-style lights are perfect for bringing comfort to a bedroom or even creating a cozy atmosphere in a contemporary living room.
Back to basics
The trendy lights of 2023 will focus on simple designs and raw materials. So avoid intricate designs and extravagant decorations and focus on objects that have special meaning and that perfectly define the desired environment. Consider nature-inspired hues and soft textures to create a new focal point. The sleek design and the strong character of such a luminaire make it a unique piece that will bring a touch of originality to your interior.
A return to the 1930s with the Art Deco lighting
Nothing beats Art Deco style light fixtures to make a statement in your home decor. Globes in clear or tinted glass, elements in brass, gold or other noble metals invite the charm of the 1930s into modern living. You can't go wrong with this distinctive style that will complement your decor beautifully.
Trendy lighting 2023: industrial style in a contemporary setting
The lighting industrial style continue to enjoy enormous interest both for the development of housing for the decor of restaurants and professional spaces. In addition to considering the iconic metals (brass, steel, and copper), it's still important to think about the right color scheme which includes white, black, and gray. The appropriate association will give a raw side to your room. Black, for its part, will play a decisive role in this direction because it will allow the contrasts to be balanced.
As an example, floor lamps and wall lights in black shades are the ideal choice for monochrome interiors. A black chandelier will absolutely stand out as a centerpiece in a room equipped with light fixtures in white or cream tones. It gives a classic and distinctive look.
If you are looking for something a little more daring, you should definitely consider the brass parts. In 2023, rose gold is on the way out, while brass and brushed gold will be the two big trends for the coming year. Whatever your preferred finish (glossy or matte, antique, polished, satin or patina), these metals with a warm and glamorous nature deserve all your interest. They fit harmoniously into any interior style: from Victorian to Scandinavian.
What do color trends hold in store for you?
If your interior design requires the installation of colorful lighting, it is better to make your choice while respecting the 2023 living room decor trends. If bold hues aren't your thing at all, ideally go for natural shades and neutral colors which are perfect for creating a balanced, stylish and timeless environment. Consider, for example, the following propositions:
Black, beige, white and gray: for a simple and functional decor;
Brown, muted green, pale blue and mustard yellow: for a natural and harmonious look;
Royal green, navy blue and powder pink: to add a touch of daring and make your luminaire a focal point.
What materials will predominate in lighting trends in 2023?
Trendy lighting 2023 promotes natural materials. It emphasizes the beauty of nature and the importance of an ecological and sustainable approach. In this sense, if you plan to change your lighting during the coming year, ideally opt for materials such as wood, bamboo, rattan, glass, paper or natural fibers. At the same time, the designers advise you to also bet on the metal which will help you create a very appreciated industrial effect in 2023. Think of steel, brass, gold and copper by choosing according to the style of your decor.
Trendy lighting 2023: the best designs of the coming year
Each room requires specific lighting and fixtures depending on the style of decoration and the atmosphere you want to create. Of course, everyone should take their own preferences and needs into account, and not be blindly guided by trends. Still, there's nothing wrong with taking a look at what's new in design, style and color when it comes to modern lighting.
What 2023 trendy lighting for the kitchen?
Exposed light bulbs and glass globes will be everywhere in 2023. Globe pendant lights, on the other hand, are perfect for practical use and their great asset is their versatility.
Minimalist design LED lights to make a statement.
An eclectic combination of LED lighting built into the kitchen cabinets and an elegant chandelier above the dining table.
What are the lighting trends in the bedroom?
Ceiling lights featuring clean but eye-catching geometric shapes;
Fabric wall lights with a soft texture for a comfortable and cocooning effect;
Bedside lamps with organic shapes, ideally in natural materials.
What lighting to choose for the living room?
Choose a ceiling light or a chandelier with high ornamental potential to create a breathtaking effect;
"Invisible" lighting fixtures for more discretion;
A brass floor lamp to ennoble the environment by adding new trendy elements.
Trends in fixtures and lighting in the bathroom
LED lights on all mirrors to achieve the effect of space and to visually enlarge the small bathroom ;
Brass sconces to add a new point of interest;
Industrial style lamps to complement the contemporary decor.
Kitchen lighting trends 2023
Kitchen lighting is an art. Not only because it has become a decoration component in addition to functional needs, but also because to create a good atmosphere in the home we need to have the correct lighting. And this makes more sense in rooms where we spend the most time, such as the kitchen. Whether you spend 10 minutes heating tuppers or three hours making a chicken broth and a three-course menu, creating an ideal environment to work in the kitchen comes directly from having the right light, a good workspace and also, why not, giving it to play to get inspired.
Last year brought us more time in the kitchen and this 2023 still maintains the same manners, so lighting decoration trends have been directed to make our lives easier and more beautiful, which never hurts.
Decoration and functionality: kitchen lighting
If you can count on the always desired natural light in your kitchen, phenomenal. But if not, or the light that enters is not enough, there are plenty of solutions to provide the room with adequate light depending on the purpose you have and the time of day. Because even if you have a window as big as a castle, at seven in the morning in winter it is still night and it is unlikely that you will start making dinner at six in the evening (we would all like that). So, join us on this path towards the many solutions that await us this year, more accessible, more established, to create a personal and practical space in the kitchen based on light.
Planning is the key
Planning saves much more time than we can imagine. Asking yourself a few questions before starting to buy light bulbs and lining the kitchen with led strips will help us to be more efficient with our time and money. What area of the kitchen do I use the most and for what? Do I use the countertop more as a work area or the space next to the stove? How much time do I really spend in the kitchen? Do I eat the main meals of the day at the kitchen table or in the dining room? Have I caught fluorescent mania? (Here we only count cases based on real events, for the record). And now yes, go for it:
Hidden kitchen lighting
It is one of the most popular options for the minimalist style and many others. Placing light points under the cabinets will give a very pleasant feeling of natural light. In addition, it is perfect for kitchens with less space and free-standing kitchens. Think about putting some in the work area, because that way it will be much easier for you to prepare the ingredients (it is always interesting to see where the knife goes).
Led technology
It seemed like it was gone, but led kitchen lighting technology is back stronger than ever. The main reasons why it is back in fashion is that it offers many interesting advantages: more energy efficiency, more savings. In addition, you will be able to choose the intensity and color without any problem. A palpable medium and long-term saving that also contributes to creating a more sustainable world.
Here yes, the led strips that practically all of us have installed in some corners of the house are a perfect solution for small corners. Complicated corners, pantries, spaces between furniture and countertops but also skirting boards… You can choose the warmth of the parallel light to the one that dominates the rest of the kitchen or create a total contrast with the main light.
Retro touch
Vintage or retro glass promises to be one of the most recurring for the coming season. It goes well with different styles of decoration (minimalist, industrial…) and, in addition, it will give a very interesting touch to your kitchen. It is best that you choose round shapes for your next lamps if you want to be based on trends and that you dare with colors such as brown or orange. This type of glass is great if you have any elements of wood or cork in the room.
Lamps made of copper
On the other hand, there are classics that never go out of style. Copper lamps are one of them: perfect if the industrial style prevails in your kitchen, but also if a more modern or classic style prevails, to add a personal and original touch. One of the advantages that copper offers you is its durability. You will not have to worry about anything, its maintenance is very simple.
Hanging lamps
It is one of the best kitchen accessories. This fashion began in bedrooms or living rooms, but, of course, it has ended up reaching kitchens in the end. This type of decoration works very well for kitchens with an island. Also, if you usually eat there, a pendant lamp above the main table is functional but also creates ambience throughout the room.
Light bulbs in sight
Linking directly with the industrial style, light bulbs can also be part of your kitchen. Individually, in threes… there are many possibilities to resort to a decoration element that has made its way to stay. Above islands or worktops, as well as in those difficult-to-light corners, compositions with light bulbs are an excellent solution, and they are also simple and comfortable.
The natural fibers arrive
The possibilities to choose increasingly ecological options have grown significantly, and natural trends come, of course, to kitchen decoration. They have become fashionable because with them it is very easy to create cozy environments. You can choose more rustic, more bohemian or discreet designs. Materials such as bamboo or rattan are resistant and suitable for the whole house, as well as being very light if you decide to use them to hang from the ceiling in specific areas of the kitchen.
Great lighting from the ceiling
Many times, in small kitchens it is difficult to distribute the lighting well so that the space does not end up being overwhelming. In this case you can opt for a large elongated ceiling lamp; With this you will get a huge light source and you will be able to choose the design that you like the most and that best suits your style. It is functional and it does not mean that you cannot add extra light points apart where you consider necessary.
Depending on the dimensions of your kitchen, you can opt for ceiling lights, recessed lights, etc. Regardless of whether your kitchen is large or small, general lighting is always appropriate and can help create a cozy and elegant overall atmosphere.
The extractor hood: unexpected light
The extractor hood has become an increasingly necessary element in the home. But an extra functionality that we have been using for years without hardly realizing it draws our attention: its light. The lighting provided by the hood has become an extra that we use not only when we are cooking to illuminate the surface of the fire itself; also when we are in the kitchen, we use its light to create atmosphere. It has become one more ally in the home that we feel as a family element and allows us, on many occasions, not having to give general light to go in and out of the kitchen throughout the day.
We cannot forget that…
The classic tip that we always have to take into account when adding light to a room: color. Both in the painting of ceilings and walls, as in the rest of possible materials that you have used on floors, furniture and surfaces in general. A light color will provide extra light and will enhance the lighting elements that you include in your kitchen. Use them as a base to work on and improve lighting.
Regardless of the style you have in your home, kitchen lighting solutions can help you personalize the space and also make it a more functional place for your needs. The kitchen, like life itself, changes as the years go by and it is in our power to convert it and adapt it to our daily activity with elements such as lighting and decoration, creating comfortable and flexible spaces with the aesthetic profile that we want.
Lighting Trends 2023
The rapid development of technology brings with it new trends in the lighting sector, just like in any other industry. In addition, changing user habits also change expectations in requirements. As technology advances and user habits change, new trends emerge.
Whatever the trend, adequate lighting makes a room feel more spacious and beautiful. Proper lighting is very important for a healthy lifestyle. With the right lighting, you can reduce stress and improve your mood. Let's see what the trends in the lighting industry will be in 2023.
Lighting Trends 2023
To properly illuminate your room, following the trends, you need to choose the right lighting fixtures.
Use of natural materials
As we all know, the most discussed topic on today's agenda is sustainability. In this context, sustainability and the use of natural materials will appear quite often in 2023 lighting trends. Lighting fixtures made from natural materials such as wood, bamboo, rattan, straw, rope and fabric are a simple yet elegant way to decorate your room. We are sure that feeling the presence of nature in our home will make us all feel calmer.
Lighting Trends 2023: Black
There is no doubt that black is the color of nobility, luxury and style. With black light fixtures, you can give your space an elegant look. In 2023 we will see a lot of black colors. At the forefront of preference for people who want to add more romance to their used space, these lights create a beautiful look with white walls and furniture.
Essential trend: chandelier
A lighting trend that will never get old even after years: the chandelier! Various types of chandeliers such as hanging chandeliers, cascading chandeliers, ring chandeliers, crystal or glass decorated chandeliers, retro chandeliers are some of the lighting trends.
Wall lights
Wall lighting, indispensable for the garden, also plays an important role in home interior design. The right and stylish wall elements according to the area used are decorative lighting fixtures that can completely change the look of a room. Wall lighting that adds personality and style to the space you use is one of the lighting trends for 2023.
Wireless lighting
Wireless lighting technology will be further developed in 2023 with new models. For example, LED lights can be controlled without a wired connection. These luminaires are very popular for outdoor lighting and especially for retrofit projects.
Lighting Trends 2023: Healthy Lighting
It has been scientifically proven that the color and temperature of light affect a person's mood and productivity. With these effects, healthy lighting fixtures have taken their place among the lighting trends of 2023.
You can easily upgrade your home or garden with the latest lighting trends. You can add personality and style to your space with lighting trends 2023.
Key lighting trends for 2022
It is 2023. You have been spending more time at home for two years, which is why the appearance of luminaires, trends in their design and the choice of light sources are more important than ever, right? Luminaires are not just a must-have for your home. Their design and how they harmonise with the style of the room are gaining in importance.
Simplicity – the highest form of sophistication
In 2023, soft-glam is on the defensive. Magnificent and decorative chandeliers are slowly giving way to simple pendant lamps like Kanlux ALGO. Their small size, uniform colours and regular lampshade shapes make them fit both boho and industrial style. This is also the case for Kanlux JASMIN series luminaires. The combination of wood and etched (satin) glass provides an even dispersion of light and makes it a versatile solution that matches any interior. We say goodbye to chandeliers with no regrets. However impressive they look, especially in spacious and high interiors, most people planning to have a new interior design would rather forget about them. They would also do so for practical reasons because keeping such a "crystal spider" clean is beyond even the most quarantine-bored lovers of glamour style.
Multiplication of light points
In 2023, side lighting elements in the form of simple, small wall lamps and lamps illuminating corners of rooms such as Kanlux ASIL luminaires are increasingly being chosen. Light spreads from them up and down and comes out through specially designed slits, creating a unique mood. In a nutshell, minimalist design and interesting lighting effects on the walls are in great demand.
We multiply indoor light sources for a reason. Such multi-point arrangements optically enlarge any interior and symbolically separate zones, even in a small room. This solution, along with active noise-cancelling headphones, has helped many relationships get through the difficult lockdown time, so I guess it will stay with us for a while.
Simple solids and time travel
In 2023, round lamp shades are still trendy and round LED ceiling lamps are a popular choice for ceilings, but it is more often the case that we opt for luminaires of irregular shapes. Surfaces without projections or decorations are still in vogue. Lamps made of transparent, milky or smoked glass, mounted on a simple tubular structure going back to the 1970s, will make you nostalgic. Round lampshades on a cylindrical base, as well as their hanging versions in gold rims, combine the features of art déco design and the heyday of the ABBA group. Impressive combinations of light bands such as Kanlux L60 with dark wood, marble and metallic accents further strengthen the effect of coming back to the past.
Colours of the Earth and natural or raw materials
The eco trend in design means changing the colour palette and choice of materials. Browns, beiges and greens now join the blacks, grays and whites that have dominated so far. Luminaires made of natural materials wood, rattan, wicker combined with oxidised, chromium-plated or nickel-plated metal are the most popular. It is more frequently the case that we choose lampshades made of recycled materials or even concrete ones such as Kanlux OGIVA or Kanlux ETISSA. Their luminaires are made of concrete-like grey mass and the surface of the lampshade is porous and rough to the touch and looks great in modern, minimalist interiors.
Regular shapes, smooth surfaces, browns and beiges, round luminaires, simple metal structures and raw materials? They are ideal for modern, minimalist interiors, but if you like styling going back to the 1970s, the year 2023 will be yours. The older generation may feel a sense of déjà vu, but well… In luminaire design, as everywhere, old trends come back every now and then. Be bold in design!
Chandelier trends 2023
Lighting is one of the most important elements of equipment and interior design. With a huge range of colors, patterns and textures, we have a wide range of options when choosing modern lighting fixtures. In 2023, natural materials, gold, black and geometric shapes will reign. What are the best interior chandelier trends 2023? We will talk about this in our article.
If you want to create a stylish composition in your apartment, office, private home, be sure to follow the trends in the world of lighting, which you can later transfer to your four walls. Tips from leading designers, presentations of manufacturers at specialized exhibitions will help you decide which chandelier is best for your interior.
Best Chandeliers 2023
Metal models – trendy lighting for 2023
When looking for a trendy lamp in 2023, you should pay attention to the metal chandelier. This effect this season appears in the most interesting arrangements of designers from floor to ceiling. The most popular chandelier brands offer models in metal or imitation brass, chrome or powdered steel, aluminium, pewter, gold or copper. In addition to the pendant lamps with a standard metal shade, which we already knew about many years ago, ceiling and floor lamps have been added to the offer of manufacturers, combining this material with other natural raw materials, such as natural leather, linen or glass. Which chandeliers are best for your home? Here it is important to take into account the overall design and other elements of the arrangement.
A novelty that has received considerable recognition from both design experts and exhibition visitors are also chandeliers with decorative lampshades made of bent or perforated sheet. Individual sheet metal parts made of brass, copper or steel, cut into fancy strips, stacked together at different angles or bent. Models in which non-ideal balls are formed from sheet metal are also interesting. Thanks to this, in addition to the typically utilitarian element, we get a three-dimensional sculpture that will decorate the space we have chosen.
Spherical chandeliers – lighting trends for the 2023 season
Popular chandeliers with a plafond or lampshade in the shape of a ball. In recent years, in the wake of the return to vintage style design, they have become extremely fashionable again and appear in most designs. Among the models of lamps with round shades, there are many models with transparent glass – both in colorless and in color, including with metallic paints. Interesting, given that so far – for the last two or three seasons – classic, timeless lamps with round milky-white glass shades have led the way in chandeliers. The most fashionable lamps for the living room, bathroom or kitchen this year will combine milky shades with transparent – both colorless and colorful elements.
Circle based chandeliers – the most popular chandeliers of 2023
Ovals are another interior design trend for 2023 that we are seeing not only in the case of lounge furniture or coffee tables, but also in home lighting proposals. Among the trendy lamps over the table in the coming months, the oval-shaped models are in the lead. The most fashionable are pendant lamps and plafonds, reminiscent of luminous round hoops. They can hang parallel or perpendicular to the floor and be attached to the ceiling with steel cables or hung directly below the ceiling. Luminous circles should be made of metal, such as shiny copper with a warm glow, slightly more muted brass, or powder-coated steel.
Stained glass chandeliers – the new trend of 2023
Colored glass is a definite hit of 2023! It appears not only in decorations or as tops for dining tables or coffee tables, but primarily as the main raw material for trendy living room lamps. Never before have so many manufacturers offered colored glass lamps at interior design trade shows. Which chandelier is better in the 2023 season? Of course, glass models are rounded, which can combine different colors of the same shades, for example, multi-colored balls (ideally and with distortion) or models with a consistent style, but in different colors and shapes.
Marble Lights – The Best Living Room Chandeliers in 2023
Marble is an extremely elegant and at the same time very fashionable material. In the case of lamps, it looks good in two forms – in the version of natural very heavy stone or lighter imitation. In the first case, natural marble is commonly used in trendy floor lamps as a base or perhaps as a decorative element in a floor or table lamp. In the second, manufacturers use the characteristic pattern of marble veins and other decorative stones to embellish glass shades. Thanks to this, they get an extraordinary effect in the form of a "marble" shade in a pendant lamp.
Which chandeliers are best for trendy interiors in 2023: a summary
The most popular will be models made from natural materials: brass, copper, steel, marble and glass, as well as handmade paper or leather. They may look inspired by the style of the 1920s and 1930s. From the twentieth century, mid-century modern, 1950s-60s and crazy 70s. Minimalistic pendant, table or floor lamps with spherical lampshades made of colored or milky glass and lamps created using neat metal tubes are also at the top.
Floor lamp trends 2023
Nobody has the slightest doubt that lighting is elementary in any interior space. We are daytime beings, but as a result of the great invention that electricity represents, for a long time (even with the help of candles and rustic lamps) we also carry out night activities through lighting. Today, it is possible to have different options to light from an office, to a hotel room, an office or a living room. This is thanks to the wide variety of ceiling lamps, wall lamps and also wonderful floor lamps, which we will focus on today. These are the floor lamp trends 2023.
Importance of lighting in interior spaces
Lighting is essential in homes and places of work and leisure. Not only to carry out activities, but because, as we all know, light is of great importance for physical, emotional and mental health. For example, in those countries where natural light is absent at certain times of the year, having enough lighting prevents different conditions, both physical and mental. And if we add to this the acquisition of highly stylish floor lamps that will look beautiful in our environment, the effect will be wonderful.
Among the proposals for 2023 floor lamps, the trend of using natural materials continues, as well as opting for sustainable lighting systems, such as energy-saving lamps. This means that the lamps not only become a decorative element, but a crucial element to connect with the rest of the furniture that will give the perfect personality to that particular space. Now, it is possible to choose between warm light or cold light, as well as the area to be illuminated to achieve a desired effect, either totally focused on one point or to illuminate an entire room.
Floor lamps made of natural materials 2023
Natural materials have become a trend in the most avant-garde decoration projects, and lighting is not far behind. There are new designs of lamps with natural materials that adapt perfectly to the new trends in interior design.
These types of materials are perfect for floor or table lamps because they take center stage and provide a very special decorative touch that can completely change the aesthetics of the room. In addition, since they are floor lamps, it is much easier to make any changes to them or change their place to play with the decoration when we are tired of seeing it in the same place.
The use of wicker is one of the trends in floor lamps 2023 in terms of this type of material. It is a sustainable and natural material that gives warmth and provides a very soft touch of rusticity, as well as being very resistant and, normally, quite cheap.
Steel floor lamps and industrial type 2023
Other options in floor lamps that go from the classic to the ultramodern are those made of steel and metal. These materials go perfectly with a more traditional and classic style of decoration, without losing the essence of elegance and modernity.
This style of industrial decoration is in full swing. In fact, more and more people combine this style with others such as Nordic or vintage, designing spaces fully adapted to their favorite style but including details such as steel lamps, exposed tube air conditioners or exposed brick walls.
Using steel floor lamps is an ideal way to direct light to strategic points such as a reading chair, a table or a bookcase, for example. This type of lamps create an ideal and very cozy environment.
Ceiling lighting trends 2023
Ceiling lamps are essential for lighting a home with character and style. Regardless of the style we choose, it is essential that we take into account that, when considering the lighting in our home, ceiling lamps are the main element to evaluate.
With the many alternatives for ceiling lamps in trend that the current market offers, we can become saturated and not know which one to choose. The truth is that it is an important decision, since a poorly chosen ceiling lamp can completely affect the atmosphere in the room.
Lighting is vital in a home, since in addition to contributing to the decoration by directing the focus of attention, it has the power to influence the mood of people. That is why the choice of ceiling lamps represents a long-term investment, which will favor or affect the general personality of the house.
Keep reading this article and you will find several models of ceiling lamps that you can take into account, depending on the trends, dimensions and style that the space has.
Ceiling lighting trends 2023
Some types of ceiling lighting trends 2023 that you can take into account when lighting and decorating your home are:
Ceiling light
These lamps are installed flush with the ceiling, and can be done on the surface or recessed. We can find round, square or elongated ceiling lights, and warm light or cold light. Its screens have a translucent or transparent surface and allow light to pass through in a general and dispersed way, so they fully integrate into the environment, as an excellent option for practical, efficient and safe lighting.
Chandelier pendant lamps
Chandelier-type pendant lamps are a kind of suspended lamps that we can find in many designs, such as the old bronze, silver, crystal, candlelight models, or the most modern ones with small fabric shades. They are characterized by having many lights, and by hanging away from the ceiling to prevent it from absorbing light. They are ideal for large spaces such as living rooms, dining rooms or large halls.
Suspended lamps
Hanging or suspended lamps are proportionally simpler than chandeliers and have fewer lights. They are usually used in smaller environments to focus the light directly to a specific place, such as on a table or somewhere that requires its own lighting.
Recessed lamps
They are lighting sources that are used to give a more specific effect in defined areas, such as work spaces or living rooms; on the dining room table, in the kitchen work area and any other space of this type that requires a good amount of focal light to carry out activities that require good visibility.
5.Downlights
This type of ceiling lamps consists of recessed spotlights in a downward direction, which illuminate directly and downwards horizontally, in order to concentrate their light in a single point and avoiding the spread of light throughout the rest of the room. room. Generally, the "portholes" as they are also known, are fixed to the ceiling and wrapped in a reflector to concentrate its light towards a fairly small area with a very particular illumination.
Design ceiling lamps
Designer ceiling lamps are structured by very elaborate pieces, generally, and provide lighting in a more original and unconventional way in interior spaces. For their design, they can be used from the most technological materials to the most natural, and through traditional manufacturing processes and with innovative applications. They can integrate metallic or recycled elements, and have a great decorative and functional character.
Integrated LED lights
By using integrated lighting, from the use of LED spotlights in the ceiling, it is possible to distribute the light without creating deep shadows. LED lights can be used as ceiling lights for deep directional lighting, giving the feeling of spaciousness in small spaces, using different techniques to achieve visual effects of zooming in or out.
Conclusion
Ceiling lamps have always been the element par excellence to supply light to different spaces. By correctly choosing the trendy ceiling lamp that matches the atmosphere you want to achieve in the room, you will achieve a sensational effect that will enhance the decoration of the place.