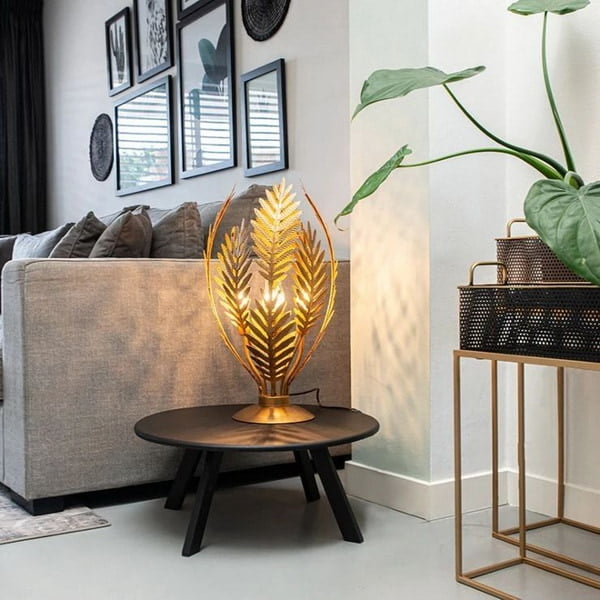 Unfortunately, lighting is not always the top priority when designing or redeveloping a space. Of course, we want to have enough light and fixtures placed in the right places, but the majority of people do not care too much about the choice of a wall light, a suspension or a table lamp. The truth is, the right lighting can really make or break the decor and design, in general, of a home. It is not surprising, therefore, that according to some interior designers, it is with the choice of lighting from which to start. The editorial team has compiled all the news in the 2023 lighting trend for you to start the new year on the right foot. From lamps to chandeliers, including finishes and smart solutions – we lift the veil on the key pieces that you absolutely must consider.
The big 2023 lighting trend is sustainability and natural materials
No surprises – the predilection for natural and sustainable materials will continue in 2023 which will have a direct influence on the trendy luminaires of the coming year. Given that the use of certain materials has already established itself in the sector (in particular: wood, glass, bamboo, fabric, leather, paper and even seagrass), the next season will also impose as a reference the use of twine, rope, burlap and wood beads. Imagine chandeliers made of pearls and decorated with rope and stone pendants.
Natural materials aren't the only way to embody sustainability and nature in lighting trends. The luminaires will take organic and fuzzy shapes and they will be accessorized with elements promoting the delicacy of nature, such as details in the form of graceful leaves, glass pendants resembling drops of water etc.
In order to embrace the nature-inspired 2023 lighting trend, consider the following:
Natural materials: bamboo, rattan, wood, burlap, rope;
Neutral or natural shades such as earthy brown, ocean blue, sand yellow, forest green;
Organic shapes that make you think of twigs, flowers or other plants.
Cocoon style for a warm environment
The trends deco winter 2021-2023 put comfort on a pedestal. This is perfect because cocooning lighting will be the star in any self-respecting warm habitat. Think about neutral colors and soft fabrics that will create a feeling of elegance and softness. Cocoon-style lights are perfect for bringing comfort to a bedroom or even creating a cozy atmosphere in a contemporary living room.
Back to basics
The trendy lights of 2023 will focus on simple designs and raw materials. So avoid intricate designs and extravagant decorations and focus on objects that have special meaning and that perfectly define the desired environment. Consider nature-inspired hues and soft textures to create a new focal point. The sleek design and the strong character of such a luminaire make it a unique piece that will bring a touch of originality to your interior.
A return to the 1930s with the Art Deco lighting
Nothing beats Art Deco style light fixtures to make a statement in your home decor. Globes in clear or tinted glass, elements in brass, gold or other noble metals invite the charm of the 1930s into modern living. You can't go wrong with this distinctive style that will complement your decor beautifully.
Trendy lighting 2023: industrial style in a contemporary setting
The lighting industrial style continue to enjoy enormous interest both for the development of housing for the decor of restaurants and professional spaces. In addition to considering the iconic metals (brass, steel, and copper), it's still important to think about the right color scheme which includes white, black, and gray. The appropriate association will give a raw side to your room. Black, for its part, will play a decisive role in this direction because it will allow the contrasts to be balanced.
As an example, floor lamps and wall lights in black shades are the ideal choice for monochrome interiors. A black chandelier will absolutely stand out as a centerpiece in a room equipped with light fixtures in white or cream tones. It gives a classic and distinctive look.
If you are looking for something a little more daring, you should definitely consider the brass parts. In 2023, rose gold is on the way out, while brass and brushed gold will be the two big trends for the coming year. Whatever your preferred finish (glossy or matte, antique, polished, satin or patina), these metals with a warm and glamorous nature deserve all your interest. They fit harmoniously into any interior style: from Victorian to Scandinavian.
What do color trends hold in store for you?
If your interior design requires the installation of colorful lighting, it is better to make your choice while respecting the 2023 living room decor trends. If bold hues aren't your thing at all, ideally go for natural shades and neutral colors which are perfect for creating a balanced, stylish and timeless environment. Consider, for example, the following propositions:
Black, beige, white and gray: for a simple and functional decor;
Brown, muted green, pale blue and mustard yellow: for a natural and harmonious look;
Royal green, navy blue and powder pink: to add a touch of daring and make your luminaire a focal point.
What materials will predominate in lighting trends in 2023?
Trendy lighting 2023 promotes natural materials. It emphasizes the beauty of nature and the importance of an ecological and sustainable approach. In this sense, if you plan to change your lighting during the coming year, ideally opt for materials such as wood, bamboo, rattan, glass, paper or natural fibers. At the same time, the designers advise you to also bet on the metal which will help you create a very appreciated industrial effect in 2023. Think of steel, brass, gold and copper by choosing according to the style of your decor.
Trendy lighting 2023: the best designs of the coming year
Each room requires specific lighting and fixtures depending on the style of decoration and the atmosphere you want to create. Of course, everyone should take their own preferences and needs into account, and not be blindly guided by trends. Still, there's nothing wrong with taking a look at what's new in design, style and color when it comes to modern lighting.
What 2023 trendy lighting for the kitchen?
Exposed light bulbs and glass globes will be everywhere in 2023. Globe pendant lights, on the other hand, are perfect for practical use and their great asset is their versatility.
Minimalist design LED lights to make a statement.
An eclectic combination of LED lighting built into the kitchen cabinets and an elegant chandelier above the dining table.
What are the lighting trends in the bedroom?
Ceiling lights featuring clean but eye-catching geometric shapes;
Fabric wall lights with a soft texture for a comfortable and cocooning effect;
Bedside lamps with organic shapes, ideally in natural materials.
What lighting to choose for the living room?
Choose a ceiling light or a chandelier with high ornamental potential to create a breathtaking effect;
"Invisible" lighting fixtures for more discretion;
A brass floor lamp to ennoble the environment by adding new trendy elements.
Trends in fixtures and lighting in the bathroom
LED lights on all mirrors to achieve the effect of space and to visually enlarge the small bathroom ;
Brass sconces to add a new point of interest;
Industrial style lamps to complement the contemporary decor.