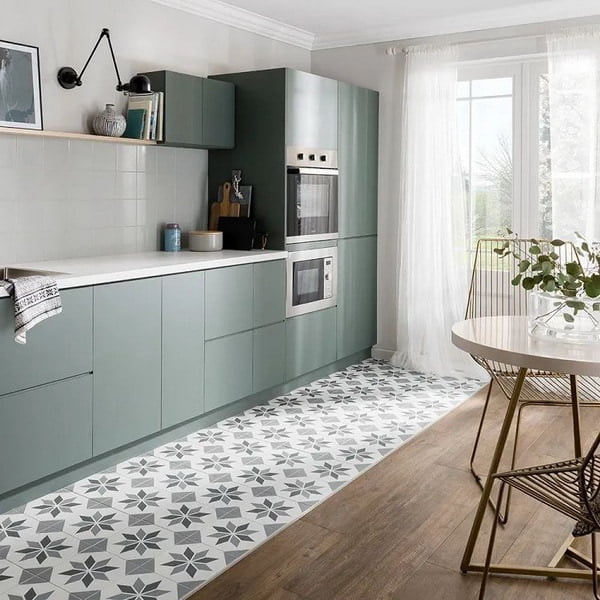 Are you curious to find out what is the 2023 kitchen trends? We've analyzed the popular colors, must-have decorations and the most sought-after interior styles to bring you the complete list with the trends you can't miss. In short, we have everything you need for the gourmet room renovation. So, without further ado, here are the best kitchen design trends 2023 to copy. Zoom !
2023 kitchen trends
What are the decorative elements and trendy colors that you shouldn't miss ? The kitchen is finally getting the attention it deserves, especially when it comes to thoughtful and practical design. Following the pandemic, many of us discovered the importance of that part of our homes, where we cooked when we worked at home and where we made all kinds of meals when we couldn't go out. No wonder, then, that this vital part of the interior is constantly being improved and renovated.
We have seen the kitchens take on color, fill with unique natural materials and ultimately become the most luxurious place in our home. In 2023, we're going to see an even greater increase in kitchens that reflect our personal tastes and truly meet our specific needs. And all this, mixed with a really elegant and sophisticated decoration.
Metro tiles
In 2023, we're going to see a return of tile kitchen backsplashes, but this time in a shiny version. So, we finally say goodbye to matte finishes. The best part? This type of earthenware is much easier to clean! So, to achieve a really trendy kitchen, opt for rectangular tiles in the metropolitan style. As regards the interstices, bet on the thin joints, that is to say of approximately 2 mm.
Sunny kitchen
Expansive windows along the counter or extra-wide light pipes above the island or stove will be the 2023 trend in interior design. The aim is to welcome natural light and thus create a visual connection with nature. It is in fact the goal of biophilic design that will dominate the trends over the next few years. Bonus point if you add a few green plants to the kitchen shelves.
Natural materials
Maybe you already know this, but we will say it again, from now on we are trying to replace plastic completely. This means that the use of natural materials is a priority which requires your attention and investment as well. In this context, marble, granite and unpainted wood kitchen cabinets become essential elements. Not only do they have a rich aesthetic quality, but they are increasingly recognized for their health benefits, as they do not require chemical treatment when cleaning.
The design of the cabinets
When it comes to cabinet design, in 2023 you can choose from two main options –  the minimalist style where you will see fewer cabinet knobs and pulls, and the flat-fronted cabinets decorated with handles that draw the eye. Warning.  Automatic opening systems and those that require pressure on the door itself are still a trend that will make it easier for avid cooks.
Designer kitchen lighting
Lighting is particularly crucial for interior design. Lights can make a room look amazing and warm. This is why we should not neglect this element of the decoration. The 2023 kitchen lighting trends are clean and refined. Unique and handcrafted models are an asset, but you can also bet on minimalist designs that complement that of the cabinets.
Metal elements
Marble and wood are a must-have trend in interior design 2023, but one should not also forget about metals which complement each other well with them. The different shades of wood and metal often bringing warmth and contrast to a cold marble surface. In this sense, copper details are particularly suitable if you want to achieve a contemporary look.
Wallpaper in the kitchen
Yes, you heard it right! In 2023, the wallpaper will be present even in the kitchen. Maybe this sounds weird to you, just like putting a fluffy rug on the balcony, but in fact if you shop around you will find wallpapers designed especially for kitchens. You can also apply a coat of water-based matte varnish to the wallpaper once it is set and dry. So you will be sealing all edges and seams for extra protection.
When it comes to design, tropical paintings and flowers are preferred… In fact, any kind of design that reminds you of nature. Against this background, you can also find images of foliage, twigs, trees, fruits and vegetables. They will all bring a very fresh look to your kitchen, while also adding a stunning contrast to the minimalist furnishings.
On the other hand, if your cabinetry is made up of ornaments, like a vintage style kitchen, or if you have an industrial kitchen, then you should choose lighter and simpler wallpaper. Abstract patterns and those that mimic metal are the best solution for you.
Trendy kitchen colors 2023
Colors in a room can completely change its look, so choose them carefully. Fortunately, in 2023, the trends bring us a palette of warm and intense shades that will illuminate our interiors. Expect more burnt yellows and oranges against a backdrop of dark blues or light whites.
If pop colors aren't your cup of tea, then you can bet on a 2023 kitchen trends in sandy undertones. It is an ideal solution for all fans of Scandinavian design and cocooning, as well as the gray and white colors.
You can implement the fashionable colors even in the wardrobes. Take a look at terracotta kitchens for example. They are all the rage right now and will continue to amaze us even for the next year. Another shade to consider is khaki green. It adapts to all styles of interior design and what's more, it guarantees you a calm and super serene atmosphere.
Kitchen trend 2023: interior styles
Interior style really depends on your personal taste, but if you follow the trends there are a few key things you can incorporate that will change the look of your kitchen. After the Moroccan style has invaded our living rooms, it is time to integrate it into the kitchen. How? 'Or' What ? The most elegant way to do this is to bet on Moroccan zelliges. With their irregular surface and varying tones, this distinctive glazed clay tile will bring texture and craftsmanship to a room.
Cottage-style kitchens are also very popular. If you want to have a kitchen that is trending 2023, this is among the best choices. It's a rustic, traditional style that's appreciated for its distinctive features – stone flagstone floors, rustic beams, aged ceilings and valances – it's these details that give cottage kitchens their unique charm and feel.. Another must-have piece is the farmhouse sink which will also be in vogue for next year.
We mentioned it before, but biophilic design is a major trend in interior design. So don't waste any more time and adopt several green plants in your kitchen – not artificial ones, but real ones! You can also think about planting some fresh herbs, which can help you even improve your cooking skills.
You can't miss the minimalist interior design, right? ! It's already a part of our lives, and it looks like it will last. So keep it simple, avoid open shelves and overly bright colors. Instead, go for light, soft and pastel shades like beige, vanilla color, dusty pink, etc.
Ecological kitchen
What does that mean ? The second hand trend is no longer just for fashion. It is now possible to buy a reused kitchen! It sounds amazing, but it's true! From a sustainability standpoint, buying used kitchens or ex-show kitchens makes a lot of sense as it allows recycling / reuse of products that are generally in pristine condition. In addition, you will save a good amount of money that you can invest in a green household appliance.
Find more ideas in the photo gallery