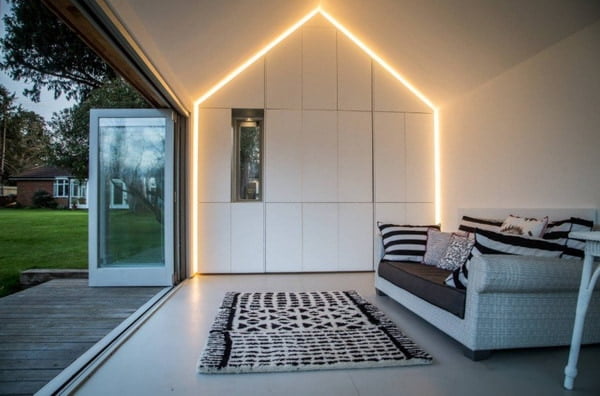 Despite the fact that fashion trends in clothes, shoes or accessories change much more often than, for example, in the interior, the periodic introduction of new ideas in this area still occurs. Therefore, before starting a major overhaul or updating the external design of a room, you should definitely pay attention to various novelties in interior design.
Today we propose to discuss the main lighting trends in interior design 2023, which will allow your interior to remain fashionable and stylish for a long time. What you should pay attention to, and how to choose the right light sources for rooms of different functionality, we will tell you in this article.
Lighting Trends 2023: Trending Ideas and Features
When it comes to lighting rooms, the first thing we pay attention to is the presence of window openings and the actual location of the room itself.
Rooms facing the north, as a rule, need additional light sources, not only in the evening or at night. Due to the minimal exposure to sunlight, as well as depending on the functional purpose, sometimes it is necessary to use backlighting in such rooms even in the daytime.
Rooms with south-facing windows spend more time in the sun, so it is sufficient to use artificial lighting only in the dark.
Designers' ideas for the trendiest lighting options in 2023 are acceptable for any budget and design style. Read more about the 2023 indoor lighting trends below.
Environmental friendliness
As you can imagine, this trend means that in 2023 all kinds of natural materials are in fashion, for example, wood, bamboo, glass or various fabrics.
Therefore, when choosing lighting devices, designers recommend paying attention to products of this quality. In addition, everything related to nature is in fashion, for example, a floor lamp with leaves, a sconce with a lampshade in the form of a blossoming flower, or a chandelier made of "twigs".
Simplicity of forms
The rational use of space and minimalism, manifested in many directions, could not but touch the lighting. Therefore, the simplicity of forms, laconicism and the absence of unnecessary details in chandeliers or lamps are at the peak of popularity this year.
Basic black, white and gray colors in lighting technology can be called a win-win option. If you want to emphasize closeness to nature, you can always give preference to products with details of the color of honey, sand, blue sky or pine needles.
Chandeliers in the form of art objects
Such a proposal will definitely appeal to those wishing to complement the interior of a particular room with an unusual and eye-catching object that will take on the role of an accent and transform the entire interior.
This is a great opportunity to deviate from all the rules and create a unique atmosphere. The main thing is to find a balance between design ingenuity and restraint of the overall design.
Brass
All kinds of brass details and inclusions have long established themselves as the best in plumbing, vases, clocks and other accessories, so designers are actively using this alloy in the design of lighting fixtures.
In chandeliers or lamps, brass looks much more interesting than other metal and fills the space with warmth. In addition, brass products are always luxurious and expensive to look at.
Lamps in the form of balls
Due to its popularity, the idea of using spherical lamps in the interior has successfully established itself in the list of interior decoration trends for 2023.
This is an amazing and interesting idea that most designers are striving to work on right now. Balls can be of transparent, translucent or completely opaque materials. Products made of combined materials or transparent lamps with round lamps look very beautiful and original. Such "balls" are used in the design of sconces, chandeliers and other types of lighting fixtures.
Lighting trends 2023
Are you renovating a house or an apartment, and maybe you want to change something in them or freshen up your living room? Do you want not only you but also your guests to be delighted with your interior? It's possible! Choose lighting that will give the space a unique character. Learn about new lighting trends for 2023.
Eco design
Eco-style is one of the most popular styles not only in lighting, but also in interior design for 2023. The trend of returning to nature will be clearly visible. Boho and Scandinavian-style interiors, full of natural colors, earth colors and materials such as rattan, vine and bamboo, win the hearts of Ukrainians. The eco-style is dominated by natural materials – lamps made of marble, granite, basalt, terrazzo, but also concrete.
According to the Westwing portal, one of the dominant trends in 2023 will be the style of modern country life, which seems to be a response to what happened in 2022. It combines the idyllic homely atmosphere of the countryside with modern solutions. Warmth and safety or the memory of my grandmother's cozy house in the village and nostalgia for a carefree childhood – this is actually the basis of modern country life style.
Practical track lighting
Track lighting has so far been used mainly in public and commercial premises. Now it is increasingly installed in houses and apartments, as it is a great alternative to traditional lamps. In 2023, it will certainly be popular because it is convenient to use. Its biggest advantage is the ability to move the lamps freely and adjust the angle at which the lamp light falls. This makes it possible to direct the lamp in any direction. This solution is suitable, in particular, for the kitchen, large living room or hallway.
Track lighting allows you to get light tailored to your needs. And installing busbars on the ceiling, you can create many interesting compositions.
Universal lampshades
Plafonds are universal lamps that do not go out of fashion. This practical solution is ideal for the kitchen, bathroom and hallway. This lamp fits snugly to the ceiling, thus ensuring convenience and comfort of use. In addition, it scatters light so that every corner of the room becomes illuminated. Plafonds perfectly suit minimalist interiors.
Lighting trends: modern pendant lamps
In 2023, minimalist industrial luminaires combining metal, wood and an incandescent light bulb, such as Kanlux ALIN or Kanlux JASMIN, will be popular. There are still spider chandeliers in fashion, such as Kanlux TOKIA, which are suitable for loft-style and industrial-style interiors, and there are more and more of them in Ukraine. No wonder. Details, colors and shapes change, but the concept of a modern loft remains unchanged for several years. The advantage of "spider" lamps is that even the replacement of light bulbs in them can give the lighting a new character.
Geometric shapes
In 2023, simple geometric lamps reminiscent of the 1970s and Art Deco style will be popular. They go well with minimalist interiors, as they emphasize their elegance.
Simplicity will reign in the new year. Smooth shapes of lamps – timeless arcs and ellipses – are gaining popularity again over the years. Streamlined, harmonious and spectacular shapes will become the centers of many living rooms. Shape and material will be a new measure of elegance.
Focus on color
The new year will not bring extravaganza of colors. Interior designers will often turn to classic brass, copper and bronze. They will especially like the fixtures made of milk glass. Such solutions will be ideal for interiors in a modern style or modern classic style.