Curtains are an important element of the interior. They perform both a completely practical function – protection from sunlight and prying eyes from the outside, and an aesthetic one. Curtains often become one of the accents in the interior due to their color scheme, texture or design. In other cases, they harmoniously fit into the overall style of the room, emphasizing it.
When choosing the type of curtains, the main criterion is the design style chosen for the decoration of a particular room. However, this does not mean that the curtains are not subject to stylish trends. Designers in each season offer new original ideas for window decoration.
New Curtain Trends 2022
In the new season, there is a tendency towards minimalism, rejection of pomp and complex structures, unless, of course, this is implied by the style of the interior. Preference is given to laconic, fairly seasoned curtains without an abundance of decor, draperies and ruffles.
Everything should be extremely simple. Intricate designs, which are long and difficult to create, and then, under the strict gaze of the hostess, should in no case be disturbed by household members, have receded into the background.
Roman, Japanese and Scandinavian curtains are at the height of fashion. Austrian and French curtains will help to create a romantic atmosphere in Provence style.
As for the material of trends for curtains in 2022, the designers offer a great variety of variations. You can find heavy, massive fabrics, and light, almost weightless. The choice should be guided by the style of the room, as well as its location and degree of illumination.
Trends for curtains for the living room 2022
In every house, the living room is a place where households gather and guests are received. It is like the face of your house, and the face should be beautiful and attractive, demonstrate the style and taste of the owners. If you describe in three words the fashion trends for curtains 2022 season, then this is elegance, luxury and originality.
Is it possible to combine three such bright in themselves characteristics in the same curtains? With the development of technology, this has become absolutely possible! Today fashionable 3D curtains are offered to our attention. This is a novelty, which is a stylish and very unusual solution. The choice of themed design for 3D curtains is large and varied. Curtains with patterns of fruits, flowers, animals and cities are very popular.
This choice brings a bright accent to the living room. Curtains constantly attract the eye and make you want to admire them. This is a very effective solution for decorating a space.
An additional plus is the ease of care of this new product. They tolerate wet and dry cleaning well. After cleaning, they should be ironed at medium temperature or steamed.
Fashionable curtains for the bedroom trends 2022
If the living room is the face of the house, then the bedroom is an intimate nook for rest and relaxation. Here, the interior design is carried out with the idea of creating comfort and coziness.
In the new season, designers recommend giving preference to restrained classics, which perfectly emphasizes a pleasant calm atmosphere. The highlight should be a combination of curtains and tulle. At the same time, tulle should be chosen in light airy colors and with patterns. Abstraction or floral print can be used as patterns. Curtains should remain solid.
In the bedroom, heavy curtains in several tones darker than tulle will be relevant. This combination will look harmonious and even during the day it will be possible to create a pleasant twilight for relaxation.
If your curtains don't completely darken the room, use a blackout lining on them.
Fashionable curtains for the kitchen trends 2022
The choice of curtains for the kitchen in 2022 must be approached carefully. The main selection criteria are practicality and aesthetics. Both criteria are equivalent. On the one hand, all household members spend a lot of time in the kitchen, which means it should be beautiful, pleasant and cheerful here. On the other hand, in conditions of humidity and temperature changes, curtains simply have to clean well without harm to their appearance.
A fashionable and practical solution for the kitchen in the new season is Roman blinds. They look laconic, do not occupy the kitchen space and at the same time bring a pleasant accent thanks to the variety of prints and colors.
Where to buy curtains
Take a look, for example, at Zara Home, so you can not only see trends, but also order curtains for home. There are beautiful velvet curtains.
In the Ikea store, they even sew custom-made curtains.
H & M Home – here you can buy small format curtains.
La redoute – a lot of roller blinds for the window. Confused only by the unsafe chain for children.
Hoff – many ready-made curtains on tape. But the fabrics are rustic.
Curtain Colors – Trends 2022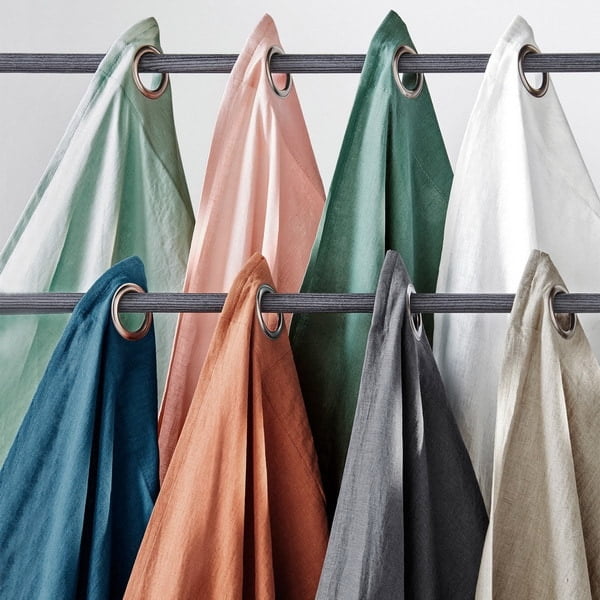 White
The undisputed leader is the curtains of white and its shades. They fit organically into the interiors of almost any color and style solution. White curtains can be dense, translucent and completely transparent. Translucent models transmit natural light well, slightly dimming and diffusing it. At the same time, they protect the room well from prying eyes.
Black and graphite
Curtains in black and graphite colors are the choice of stylish and bold. Textile curtains with glitter, jacquard monochrome pattern look spectacular. Trending combinations – black with white, black with menthol or other saturated color that is present in the interior as an accent.
Neo-mint – a trendy shade of green
This shade of green can be used as a stand-alone color or as a complement to white (and its shades) or black (graphite). If white looks good in interiors of different colors, then neo-mint requires the presence of objects of the same color in the room. It can be – upholstery of upholstered furniture, bedspreads, decorative pillows for a sofa or bed.
Printed fabrics
Fashion trends – geometric patterns and tropical prints. For spacious rooms, you can choose light curtains with a large pattern, for example, bright green leaves intertwined with vines. Such models look good in eco-interiors.
Another fashionable option is a horizontal, vertical, diagonal strip. The vertical strip visually "lifts" the ceiling, and the horizontal one expands the space. Models are relevant in which stripes are combined not only of different colors, but also of different textures. For example, from sheer tulle and dense shiny satin.
Fashionable Curtain Styles 2022
Minimalism
The fast pace of modern life dictates the pursuit of simplicity in everything – design, use, care. This trend also applies to curtains, the trend of 2022 is laconic designs, without lush and intricate decor. The aesthetics of minimalism and the desire for practicality are successfully supported by roller blinds, vertical and horizontal blinds with lamellas made of fabric, wood, plastic, aluminum alloys.
Scandinavian style
The Scandinavian interior is a space with neutral colors and clear lines. Curtains made in this style create a cozy atmosphere, but do not overload the space with unnecessary details. In the conditions of the northern regions, window textiles only frame the opening and practically do not perform light-protective functions.
In living rooms, halls and bedrooms, long curtains are appropriate, corresponding to the fashion trends of 2022. Most often they are used without tulle, which combines indoor and outdoor space. This is especially true for country houses.
Thanks to the combination of simplicity and elegance, Roman blinds have received a permanent residence in the Scandinavian style. These can be designs with hard tabs, forming clear folds when lifting, or models without tabs with soft outlines. Convenient and practical roll systems that can be used alone or in combination with long curtains are appropriate in this style.
Japanese curtains
Otherwise, these models are called "panel curtains", "screens". Initially, Japanese panels were intended solely for zoning space, but the Europeans decided that screens could be used to decorate window openings.
Japanese panels fully comply with minimalist trends and requirements for practicality. They are straight panels up to 1.5 m wide, which move to the sides along the guides. Thin fabrics are attached to the frame, and on dense ones at the bottom, a weighting agent is provided.
It is not customary to complement Japanese screens with ruffles, bows, cords and other decorative elements.
A new direction – curtains with a pattern in 3d technique
Laconic doesn't mean boring. If you want to create a bright accent spot in a monochrome interior without overloading it with unnecessary details, pay attention to the new items – fashionable curtains with a pattern made in the 3 D technique. For living rooms and bedrooms, models with natural and urban landscapes, flowers (orchids, roses, lilies). In kitchens, roller blinds with the image of fruits and dishes, fashionable in 2022, are relevant. For a children's room, a child can choose a model with their favorite characters from fairy tales, cartoons or comics. It should only be remembered that a print that is too bright and saturated will gradually get bored and annoying.