Want a change in your interior? How about taking a look at the living room wallpaper trends 2023?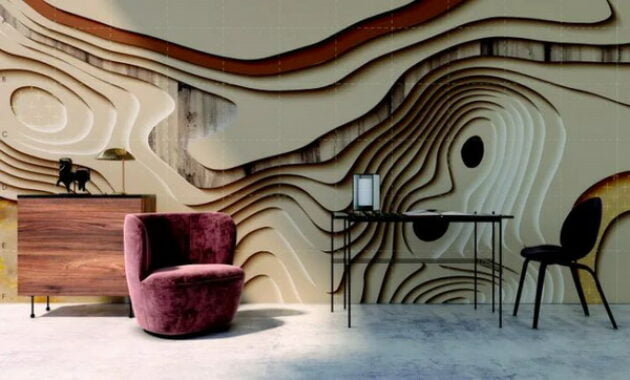 The year is coming to an end and you have had enough of your interior? You would like a change and make the decor of your small living room more cozy, but you don't know how to go about it. Besides, you're running out of ideas and can't splurge either? Stop complaining, we'll give you some ideas and we bet you'll indulge yourself with some living room wallpaper trends 2023 to turn your home upside down for less. You will thus bring a touch of renewal to your home by not changing the entire interior decoration too radically, but by revamping your living room, by placing a wallpaper of the most beautiful effect in your modern interior. In addition, to avoid spoiling anything, the 2023 trends are really top! You would be wrong not to be tempted.
Living room wallpaper trends 2023
This year, minimalism and the Scandinavian cocooning salon are back in force in our homes. Wallpaper is not really a novelty in interior decoration, but it remains timeless by inviting itself in all the rooms of the house: bathroom, bedroom and especially in our living room. There,  he has a key role in setting the tone of the piece. His watchword for 2023: first to give space and the illusion of expanding your living room. But not only. In addition, the trendy living room wallpaper 2023 must also bring real added value to this busy living room by being in harmony with your furniture and while highlighting your identity.
Wallpaper color trends 2023
In terms of colors, living room wallpapers adopt the general trend colors of the season to embellish and brighten up the main living room. As in 2022, we find gray and yellow, dear to the Pantone color chart, which gives vitality to the walls. Green tones reminiscent of nature and vegetation also bring an idyllic and relaxing touch to our decor. Likewise, combining beige with white warms your interior with both warm and soothing notes.
The general wallpaper trends 2023 will tend towards deep blue and for other colors, the fashion is towards softer contrasts and lighter dark colors. Thus, you are spoiled for choice between different shades of green: sage, celadon, olive or khaki. Does that mean anything to you?
The warm tones are also lighter. The most trendy shade remains the terracotta color that we can decline as we see fit in different degrees of intensity. Are you still hesitating? Time has no hold over the luminous colors which remain, again and again, essential with a big rib for ecru which is on the rise this year.
Panoramic wallpaper
We love it for its ability to enlarge the space, it is the living room wallpaper trend 2023, because it easily enlarges the room and its decoration potential is immense. So why deny it? The panoramic model will make its most beautiful effect in your interior, you can be sure of it! You are spoiled for choice, it all depends on your desires of the moment: a cozy and enveloping gradient, a floral pattern, a jungle, something soothing or energizing that will make your main living space as charming as the other rooms. from your home.
Be careful, however, if you want to expand your living room with this type of wallpaper, avoid pasting it on all the walls. Indeed, this could unfortunately have the opposite effect and make your living room smaller. For example, limit yourself to one wall in the room to reinforce its enlargement. So opt for a light colored model if the rest of the walls are white or for a more sober shade if your walls are colored.
Textured wallpaper
This is one of the other major paper trends for 2023, textured wallpaper holds its place, in line with 2021 and perfectly meets expectations with a very natural effect to your living room. Like a work of art, your living room wall will be highlighted. This style of wallpaper will also play its role very well in a minimalist interior design consisting of vintage Scandinavian furniture.
Watercolor wallpaper
The watercolor-style wallpaper with its melted colors and more or less figurative designs, will create a poetic atmosphere in your modern living room which will thus have an arty touch without having to install chic works of art. Not bad is not it ? Surprising with the different shades of several colors, these wallpapers offer a touch of imaginative elegance and will thus give life to your interior. In this way, your living room will become a real work of art!
Graphic wallpaper
It will boost your living room in two steps three movements without you having to do too much. Indeed, it will not be necessary to have it on all the walls of the room. Rejoice, you will save money. A single width of well-positioned wallpaper will be enough to transform the atmosphere and revive your living room.
The graphic style has several advantages up its sleeve: it is able to light up an overly shaded living room or if you prefer, it can help you give a retro charm to your living room. If you like sobriety, don't worry, this wallpaper has it under the pedal and is not always exuberant: it can be satisfied with a simple geometric shape on a white background or a few horizontal lines on a light variation. of blue. On the contrary, if you want to let go of the horses, the graphic wallpaper will have a blast by exploding the colors on the walls of your living room. So, have you chosen?
Floral wallpaper
This year, the wallpaper trend for the living room explores new continents. Whether real or imaginary, extraordinary landscapes are exhibited on our walls. As you will have noticed, it is the lush leaves and the timeless tropical decoration that are taking the lion's share. As such, the return of the floral print is not to displease us. Likewise, the Japanese style with its traditional cherry blossoms also stands out.
Wallpaper as an invitation to travel through time
Our desire to escape continues with the profusion of wallpapers inviting us into a world that does not exist with graphic or geometric designs. Similarly, precious art and the pop years are making a comeback by transcending our walls of unbridled colors or extravagant shapes. Thus, the 2023 trend will bring you a real breath of fresh air: you can get lost in a tropical forest, walk with your head in the clouds, admire extravagant animals or wander under Basquiat's graffiti. You are spoiled for choice by opting for a wallpaper that will match your travel desires… while staying at home!