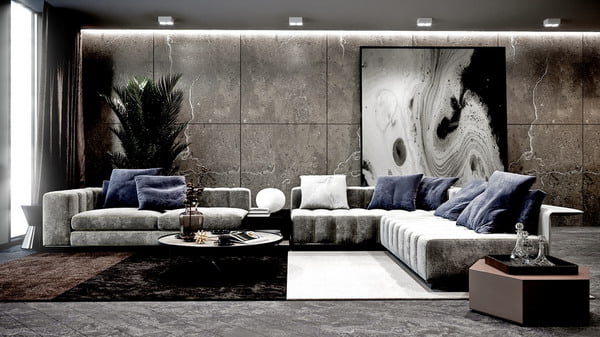 Interior design 2021 – ideas and trends, what is fashionable, and what is out of fashion? Consider the most relevant ideas often used in 2021 interiors.
Fashion does not stand still, this also applies to interior design. New technologies, materials, fabrics, as well as interior and decor items, appear. More and more often, designers mix different styles, apply bold colors and also use non-standard materials.
Wall decoration: modern design trends
In 2021, painting the walls remains the most popular way of decoration. First of all, because of its practicality. You always have the opportunity to quickly update or change the color in the interior.
Eco-friendly wallpaper on a natural basis is also gaining popularity again: cotton, bamboo, rice fibers. Do not forget about the new collections of wallpaper on a non-woven and paper basis. Pay attention to the photo wallpaper with original patterns and bright elements.
If we are talking about modern interiors – natural stone, brick and concrete are still popular. Such materials prevail in Loft-style interiors and are also used for accent walls.
Ceiling trends: constructions and design of ceilings
As for the ceilings, we can say for sure that stretch ceilings are a thing of the past. The trend of 2021 is more environmentally friendly materials. Dimensional multi-level drywall constructions have also become less popular.
The most common option is a classic flat ceiling with small designs of their gypsum board for mounting built-in lighting devices – spotlights, led strips.
Lighting trends: chandeliers, lamps, led strip
Lighting is one of the main elements of the interior in 2021. It creates comfort and atmosphere in the house. Therefore, it is very important to carefully consider the location of the lighting fixtures and their functional purpose. In 2021, original chandeliers and lamps are traditionally popular. They perform not only the role of the main source, but can also zoning the room.
Point light is also important for which spots, spotlights, wall lights and sconces are used.
Not one modern interior of 2021 can not do without LED strip (led). It is a beautiful and functional light source that can have both a decorative and a practical role. Using a hidden led strip, walls, ceiling, curtains and other interior elements are highlighted. Also, LED-tape is used to illuminate the work surface in the kitchen.
Flooring trends: parquet, laminate, tile
Textures of a natural tree will never go out of fashion. In 2021, the parquet board from oak, ash, walnut, beech, maple or pine is also popular. In addition to the flooring material, a huge selection of colors, shapes and textures is presented – wenge, bleached oak, polysander, cherry, Milan nut, etc.
The laminate has not lost its popularity. This is a durable multilayer material of 6-12 mm, the basis of which is a plate of DPS or fiberboard. A large number of its varieties from different manufacturers are presented on the market. They differ in their technical characteristics (class of laminate), the method of laying (castle, adhesive) as well as the variety of colors and textures.
The leaders in popularity in 2021 are porcelain tile, marble and natural stone. Interior designers often combine several types of flooring – parquet and porcelain stoneware, laminate and tile. Using this technique, you can visually divide the room or highlight a specific area.
Furniture 2021: materials, style, functionality
In the 2021 trend, furniture made from natural and eco-friendly materials is the so-called eco-furniture. Modular furniture is popular with the ability to select the most functionally necessary elements. Such furniture is assembled as a designer, over time, additional modules can be purchased.
Some interior styles , such as Loft, use furniture partially assembled from improvised materials or interesting woolen things.
Natural materials
Natural materials have always been preferred in the decoration of any interior. Environmental friendliness and naturalness is also relevant in 2021. The leader among such materials is undoubtedly wood. Designers often use wooden slats, panels and beams.
Treated wood or parquet board can be used for decorating and decorating walls.
A solid processed piece of wood can turn into a stylish countertop. Such products retain the stunning texture of natural material and have a variety of shapes.
Natural stone, marble and granite at all times have given the interior luxury and grace. They are still popular and often used in the decoration of the living room, kitchen and bathroom.
The decor is dominated by natural fabrics, leather as well as fur.
Bar counter or kitchen island
Another trend of recent years has come to us from European and American interiors. Practically not one of our projects has recently been complete without a bar counter or a kitchen island.
The bar counter can be either a continuation of the kitchen set, or a separate element in the kitchen. With the help of the counter you can divide the room of the kitchen-studio and also zon the area for cooking.
If you like to cook and spend a lot of time in the kitchen – the island can become an indispensable element of the headset. The kitchen island is very convenient, practical and also functional. It can be used for cooking, storing dishes and eating. But do not forget that the installation and ease of use of the kitchen island requires an appropriate area.
Concrete in the interior
Concrete is a strong and durable material. In 2021, concrete was successfully used in interior design. Nowadays, concrete is used not only as a rough finishing material, but also as a decorative material for decorating ceilings, walls, floors, countertops, and sinks in bathrooms.
Concrete textures emphasize minimalism and brutality. It goes well with natural stone, glass, metal and wood.
Home plants as an element of decor 2021
Living plants create comfort in the house and also fill the interior with natural greenery. In 2021, large non-flowering houseplants, such as ficus, dracaena and monstera, are popular.
Do not forget about plants and flowers in small stylish pots as well as pots – potted trees (bonsai), orchid, guzmania and others.
Interior Design 2021: Trendy Colors and Shades
The most fashionable colors in 2021 are various shades of green: avocado, lime, olive. These shades are used in furniture design as well as for highlighting walls.
Gray color as well as all its variants have not lost their popularity.
Traditional white as well as pastel colors – beige, milk, coffee – are often used as the main color of the interior. Do not forget about the natural textures of wood, concrete, stone.
When creating any design project, it is important to understand a simple truth – fashion is changeable, style is eternal.