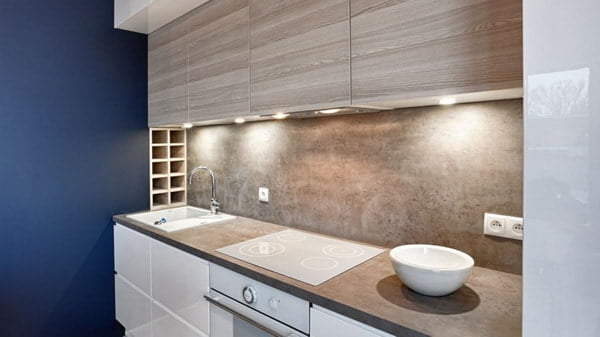 The kitchen countertop gives the kitchen a character, especially when it is open, for example, in the living room. The question remains – which tabletop to choose? We compare costs and properties because kitchen countertops differ not only in price and appearance, but also in resistance to difficult conditions. See which countertop will serve the most in the kitchen, and which is not afraid of hot pots, sharp tools and meat puree for chops.
How to choose a good kitchen countertop at a reasonable price that manufacturers offer? Before choosing a countertop for your kitchen, pay attention not only to its appearance, but also to the type of material from which it is made, and the price. It depends on whether the countertop will be durable and resistant to scratches and water. The material also determines the price of the countertop and the method of its maintenance. Laminated countertops are cheaper, you will pay more for stone and wooden countertops. The choice is huge: here is our guide.
Stone kitchen countertops. Granite
The stone recommended for kitchen countertops is granite, porphyry and basalt, as they are resistant to staining. You can also choose marble or travertine countertops, but countertops require special protection from stains and water absorption ( marble easily "gets dirty", even lemon juice will damage it). The stone countertop is resistant to high temperatures, but some require impregnation before absorbing dirt and moisture.
You will be interested: Stone countertop for the kitchen – we will tell you everything that is important to know.
Stone kitchen countertops can have surface finishes in several ways. Polished will shine, but may also have a brush surface that is slightly uneven and does not shine. There are also lovers of stone countertops trimmed with matt or so-called raw.
Granite countertop are certainly number 1 in the durability category of countertops. For kitchen countertops, you can choose from 200 varieties of granite (similar to marble and sandstone). It cannot be stained, scratched, you can put hot pots on it without fear, break the meat with a hammer into chops – it is resistant to mechanical damage. Granite has such small pores that you do not even need to soak it.
Granite kitchen countertops: prices
Granite countertops are the most expensive among stone materials – their price is at least $150 / m2 . It is also worth remembering the costs of transporting such countertops – a board 1 m2 and 3 cm thick weighs about 80 kg. Weight and the ability to process stone are also important when installing granite countertops.
Ceramic countertop
Ceramic countertops can be trusted by a specialist, or you can do it yourself. The tile is glued (it is best to use a flexible adhesive solution on complex substrates) on chipboard (it must be waterproof) and is complemented by a waterproof seam. The tile can also be laid without joints, but they still need to be connected to the cement mortar.
Porcelain tiles, clinker and terracotta are suitable for kitchen countertops. In fact, the appearance of such a countertop is limited only by your imagination and sense of aesthetics. Most often, the kitchen countertop is made from the same tile as the finish of the kitchen walls.
The cost of such countertops depends on the price of the tile and their type. Before buying, you should learn about the resistance of tiles to high temperatures and scratches. The solution must be of the highest quality so that it does not absorb moisture and dirt. A dirty seam looks unsightly and can be a breeding ground, for example, for bacteria.
Conglomerate kitchen countertops
Countertops made of conglomerate (also called synthetic stone) are made of ground marble or granite glued with polyester resin. Although they are resistant to moisture, heat and chemicals, they are fairly easy to scratch and mechanically damage. Attention, marble conglomerates quickly erase, which is especially noticeable on shiny countertops!
However, working surfaces made of conglomerate have a definite advantage – no joints on the working surfaces. This material can be combined so that they are flooded. As a result, we get a smooth, uniform surface that will not let a drop of water pass. An additional advantage is the ability to manufacture sinks from the same material, as well as a seamless connection to the work surface.
Stone conglomerates are easy to process, they can be of any shape, for example, to get rounded edges. Composites have good performance properties: they are lighter and more resistant to mechanical damage and high temperature than stone. Conglomerates of this type can also be updated by grinding. (Manufacturers make sure that this material is not destroyed, but the possibility of its recovery is provided). Conglomerates are glued to the board, the price depends on their thickness.
However, it should be remembered that there is no material without flaws. Conglomerates are not resistant to temperatures above 180-190 ° C (with the exception of reinforced composites intended for sinks), and therefore a very hot pan can cause bloating or cracking of the countertop. A complex surface is harder to scratch than marble, wood or laminate. On such a flawless composite countertop, each crack is more visible on dark and shiny surfaces. It's good that you can polish the scratches with sandpaper.
The price of conglomerate is different everywhere, which means that they are not very popular yet. Conglomerate is an expensive and exclusive material.
Composite Kitchen Countertops
The most popular composite, Corian, is a mixture of stone dust, pigments and synthetic resins – polyester combined with acrylic. Composite countertops are molded, so there are no joints on their length. Composites can be matte or glossy, the type of surface does not affect the ease of cleaning. They are good in places most susceptible to contamination, for example, around the sink. On dark and shiny surfaces, any scratches are more noticeable.
Composite countertops are harder to damage than marble, wood or laminate, but they can be scratched if you cut them directly with a knife on the surface. In addition, composites are not resistant to temperatures above 180-190 ° C (with the exception of reinforced composite shells). A hot pan placed on a countertop can cause bloating or cracking.
Glass countertops
Glass countertops are also durable. Nevertheless, the glass that is made of tempered glass and not glued glass will withstand a hot pan  (there is foil between the glass panels). Such countertops are made to order only. They can be transparent or matte (satin or sanded). In addition, as a rule, they are more expensive than stone countertops – the price of 1 m 2 is almost $200.
Metal countertops
Metal optically expands the interior of the kitchen, goes well with other steel appliances – a refrigerator, an oven. It will also be an interesting element, contrasting with other, more traditional pieces of equipment. Metal kitchen countertops – like stone countertops – are durable.
Aluminum or stainless steel countertops that are not susceptible to corrosion are the most durable. Low quality steel is much less durable. It is easier to scratch, it is more difficult to clean, it can discolor and after some time corrode. The undoubted advantage of this countertop is that it is extremely hygienic, since it does not accumulate metal microbes. It is easy to wash.
Of course, countertops called metal are not made entirely of metal. Most often, a steel sheet with a thickness of 3 mm is covered with waterproof chipboard, less often MDF. The length of the element for such a countertop is equal to the length of the plate, which is its core. Metal countertops can be ordered at the studio offering kitchen furniture, from the manufacturer or at some sink companies.
Wooden kitchen countertop
Wooden countertops are not resistant to high temperatures, they are easy to scratch, and how they withstand moisture depends on the type of wood from which they are made. Therefore, choosing a wooden tabletop, you must choose a solid and stable wood species, the elements of which under the influence of glue and water do not deform.
Merbau, teak, iroko, rosewood and mahogany are best suited for kitchen countertops, as well as home oak, ash, walnut, acacia and beech. We do not recommend kitchen countertops made of soft wood (for example, pine, maple, birch), because they absorb moisture and dirt and are easily damaged.
Regardless of the type of wood, such a kitchen countertop must be protected with protective coatings that will make the surface of the countertop resistant to the harsh conditions in the kitchen and preserve the natural beauty of the wood. Oil treatment and waxing on countertops are popular, which not only emphasizes the wood texture, but also prevents moisture absorption.
However, a wooden top, no matter how well protected, is not as durable as stone countertops. It is sensitive to high temperatures, so it requires, for example, lining for hot objects, you also need to use cutting boards. You should immediately wash any colored liquids (such as beetroot juice, carrots and wine) that have spilled onto the countertop. Attention! All waterproofing materials for use on wooden kitchen countertops must have a food certificate!
Wooden kitchen countertops – how much?
Prices for wooden countertops are different and depend on the type of wood, the thickness of the countertop and the technique. For example, countertops made from soft pine can cost from $35 – $45 / m2, from beech about $50 / m2, and from oak from $80 / m2. Tops made of exotic woods cost about $120 – $200 / m2 , and the highest prices are achieved with tops made of iroko or merbau wood – about $250 / m2 .
Depending on the manufacturer, the thickness of the glued wooden tabletop is 2-4 cm. The larger it is, the more expensive.
Laminated kitchen countertops
Chipboard tops coated with HPL laminate are popular, i.e. several layers of plastic reinforced and impregnated with synthetic resins. The outer layer of the laminate can imitate stone, wood, and even metal.
Laminate countertops cheapest – 1 m 2 can cost as little as about 1 000 and more. However, they are not very durable and, unlike wooden ones, usually they will not be saved from repair work. Although they include countertops with a surface that is resistant to staining, heat, household detergents and abrasion, they are easy to scratch and the trimmed edges of the countertops are not waterproof, and after a while, the countertop (especially unprotected with a plank or silicone) may swell or deform.
The benefits of laminate countertops include resistance to greasy fumes, household stains, heat and abrasion. They are easy to clean and resistant to chemicals present in cleaning products. The top layer does not fade when exposed to sunlight.
However, add to the previously mentioned drawbacks a tendency to matting under the influence of steam and susceptibility to scratches (do not cut with a knife directly on the countertop and do not use a chop hammer).
Kitchen countertops: sintered quartz
Quartz agglomerate is new on the market – very thin ceramic plates (3 mm thick) in large formats (for example, 1000 x 3000 mm). They are ideal for kitchen countertops – they do not emit any substances under the influence of water (they have gastronomic certificates), they are resistant to abrasion, scratches and chemicals.
The plates are joined seamlessly, but they require a base of cardboard or aluminum profiles. The cost of this type of countertop is comparable to a stone countertop.
It's worth knowing: which kitchen countertop is easier to clean?
The least effort will require granite, composite and laminate countertops. Just wipe them with a cleaning cloth. Remember that the design of the countertops is also important – on smooth, especially dark, you will notice even the smallest dirt. You will not notice this on the countertop with a small pattern, which is the most practical.
Glass and metal countertops can be slightly troublesome for everyday use – they should always be wiped dry, otherwise they will create unsightly stripes or stains.
After some time, scratches will appear on the countertop of the conglomerate, which you can remove by grinding… Preferably, if it is done by a professional. In addition, the wooden countertop needs to be updated from time to time (if it is used intensively – even every few months). You can do it yourself by sanding the surface with sandpaper and soaking it.
Countertop at the right height
A kitchen countertop may be a dream, but it will not fulfill its useful function when it is at the wrong height. This, of course, is associated with the height of the kitchen cabinets. As a rule, they are located at a height of 85 cm above the floor, but if someone has high growth, it is worth considering the possibility of installing countertops several centimeters higher, depending on height.
This should not be a problem, because many kitchen appliances and furniture have adjustable legs. According to ergonomics experts, the kitchen countertop is ideally suited to the user's height if it is 15 cm below the bent elbow.