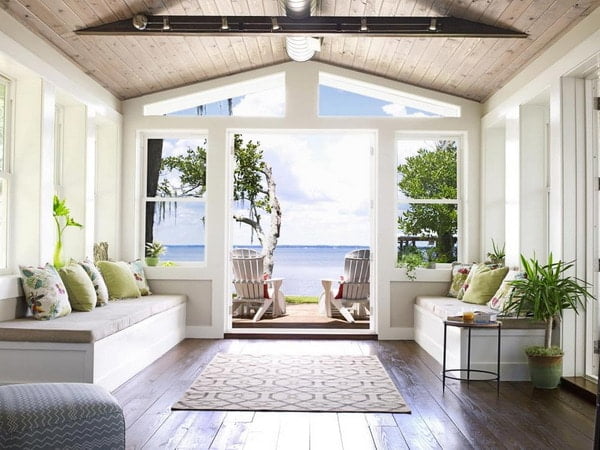 There are a few months left for the summer, we are in the coldest months of the year and if we are lucky to have a condominium on the beach, we are already beginning to think about weekend breaks and summer vacations, even renovating the decoration of our beach condominium.
For this reason, we are going to tell you about some of the 2021 decoration trends for beach condominiums, beach apartment, as well as the decoration trends for gardens and swimming pools, etc… shall we start?
2021 interior decoration trends for beach condominium
When we think of a beach condominium, light colors always come to mind, the combination of the blue sea with the yellow of the sun, golden tones imitating the sand of the beaches… And different decorative elements such as anchors, shells, boats…
Currently there are various decorations for beach condominiums, many times it depends on whether it is an apartment or a villa with a pool, for example, or if we are talking about  a minimalist-style luxury villa. We will always seek to give it a Mediterranean, fresh and bright touch.
The white color together with the earth tones, with details in sea blue, are always a good option to decorate for example a bedroom.
We have always had in the image the typical beach floors with all the light wood furniture and the plastic chairs and tables.
If we want to run away from this typical furniture, to give our beach condominium a more modern touch, we can use the furniture in white and cover it in color with the decorative elements, such as sheets, cushions, paintings, decorative figures…
We can choose a marine style, using frames with the rope frame of ships, or even using this type of ropes to create other types of decorations, using images of anchors in frames.
A very decorative element for a more modern style beach condominium is to use a surfboard as a decorative element, we can use it in different ways, in different rooms of the home, from a bedroom, to the living room as a painting, or placed in a horizontal position.
Use even " fishermen's nets " for decoration, creating a very original decorative element.
Maps, a life jacket, boats… we have many decorative elements that evoke the sea, the beach, but we also have to know how to use them judiciously, it is about giving "an air" to our beach condominium, not turning it into a museum.
Outdoor decoration trends for beach condominium
It depends on whether we have an apartment on the beach, a flat with a terrace, or a chalet with space for a pool and barbecue, we will have to focus on decorating these spaces.
Beach condominium with a terrace
Depending on the square meters that the terrace has, we can place more or less things, one of the best options is a table with an umbrella, to be able to have dinners at night, and even invite more people, as well as have lunch at noon when the temperature allows it.
Beach condominium with a pool
When we have a large villa on the beach, which has a plot where it condominiums a swimming pool, it is very important to have this area decorated, so that it encourages comfort and relaxation.
Sun loungers in this area are essential, as well as a table to be able to have lunch and dinner outdoors. An umbrella to avoid direct rays of the sun.
We can use natural tones, such as white and materials such as wood, to blend with nature, in this example these are excellent and very comfortable loungers. We can also choose more striking colors.
Of course, always looking for comfort and relaxation, let's not forget that our villa on the beach has to transmit to us an oasis of peace and tranquility.
Another area to decorate, are usually the main porch, the entrance to the condominium, or the rest of the gardens outside the central pool area. We can use white tones, and even add more daring tones. Even create comfortable and quiet areas for reading.
If you are looking for an apartment or condominium on the beach in Cádiz, here we leave you different options of beach villas, apartments on the beach, single-family on the beach.
Decorate a beach condominium on a budget
When we have little budget to decorate a condominium on the beach, you have to have imagination, many times it is not necessary to buy new furniture, a sofa or make a comprehensive reform, if we invest in the details, we will get to give a new air to our condominium the beach.
You have to take care of the details and know where to place each element so that it stands out.
If we are also a little handyman, we can reuse old furniture and give it a modern touch, with a coat of paint and adding some special detail.
We assure you that when someone enters your beach condominium, they will think it is something new.
We can paint the frame of an old mirror in white, gold, silver or even beach blue and add accessories.
The same we can do with small photo frames, paint them in more striking colors, change the photos, add beach elements, a shell on the edge, for example.
The small decorative elements always give a new air to our home, the vases with flowers, small decorative figures, will make our stay something special.
To decorate the sofa, we can always choose the cheapest option, changing the cushion cover is a good option, or we can get a couple of new cushions that stand out in the room.
At home tables, we can choose to add new elements, such as centerpieces and if we are looking for something very economical, we can always reuse an old tray, paint it, and add a small pot, even add a table rail, which we can do ourselves same with fabric and a sewing machine.
Objects found on the beach, such as shells, stones, conches, can be incorporated into our decoration, you just have to know how to use them, they are very easy to add to transparent vases or centerpieces.
Even adding them in the bathroom as a decorative element, with putting a small glass plate, adding several conch shells and a soap in blue, will give an original touch to our bathroom. Even add a few paintings, or plates that evoke the sea.
In the kitchen, we can play with something as simple as kitchen towels, blue, yellow, green, that give a different touch, as well as a couple of decorative elements in wood tones, such as a cutting board for food, as well as buying new cups, with bright colors, to liven up breakfasts.
We leave you a video where they propose different ideas to decorate our beach condominium, with marine elements in an easy and very economical way.
Examples of beach house decoration
Garden Decoration
The garden area always takes center stage and more at those times of the year where you can enjoy a sunset, sitting having a snack, a drink or reading a good book.
Wicker is one of the main materials for garden furniture.
Porches
The views do everything on this porch, but also the use of the plants, the white tone of the wooden ceiling, in conjunction with the table and chairs, make this porch a unique space for incredible summer meals.
Decoration in main bedrooms
The main bedrooms are the ones that take center stage, they are larger than the rest of the bedrooms and many include the bathroom inside the room. We leave you different decoration ideas for these spaces.
This example has a more summery style, in accordance with the wicker and the use of plants and wood decoration, the paintings that refer to the beach.
This option is also based on wood, with neutral colors, and a touch of color adding the elements to the headboard.
Bathroom decoration
We can choose to decorate it in different ways, from a more marked marine style, to a Mediterranean style, with wood, blue tones, or even more romantic white tones.
And if we have a small apartment or bathroom, such as a toilet, these options are very good to save space.
Decoration in kids bedrooms
In beach condominiums, light colors should prevail in combination with striking colors, the Mediterranean style.
In a children's room, we can always use the bunk beds, which save us space and so the little ones sleep together, this option is perfect it is about 4 bunk beds, in this way we save a lot of space and more if we are going to have visits in the summer.
Or use the marine style, adding some objects and the duvet covers in blue, in this case the marine inspiration uses a lot the elements of the wood of the boats and the fish.
This example is for a sailor-style baby room, the details of the mobile with boats, the pictures of boats, whales, anchor, marine elements, as well as the detail of the cushion on the chair, the sheets of the crib… all these elements that point to the marine style.
In this example, the marine style prevails throughout the room. The inspiration of the bed and desk structure like a ship, as well as the false wardrobe skylights.
There are details that manage to save space in the rooms and that follow the Mediterranean style in terms of decoration, and create a private space for reading, studying, or using the computer.
The headboard of the bed is the protagonist in this bedroom, along with the bedside table covered in red, the marine details, starfish, lifebuoys, spyglasses, the lamp in the shape of a lightcondominium…
Kitchen decoration
Depending on whether we have an apartment, a chalet or a flat on the beach, the size of the kitchen will vary and we will always look for it to be functional, since in summer the meals that are made are usually lighter and many of them are made outside of home or outside the condominium, using the barbecue.
Living Room Decoration
We have previously discussed the importance of this space, and the different possibilities to decorate it, using marine elements, or with a more modern style. We leave you some examples.
In this example we see a decoration in colder tones, using a dark blue, together with silver, gray, the large windows in the living room give it a lot of light.
Sailor style in light tones, wood, white and blues, as well as the wicker that is also present.
If we are looking to give a more personal touch, we can opt for latest 2021 decoration trend, which is personalized traveler paintings. We can choose to print and frame photos of our trips, which in addition to being beautiful, represent something.
If we are looking for something more minimalist, there are companies that print city maps or coordinates, with some text that allows customization. Ideal for travelers and put it in a corner on the ground, or accompanying another more loaded frame. Something like that:
Enjoy your beach condominium
Our intention is that you enjoy your beach condominium all year round and if you can only do it some weekends and in summer, that it be your haven of peace, enjoyment and tranquility.