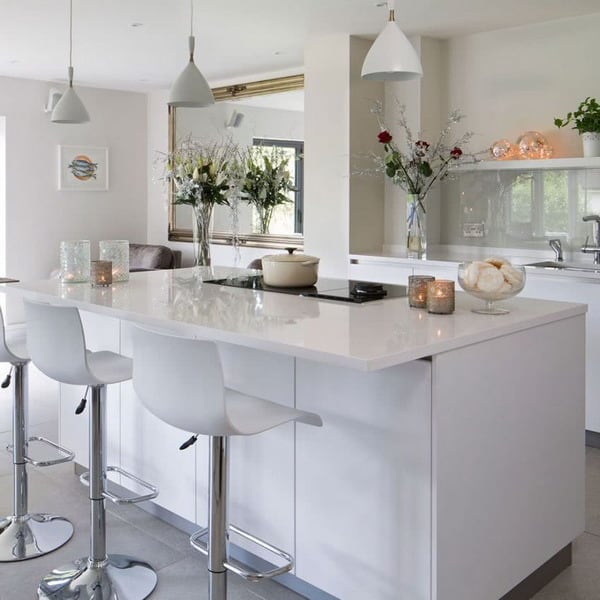 Whether you're looking to create extra space in your home or just want an open area from the kitchen to the dining area or living room, you might want to explore options for an American kitchen design.
Open kitchens can be excellent spaces when it comes to functionality, storage and efficiency, but also when it comes to a meeting or entertainment between family and friends.
American kitchen design trends 2021
One of the first things you should keep in mind for your design is how many walls you want to keep standing. If any of the walls is a carrier of important beams that maintain the structure of the house, water pipes or electrical cables, you should probably keep them, unless you are willing to make a major reform.
But if this is not the case, you are relatively free to tear down any internal wall. American single-wall kitchens are very common, and create the most open feeling among all other designs. But keep in mind that you can also design it in L or U.
Having fewer walls means having less storage. A good solution is to implement extra storage in the kitchen bar or island. These bars can also offer other important uses, from a surface to prepare food, to a table with benches to eat.
Some islands may also have sinks, to help you maintain the classic working triangle between the sink, the refrigerator and the hob. They can also offer a set of removable drawers, shelves, appliances or a removable trash can.
The bar does not have to be straight. You can consider one with curved shapes.
Lighting is very important in American kitchen designs. Finding the right balance between light range, style and functionality can be a challenge. It is best to focus on the three basic types of lighting: main, decorative and homework. If you follow these concepts, you should not have trouble lighting this space correctly.
For the main lighting, a chandelier or a large pendant lamp can illuminate the entire kitchen and even part of the dining room or living room. Task lighting should focus on the areas of the sink, cooking and food preparation. And finally, decorative lighting can be located in the upper and lower parts of the cabinets.
Bar stools or chairs can be a great complement to the bar, which in addition to adding functionality, contribute a lot to the decoration.
Decorating Modern American Kitchen
The modern style offers us many materials, colors and designs to choose from. We will show you some examples below.
Gray high-gloss furniture works perfectly in this modern monochrome scheme. When it comes to style, stainless steel appliances, fully integrated to the closet doors, have a professional look that adorns the kitchen. Try to keep the countertops clean and hide the mess with intelligent storage solutions.
The loft apartments are ideal candidates for this type of kitchen, with its exposed brick walls or large windows. The color of stainless steel can be softened with muted colors and touches of wood.
A dining kitchen is a very practical solution, which allows you to interact with your guests, without being locked in a small and crowded kitchen. Super stylish closets can hide most work items, providing a smart and clear backdrop to a modern and elegant dining room.
Is your kitchen large enough to install a bar with seats? This will add surface to the countertop and storage space, but it can also provide an area to eat.
Whether you choose a pre-designed portable bar or build an island that fits your kitchen's specifications, the most important considerations to consider are space and location.
The kitchen islands require a large amount of space, not only for the island itself, but also for the circulation corridors around it. And if you have in mind adding stools or chairs, you should also take into account the space they will occupy.
American kitchen shaped trends 2021
Do you need more work space or just a place to eat or socialize? Check out these well planned kitchens to discover how to take advantage of an American kitchen shape.
Small bars
Even if you don't have much space, a small bar can give you a lot of functionality. This mini bar is not only large enough for two stools, but also has a closet and shelves for additional storage. This surface helps separate the kitchen from the adjacent space.
Size does not matter. Sometimes, even a small additional work surface is enough to make a difference. The bar here provides a useful place for food preparation and is also used for eating.
Parallel shapes
A bar parallel to the worktop can be installed. It can go in the central space or against the wall, everything depends on the available space and the purpose of the bar.
U-Shaped kitchen
Choosing to decorate everything in the same shades, for example with white and gray, including countertops and sidewalks, helps the American bar to integrate into the rest of the kitchen.
L-shaped kitchen
If there are no dividing walls, this is a really efficient way to use an unused area, providing a lot of comfort and functionality.
If you cannot install a fixed bar on the wall, look for a separate and tall table, which can also work very well.
Floating
To create the illusion of space, one of the possibilities is not to place furniture on the floor. The bar here extends from the wall to form a floating breakfast table. The lack of closets at the bottom gives the room a feeling of space and fluidity.
Curve kitchen design trends
The bars can also be curved, but keep in mind that you will need more space for installation.
American kitchen and living room
An open kitchen adapts very well to today's informal lifestyles, providing a meeting center and greater sociability during meal preparation.
But skill is needed to design a space that harmoniously integrates with the living room, especially in flats and small houses. The separation of smart areas and consistent decoration are key factors for success.
The ingenious ideas of decoration and design keep each area defined but with a homogeneous appearance, without interruptions. Think about where the guests or family members will sit while someone cooks and where you would like to eat.
The American bars must be located far from the work area so that no one gets in the way, but they must be close enough for the conversation to flow easily.
Open kitchens offer many advantages. The most obvious is that you can more easily socialize with family and friends while cooking. It also allows you to monitor children while doing homework or playing. This home design incorporates dining, food preparation and entertainment areas.
Without walls that obstruct light or sight, the spaces usually provide a feeling of great breadth. But large spaces require both careful planning and small spaces. The working part of the kitchen in particular needs to work ergonomically.
Whenever possible, keep the classic working triangle between the sink, refrigerator and countertop to reduce the number of steps, using an island to help shorten these distances when necessary.
Small kitchenette
American kitchens do not have to be huge, even small spaces can shine. This compact kitchen benefits from an orderly design with all the comforts at your fingertips.
Classic cabinets painted in a dark tone are a sophisticated option, especially when combined with a beautiful wooden countertop. The countertop extends throughout this room, and shows that small can be really beautiful.
An important consideration to consider in a small kitchen is the flow of circulation. The curves are excellent for subtly directing the steps and keeping children away from danger points.
Knocking down the walls to get a wider area is an ideal way to transform a narrow and dark room. Keep in mind all the extra light and space you could potentially gain.
You can use glass dividers or sliding doors to separate the kitchen area from the living room and consider installing a bar and stools to build a relaxed dining area.
Rustic American kitchen
A rustic country-style island can turn a simple kitchen into a lovely space. A wooden countertop, the shelves also in this noble material and open shelves for wine can be combined to give a lot of style and elegance. The accessories are fun, retro style and help to unify the room.
Dark-stained wood can be an impressive decorative element for an island. It can contrast with the countertops of the rest of the kitchen, such as black granite, and white cabinets can achieve a beautiful contrast.
You can use vintage-style bar stools that can bring a lot of personality. These industrial-style iron designs stand out against the white cabinets, making the island the focal point of the room.
You can also achieve the homely feel of a country kitchen with an island of striking color. In a mostly neutral scheme, this island adds a subtle injection of color and attracts attention to its drawers. An island is not just a work surface, it can also house cabinets and drawers.
The sculptural pendants that hang over this white island with its elegant doors create a beautiful focal point. It shows that mix-and-match kitchen units can create a harmonious effect.