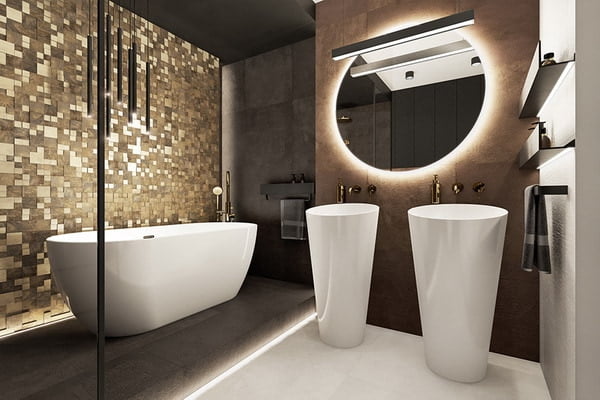 It is difficult to talk about trends in bathroom design for 2023, as they suggest an abundance of opportunities, tips, products, unique proposals. That is why we decided to highlight those solutions that, in our opinion, will be the most popular this year, and illustrate them through photos.
Top Trends in Bathroom Decor Ideas 2023
In the interior of these premises, regardless of trends, tiles remain the undisputed leader. And it is in this segment that we can succumb to temptation and choose the shapes, textures and patterns that will be most popular in 2023.
The ceramics must be suitable for their purpose. It is best to choose tiles in large retail outlets, where you can not only see live samples, but also consult a specialist about your choice, who will draw our attention to every important issue.
Marble
In 2023 bathroom designs, marble tiles will certainly be one of the most common solutions. For an even more realistic effect, you can bet on large formats. The absence of frequent seams and high-quality ceramics, which almost perfectly imitate this noble stone, will allow you to create world-class designs.
Marble itself is a sign of timelessness and luxury. By combining it with noble materials such as wood, gold, brass or jewelry mosaics, we can achieve a truly mesmerizing effect. The various patterns and colors of the marble tiles on sale allow for both avant-garde and traditional interiors.
More and more popular are tiles imitating marble in bold colors such as bottle green.
White tiles
An expression of timeless beauty, traditional white tiles never go out of style. Understated elegance and simplicity make it a versatile choice for the bathroom. As you know, these types of tiles become the perfect companion for any color or pattern. That is why they are used in almost all design styles.
White tiles look especially good in projects inspired by modernist, industrial, Scandinavian and minimalist trends. Today we can find it in combination with concrete or wood-like tiles.
This unusual ability of white tiles to adapt to any interior style makes them an attribute of modernity. As never before, we value products that are not only of high quality, but also not subject to changing trends. And if suddenly we want to change something, it will perfectly fit into the updated interior.
Large format and stone pattern
One of the most striking trends in bathroom design in 2023 is tiles imitating natural stones. With the help of such a collection, we can create an authentic interior. In addition, such ceramics will perfectly emphasize the character of an industrial interior.
Natural looking materials create a relaxing atmosphere. That is why tiles with a natural texture, such as stone or wood, are often found in spa and wellness centers.
The beauty of natural wood in a modern tile shape
Wood grain tiles are a timeless bathroom solution. Thanks to them, we can feel the atmosphere of the forest in our interior. Moreover, ceramics imitating wood go well with other types of tiles: concrete "warms", and softens white or beige even more, looks elegant in combination with gold. It is easy to relax in such an interior.
Concrete
Talking about the trends in bathroom design in 2023, one cannot fail to say about tiles that mimic raw concrete. It is often presented to us as a perfect square, which provides an unobtrusive field for bold decisions. Using gray concrete with a soft texture, we can create an uncomplicated, but not necessarily cold, interior. Uneven texture can be a great backdrop.
We can also choose minimalistic tiles, the gray texture of which will create the perfect background and allow us to see important accents.
A magnificent effect can be achieved by choosing large-format concrete tiles. The loftiness and severity, the structural finishing of this option will help in arranging an unconventional interior.
Terrazzo
Probably everyone has heard about terrazzo. While some may not associate it with stylish interiors, contemporary designs by prominent architects prove that terrazzo tiles are a great choice. The most versatile and impressive solution is terrazzo in large format. If you choose the classic gray and black colors, you can be sure that you will create an interior that is harmonious and, above all, relevant at any time.
For a more avant-garde look, opt for a multicolored terrazzo. Such tiles perfectly emphasize the modern character of the interior and perfectly correlate with the equally fashionable gold fittings and sanitary elements, such as a washbasin or a toilet, made in colors different from the traditional white.
Zellige style tiles
The transition to natural solutions is becoming more visible. One example is zellige tiles. Its authentic appearance, provided by numerous irregularities, changes in tone and abrasions, is its main value. It is ideal for highlighting a separate area, such as a shower stall or washbasin. The material will also be the perfect way to bring a richer color to the composition.
Bathroom Design Trends 2024: 20 TOP trends
Trendy bathroom colors in 2023
Recall that in the case of tiles, we can play with its various aspects, for example, shape (herringbone, hexagon, arabesque, etc.), format (most desirable – XXL), pattern, but, of course, color.
In addition to the famous classic blue, in 2023 it is worth betting on some shade of green, pink, gray, mustard yellow, burgundy or caramel – these are the trendiest colors in the bathroom this season.
New in bathroom design 2023
Bathroom design involves more than just tiles. Photos of finished interiors for 2023 make it clear that other finishing materials can also be used.
Wallpaper in the bathroom
In the context of wall decoration, one cannot fail to say about waterproof wallpaper, which, as we can see, is gaining more and more adherents. This is due not only to the availability of beautiful designs with which we can create a spa atmosphere in our private bathroom, but also to our experience. Positive feedback from those who tried this move convinces us even more of the correctness of this decision.
Plumbing
Bathroom design in 2023 involves modern ideas, including plumbing. The layout itself must comply with the principles of ergonomics. In this context, attention should also be paid to the size of the individual elements. It is best to seek professional help from a specialist. You can even show him printed photos of the interior of your dreams, and he will think about how he could help you.
If we talk about the very design of products, then this year rounded shapes will prevail, emphasizing the lightness and purity of forms. In addition to ageless white, we will increasingly choose more saturated colors.
Washbasin area
In the washbasin area, there will be sinks with rounded countertops, symbolizing natural bodies of water. A gentle stream of water from a standing or open mixer soothes the senses and creates the feeling of being in nature. Floor-standing washbasins will be another equally popular solution. Their sophisticated character will underline our love for luxury and elegant interiors.
Bathroom area
Wall-hung toilets remain the undisputed leaders in the toilet area. Toilet seats with a bidet function are relevant. These multifunctional solutions save space in the bathroom.
Shine and light
Now, not halogen lamps are in vogue, but low-voltage LEDs. Professionals recommend LED lighting due to its low power consumption. The service life of the diodes is up to 50,000 hours. This luminaire has a decorative character, it gives the interior an atmosphere. Some actions, the morning toilet is best done with halogen or traditional lighting, and aromatic bathing in a bathtub or under raindrops in a shower with LEDs.
In addition, LEDs can be installed in bathrooms where it is forbidden to install light sources requiring a 230V supply. We can safely install LED kits above a bath or shower tray, but not lower than 2.25 m above the bottom of these structures. LED strips can be placed in a false ceiling, and in order to achieve a diffusion effect, also in a recess in the wall.
An interesting solution would be LED backlit mirrors. No need to buy sconces and hang them over the mirror or on the sides of it. Illuminated mirrors come in many shapes and sizes with varying light intensities.
The illuminated bathtubs also look interesting. The diode strip is placed on the edge of the container. This solution requires the use of power supplies with parameters appropriate to the size and type of strips. The power supply must be located at least 60 cm from the edge of the bath or shower tray. For showers without a tray, the distance from the installation site must be 120 cm.
To give the bathroom an original look, you can also highlight the tile joints by installing separate diodes. The system is based on a special frame that serves as a supporting structure. Individual diodes can also be attached to the corners of the tiles.
Glossy furniture and mirrors
Recently, furniture with glossy lacquered facades has been very popular. Chrome furniture accessories are also very trendy. This combination gives the bathroom an elegant look. On the other side of the calls are openwork furniture full of open shelves. They act as a wonderful interior decoration, but they require impeccable organization.
Mirrors come out of hiding. Until now, it was an element that was necessarily suspended above the washbasin. Mirrors are very important these days. They have the ability to optically enlarge the interior – these are mainly double-glazed windows glued to the walls, and also play the role of decor – here, of course, it is better to use mirrors in decorative frames.
Small bathroom design
A small bathroom should be beautiful and functional. It is better to choose patterns, motives and colors restrained, light and monochromatic. Concrete, stone, wood – they are always worth betting on. If these materials are unusual for you, take a look at the photos of ready-made solutions, and you will understand how to apply them.
A bathroom in which order and harmony reigns will withstand any situation. But the key step should be to define the style of the small bathroom in 2023 that will dominate the interior. Keep in mind that the design of the room should match the entire home.
Modern ideas for a beautiful and fashionable bathroom
Modern bathroom design in 2023 presupposes, first of all, a competent organization of space. After looking at interior photos from professionals, you can get an idea of what techniques should be used for this.
Colored water flow
LED technology is also used in faucets and showers. Guglielmi, Hansa, Ferro or Gessi are just a few of the many manufacturers that have released a dedicated faucet with illuminated water flow. The color changes with temperature. Naturally, cold water has a blue light, hot water has a red light.
This is achieved thanks to a miniature turbine housed in it, which turns on the light when the battery is activated. Electricity is generated by water pressure. These solutions are very safe as they do not require additional power supplies or additional cables.
Shower in the rain
Shower enclosures have been more popular than bathtubs for many years. They take up little space, are suitable for any bathroom, are easy to install, economical, easy to clean and have many functions. Currently, walk-in shower enclosures are popular, which are replacing traditional corner models.
Walk-In cabins are made with large glass walls, often without traditional doors, installed directly on the floor with linear drain or on a large flat shower tray. This type of shower stall can be entered from either side. When choosing a shower cabin of this type, it should be borne in mind that it will be cooler in it than in a closed one.
In the center of the cabin, instead of the traditional shower hose and hand shower, we can install a rain shower – a large diameter disc. However, this element can be either square or rectangular. It is suspended from a wall or ceiling, permanently or on a hinge.
It can also be hidden in the ceiling. The effect is similar to a real downpour. A stream of mist falls on your body, gentle, cascading or drizzling, which provides a gentle massage. It is an ideal device for stimulating blood circulation.
Showers come in a variety of designs and colors, so they can be easily matched to your bathroom decor.
The bath does not have to be adjacent to the wall
Unfortunately, this ingenious solution is not suitable for cramped apartment buildings. Wall-mounted bathtubs are increasingly used in large rooms. It looks spectacular in a beautiful case, for example, on curly legs in the form of lion paws or on runners, like in a sleigh. Freestanding bathtubs are available in cast iron, steel, acrylic or reconstituted marble.
They come in a variety of colors and shapes. They are comfortable to sit and relax in thanks to the profiled seats and headrests. Ideal for those who like to read in the bathroom. Some models have elbow grooves and handles to help you stand up. Cosmetic shelves are also irreplaceable. Freestanding bathtubs can also be equipped with hydromassage devices.
Intelligent bathroom solutions
If space permits, bidet and toilet can be installed side by side. Hanging devices are just as comfortable as standard ones and, most importantly, they are not only aesthetically pleasing but also easy to maintain. Manufacturers of sanitary ceramics, taking care of hygiene and ecology, introduce flangeless toilet bowls into their offerings.
The traditional inner flange, available on standard models, becomes a convenient place for scale, dirt and bacteria to accumulate. Due to the elimination of this element, the water flow easily enters the entire surface of the bowl, which allows it to be thoroughly washed.
The absence of cavities means the bowl is easier to keep clean without the need for strong detergents – the open rim is wiped down with a rag with a little fruit acid-based liquid. In addition, manufacturers are increasingly applying special coatings to the surface of their products to prevent dirt from settling on ceramics.
For even greater convenience in everyday use, you can also rely on electronics and sanitary facilities. For example, toilet seats with a bidet function, also called flush toilets, are becoming more and more popular.
The bathroom is a special place in our home. It is important that it is furnished in a functional and comfortable way. Whether it's a small bathroom in an apartment building, spacious in the attic, a living room in the bathroom, a bathroom next to the bedroom or a bathroom with a window that is difficult to fit, the gallery has plenty of ideas to help you create the interior of your dreams.