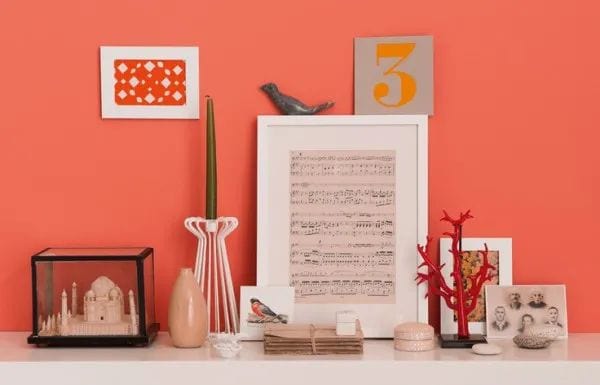 Choosing the colors that will decorate our home is not easy, we have to take into account a number of factors such as the light in the room, its size or the activity that we are going to carry out in it. With color we can differentiate environments, create pleasant spaces that convey comfort and relaxation. The reason for this post dedicated to Colors for walls 2021, is to know the most current color palette, the colors that this year will be in fashion or know how to combine them.
How To Choose The Color For The Walls
The truth is that although there are fashions that many follow when choosing a wall color, and there are even those who follow ideas such as printing their personality through colors, we must take into account several factors before choosing which color It will be the best for the wall that we have to paint, such as which room is the one we have to paint ( a dining room is not the same as a youth bedroom ) or how much light enters the room.
We have an article that may interest you about Bedroom Colors, where you can see more examples to personalize such a special room.
Although I have already said before that choosing the color of a wall will mark the rest of the decoration, we will also have to take into account the reverse idea and that is that if for example we have already chosen the furniture for the place to be painted, we must combine it with the color that will have the wall or walls.
Another option when choosing a color for walls is knowing what we want to transmit in it, if for example we want it to be a "quiet" room, we can go for neutral tones or white, if we want to get out of the norm and be somewhat modern. We can choose to paint one of the walls in a strong color and leave the rest in white, something that has become fashionable in some rooms and that makes them have different focus points.
Finally we have to point out the option of choosing the colors together with a print that is striking. We know for example that walls with wallpaper are a trend in this 2021 and therefore you will need to choose different shades. Among all, the ones that are worn the most today are pastel shades. It is a widely used trend this season for the walls of a youth bedroom.
2021 Color Palette For Walls
The interior house color trend for 2021 season is marked by bold, bold colors and even why not say it, spicy. Colors that go through deep blues, deep reds or greens with acid hints, earth colors such as mustard or military green, ideal colors to renew our home and our environment.
If we want to give a more neutral look and decorate with accessories, we suggest the different shades of gray and brown and even dare with a deep shade of purple.
To give a more feminine, romantic and delicate air, the best option is to choose pastel shades, such as pinks, blues, yellows or lilac. With these colors that will accompany us throughout this year 2021, you will achieve a harmonious and delicate environment.
Blue
Intense blues reminiscent of the color of the ocean. The use of this blue provides an atmosphere of marked masculine character as it is a strong and deep color, however the contrast with the white of the ceiling and the moldings manages to soften the combination.
You may be interested in buying blue wall paints, you will only have to click on these links:
Blue wall paint
Phosphorescent blue wall paint
Bright blue glitter for the wall
Bluish Green
One of the trendy colors for this 2021 season, a kitchen like this where all the walls are painted in this intense blue-green tone, remains perfectly harmonious despite using 3 different colors.
The whites of the ceiling and furniture perfectly break the monochrome of the green on the walls, while the orange-brown touches offered by the wood. A successful option for a kitchen between traditional and modernist.
Play with the different shades of green, as in this case where simply by increasing the intensity of the color, we get this wonderful green so happy and alive that as we can see it fits perfectly in a youth room. And we leave you these links so you can buy these green tones:
Green acrylic enamel
Green paint for walls
Teal paint for walls
Turquoise
Turquoise is a color that is very fashionable, and the reason is very simple: it takes white and old. Here I present two options that only share the taste for turquoise.
In the first, a clean combination with white furniture, while in the second we find vintage inspiration with wooden furniture.
There are other options to introduce turquoise into your home and that is by painting one of the walls of your small office. If you have one of those rooms at the top of a staircase that you want to take advantage of but don't know how, turquoise will be your ally.
Turquoise, as in other rooms in the house, works especially well in bedrooms, especially those combined with classic white furniture. To add an even more modern touch, combine it with black details, such as paintings and textiles (bedding, curtains and rugs).
Of course, turquoise is ideal for the baby's room, as it adds a sweet touch, also in combination with white. For this room, for example, we can use an intense tone, something mixed with green or aquamarine.
You may be interested in purchasing turquoise blue paint after viewing these photos, if so we give you all the information and price here:
Turquoise blue wall paint
Yellow
If you are a daring person or want to make a radical change in your life and need energy and positivity, there is no doubt that the yellows that come for this year 2021, will be the chosen color.
Forget, they will criticize you but they cannot deny that it is yellow is optimism in its purest state, a color that we can lower thanks to the accessories in white and pastel tones that help soften, we can only combine the textiles and give them a naif air with those simple tables with simple lines.
We leave you these yellow paints so you can choose what you prefer if yellow acrylic paint or enamel.
Yellow wall paint
Yellow acrylic enamel
Lilac
As we have already commented within the 2021 color palette for walls, lilac is one of the colors for this season. A deep, solemn color, a color that leads us to reflection and meditation.
When we opt for such a powerful color on all the walls, it is important to leave the ceiling in a preferably white color, since in this way we will counteract the power of the walls with the softness of the ceiling. We will have special care when choosing this floor color.
A dark floor will give a box feeling, so both ceilings and floors should be in light colors, while the furniture will be able to combine dark colors in the tone line of the walls with white colors. That is why we offer you furniture and wall paint in purple on these two links:
Purple wall paint
Lilac furniture paint
Pastel Pink
Pink colors have always been associated with colors for children's rooms, but nothing is further from reality. The pastel colors are colors that fill the room with light, so it is recommended for small houses.
This beautiful color combination so soft and harmonious for a small room, where white colors prevail in the furniture and with pale pink walls and accessories. The light and spacious feeling it brings is incredible.
As there are many shades of pink for walls we are going to show you the different ones that are in these links:
Pastel pink wall paint
Pink wall glitter
Pink acrylic enamel
Color Scheme For Walls
Often resorting to originality is a fun and successful solution. Combining different colors and joining them through accessories is one of the trends that will prevail in this year 2021.
We can use the color combination in different ways as we will see in the next examples, what we can anticipate is that the result will surprise you.
Joining two colors so different perhaps we would never have thought of it, a pastel yellow color in conjunction with a pastel violet. Being two pastel colors the conjunction is perfect, the small loose details in both yellow and purple, such as cushions, armchairs or curtains harmonize the entire space.
Don't tell me you don't feel like sleeping in this beautiful bedroom. In this case, even the smallest detail has been looked at. Firstly, the color of the walls harmonizes perfectly with the brown floor and following this style, a beige headboard together with the curtains and furniture, softens the vivid tone of green. White details add more light and warmth to the room.
In this case we have created a youth room combining blue, green and white, as a result a great room where we will soften the color areas with neutral or white tones.
A risky bet that will surely leave you speechless. The color combination really has no limits, most of the time we can harmonize them through accessories, but in this case two powerful colors have been chosen such as bubblegum pink and brown.
It may surprise to see these colors in a children's room, but it really is spectacular. The walls have been painted in a chocolate brown color, while the important accessories such as the duvet, decorations and curtains, have been decorated in intense pink tones. The neutral color used has been white, both in furniture and on the floor.
2021 Modern Wall Colors
This year is the year of daring, of innovation, of being carried away by modernity and by the inspiration of bright colors. If what you are looking for is a room that fills your life with life when you lack energy, be it your bathroom, your bedroom, or that little reading corner next to your library, what you should do is lose your fear of intense colors at home.
Enough of the typical, you will get tired soon !. Because yes, it may be that a certain color in a room can tire you out, but the idea is to find the middle ground, the point that will make you come alive every morning when you see your great mural without getting tired of it.
Wherein lies the key to all this? In the contrast of colors and in the contribution of bright tones in its proper measure. That is to say, what I mean by this is that it is not about filling all the walls of your house with green, not even in the same room. What could be, as long as it is well balanced with the other important points of your bedroom, such as furniture, textiles (bedding, cushions and curtains) and decorative elements.
But no, what I'm talking about is using balance to find your balance at home, and this translates into applying color at strategic points, such as the wall of your bed or desk, and I say "la" in the singular because This is about not painting them all in the same way, but rather combining and counteracting the energy that wastes the red or pink tone in a room, but without taking away the effectiveness of motivating us every time we visit this room.
Therefore, if what we are looking for is that our home has as much personality as we do, surrender to the new trend of modern decoration, which consists of including fun elements (such as vinyls, stickers and others) to play with variety. As we see in the image of a room designed for a person for whom music is everything.
As we can see, it is about applying a colored wall to a live cherry and adding a pentagram-shaped sticker with the traditional treble clef. The rest of the decoration is balanced in neutral tones, such as white, gray and black, to add a few notes of contrast with white. And that is what it is about, playing with color.
As you have seen in the images, on many occasions they put stickers on the walls to decorate, it is another great decoration idea as well as very economical. If you liked the ones you have seen and you also want to know more styles, do not hesitate to click on these wall stickers:
Brick wall effect sticker
Roses wall sticker
Eifel Tower sticker, butterflies and balloons
Sticker closed eyes with eyelashes
Pantone 2020 Color Trends
Finally, we have to talk about Pantone's 2020 color trends. And it is that, after Marsala (2015), Rose Quartz and Blue Serenity (in 2016 two tones were chosen) and Greenery Green (2017), it was time to choose the color of the year. And this time, the choice has been surprising and intense. The Ultra Violet is the color trend 2020 according to Pantone.
The Ultra Violet, Pantone 18-3838, is a tone that evokes a contractual style, rooted in originality, ingenuity, and visionary thinking. This was revealed by Pantone's vice president, Laurie Pressman.
According to the company itself, the depth of the Ultra Violet is a symbol of disagreement. A color capable of motivating those who use it to push their abilities to the limit. As Steve Jobs would say, a color capable of making us one of those crazy people who want to change the world.
What's more, to symbolize the 2020 color trends according to Pantone, they have given examples rather than graphics. Celebrities who brought the Ultra Violet to its highest levels. People like David Bowie, Prince or Jimi Hendrix who, almost without knowing it, we relate to this tone.
And it is that Ultra Violet tells us about the mysteries of the universe, about the mystery to be discovered or about an unknown future. A countercultural color that has gone from indie to mainstream and that, until December, will be the color of the year according to Pantone.
If you are thinking of incorporating it into your home, Pantone provides us with the color palette with which the Ultra Violet looks in all its splendor.