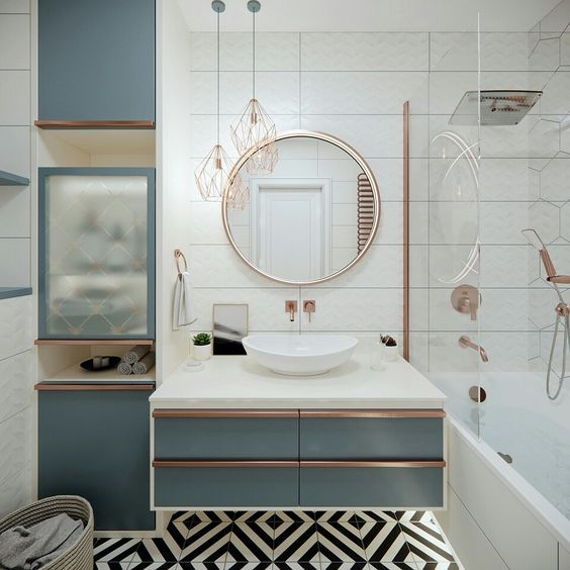 Well, the new 2021 is just around the corner. And if you are planning a reconstruction or repair, then you should now be puzzled by new trends. And this is easy to do with simple updates that will make a big difference. So, the trends of the bathroom 2021 – today it is already worth talking about the fashionable design and interior of next year.
Obviously, before you start the process, pay attention to the places in your house that are used most often. As before, the bathroom is the most functional space. But this does not mean that the design of this room can be neglected, even on modest squares you need to create a pleasant and cozy interior.
Here are some tips from leading designers focused on current and future trends in bathroom interiors. As a rule, such tips are relevant and effective.
Among the important trends of the bathroom 2021 – a neutral palette of color combinations
Classic bathrooms always have something that will last for years to come. So, use monochrome elements. To make such an interior more modern, it is enough to use monochrome elements.
Try to apply only one material or color, for example, use only marble or blue. This technique is a good way to achieve a modern interior in a classic room. As a rule, the use of only one separate material creates a stylish look of space, while combining classic motifs and tiles. And although the color remains neutral, the interior looks great.
2021 bathroom trends for small spaces
A small bathroom is an ideal space for a clean canvas on which you can make a bold statement. First, how do you like the adventurous design with high contrast?
Secondly, the use of exciting wallpapers will help expand this small space and give it an artistic look. By the way, consider the wall mural on the accent wall.
Marble Slabs Concealing Communications
Marble floors are a specially designed piece that feels so luxurious under your feet. But, it is absolutely not necessary to spend money on natural material, it is enough to acquire magnificent analogues. It is only worth considering that in order to create a safe non-slip surface, tiles on the floor should be sandblasted.
As an option, use porcelain tiles. With walls it's a bit simpler, but it's better to mask all water and stock communications with drywall. Believe me, beautiful plumbing fixtures will add the finishing touches to the interior of the 2021 bathroom.
Bathroom Trends 2021 – Shower Organization
An increasingly open bathroom fixture for the shower is built into the design of the bathroom. Create an industrial feel that looks great with modern white marble.
As in the current year – at the peak of popularity, a calm black color
Ok, the spa bathroom is back in fashion. It's all about the fact that the design of the bathroom can be bold, sultry and dark, promoting individuality and a sense of artistic pampering.
For additional lighting due to the dark color, it is logical to install a black floor lamp. These lights take up little space in the corners and give the space a stylish look.
Tin equipment – new bathroom trend 2021
Gunmetal & Pewter (weapons and tin) is a direction that we really love. This trend provides excellent texture and a sense of space. As a rule, he gives the lamps a good depth and texture. However, tin colors are not as sharp and specific as shades of brass and gold.
Scheme design with spa
Designers in 2021 no longer consider the bathroom as a utilitarian room, preferring the spa area.
They are looking for a spa-like feel like a theatrical beauty. It is in this case that the effect of a very private and harmonious space is achieved.
Accent wall – another trend of bathroom 2021
Traditionally, bathrooms are a functional room. But in recent years, interiors tending to the top of high drama have become increasingly relevant. This trend applies not only to large spaces, but also to small bathrooms.
So in 2021, large floral prints and patterns are relevant. And first of all, brighter, bolder color schemes. For example, gold mirrors with gold sink legs give the design a rich, bold taste.
Concrete is hard to resist
Quite often these days there is the use of concrete in the bathroom for countertops, sinks, floors and walls. Interior professionals see that this brutal architectural material blends well with organic design elements. Although traditionally, concrete was seen as not very welcoming and somewhat cold.
But at present, designers are combining this utilitarian material with steel, wood, resin and porcelain. Thus, this trend of bathroom 2021 smoothly transitions from the outgoing 2019. Moreover, this design scheme is used more and more often, acquiring new facets of architectural impression.
And again marble – gray and white shades
Gray and white marble continues to be in the popular bathroom trends of 2021. It is timeless, as traditional and classic interiors easily move to modern design schemes.
Moreover, porcelain and quartz, which are strong workhorses, continue to be the most popular choice.
Cheeky statements with wall art
An artistic statement is what 2019 is, and as we get closer to 2021, this bathroom design is relevant and popular. Of course, your bathroom is no exception.
Wall decoration will add sophistication to the space as a pretty center. Trying to install a large floor mirror will enhance the aesthetic perception of this design.
Art Deco will provide in the bathroom 2021 originality and elegance
Art Deco influences are manifested in the magnificent designs of the bathrooms in which you can enjoy the daily ritual and get something special.
After all, this is exactly what you want to expect at the end of a long day with these beautiful and inventive interiors.
Bathroom Trends 2021 – Conclusion
What else is in fashion? For example, the project will complete the suspension of the mirror to the ceiling. Obviously, the same function will be performed by installing a mirror on the side wall of the sink. This is another trend in the new year. Particular attention should be paid to lighting devices. After all, there should be a lot of light.