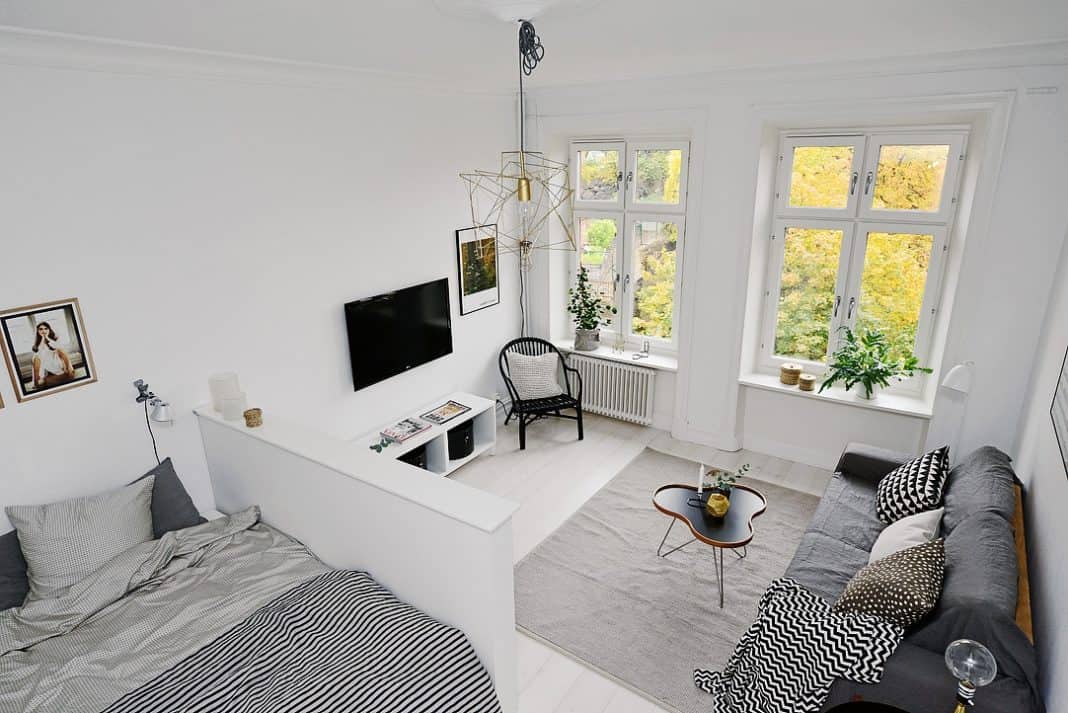 The line between modern styles in design was blurred by 2021, now combinations like loft minimalism are in fashion and this makes the apartments really stylish and unique. How to combine different directions and why it is worth doing now we will understand.
Modern ideas in apartment design 2021
Thinking of modern apartment design, many imagine a renovation from the beginning of the two thousandth. This is fundamentally wrong, European-quality repair is a curse and the most severe insult to the work of a designer. Forget all these curved drywall designs painted in pale blue or pink; peach or malachite tiles in bathtubs, etc. When we talk about contemporary contemporary design, we mean:
Geometry. Angular shapes and strict lines in the decoration of the floor, walls and ceilings. Smooth lines and rounded shapes only in furniture and textiles.
A variety of shades. Almost unlimited color spectrum. Used and clean and dirty colors, any saturation, etc. The importance of color combinations does not negate this.
Environmental friendliness. The use of natural materials or their high-quality imitations is in fashion. Wood, stone, concrete, metal, glass are the main materials.
There is no such thing as comfort. With competent design, even an apartment dominated by concrete and metal will be as comfortable as possible, even without a carpet on the wall.
Maximum light. Want to diversify your design with accessories? Add light sources: hidden, background, lower. Light is the designer's weapon. You should have a lot of switches.
Zoning. If the ratio of living space / person allows, then the union of spaces is our everything.
These rules are already enough so as not to miscalculate with the design. It is difficult to spoil the repair with natural material and a lot of light.
The combination of modern design styles 2021
Modern interior styles of apartments do not have clear edges, they all go well together. It's more correct to speak more quickly about directions and ideas, without pushing yourself into a rigid framework. Snobbery does not belong here.
Minimalism – basic modern style
One of the main features of almost all modern styles is simplicity. That is why the basic background and foundation of modern styles is minimalism. Some are obtained by simplification, for example, the Scandinavian style. Which is essentially minimalism with a dominance of light wood and dotted dirty colors as accents.
Others are obtained by some complication. For example, minimalism with expensive ultramodern fixtures, appliances and furniture, glass and metal (which are very expensive for the interior) is already turning into high-tech.
Remember the main thing – modern design is easier to spoil by excessive complexity than simplicity.
Use decors and elements that do not bear the functional load only if you are fully confident in their necessity.
The combination of loft and other modern styles
Loft used to be understood only as large rooms with high ceilings and a bunch of objects from the past. By 2021, design trends have changed and elements of the loft, especially unmasked concrete, have penetrated almost all modern apartment designs. And this is wonderful, really cool stuff to hide that crime.
In addition to the use in apartments, the loft style has become more modern and diverse. Initially, it was supposed to use accessories, lamps and furniture with a reference to the past. For this, either old lamps and furniture were restored, sometimes industrial ones, the use of which in apartments was not supposed at all. Now this technique is also used, but is no longer required.
Concrete is the main and best thing that came from the loft in all modern styles. This material is very practical due to its color and texture. And very beautiful. Some still spit calling concrete too coarse. But with the right dilution, this is a very interesting accent option.
Particularly cool concrete walls, columns and ceiling look under side light. The light from the side does not fall into the depressions on the concrete surface, they remain in the shade, this makes the texture very deep and beautiful. The play of light on uneven surfaces is a famous design technique.
Features of modern apartment design 2021
The modern design of the apartment implies a clear division into functional zones, and it does not always coincide with the division into rooms. The development of any design is a balancing act between appearance and practicality. This balance is different from room to room.
Modern kitchen design
The kitchen is the most used room. Even if you spend less time in it than in living rooms, you perform much more active actions there. These actions are also associated with moisture, dirt and the movement of a huge number of small objects. Therefore, in the kitchen, the scales are completely biased towards practicality.
You must have seen photos of sterile white kitchens. They look very stylish and modern. But there was no feeling that no one was using them? In order for real photos to match the picture, it is important to immediately take into account the high functional workload and know how to choose a kitchen so that you do not have to wipe every dried drop of water.
The Scandinavian-style kitchen is interesting in this regard: there is a little mess there as part of the design.
We explain the non-obvious. Laminate is now as strong and stable as tile. The built-in equipment looks cool and saves space on work areas, and does not collect dirt on itself and behind itself. It costs more, but it's worth it. Cabinets to the ceiling look monolithic, do not allow them to accumulate trash and dirt. This can be achieved by lowering the ceiling a little above them, a pipe usually hides from the hood to ventilation in the same step. Black is terribly impractical – it also shows fingerprints and dried splashes of water (because it contains salts that remain when dried).
Living room and bedroom
These rooms experience much less stress, here you can give free rein to imagination and realize your ideas. The main thing is not to forget about moderation. It's a good idea to make one room as spectacular as possible and the other just comfortable. The living room is ideal for the role of a room for wow effect. In the living room you can experiment with decorative plaster, designer lamps, complex structures on the walls and ceiling. The main thing is not to overdo it.
The main element in the bedroom is light. There should be several light modes: primary, secondary, minimal and individual. Additional – lighting for watching TV. In complete darkness, doing this is harmful. Minimum for the ability to move around and do something while the second member of the family is sleeping. Individual for reading books. Well, another combination of these modes just looks very cool. Sounds worse than being implemented in practice.
Modern studio apartment
Everything rises in price and housing is no exception. Modern apartments are constantly decreasing in size, responding to rising prices. But this decrease brought us a completely wonderful modern housing option – the studio.
The design of a studio apartment is more complicated than an ordinary apartment, because firstly we need to manage to shove everything necessary for life in a small area, and secondly, due to the lack of division into rooms, in one space there will be many different zones, objects, colors and textures. And all this should not conflict.
The good news is, if it's easier to adhere to the principle, it's better, most mistakes can already be avoided. Well, if you still want a sophisticated and modern design studio, then in the last paragraph a link to sensible material.