The 2021 trends do not stop: a return to the past, the use of marble, muted pastels or white textures.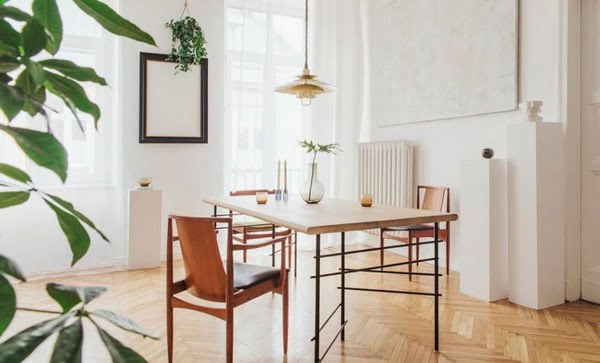 Offering a wide variety of products for a stylish home, Westwing Furniture & Decor Store is now encouraged to craft the 2021 home decor trends. Let's not forget that the year is long and with it the opportunity to remodel our home according to the new fashions that are emerging.
But where did Westwing's ideas come from? Above all, they stand out for their universal value. The firm's creative department travels the world in search of the most stylish products and the latest trends. Inspiration is everywhere, from furniture fairs to the most relevant fashion shows. In their latest 2021 trends report they have managed to capture the essence of all the movements of the endless stream of Zeitgeist (spirit of time), impacts and changes collected around the world.
Among the four trends that will star in 2021, Westwing highlights the New Heritage. But what does it consist of? This trend breathes a new freshness that is elegant and cosmopolitan at the same time. Although it still has timeless features, it is crisp and has the magic of new beginnings. Tailored to the present day, it also delivers a sleek style that works effortlessly in a modern world with features like: amazing prints, wallpapers, blue tones mixed with metals, and even wood pieces that bring a relaxed energy.
On the other hand, this 2021 will be marked by the Modern Sanctuary,  a style that understands our house as a sanctuary, our base, our refuge. We created it to avoid external noise and to feel comfortable, safe and complete. The modern sanctuary trend is a version of a home so serene that we don't want to leave. Everything is explicitly beautiful, at the same time its shapes are organic, the materials are cozy and have an irresistible feeling. Plus, the color palette is made in extremely soft shades like beige, cream, off-white, and subtle grays. A space that allows us to breathe.
4 Trends That Will Mark The Decoration This 2021
This year comes a trend made for those who love to express themselves, the daring who follow their own rules. That's what Storytellers is about, which as the name of this trend indicates, is made for those people who create their own stories. Also in home decoration. A style marked by "never be afraid and do what feels good to you". Each piece deserves to have its leading role, to tell a story, to attract attention. Each piece must be special.
Finally, Westwing bets on the Retrograde. What does this fashion imply? Basically all good things come back. The admiration of previous centuries can never disappear. And why should I? The shapes and colors of the 70s have a highly aesthetic appearance. A world full of retro charm but without looking dated. Wood and plastic, wicker, metal and velvet – everything we could call a wild mix – surrounds us, but with the necessary retention and subtlety, and emerges in a very interesting balance that often combines two worlds. Sober shapes and design with a Bauhaus aesthetic create the bridge between the past and the present.
New Heritage
A much more relaxed style without being conventional or suffocating. The most common materials in New Heritage are: wood in a chestnut finish, surfaces with tinted and decadent mirrors, velvet and white marble. With it, the greatness of the classic style in fashion, interiors, houses and architecture achieves a contemporary renovation.
Modern Sanctuary
This trend is, according to Westing, like an endless and lasting hug where you can relax, feel safe and complete. Enjoy, calmly and accompanied by furniture that inspires that confidence. The Modern Sanctuary trend stands out for the use of materials such as white textures, light wood, textured fabrics or linen.
Storytellers
This 2021 don't be a boring person. Innovate and express through your taste. That's what the Storytellers trend talks about .
They can be striking sofas, colors, luxurious surfaces and unique finishes. This style stands out for the use of dark lacquered woods, strong prints, gilded porcelain and stonewashed velvet.
Retrograde
The shapes and colors of the 70s have a highly aesthetic appearance and this is intended to reflect the Retrograde trend. A return to the past from design and care. It is about transporting all the characteristics until today and we make them present, even with the respect and important accessories of the time.
The materials used for this style are muted pastels, geometric prints, Plexiglas or dark wood.
Decorative Styles That Will Continue To Succeed In 2021
2021 is already knocking on the door and we cannot help wondering if the decoration trends we are betting on this year will continue to be in fashion
A little over a month ago we ventured to discover what the deco trends that will reign 2021 will be through a tour of some of the studios of our favorite interior designers, some of the deco stores that most like our readers and readers, and, no It is worth mentioning, the new Ikea catalog. All this gave us an idea of all the new ideas that are being developed for this 2021, which is already just around the corner.
This is how we discovered that the mixture of colors and textures will be one of the star protagonists, followed by a return to the rounded and sinuous shapes that provide sensation and movement to the spaces, the ever-present neutral paint tones and a greater fluidity in the spaces in the house, which will no longer be destined to a single functionality. We even ventured to predict what the color of the new year might be – our omens tell us that everything points to orange shades that blend with yellow going to sweep.
But, what about the decorative styles that have been imposed during 2019? Are they destined to disappear into oblivion? And all those who decided to remodel the house in the purest industrial style, or bet on what seemed to be a safe return of classic design? Do not panic! Today we come with good news: everything indicates that many of the styles that were worn the most during 2019 will continue to be fashionable next year, so it seems that, from the outset, it will not be necessary to invest large amounts in giving it a change of look at home to be in line with the latest trends.
The trends that caused the most fervor during 2019 and that will continue to be present in 2021 seem to have one point in common: the commitment to development and sustainable architecture. Indeed, it is possible that we have finally realized that the only way forward is towards a greater commitment to the environment, and new trends are increasingly betting on recyclable materials, self-sufficient buildings and facilities that respect the environment. environment.
Here are the main decorative trends that will continue to be strong in 2021. But be careful! Because it seems that in the new year they will attack with renewed force.
Industrial
Exposed brick walls, metal shelves, iron pipes and other industrial materials will continue to be a constant in 2021 as well. This style, which prioritizes architectural features to the detriment of the home's own decorative elements, will continue to reinvent itself, and in the new year we will see him return with his always present urban character, but this time with a greater commitment to natural materials that we mentioned earlier.
Vintage
Classic or art deco furniture, mixed with contemporary textures, will continue to be very present in interior design. The essence of the style will continue to reside in incorporating pieces from past decades (especially from the 50s and 60s), but the latest trends seek a fusion with other more modern elements and materials, and may also incorporate a boho touch.
Wabi Sabi
Objects inherited from previous generations, antiques found in traces and second-hand markets, vintage pieces and folk art… All these elements make up that style created to highlight the beauty of the old and worn that caused a sensation in 2019: the Wabi Sabi. It would be a shame if a trend with so much potential disappeared into oblivion, but everything indicates that we should not worry. The worn look of the Wabi Sabi will continue to boom in 2021 as well.
Biophilia
The style that emphasizes the connection between the human being and nature is will have a greater presence with the beginning of the new decade. Natural or organic materials, such as wood, stone and plant life, will take center stage in interior design, reminding us of the importance of the natural world.
Japandi
That hybrid trend that already started to break through a few months ago and that combines the best of Scandinavian style and the timeless elegance of Japanese aesthetics will also continue to be present in the world of decoration. Although they come from totally different parts of the world, they both share minimalist principles, another of the trends that is becoming more and more prevalent in interior decoration.
Nordic
Being the neutral colors other of our imperishable protagonists of recent months, the Nordic style, one of the trends in charge of championing the predilection for this color range, could not be less. In 2021, however, we may see more contrast from these neutral colors with touches of heavier color and natural textures, such as wood or stone.
Modern rustic
Being the neutral colors other of our imperishable protagonists of recent months, the Nordic style, one of the trends in charge of championing the predilection for this color range, could not be less. In 2021, however, we may see more contrast from these neutral colors with touches of heavier color and natural textures, such as wood or stone.
The Home Decoration That The 2021 Trends Offer Us
'Sustainable' colors, open spaces and colorful elements are some of the trends in decoration and interior design that await us for this new decade
In 2021 there will be no space for decorative shrillness. In its place, simple lines, soft tones and open spaces will prevail, combined with the occasional more attractive decorative element and colors that remind us of sustainability. These will be the pillars of interior decoration for our homes that will inaugurate the beginning of this new decade that is coming, as reported by Houzz, the online platform specialized in home design and renovation.
As main sources, Houzz has consulted the data it has collected from millions of individuals who use the platform, in addition to 2.4 home professionals. Thanks to the data collected in studies on the home sector, the most read articles, or the most searched terms in recent months, among others, the platform has prepared a prediction of what will be the main trends in decoration and interior design for the 2021.
Houzz has thus collected 8 marked trends that are already gradually prevailing in many homes, among which stand out the search for a contrast between light and dark tones, the elimination of the separation between spaces, the use of natural materials and tones. striking, the presence of the Nordic style, and a trend towards the use of colors that remind us of nature, such as greenish, beige or terracotta tones.
The general effect is that of more introspective spaces, which transmit calm and serenity, still maintaining a touch of unmistakable style in each room giving prominence to specific elements of our decorative sets.
Today it is difficult to know if these trends will be fulfilled by heart, but what we can agree on is the wonderful atmospheres they create, and which fascinate us!
Nordic touches
From Houzz they have seen that there is a clear trend towards contemporary style with Nordic touches and a predilection for more functional decoration. Regarding color, white remains one of the unquestionable protagonists, followed by other softer shades, such as ranges of green, beige and gray.
Warm rooms full of color
2021 will be a year in which furniture in natural materials and warm and striking colors will prevail, giving life to rooms that will tend to be somewhat more sober. Despite the fact that many continue to choose gray tones and simple lines for textile furniture, other pieces will also start to be incorporated in deep blue, purple, etc.
The ceiling as the protagonist
The ceilings will again take center stage, especially in the living areas. We have seen that some interior designers and decorators have begun to use wallpaper on the ceiling or to paint it in a different color than that of the walls to enhance it. The use of wallpaper on the ceiling brings more depth to our rooms, or we can also create the feeling of greater height if we use wallpapers that mimic false moldings.
Suite dressing rooms
The popularity of creating a dressing area in our homes is also booming. In general, not very large changing rooms are imposed that are part of the room and that are enabled for other activities, such as reading or listening to music.
Baths that merge
In the new year it is fashionable to eliminate borders and blend spaces, and bathrooms are no exception. More and more people are looking for solutions to integrate the bathroom into the bedroom, with floors and walls of the same material and subtle glass separations that usually follow organic lines.
Dark and smart kitchens
Color anthracite and black will be other protagonists of this 2021, both doors, cabinets and countertops. When creating contrasts, the trend will be to incorporate some elements that provide a special accent, such as niches in natural wood. On the other hand, smart technology will also gain strength in our household appliances.
'Sustainable' colors
The much-needed disconnection from daily stress and sustainability are concepts that will define the colors that will be trending this coming year. Thus, warm and earthy tones will prevail, such as terracotta or chocolate brown. In the bathroom, these shades will translate into blues with more intense nuances, reminding us of nature and respect for the environment.