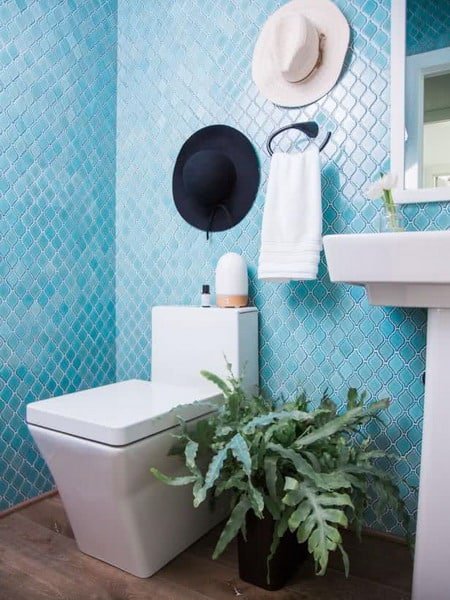 The bathroom is one of the main rooms of our home and its decoration is very important to make it a relaxed and comfortable space. We must pay special attention to the color we choose when painting it. You have to choose the right tone and combine it in the best way with other tones. For this, here we show you some color trends for bathrooms 2021 that may be of inspiration.
The photos that we show you below are a sample of bathrooms that have acquired a lot of style by incorporating colors.
Bathroom color trends in 2021
White bathroom
White is synonymous with cleanliness, which is essential for a comfortable and pleasant bathroom. White is a color that illuminates any type of room, and you can easily add vibrant color details.
The strong colors are perfect to complement a white bath, but we must learn to apply them. Choosing accessories in vibrant colors is the easiest way to add color, for example, using frames.
You can add color with towels, carpets, benches or even with a bathtub of a very striking color.
You can also add a lot of color using wall paper. It is important to maintain consistency in the room, always taking into account the design of the paper and its colors.
Black and white bathroom
The success of this combination is assured, either by small black incorporations such as basic utensils such as soap dishes, bath mats, soaps or towels or by larger incorporations such as painting the walls, ceiling or floor, or choosing tiles of this color.
A clear sample of the attractiveness of this combination of colors in the bathroom, are the photos that we leave below.
Gray bathroom
White with gray elements is synonymous with elegance and good taste.
Some metallic element, such as the gold of the mirror frame, can add a lot of glamor to a bathroom.
Dark gray bathroom
Combinations with dark gray are synonymous with originality in modern decoration.
It is a color that is being used a lot, and it is mainly combined with wood.
Yellow bathroom
Another way to achieve a very clean looking bathroom is to use white only in sanitary fixtures in the bathroom and then to add color, for example yellow, playing with its different shades. The result will be a colorful, subtle and elegant bathroom.
Finally we show you a perfect combination for a bathroom: white, yellow and black.
Orange bathroom
If you want to go for more, and enjoy giving your home a renewed look, the proposals in orange will surely be of interest, since they are very energetic and attractive ideas.
Since it is a vibrant and striking color that tends to harmonize any environment, and gives the spaces a cheerful and reassuring touch, it is perfect for a space as intimate as the bathroom is. You can incorporate this color by mixing different textures and accessories.
Tangerine is a color that has been used for several years, which is why we have included it in this selection. It is an ideal color for those who enjoy intense colors and dynamic spaces, full of energy.
And the best of all is that it is very easy to take to the spaces, since it is enough to implement details such as shower curtains, soaps, candles, ornaments and furniture in that color. While those who prefer a more impressive appearance, they can choose to paint walls, floors and ceilings.
Regardless of the option you choose how to take this color to the bathroom, the result will be equally revitalizing, since being an intense color, even if it is included by means of discrete elements will easily impose presence.
Violet or lilac bathroom
If what you want is a bathroom full of style, modern and with a very strong positive energy load, we recommend joining one of the main trends in bathroom decoration.
It promotes opting for any of the immense amount of shades offered by the violet color, a color that undoubtedly fills the spaces with its presence and gives them a high dose of freshness.
Undoubtedly an ideal option also for those looking to make a style statement and make a difference, since this in itself is not a color that takes up a lot of space in the classic decoration and less in bathrooms. Instead, it seems to be getting more and more followers in modern decoration, thanks to its charms.
In addition to that, without a doubt, thanks to the wide range of existing purple tones, it will be easy to find one according to the taste of each one and make a statement of style and personality with it.
As you can see in the photos that we present below, since any of them are a declaration of good taste, regardless of the style by which you have opted to incorporate it.
Blue bathroom
The bathrooms in blue are one of the clearest trends this year, and are ideal both to achieve a modern bathroom as well as for those who want to recycle their vintage style bathroom.
Shades such as blue with green shades, intense blue or pastel, are the most recommended to adopt this trend, and thus give a more modern and relaxing air to this special room.
They are colors that get along very well on the walls, especially contrasting with tiles or marble, which creates a really striking, bright and neat aesthetic; Three characteristics that we all usually look for in our bathrooms.
Yellow, its opposite color in the chromatic circle, can be used to achieve a more striking effect.
Red bathroom
You can get a colorful bath without adding too much color. Choose a special color for a bathroom area and then play with accessories materials and styles. It will be a bathroom with color and style.
It is important to previously analyze the bathroom and choose areas to give it color. Shades of vibrant colors, such as red and fuchsia and a special design for example with frills, will add joy to a sad bathroom.
Green bathroom
Many times when we think about home decoration, we do not stop too long in the bathroom, however it is one of the most important rooms, since it is our most intimate space.The green color, which is associated with nature, is one of the favorite colors, since it gives us a lot of calm and peace.
The darker shades of green bring a lot of sobriety and elegance.
While the lighter tones, bring a lot of light and joy.
Another way to add color to a white bathroom is through furniture. For example, this emerald green undercounter furniture looks fabulous.
Brown bathroom
Brown is another classic color that never goes out of style. Combining it with white is an option that guarantees success, thus giving life to a bath of very soft and delicate tones.
Pink bathroom
Implementing color in the bathroom is a very simple task, and the best way to make this space a warm and pleasant place. You can give it a touch of pink, through paint, a colorful bath mat, soaps, the incorporation of a striking accessory, among many other ideas that you can think of.