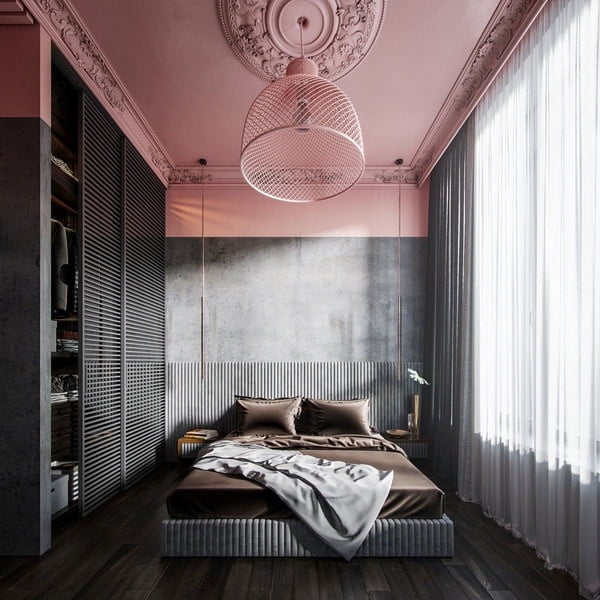 The bedroom is a secret place in the house where you want to feel as comfortable and relaxed as possible. While the contemporary bedroom design 2023 is a matter of personal preference, it is important that the sleeping area, designed to rest and recharge, is filled with coziness and tranquility.
Useful Tips for Bedroom Interior Design 2023
Beds, as the main piece of furniture, are given special attention in the interior of the 2023 bedroom. Renovation of a room begins with the creation of a headboard, which can become an integral addition to the space.
The bed should be located, if possible, in the center of the room, so that the rest of the furniture is located around it. So a kind of island is formed and you can approach the bed from any side. Colors shouldn't be too bright. Straight lines and sleek designs are what you need for a trendy and stylish design.
Carpets can be used to delimit the space, but in the case of using several carpets in the bedroom, it is necessary that the rugs are not identical, and also that they are from the same set or match in color. You can choose a contrasting color with those selected as the main ones.
Important! Do not cover the entire bedroom floor with a carpet, but leave about a meter of gap with the wall, this way you can avoid the problem of creating an optical illusion of a limited space.
Modernity and elegance can be brought to the stylish 2023 bedroom interior design with paintings placed on one side of the bed or in the center. It is important not to exceed their number. The rest of the walls should be more muted shades with the same structure of the canvases.
Repairing an apartment is a long and time-consuming process, but the result is certainly worth all the money and effort spent. The bedroom is exactly the place where each of us rests and relaxes after a hard day. That is why it is necessary to approach the interior design in the recreation area with all responsibility and create the most comfortable and relaxing atmosphere in the room.
In order for the interior of the 2023 bedroom to look modern, following the latest fashion trends, it is not at all necessary to seek help from designers, you can plan the space yourself and significantly save your budget.
Functional bedroom interior 2023 – what to look out for
If you use creativity, even a small bedroom can be decorated in an interesting and functional way. For example, if there is not enough room for a bedside table, try to get a headboard, which will have a shelf upstairs for various little things. As for the color scheme, it is worth focusing on bright colors that will optically enlarge the interior.
THE MAIN ELEMENTS OF DECOR IN THE BEDROOM 2023 – EXPERT ADVICE
An abundance of light. We are talking not only about chandeliers, but also about other lighting devices: sconces, floor lamps, table lamps – an excellent solution for bedroom decor
Pictures or posters. A decorative element that can easily decorate any wall in a bedroom, add originality and beauty. Give preference to simple frames made of environmentally friendly materials, and also note that any decor elements should be in harmony with the overall interior of the room
Fresh flowers. Enriches the room with oxygen, refreshes and adds incredible beauty to the room
Textiles. This can be a rug, a rug, or even decorative pillows in accent colors.
Curtains. Designers strongly discourage the use of tulle and bulky curtains of dark colors in the interior, which overload the room. Therefore, choose light curtains of light colors and shades, blinds, or as an alternative to conventional curtains – Roman.
On a note! Roman blinds are created using a special technology and completely protect the room from the penetration of sunlight, and this excellent style solution will add originality and originality to the room.
Fashionable bedroom interior design 2023 (ideas, photos)
The modern 2023 bedroom interior aims to be an oasis of peace. The room should be conducive to pleasant moments of relaxation with a book or favorite TV show. That is why you need to think over in advance a fashionable design project in which attention will be paid to every little detail.
Bedroom 2023 in different styles
Minimalism. This style in interior design has long held a leading position due to its brevity and simplicity. In designing a 2023 bedroom, it is important to abandon all unnecessary details, surrounding yourself with only the most necessary and functional items.
The privacy of the recreation area. Even if you are the owner of a small studio apartment, the recreation area should in any case be fenced off from the living room and other rooms in the room. This can be done using a rack, curtains or any other interior partitions.
Spaciousness and abundance of light. A large and bright room is a guarantee of good sleep and great mood! Small rooms can be visually made more spacious with bright spotlights, large windows and light walls.
Eco-friendly materials. In the last couple of years, this has been one of the most important rules for decorating an apartment in a modern style. Natural, environmentally friendly materials that do not harm either humans or the environment will perfectly fit into the interior of any room, and your body will certainly thank you for this.
Laconicism. Is the main feature of 2020 in the design of not only the bedroom, but also all other rooms in the room.
The romantic style fluctuates between innocence and sensuality, which definitely stimulates the imagination. Floral motifs, Provencal-style furniture and pastel colors – pink, beige, blue, cream – are suitable for a romantic bedroom. With delicate shades of pink, you should be especially careful not to achieve the effect of excessive infantilism.
A bedroom with simple wood furnishings will fit in with many styles. Accessories and compositions with an exotic touch (decorative fabrics, forged metal lamps and accents of bright, almost shining colors) will give it an oriental atmosphere.
The unknown always seems more interesting than what we see every day. Therefore, furnishing a fashionable bedroom 2023 in an oriental style will always have an amazing effect. If you do not want to be too literal in the design of the bedroom, it is enough to successfully choose the color scheme of the room.
Compositions with hearts often appear in the design of the interior of the bedroom, 2023 is no exception. Unfortunately, they are usually used lightly, for example, when a parent's bedroom resembles a teenager's room. Meanwhile, the right decor will fuel your senses. The motif of the heart can appear on walls (for example, in photo wallpaper), on bedding, pillows and decorative accessories. Using a soft, muted shade can achieve a better effect.
Rich, dramatic bedroom decor can inspire many of us. Sometimes the right bed linen is enough to make you feel like you are in a five-star hotel. Shiny and quilted fabrics enhance the luxury impression in the bedroom. They always seem to be more expensive than a smooth surface. But it is better to limit the number of gold supplements.
Colors in the interior of the bedroom 2023
Nothing stimulates the senses in bedroom decoration like the right color. Therefore, the choice of color for the 2023 bedroom is an important design point.
The sexiest are deep shades of reds that work well with shiny fabrics with a distinct texture (like velor). To add spice to the bedroom, one accent is enough. And if you decide to paint an entire room, choose a smoky pink shade.
To make the 2023 bedroom look light and spacious, experts recommend planning the design of the room in a maximum of three colors. Light, pastel colors and shades have long been considered the basis. For example, white, beige, or light gray are perfect for bedroom walls. Light colors visually expand the space, fill the room with light and are associated with purity, harmony and comfort.
Blue, cyan and light green are also great colors for stylish 2023 bedroom interiors. These shades have a calming effect and help you fall asleep faster.
Yellow, purple and pink are a bright and stylish solution in the interior of the bedroom. These colors invigorate and energize. Rich shades of red and pink will cheer you up. Choose a colorful headrest or bedspreads.
You can focus on silvery gray and delicate pastel colors, bright details in the form of multi-colored pillowcases and black lamps. A bolder version of the 2023 modern bedroom – a black wall, white brick, and colorful accessories. It is not recommended to create overly extravagant compositions. The warm composition of wood and greenery is soothing, while the richer version energizes. Furnishing a bedroom in white is especially suitable for Provencal and Scandinavian styles. White is an innocent color timeless, especially when combined with airy fabrics.
It is necessary to take into account the shades that already exist in the interior of the room, and not to change the furniture and the colors of the walls and floors in order to create harmonious combinations. The emphasis on brightness and richness in the bedroom is most often given to individual details. For example, pillows, a picture at the head, bedside rugs.
In addition, it is important to know whether it is a large or small bedroom in order to be able to choose the right interior colors, because in small interiors, dark colors will make the room smaller, and light colors will make the room even larger.
As for the materials for decorating the bedroom, then here you have a huge field for imagination. The abundance of materials for wall cladding will satisfy even the most capricious residents of the apartment, and the choice of flooring will surprise with a variety of assortments, so you can easily find what you need.
Bedroom 2023 – furniture selection
What to consider when choosing modern bedroom furniture 2023? The answer is simple – convenience, of course! Nothing can get in the way of blissful moments of relaxation. Choosing a wardrobe that can accommodate a lot of things.
Modern bedroom furniture shouldn't be conspicuous. Built-in furniture with a uniform surface that blends seamlessly into the background is well suited. Ideally, if it is equipped with a handleless opening system. Otherwise, it makes sense to choose graceful straight handles that go well with the furniture.
A comfortable bed for a 2023 bedroom is the basis for a successful decor. The simpler the better. Simple shapes and basic colors – white or natural wood – are ideal. When choosing a bed for your bedroom, avoid unnecessary decorations. They can disrupt the clarity of a style dominated by simplicity of form.
It is worth taking care of a comfortable mattress that will allow you to fully sleep. It is important to remember the practical purpose of the bed. For this, it is better to choose a model with a box under the bed. It can easily fit both bedding and other necessary trinkets.
An amazingly beautiful canopy bed with a canopy is associated with something mysterious and mystical, especially if transparent tulle is used to decorate it. Such a veil with a dense weave of threads excites the imagination and makes you think about what is happening behind it.
There are many ways to arrange such a bed. When choosing accessories, you need to be careful and focus on materials from a trusted manufacturer and workmanship.
Curtains for the bedroom 2023
In this regard, choosing modern curtains for the trendy 2023 bedroom shouldn't be a problem. Not only ordinary curtains are suitable, but also with an interesting design pattern, creating an intriguing atmosphere.
Simple shapes and sleek furniture fronts serve as a good backdrop for original motifs, as do rich colors. Ready-made plain curtains are a good solution if you prefer a more austere look in modern bedrooms. They won't stand out, but they will add a cozy atmosphere to your bedroom.
Opaque or translucent fabrics can be chosen depending on the type of isolation the owners prefer. For classic bedrooms, velvet, silk or satin are suitable. The color and material of the curtains depends on the season and the natural light coming from outside.
The size and length of the curtains affect the achievement of various effects in the decoration of the bedroom. For small rooms with low ceilings, the best solution would be long curtains that almost reach the floor. In the bedroom, you can install dimmable lamps and adjust the light intensity to bring a touch of romance and mystery.
Plants in the bedroom 2023
Large indoor plants will fill the interior of the 2023 bedroom with coziness and warmth, significantly increasing the comfort of using the room. Plus, when green plant decor is combined with vibrant wall tones, a very elegant effect is obtained.
On a note! Want to get a trendy 2023 bedroom design? In this case, indoor plants must be selected with extreme care. For the room where a person sleeps, not all representatives of the flora are suitable.
Lighting in the bedroom 2023
In the 2023 bedroom, it is important to think over competent lighting in the room. In a large room, one chandelier will not be enough. It is necessary to additionally use table lamps or wall lamps. They must be installed in such a way that you can turn them on without getting out of bed.
Floor-to-ceiling windows are perfect for a modern and trendy 2023 bedroom, as more light will enter the room. When an abundance of light is combined with light colors in furniture and furnishings, it creates the effect of enlarging the interior. In addition, in such interiors, you can choose dark tones for wall decoration, and light tones for furniture.
In these ways, you can change each of the components of the bedroom. There are other alternatives, but the most important thing is to let your imagination run wild and create a style in which you will feel the maximum comfort.
By following these simple tips, you will definitely be able to design a bedroom according to the freshest and most relevant trends of 2023. The main rules and basic principles of bedroom interior design 2023 are comfort, coziness, brevity. Do not forget about the quality of the materials used, and a new renovation will delight you for more than one year!