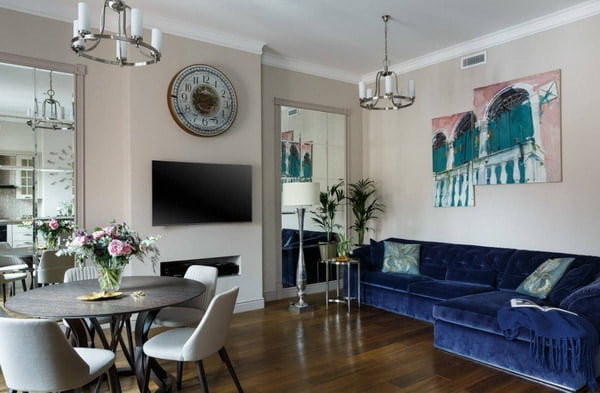 Our home is a place where each person should be cozy and comfortable, where you can relax and unwind from the annoying bustle of the world, and interior design, in this case, plays an important role. But how to decide on the choice of style or color scheme for a particular room, because each of them performs certain functions in the life of every person? What interior trends in 2022, and what should be paid attention to those who are planning to transform their homes or simply strive to keep abreast of interior developments? We will answer all these and other questions in our material, as well as offer many photo examples from which you can get ideas for decorating the space.
Interior Design 2022: Goals
The main goal of any design of an apartment or house this year is aimed at creating the most comfortable environment for human living, therefore, all design ideas and proposals of the season are aimed primarily at the mandatory use of natural materials. It can also be noted that design variations in a particular style are gradually fading into the background. Interior design 2022 is dominated by personalization, or in other words, the transformation of housing in accordance with the lifestyle of its owner.
Major trends
Such a popular design of living space as "open space" is losing ground this season, and therefore, designers do not recommend combining the kitchen and the living room or, for example, the bedroom and the balcony, during the renovation, creating a study in place of the latter. However, owners of small houses and small apartments cannot do without such combinations in the interior. Therefore, the introduction of special structures, namely horizontal and vertical partitions, the use of which guarantees you a rational division of space into zones, can be attributed to the number of fashion trends in design ideas for decoration… It can be fixed or vice versa, sliding or even rotating around its axis variations of wood, acrylic, bamboo or frosted glass. They not only look very beautiful, but also take up much less space than walls, do not interfere with the penetration of light, significantly muffle any sounds and do not let smells through. Various types of partitions are the best solution for tight spaces.
Main trends
In each season, when creating an interior, attention is paid to certain details, which subsequently determine the general direction. Thus, the trends of 2022 include original furniture and a certain type of materials that, according to the designers, can be safely used during the alteration or transformation of housing the following options.
Metal parts
Exquisite lamps, vases or mirror frames made of chrome-plated steel, bronze or brass should be an integral part of any interior solution.
Natural wood
The demand for the use of natural wood in interior decoration is growing every season, and this is not only pieces of furniture made of pine, walnut or solid oak. Today, wood is actively used for the manufacture of various ceiling structures, wall cladding, is a popular floor covering, and also very successfully acts as a wall panel.
Natural stone finish
This season, original variations of window sills, fireplaces, countertops and floors made of natural stone are in great demand. These can be both solid structures in the interior and chipped stones in concrete, the so-called "terrazzo", or individual inserts made of marble or granite.
Glass
Due to its "reflective" qualities, such material is becoming more and more popular in interior decoration. Glass fills any room with light and expands the space, which absolutely does not diminish the overall functionality. For small rooms, you can additionally use mirrors, which visually increase the area.
Fabrics
A special glamor of this season is a variety of natural fabrics that can be used for sewing chic curtains with lambrequins, bedspreads or chair covers. By the way, the fashion for tapestries in the form of various patterns and paintings is again relevant.
Trendy furniture
As for furniture, the trend of 2022 is furniture sets made of birch, larch, beech or ash with a pronounced wood pattern, high-quality fittings and finishing made of velvet, velor and other types of "expensive" fabric. No less popular in the interior of this season are various pieces of plastic furniture that do not clutter up rooms and create a feeling of weightlessness.
Interior Styles 2022
For a modern person, such a concept as a house is primarily a source of inspiration, a place where you can relax, collect your thoughts and gain strength, so you should discuss in advance all the details of the direction in which the interior will be designed. Among the current offers of the season, there are several areas of interior decoration of housing.
Eclectic
This style is considered the most complex and requires a designer to maintain a high-quality line between the use of absolutely incompatible details and contrasts, because elements of Western and Eastern design are intertwined here, asceticism and luxury, old and new, original and classic are mixed. The main characteristics of eclecticism include the combination of objects in a room with one common feature, for example, color, play on contrast, comfortable furniture and a combination of objects that differ not only in size, but also in texture. The main rule is a sense of proportion and the simultaneous combination of no more than three styles.
Eco style
The name of this style direction speaks for itself and will be an ideal solution not only for homeowners who lead a healthy lifestyle and prefer to surround themselves with natural materials, but also for residents of large cities who often lack natural aesthetics. For eco style characterized by the use of materials of natural origin, the presence of the maximum amount of natural light sources, lots of greenery, furniture made of wood or rattan, and the predominance of natural shades. Decor details such as pottery, stone coasters and natural textiles are also welcome.
Minimalism
The focus of this style solution is aimed at simplicity and clarity. Simple furniture, without any curved lines and ornate finishes, large windows or rational lighting, maximum space and minimum partitions, textile blinds instead of curtains, plain walls and reflective surfaces. Among the materials used in the interior are chrome, ceramics, stone, glass or plastic. An interior in this style should give a sense of light and space.
High tech
An offer of this nature will appeal to residents who seek to surround themselves with innovative solutions and keep up with modern technologies. What does this mean? Everything is simple here. High-tech style is based on the presence of technology in stylish modern design, transformable furniture, multi-level lighting and futuristic lighting fixtures. And also in the use of materials such as plastic, metal or glass, which can be expressed in glass partitions or surfaces that reflect light.
Loft
Loft-style interiors are often used these days to transform apartments or offices. Design work like this is ideal for open-plan spaces where the entire space is divided into zones with colored accents or decorative dividers. Typical wall finishes are rough plaster or brickwork with exposed pipes. Functional furniture, antique interior details and innovative technologies are incredibly beautifully combined here. By the way, such non-standard additions as graffiti, posters or abstract drawings on the walls will become the "highlight" of the entire design.
Scandinavian
Interior design in Scandinavian style is very popular in many countries of the world, and we could not but add it to the list of relevant solutions for 2022. The basis of the Scandinavian-style interior is white, on which any bright details look especially expressive. In this case, large windows with transparent curtains, "intricate" lighting schemes, furniture with simple geometric lines and the presence of plants in small flowerpots or beautiful pots are welcome. The process also uses natural materials such as glass, stone or wood.
Trending colors in interior design 2022
The color scheme shapes the entire image of the interior, and the first thing that designers focus on in 2022 is the feeling of lightness. When creating an author's interior design, one should take into account not only style trends, but also keep up with fashion. This season, combinations of white, gray and graphite with any variations of bright accents, the delicate pink color of the morning sky and a warm range of pastel shades, from sandy to cream, are relevant. All shades of natural greens are no less relevant, for example, mint, light green and even dark bottle. Also, when choosing a color scheme, you should pay attention to a muted blue-gray or deep blue shade, cheerful aquamarine, delicate terracotta and a shade of black currant.
Wallpaper and wall decoration
What kind of wall decoration will be in your home directly depends on the style direction of the chosen interior. Modern wallpaper can be made on the basis of wood or plastic, which in the future even allows them to be wet processed. You can choose an option with a pattern that will refresh the walls or for painting. By the way, this season the combination of several types of such material looks very nice at the same time. For example, one wall is covered with patterned wallpaper, and the other is complemented by plain wallpaper. There is also a large selection of 3D panels on sale that look no less attractive. The original solution for wall decoration will be frescoes with golden details, stucco molding and various variations of mirrors. When decorating the interior in the loft style,
Interior design for the kitchen
The 2022 kitchen interior is based on practicality, functionality and sustainability, which means a pronounced presence of minimalism in all style solutions. But, despite this, the use of such expensive materials as textured wood, metal, marble or granite is only welcome. Among the current solutions are:
The principle of creating an interior "Hide if you can"
Despite all the "cons" in 2022, the designers continue to combine the kitchen area and the living space, at the same time dividing them with sliding panels and original partitions that clearly define the boundaries. Such reconstruction allows you to engage in cooking without interrupting communication with guests or other family members, which, according to psychologists, makes communication more intimate.
Bar counter plus "island"
Such an original solution plays the role of a dining table, a bar counter, and a storage system, which allows you to completely or partially get rid of cabinets in the kitchen.
Metal texture
Complementing the design with metallic materials is more relevant this year than ever. Alternatively, it can be a cooker hood, sheathing or "island" decor, coating or finishing of facades, as well as faucets, chair legs or lamps.
Marble kitchen
A material such as marble always looks elegant, so it can be safely used even in a minimalist style. It is the perfect choice for countertops, island designs or bar countertops. Also, marble is often used for flooring.
Lack of handles on furniture
Recently, a device such as "push to open" is gaining momentum, which allows you to open cabinets with a simple push. This innovation not only reduces the number of handles on furniture, but also creates more free space. Simple, convenient and compact.
Living room interior trends
To decorate the main room of a house or apartment – a living room, in 2022, the style you have chosen is taken as the basis, the expression of which can occur both in the general decoration of the room and in various details. Natural materials, soft shapes and metallic decorative elements as a stylish accent remain equally priority components.
The designer's goal is to create a cozy and comfortable environment that will be focused on a specific person, so you shouldn't get carried away with an abundance of accessories.
Color favorites include blue and green palettes, which can be beautifully complemented by classic white, gray, pink or terracotta shades.
Mandatory details are velvet upholstery and furniture with echoes from the distant 70s. Velvet has a very pleasant textile texture and perfectly complements both modern and classic styles. Shades such as emerald, pink garnet or sapphire will not leave you indifferent. For walls in such a living room, you should choose a monochromatic finish. As for the furniture, we are not talking about a complete copying of models from the past. Smooth lines and rounded silhouettes of a sofa, armchairs or a cute ottoman perfectly adapt to Scandinavian, minimalistic and many other style solutions.
Bedroom trends
A modern bedroom should be a bright and cozy seating area, preferably with large windows and good lighting, which, although divided into cozy corners that perform various tasks, for example, a seating area and a dressing table, remains generally open. Any storage systems are recommended to be skillfully masked behind beautiful doors of sliding wardrobes or mirrored facades. Natural fabric and high quality wood should be used in the decoration. If you have a desire to change or transform the decoration of the bedroom, designers recommend paying attention to the following trend proposals:
Metal canopy
This novelty contrasts with wooden structures with bulky supports and is represented by elongated thin racks connected to each other by a frame, which subsequently, based on the preferences of the master of the bedroom, can be beautifully draped or left open.
Platform bed
The platform bed is inspired by the Asian-inspired design, but has more relaxed features that can be seen in a small staircase, built-in storage boxes or open shelving with dim lighting. This solution looks creative and very attractive.
Soft headboard
In 2022, it is very fashionable to decorate the headboard with upholstery. If earlier the preference was given to wooden structures, then today in the foreground are voluminous leather or fabric backs with a clear geometric pattern.
Children room trends
The interior of a children's room is probably the most difficult task for every designer, because for a child, his room is comparable to the whole world in which dreams and favorite characters live. We also do not forget about mobility and irrepressible childish energy, therefore we exclude any sharp corners and fragile details from the interior. As for the choice of furniture, the main rule here is comfort and versatility.
In addition to wardrobes and shelves, there must be a writing or computer desk in the nursery, where the child will study and gain knowledge. That is why the boundaries between style solutions are blurred and one direction can safely complement another. But, despite this, some interior solutions, nevertheless, remain the most relevant:
Scandinavian notes
This design option can be deservedly considered a win-win. It is very simple to design, equally suitable for boys and girls, and also allows you to create the most light and comfortable room. The predominant color is white, which goes well with any accessories, which in turn can be easily replaced if your child's tastes and preferences have changed.
Eco-style nursery
As we mentioned above, environmental friendliness is at the head of this interior, therefore, when designing an eco-friendly nursery, we categorically refuse from synthetic materials and plastic. Color performance – neutral or calm shades with bright notes, as close as possible to natural. As well as characteristic references to flora and fauna, which can be expressed in a variety of plant patterns or, for example, a tree-shaped lamp. Particular attention should be paid to homemade interior items. By the way, your child can take direct part in the process of creating such a "masterpiece".
Fashionable modern interior ideas 2022
The concept of a fashionable modern interior is very broad, but we tried to bring together the most important trends of 2022. Any fashionable contemporary interior is based on compromise ideas and a harmonious combination of styles with each other. This can be expressed in modular furniture, which, if desired, can be arranged around the room in different interpretations, or in the original neighborhood of a tattered book, a small table of a simple form and "clever technology". It is also worth noting that today, meeting the same thing in every corner is already pretty tired. Individuality is the foundation of any design. Built-in furniture, simple but natural materials, nothing superfluous and too pretentious.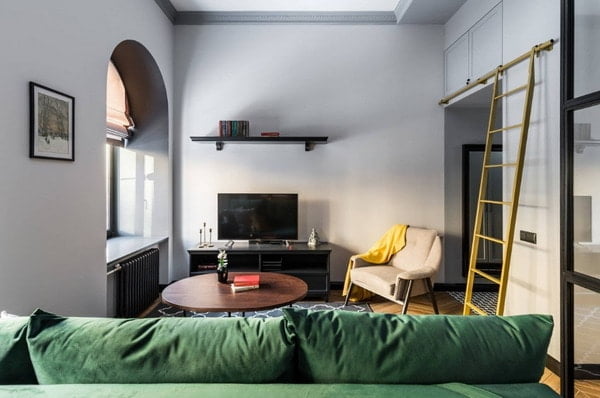 Each newfangled season offers its own innovations in the field of interiors, among which everyone can choose an individual option that meets taste preferences. Fashionable interior design variations in 2022 are aimed at harmonizing space. The main goal is convenience, comfort and practicality.