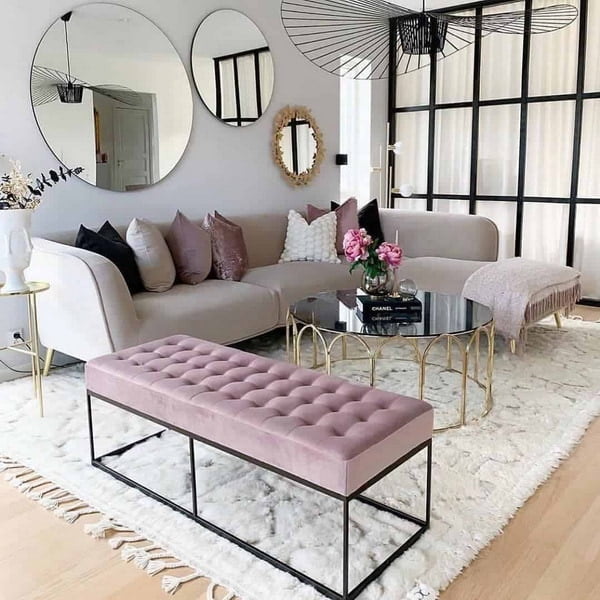 Although interior fashion is quite changeable, designers are already publishing their vision of what a fashionable interior should be in 2023. We offer a brief overview of the main trends and top in interior design 2023.
Basic concept and interior ideas 2023
The main concept that interior design 2023 should follow is coziness and closeness to nature. For its implementation, world-renowned studios offer unexpected solutions.
Interior of apartment 2023: Classic "Open Space" is no longer in trend
Comfort in the modern sense begins to gravitate towards intimacy. This means that the principle of the classic "Open Space" is no longer relevant.
Let's say right away that we are not talking about a categorical rejection of the idea of combining the kitchen and living room and or living room and bedroom. However, designers are advised to think carefully before demolishing interior partitions or replacing them with more interesting designs. For example, transparent or floor-to-ceiling partitions made of translucent glass are in fashion. They will provide excellent sound insulation and will not let smells from the "kitchen" into the living area.
To separate the sleeping area from the living room, partitions of individual lamellas rotating around their axis are suitable. They can be horizontal or vertical (floor to ceiling). The choice of material for their manufacture should be selected depending on which interior styles 2023 are used.
Modern interior 2023: close to nature
Residents of big cities feel like prisoners of the stone jungle. Designers advise to do everything so that a person feels close to nature in a home. In this regard, they suggest using wood as the main finishing material.
As you know, wooden panels, furniture facades, etc. are quite expensive. For those who cannot afford it, there are cheaper, but eco-friendly and high quality materials. For example, well-known brands offer laminate and even ceramic tiles that perfectly imitate wood.
To create a sense of unity with nature, the interior of the living room 2023, kitchen or bedroom can be decorated with indoor plants. The current solution is to arrange large pots of flowers in well-lit areas of the home. Owners of spacious apartments or country houses can go even further. To create the newest interior in 2023, they can equip a mini-winter garden in one of the premises.
Interior Styles 2023
Although democracy reigns in the field of interior design, it is recommended that the interior of 2023 be decorated in one of the modern styles. In addition, many designers believe that the newest interior in 2023 should combine features of several of the most relevant trends.
We are talking about Minimalism, Eco-design, Hi-tech and Rustic features. For example, the use of rustic furniture made of raw wood planks against a background of quite minimalistic finishes will allow you to get a truly fashionable interior in 2023.
Trendy interior colors 2023
The trend that sets the interior 2023 apart is the more varied color palette. Of course, the interior in a neutral color scheme will be relevant.
You can safely choose white and beige designs. For lovers of pastel colors, the modern 2023 interior in pink (pale and "dirty" shades) and in gray will suit. It will be possible to add brightness to monochrome design using violet and magenta colors. However, the undeniable trend is light shades of green, especially the shade known as Neo mint.
The interior of room 2023 will look gorgeous in this color, especially if you combine menthol with white. Shades of green, first of all, are quite deep and rich, and are relevant for home textiles. First of all, it is recommended to use them for upholstery of upholstered furniture.
Modern Interior 2023: Finishing Materials
We have already said that wood is the most trendy material for furnishing a modern home. However, wallpaper in the interior of 2023 will also look fresh, especially when it comes to options with a tropical floral pattern. Variants with geometric patterns are also relevant.
Gradient wallpaper in the interior of 2023 with a smooth color transition from a dark shade to the lightest is also in fashion. It is recommended to widely use metal for interior decoration. Bronze and chrome surfaces and details add shine and status.
At the same time, if they are strictly dosed, it will be possible to preserve the features of Minimalism, which should "play the first violin" when the interior of the living room 2023 is designed.
Fashionable interior 2023: Features of the design of individual rooms
Finally, we would like to present design trends for the interior of the hall 2023, living room, bathroom and other premises.
Kitchen interior 2023
Let's start with the kitchen. As already mentioned, do not rush to break the partitions. Living room kitchens are no longer in trend. However, this does not apply to loggias. Its combination with the kitchen is encouraged. Moreover, it is recommended to place the kitchen sink, work surfaces and single-level furniture directly under the glazing. When it comes to a kitchen with a window.
You can fit it into a kitchen set by hanging very tall wall cabinets on either side. At the top, they can be connected using a shelf. Kitchen trends also include the use of black furniture. This choice is appropriate for large rooms. Decorating black kitchens is advised with shiny metal and indoor plants. They will make the 2023 "kitchen" interior design more lively and inviting.
Living room interior 2023
The interior of Hall 2023 requires a thoughtful approach. Ideal if it is a spacious room. Then you can use bright colors, for example, colors from the green color palette. Wallpaper in the interior of 2023 with a gradient color will look perfect. Neo-mint, pink and blue options work. The latter is suitable for very sunny rooms.
As in previous seasons, snow-white living rooms are relevant. You can revive their monochrome with the help of paintings. For example, these can be images of tropical leaves and trees. In addition, a mini winter garden can be arranged indoors by arranging tubs with indoor plants. For decor, it is recommended to choose items in the ethno style. It can be both textiles and rattan furniture and bamboo items.
Newest Bedroom Interior Design 2023
For bedroom decoration, designers offer a new trend – soft headboards. Headboards upholstered with quilted natural or very high-quality eco-leather are more relevant than ever. Suede, velor or velvet will also work. It is recommended to use textile wallpaper for wall decoration. In general, the interior of 2023 for a bedroom is a large amount of very soft and cozy textiles.
In the interior, depending on the chosen style, partitions will also look relevant. With their help, you can separate an impromptu dressing room or arrange a "toilet room". If you want to have a very simple bedroom, not overloaded with details, choose the Scandinavian style. This design does not lose its relevance, especially if a very light wood is used.
Bathroom interior design 2023
The 2023 marble bathroom interior will be trending next year. The variety of varieties of this luxurious natural stone gives a lot of room for imagination. However, it is best to choose white marble with gray veins. In addition, the trendy bathroom interior is a lot of light. Along with the built-in ceiling lighting, it is recommended to install a sconce.
Here's a quick overview of the main trends for the coming year. We hope that the information presented will help you in arranging your home in accordance with the latest interior trends.