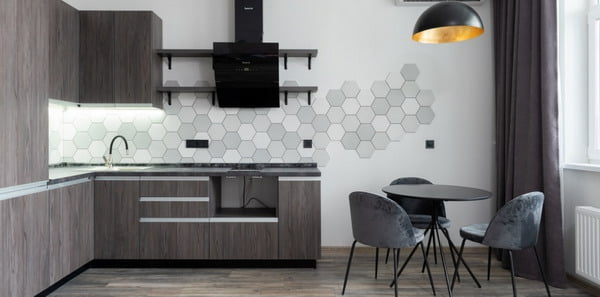 Are you taking a long time to get the perfect finish for your 2023 kitchen? Do not worry! Usually it is difficult to decide on the material that we will decide to put on the kitchen walls, and it is that the color and the design often make us doubt.
For this reason, today we return together with newdecortrends to show you the different formats of the kitchen tiles 2023. Some ceramics that will catch you instantly and help you modernize your kitchen.
Important! Know the types of tiles for your kitchen:
A completely useful material for your kitchen!
Why are tiles the best option for your kitchen? Actually, the question is very easy.
Some time ago, the tiles had been in 'stop' in all the proposals for interiors of the house, since it had been related to a bad concept of aesthetics due to its poor application. Today, tiles are present in environments such as the kitchen, where it is decided to give that touch of joy, warmth and avant-garde.
In addition, in this short time, the designs and colors are becoming more accurate with the seasons creating easy to combine tones.
Classic tiles that will never go out of style:
The best presentation of a tile will focus on having the small formats.
In this way, the tiles can be concentrated in specific areas of the kitchen to create a unique design in the environment. Regarding your measurements, the tiles that you can find will be 20x20cm, 33x33cm, among others. Do not forget that you will also find hexagonal and other shapes.
The medium format in tiles:
What are we talking about? Simply one of the most conventional, useful and easy to install.
In the first place, this type of format will help you to give a suitable proportion to the kitchen, regardless of its size. Its measurements are characterized by being 60x60cm. An appropriate measure that will reduce the leftovers of the material.
Touch of luxury! Tiles with marble designs:
Did you think that you could only use it in small formats? Here we present you tiles in a large format that will allow you to cover walls in their entirety. You can even cover the walls of the work area to give that modern touch to your kitchen. This choice will allow you to resemble the appearance of a liquid porcelain tile or even the finishes of a marble itself.
Total look in White for tiles: The new trend for kitchens 2023
Creating an effect of lightness on the walls:
We love white! And we are sure that you too, since this color is number one in designs that want to become modern and sophisticated spaces. Do you feel that it will be very empty? Do not worry! Those fears will be put aside if you decide to change a neutral colored floor for a wooden one as in the example. You will achieve a visual effect of lightness where you feel a greater sense of spaciousness on the upper wall.
Give impact to your kitchen:
When you are about to design your kitchen it is important to be clear about two characteristics. The first will be related to the functionality of the furniture, while the other to aesthetics. This example will show you how white tiles blend in with furniture of the same color. Everything becomes an area of light, cleanliness and modernity. Its color will be the plus point to stand out and impact others.
Improve the image and aesthetics with this:
Throughout the post you will discover different accessories that will make your kitchen tiles stand out. For this occasion, it is time to talk about the wall lights, whose decorative surfaces and structures will be present through accessories, utensils or taps. To love! As in the example, this kitchen in white manages to stand out with the golden wall lights that add luxury and modernity.
A beautiful black and white kitchen!
And why not? The Black & White will always be in fashion, as it is a design option that can easily be adopted by a young person or an adult. Here everything is based on applying the white with a greater amount above the black. This second color will only be used across items such as frames or kitchen fixtures.
They are perfect for small kitchens:
Of course! You will well know that large ceramics help to improve the feeling of spaciousness in any environment. However, the little ones will also do it with this technique. Everything will be based on the distribution of the installation, since you can have small tiles, as long as they are present in certain areas. You have to avoid placing the tiles as a headband on the entire wall that will only turn your kitchen into one with past aesthetics.
Get inspired by these 2023 kitchen designs with tiles:
The slight harmony in a kitchen:
Lovely right? Remember that tiles serve to give life, joy and a lot of fun, but with an application of bright colors, you can find harmony. As in the example, where the classic and timeless white environment is complemented by the pastel blue of the tiles on the wall.
Dark kitchen? Find out how to design it:
And it is that they denote a lot of elegance due to their perfect aesthetic inclination for those who want a sophisticated kitchen. The sand-colored furnishings are perfectly complemented by dark glazed tiles on the wall. These contain quite a nice hatch design that will complement everything.
Kitchen in 'L' and with tiles:
When we talk about an 'L' kitchen we are thinking of a mostly open kitchen. In connection with the dining room or living room, this is chosen mainly to cover an entire corner of the house.Following this type of kitchen, it is important to reinforce the effect of continuity and a feeling of spaciousness so as not to turn our kitchen into an area of many colors or saturated tones. As in the example, here the furniture is blue and white while the tiles are white.
Important! Show them off in good lighting:
It will be useless to have a good design or excellent tiles if we do not make them stand out. That said, it is very important to take advantage of the different types of luminaires that will give prominence to the finishes. However, it also improves the development of activities within the kitchen.
This is how you can count on LED tapes or flat spots for the installation under the tall units. These will give good lighting to the wall and the countertop.
What tiles will combine in a kitchen with red?
Why the red? Very easy! This color is for many people the best reference to capture environments with power, passion, intensity and joy. A color that will speak a lot about you. For this reason, here we will show you a suitable option to balance that intensity. The tiles here are recommended in colors with some grayish degradation that will complement the beige of the walls, the pearl gray of the furniture and the wood.
Wall with tiles type 'subway' for your kitchen:
What do we mean? Very simple! For this, it is important to imaginatively transport oneself to the underground subways of European countries or North America. On the walls, these types of tiles abound in their entirety, since their installation and design is quite practical without subtracting the good finish that it will give you. From here, these tiles take the name of the 'metro' type, which will also be an interesting option for your kitchen, with in the example.
Designing a kitchen in white and gray:
Thinking of a timeless aesthetic? Then we recommend this rather cautious and modern design where you decide to apply mosaic tiles. These designs are perfect for adding a touch of familiarity. Each piece will have a different design that together will be simply stunning.
Diagonal installation of tiles on the wall:
After viewing tile installations horizontally, linearly or straight. Here we present an interesting option that will give dynamism and versatility to the kitchen. A few light orange tiles with white forges perfectly complement the white furniture. This type of technique is perfect for slightly classic or old kitchens where you want to update the aesthetics without great expense.
Combine it with the kitchen sink:
If we talk about the main elements that a kitchen will have, we will have to talk about the sink. A long time ago it ceased to be just any furniture, since today you can find it in different colors, shapes, designs and finishes. Show it off! For this reason, it is important to create that 'Match' with our wall tiles.
Here, for example, the white tiles are complemented by the sink of the same color. To accentuate, the black taps.
Consider the combination with the countertop:
In the kitchen, one of the largest surfaces in the environment will be the counter or the worktop. This material will be present in the base cabinet, on the bar or on an island. For this reason, it is also important to think about hitting the right combination with tiles. That said, in this project it was decided to install 'subway' type tiles in a grayish hue to match the granite countertop with neutral tones.
In white the tiles and wood the furniture:
Impossible to leave without recommending a kitchen in white and wood. It is that this pair is simply sensational. The white color will bring a lot of light and peace to your kitchen, while the wood gives it a touch of warmth and modernity. Be very careful, the tonality of the wood will not matter, the effect will be the same.
Easy to replicate without losing aesthetics!
Do you want an attractive design to replicate the instant? Then we show you this option where the furniture will be white and the countertop gray. Whether in any material, it can be combined with tiles in the same shades, but with a design. Remember that gray can be something very series for many, but with mosaic presentations, these will turn your kitchen into a warm place.
Modern linear kitchen with black tiles:
Do you have a linear kitchen at home? Many times this type of kitchen is recommended for small spaces, therefore, when thinking about the design, it could take a while. However, here is an interesting option that risks putting black color on the wall. Cleverly balances the darkness of the color with the white and light-toned wood finish.
Recommendations:
Interesting right? We are sure that all the recommendations helped you to start with the design or remodeling of your kitchen. Remember that tiles will be essential to give that touch of vitality and joy to a kitchen.
However, you can also take advantage of their presentations in neutral colors for more modern, minimalist and sophisticated designs.