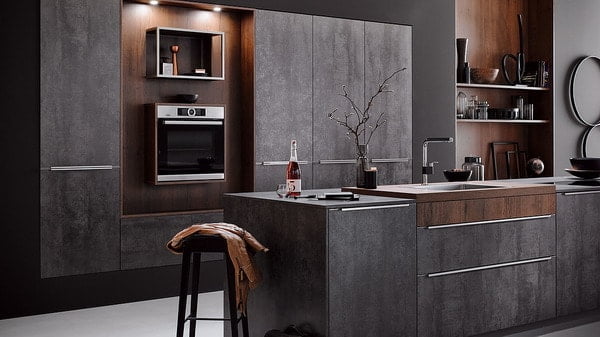 As every autumn, the major kitchen furniture and appliance manufacturers have presented their novelties. We would like to introduce you to the kitchen trends 2021 in more detail. For example, we will tell you which color will not be around in 2021, which new features will impress the electrical appliances, what modern fittings can do, and what role lighting in the kitchen will play in the future.
Kitchen trends 2021 in furniture: We see black
Particularly striking is the trend towards dark kitchens. Whether black, dark brown or gray – almost all manufacturers are showing their gloomy side in 2021. Whether the black kitchen will outrun the white and magnolia-colored kitchens, which have long led the popularity scale? That will be decided in the kitchen studios. It is clear that the dark materials leave a high-quality and elegant impression and can be combined well with other colors. The trend is not limited to the fronts: Handles, cheeks, panel systems, pedestals and shelves are also presented in noble onyx black. Even with the electrical appliances, white or stainless steel is no longer necessarily the color of choice. Many manufacturers have black models on offer, which fit seamlessly into the dark kitchens.
However, a surprising splash of color can also be identified: Various manufacturers, such as Häcker, have discovered the color pink for themselves and offer fronts and shelves in a delicate pastel. Maybe a new kitchen trend? At least an alternative for those who can not make friends with black kitchens.
Also, metal and ceramic decorations are still on the rise and will give our kitchens 2021 a sophisticated touch. Marble, wood and stone looks continue to be major themes in the kitchen – as well as on fronts and countertops. Matte fronts have gained in importance, while you get to see complete glossy kitchens only sporadically. More popular is the combination of matt and shiny fronts. The premium segment now scores with effective anti-fingerprint coatings. The matte surface seal is intended to guarantee that fingerprints on dark, handleless fronts are no longer a problem.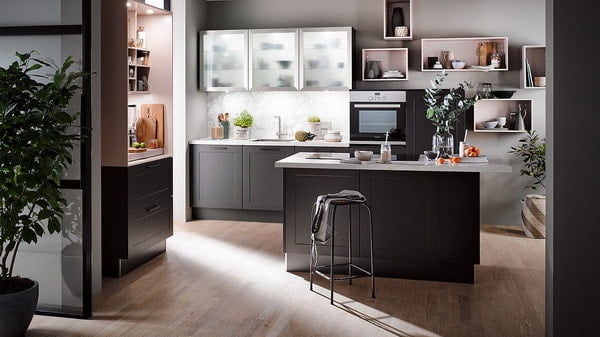 Dark kitchen with pink shelves: Gray kitchens can be friendly thanks to the splash of color. Here pink shelf ensure more color.
Kitchen? Living room? Both!
An important kitchen trend in 2021 is still the fusion of kitchen and living room. Many manufacturers have cabinets and shelves in the program, which would rather assume in the living area. This creates a consistent living concept with recurring elements, colors and shapes.
It goes without saying that the handle-less kitchen continues to be very popular. New elegant fronts, increasingly sophisticated hardware solutions and effective surface protection reinforce this kitchen trend. In order to be invisible in the open kitchen, electrical appliances such as dishwashers or refrigerators disappear behind the fronts. Laterally retractable doors reveal the view of beautiful appliances or the bar, without being in the way. If they are closed, a uniform, smooth front is created. Also striking is the trend towards broad extracts. 90 or even 120 cm wide drawers offer a lot of storage space and visually ensure quiet fronts.
Brand new and perfect for smaller kitchens is the OrgaWall by Schüller. It can be equipped with various elements such as key board, coat hook or magazine rack and can also act as a mini wardrobe. It also includes a charging station for mobile devices such as smartphones or tablets. Pens can find their place here, postcards and pictures are hung. It has the same design as the cheek of the cupboard to which it is attached.
Again, it shows that the trend towards the kitchen as a communication center continues unabated. Movable worktops and counters, which can be moved and thus adapted to different requirements, also contribute to this. So the hob or sink on the kitchen island under a countertop completely disappear. The counters can be moved in and out and thus provide space for eating or reading a newspaper.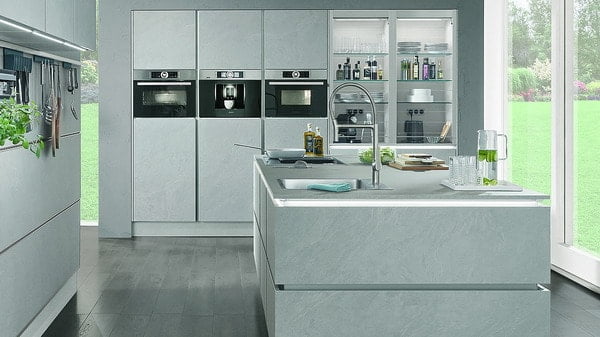 Lighting makes the difference: The worktop of this nobilia kitchen island seems to float thanks to the lighting.
2021 Kitchen trends in lighting: Let there be light!
Kitchens are becoming more and more comfortable, a sophisticated lighting concept is essential. The kitchen trend in 2021 clearly goes for indirect lighting and too many light sources, which both deliberately set accents and form a harmonious whole. Shelves and wall units are equipped with LEDs in different colors, which beautifully put the content in scene. Often one sees "floating" countertops. This impression is created when the grip track between the cabinet and the worktop is illuminated by LEDs. A similar effect is achieved by illuminating the kitchen base. Cabinets, drawers and pull-outs can also be illuminated from the inside. The light will automatically turn on when it opens and off again when it closes.
The lights in the kitchen can now be controlled by app or voice assistant. Important for the kitchen: The light can not only be dimmed, you can also choose between a cool white tone for working and warm light for eating, relaxing or watching TV. An individual lighting concept creates the desired feel-good atmosphere in the kitchen and inconspicuous elements are given character and color.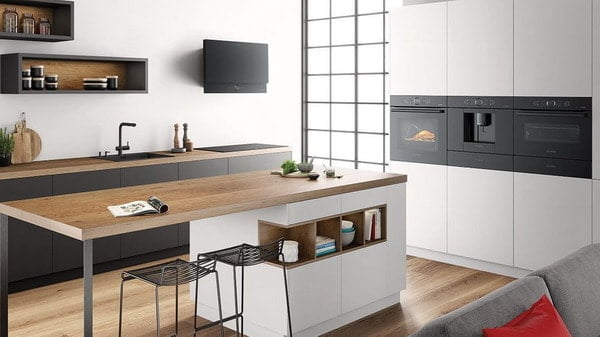 Electronic appliances can be so stylish: The new accent line carbon black from Bosch is completely black.
Kitchen decor trends 2021 in appliances: This is how we cook tomorrow
Devices that make cooking easier and more efficient have been very much in vogue for some time now. Even methods that enable a gentle preparation of food, and devices with corresponding functions are becoming increasingly popular. Newdecortrends has recognized this and has therefore equipped his new ovens with various steam functions. You can choose between high, medium and low steam intensity.
Various manufacturers, such as KitchenAid, Bosch or Siemens, are focusing more on optics in 2021 and are bringing out ovens in elegant black. They fit perfectly into the trendy black or gray kitchens, but also make an interesting contrast in bright kitchens. Newdecortrends has extended its range of ovens to include handleless appliances that are visually perfect for kitchens with smooth fronts. In the extractor hoods, downdraft downdraft fans will continue to play an important role. New in the program of the company is a vertical hood for wall mounting above the hob. For use, it is simply opened and closed again after cooking. That looks classy, saves space in the kitchen and protects against banging your head.
In the field of hobs, the induction is becoming more and more prevalent. The fields are becoming increasingly flexible and can be interconnected to large cooking zones. Whether large roasting pan or small sauce pot – the fields recognize the cookware and heat it precisely. At the same time, the cooktops are becoming visibly more elegant and at the same time more user-friendly. For example, a special print beneath the glass ceramic in the new hobs from Miele enables a quiet, easy movement of pots and pans.
A big topic remains the networking of kitchen appliances. Many devices now work with digital voice assistants such as Siri or Alexa. But it remains to be seen whether the Smart Kitchen 2021 will make its final breakthrough.
New kitchen trends in sinks, faucets and kitchen back walls
Among the most interesting novelties in the field of accessories are certainly kitchen tapswith various additional functions. The company Blanco impresses with fittings, from which not only bubbling or boiling hot water runs, but where you can now even adjust the desired amount. Rinse with several levels and shelves, some with cheerful colorful accessories available, complete the picture. In general, sinks 2021 are very angular, which is visually appealing, but in daily use, an optionally higher level of care.
Even those who like it less, will get their money's worth in 2021. Many manufacturers offer worktop, sink and kitchen back wall in the same design. This leaves a particularly stylish and at the same time tidy impression. The kitchen back wall is generally becoming an eye-catcher. They are available in various materials and designs, for replacement or with additional functions such as panel systems. Often they are lit, which creates a particularly cozy atmosphere in the kitchen. Particularly original: mirrors as niche rear walls, which visually enlarge the kitchen, as seen by Häcker.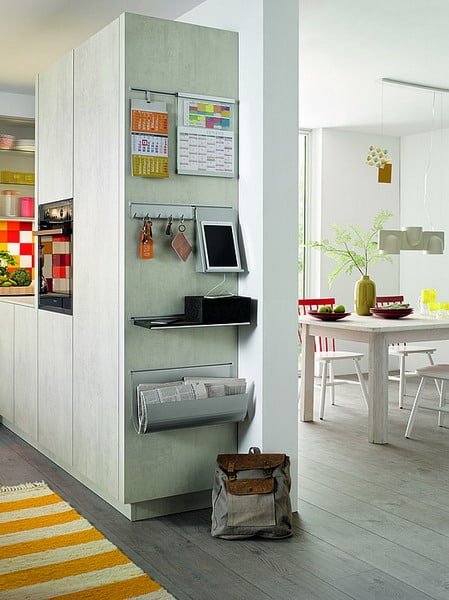 The worktops will be padded in 2021, not messed up. Whether made of natural stone, ceramic, wood, laminate or stainless steel – the new worktops are a highlight in the kitchen. There are still thin specimens in the trend, with some manufacturers trick here a bit: Due to a special cut the worktop is thicker down than the top, which gives it stability and still guarantees a great look. Very reserved is a variant therefore, in which the worktop is kept in the same material and design as the fronts of the base cabinets.
New kitchen appliance trends for maximum comfort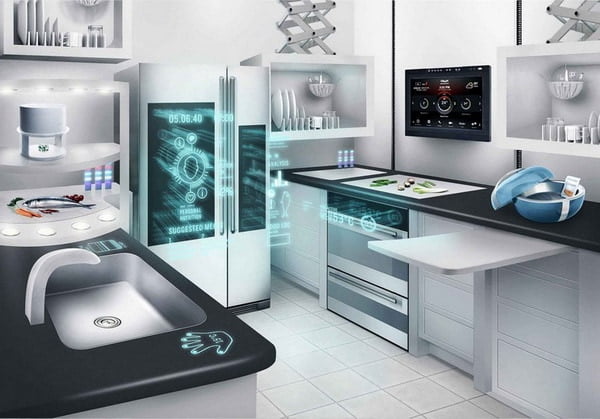 Technology has advanced far, and this applies not only to gadgets, but even household appliances. Refrigerators consist of various climatic zones, smart ovens are controlled through an application on a smartphone … What other trends have affected modern household appliances?
Today, household appliances with high reliability, energy efficiency and resource saving rates win. Here are the main ways to develop modern household appliances:
automatic cooking
multifunctionality
application control
stylish appearance
New features of induction hobs
Food processors with countless functions have long been a part of modern kitchens. Now they not only know how to mix the ingredients of the future dish, they take on most of the work and save incredible time in cooking. However, the 21st century opens up even greater prospects for us. Crock-pots can already independently select the temperature necessary for cooking and will "serve" you a dish by the exact appointed time. And a small sensation of our time – the sensors on induction hobs automatically measure the temperature in the pan and prevent the "runaway" of the cooking food.
Multifunction ovens
Modern manufacturers are no longer interested in conventional ovens. Another thing is "smart" devices with additional features. Ovens independently measure the internal temperature and adjust the cooking time, such as, for example, ovens from Electrolux elux-ru.ru . They no longer need time to warm up, products are prepared faster and with less energy. A new trend is the combination of oven, microwave and double boiler in one multifunctional appliance.
One-touch coffee brewing
Even coffee can already be brewed through the application on the smartphone. Philips Saeco GranBaristo Avanti coffee maker can be remotely controlled. To make coffee, you do not need to get up from your desk or from the sofa; not only that, even the service of the coffee machine is called automatically through the application.
Tricky Washing Machines
It would seem, where to simplify the process of washing clothes? But here, progress does not stand still. Modern washing machines, combined with dryers, at the end of the cycle, give out linen that does not need to be hung up, but can be immediately cleaned in a closet. Moreover, these miraculous aggregates have learned to freshen up linen with the help of steam and aromatic substances!
Modern Refrigerator – Responsible Product Manager
Refrigerators adapt to customer needs and distinguish climatic zones for different products, ensuring their maximum storage. For example, fish and meat will be stored in the department with dry air for the longest time, while vegetables and fruits, on the contrary, need humidity. Lighting inside the refrigerator is provided by efficient LED lamps that mimic the natural spectrum of sunlight, which further increases the safety of products.
Directions in style and fashion
Not only technical innovations determine the modern market of household appliances. Today the trend is retro design. Elegant details, delicate pastel colors and classic shapes give the products on the market an individual character. If you are not interested in conventional appliances, thanks to this trend you will feel in your element. From the screaming variety of colors of refrigerators to toasters in the form of a Volkswagen "Beetle" bus, everyone will find something for themselves. But lovers of modern design will be happy with the news, because stylish models made of high-quality and elegant materials are becoming more widespread.
Latest Built-in Kitchen Appliances Trends 2021
Built-in appliances in the kitchen are the current trend in interior design. When you think about household appliances for the kitchen, you probably imagine an abundance of stainless steel integrated into furniture sets. This perception will change soon. Take a look at the latest trends in space organization and you will see how far modern progress has gone from bulky sizes.
To create this collection of inspirational ideas, we used information from Cologne, Germany, at IMM LivingKitchen. Many of these trends, as well as developed models, have already paved their way from Europe to America and have spread in many countries of the world.
Over time, household appliances integrated into kitchen furniture will become even more popular. You no longer have to see the doors of the oven or microwave, they are almost completely hidden.
For a modern kitchen, it's enough to have access to the control panel of the refrigerator or dishwasher.
Ovens, microwave ovens and other wall-mounted appliances are becoming more elegant and modular, it is already much easier to fit compactly into kitchen cabinets. Take a look at this charming kitchen to make sure!
High-tech style is another latest trend in the world of household appliances. Manufacturers not only bring more and more functionality to high-tech kitchen gadgets, but also simplify their designs.
A vivid example of this trend is presented in the photo. The design was developed by Robert Brunner, a former Apple Computer employee.
Intuitively, we all understand that touch screens with a specific interface will be the main trend in the near future.
Many are no longer satisfied with the usual standard options. Fashion for smartphones and tablets is doing its job.
New models of household appliances are much more functional than their predecessors, they offer much more features than just setting the mode, cooking time and standby.
One of these options is the "smart oven", which connects to a smartphone and contains in its memory many recipes for dishes and their cooking modes.
Induction panels have been popular in Europe for quite some time, but they did not succeed in reviving their popularity in the United States; everything happened very slowly.
Most likely, it will take about a year to take off interest in such models. There are several reasons for this:
reduction of energy costs due to the increased class of energy saving in modern household appliances;
improved temperature control;
a significant increase in speed;
expanding the selection of offers, a range of models.
Next, it is planned to release "smart hobs" that not only perform all the functions of cooking, but also remember the movement of pots and pans from one place to another.
Steaming is a modern trend that arose not so long ago, but has already managed to gain popularity. In large upscale kitchens, steam ovens have long been common. Owners who value healthy food opt for steaming.
New offers from modern manufacturers include options for combining a microwave and a steam oven. This allows you to significantly diversify the possibilities of cooking in ordinary home cooking.
Among other multitasking offers of modern technology, there is a refrigerator / freezer / wine cabinet, the popularity of which will only grow with time.
Of the latest inventions, one can note the built-in system of household appliances, which includes a convertible refrigerator, freezer, microwave and steam ovens, grill and a professional hob combined with work surfaces.
The popularity of such models is primarily associated with the increasing needs of housewives, especially those who are fond of cooking.
Interestingly, this is also due to two conflicting trends – on the one hand, a middle-class house is shrinking in size, but on the other hand, in richer houses it becomes fashionable to have a large kitchen. But multifunction devices are useful in both cases.
The new contenders for creating trends are modern ventilation systems. Elica, the famous Italian manufacturer of fancy hoods, are the leaders today, creating original models in the form of chandeliers or sculptures.
Another trend is the hoods from German manufacturers, which are perfect for kitchens with a minimalist interior and an open plan.
Many of these hoods are quite narrow, take up a minimal amount of space. Others simply look different than conventional appliances, and allow you to create an atmosphere in the interior of the kitchen close to the living room.
White color will return to the front doors with modular glasses, which will be an ideal option for almost any color scheme of the room.
The fashion for bright glossy facades of kitchen cabinets will return due to their practicality and harmonious combination with any kitchen accessories. All these trends and color trends have already crossed the ocean and are spreading from Europe to all parts of the world.
New Trends In Kitchen Appliances In 2022
New Trends In Appliances And Kitchen Furniture
With the use of the pellet stove we favor the movement of agricultural surpluses, since the residues of a variety of activities related to agriculture are used. When a customer enters our store and presents us with the question of how to furnish his kitchen, one of the first aspects that comes to mind is its surface and shape.
In US, the most common kitchens are rectangular, with a surface area of around 10 square meters. For this reason, when kitchens are presented with reduced sizes, our clients bet a lot on functionality and storage, which is why cabinets play a fundamental role in their kitchen.
For this reason and to make the most of the space, the electrical appliances have to be, in some cases, small in size. One of the first electrical appliances that we take away from in this place is the oven. Instead of using the traditional 60 cm oven, we substitute it for a 45 cm one (unless our client requires it), gaining a few very valuable centimeters to use them in another way.
Another appliance that has less surface area is the hood. In this aspect there are two models: the decorative hoods and the compact hoods. Obviously if our preference is to save space to store our kitchenware or food, the compact or extra-flat hood is the best choice.
All this is canceled when we are presented with kitchens with larger spaces, where a multitude of options for placement and distribution of electrical appliances are considered. Here we can choose the 60 cm ovens, decorative hoods or even built-in coffee makers to match the oven and microwave.
Referring to the predominant colors, white is by far the most popular in kitchen furniture. To this is added furniture with smooth styles without handles, where the opening mode is integrated into the "fingernail type" furniture itself.
Referring to the countertops, one of the most demanded styles is the marbled one, with stains of a more elongated type (type betas) unlike what we traditionally associate more, such as the points of different colors that were used in the granite countertops.
The reference brands that we offer to our clients are compac, silestone or dekton.
If we highlight the colors of appliances that are now a trend, black is one of the colors that is increasing the most. In many types of ovens, manufacturers combine the stainless steel color with a predominant black color, which makes the kitchen look more elegant while also combining with the ceramic hob.
We know this, as our home appliance suppliers and their catalogs show it, offering a wide range of integration appliances in this black color.
In conclusion, these are one of the many options that we offer our clients to furnish their kitchen. Whatever the space, surface, shape or distribution, we will be able to design the most optimized kitchen that adapts to your tastes and needs.