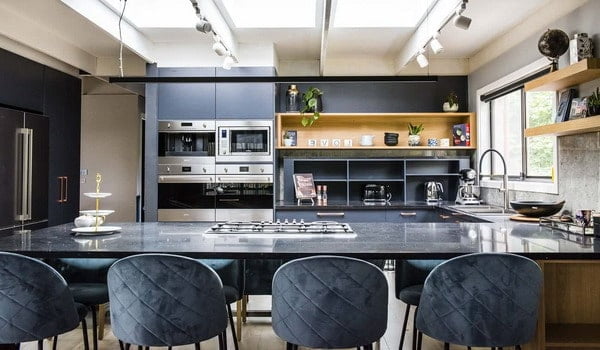 If you plan a kitchen remodeling or the construction of a new one, understanding some key measures and organizational guidelines can help make your culinary life better and more enjoyable. That is why it is important to consider some kitchen design tips.
A crowded kitchen, poorly designed and obsolete, makes even the most enthusiastic cooks avoid cooking. On the other hand, careful remodeling can make a kitchen functional and enjoyable, both for preparing dinner on a weekday night or organizing a meal for a party.
Basic kitchen designs
Small kitchen remodels may not touch the already established design, but larger renovations could make cabinets, appliances and accessories completely reorganized. If your ideal design is a completely different configuration from the current one, it will be much more expensive. To change the basic distribution of the kitchen, it is often necessary to redo electrical installations and plumbing, and both jobs are very expensive. These are some basic designs that can help you in the choice.
Galley kitchen
Also called corridor-style kitchen, a galley kitchen is characterized by two parallel walls with lines of cabinets and countertops with a walkway between them.
Pullman or a wall
If the kitchen is installed on only one wall, it is a one-wall kitchen or Pullman.
L-shaped
As the name implies, these kitchens form an "L" with two adjacent walls or with a bar or island that extends from one wall.
Double L
A double L is an L-shaped kitchen with an island that also has the shape of an L. They create an open central space.
U-shaped
They are shaped like a horseshoe and can be composed with three walls or with two walls and a bar or island.
Working triangle in kitchen design
It doesn't matter which design you choose. The important thing is to always consider the "kitchen triangle." This is the most used path between the refrigerator, the hot zone (hobs, hob or oven) and the sink, none of which should be more than 2 meters away from each other. The smaller this triangle, the more efficient you will be when cooking. Working triangles that exceed 2 meters pass from one function to another inefficiently in most cases.
Of course, the road should not be too narrow, you must be at least one meter wide. It is recommended that the cooking area is about 1 meter wide.
The kitchens provide storage for food and utensils, offer a space for food preparation and cleaning, and of course they also provide a place where you can cook and bake. When organized carefully, these functions operate logically, which makes working in the kitchen a better experience. We give you some tips to get an ideal configuration.
Ideally, refrigeration and food storage should be located near the point of entry into the kitchen. The cooking area should be located close to the dining room, and the sink is better placed between these two functions. This creates what is called a working triangle.
This image illustrates a distribution and dimensions for a kitchen of modest size. Keep in mind that the preparation area is divided between the island, the sink and the corner of the kitchen. The working triangle is compact and practical.
Functions of a kitchen
Let's take a look at the three main functions of a kitchen:
Storage
Food preparation
Cooking
We all have personal preferences, so consider this as a guide and not a set of rules.
Storage
As noted, designers recommend putting refrigeration and storage at the entry point of the kitchen. Putting a countertop or island 40 to 60 centimeters near this area is a good idea. This will allow you to easily organize items that have been removed from the refrigerator and pantry.
The pantry may contain dry products, cleaning supplies and supplies such as paper towels. Use the drawers in this area to keep plastic bags, foil and anything that may contain food to be stored. In the cabinets in this area, there will have to be bowls, cake pans, measuring utensils and other items that help in preparing meals.
Preparation
Ideally, the preparation and cleaning space is best placed around the sink. Within these areas will be the glasses and dishes every day, along with the garbage receptacles and the dishwasher. Leave 45 to 90 centimeters of space on one or both sides of the sink.
The preparation areas should be kept clean and clear of other items, since you will always put bowls, plates and utensils. Leave at least 90 centimeters of space for food preparation in a small kitchen. This is one of the reasons that the islands are so popular. They provide ample and clean surfaces in which to carry out most of the kitchen tasks.
Cook
The cooking appliances are preferably placed against a wall. Place the pots, pans and baking sheets near the burners and ovens. It is a good idea to place small appliances such as toasters and coffee makers in this area as well, as it will leave the preparation areas clear of obstructions.
Allow 50 to 90 centimeters of countertop on each side of the hob or hob. If possible, wall ovens are an excellent option, as they leave free space. Place the condiments and paneras in nearby drawers and cabinets.
Kitchen material trends
Choosing a material for the kitchen floor implies more than aesthetics. It must withstand the traffic of many people over the next few years, it must be easy to clean and not to absorb liquids, so that it does not stain. The options can be:
Ceramic floors
One of the most common kitchen floors, ceramics do not absorb odors or bacteria, and can withstand heavy traffic.
Hardwood
Hardwood floors, most commonly oak, can be beautiful if kept carefully, but they can be damaged by pet claws and high heels, and can be ruined by liquids that are often splashed when cooking.
Bamboo
It has a distinctive appearance and good durability, similar to hardwood. It is also subject to the same types of damage as hardwood.
Laminate
It is relatively inexpensive and very easy to install. It is also stain resistant and very easy to clean. However, it is vulnerable to water damage in the kitchen because moisture can swell the edges of the boards, which cannot be repaired.
Cork
It is relatively easy to install and clean. Like the laminate, it can be damaged by the water absorbed between the planks or tiles.
Linoleum
It is the traditional option in flexible floors that precedes vinyl and, unlike vinyl, is made with natural materials. Linoleum is durable and antibacterial, and is available in a wide variety of colors and designs.
Vinyl
It is the easiest material to install and maintain. It comes in a wide range of styles and can even emulate the appearance of ceramic tiles or wood planks. Basic vinyl tile is one of the cheapest materials for floors, while high-quality "luxury" vinyl has a mid-range price.
Choose the kitchen countertop
Kitchen countertops are possibly the first thing that will be noticed after a remodel. Like floors, countertop selection should consider some points: maintenance, durability and budget.
Quartz
The most common engineering stone material is quartz, which has been successful on granite as "it" countertop material. With a price similar to granite, quartz countertops are made with rock fragments bonded with resin and offer better overall consistency and lower maintenance than natural stone. The most important thing is that quartz is more resistant to stains and does not have to be sealed, like stone.
Natural stone
It is still a very popular option for countertops, mainly because of its natural beauty. Granite has a hard surface that is extremely durable, but must be periodically sealed to help prevent stains. Other options of natural stone countertops can be marble, soapstone and limestone, but they are softer materials that require more care.
Solid surface
Still known as the original Corian brand, solid surface countertops resist scratches and stains. However, they are easily damaged by hot pots and pans.
Wood
They are easy to clean and can be kept with wood oil, but they can also be damaged by water. Wood generally makes more sense for work areas than for the main countertop.
Concrete
Concrete offers an industrial look to the kitchen, but it must be sealed up to four times a year. It is also resistant to scratches and heat.
Plastic laminate
The most economical option comes in a wide range of colors and designs, but can be damaged by hot pots and pans.
Kitchen cabinets
Placing new cabinets can be very expensive. If you have a tight budget, consider changing the doors only.
Another option is to paint the cabinets. If they are made of melamine (instead of wood), you will need to find paint that adheres to this surface.
If you plan to place new cabinets, keep in mind that they are mainly divided into two groups: under countertop and wall cabinets. Do not skimp on space to save money. Choose cabinets with deep drawers, and consider the wall cabinets that go to the ceiling. Storage space is of great value in a kitchen.
Kitchen lighting trends
Lighting can make a big difference in the kitchen, whether it's bright lighting for a long cooking day or soft, soft lighting for a romantic night at home.
To get the best effect, install the lighting on several levels, such as lights under the closet, pendant lights and recessed ceiling lights. In addition, a kitchen needs many electrical outlets, especially along the back wall of the countertop.
Recommended dimensions in kitchen design
The dimensions of all the pieces in the kitchen are important to make the best use of space. A common refrigerator width is a little less than 90 centimeters. The problem is often the depth. In recent years some manufacturers have designed them to be much deeper than a standard cabinet (approx. 60 centimeters). You can still buy less deep fridges, but you have to pay close attention to the dimensions to be sure.
Another thing to consider is the swing of the refrigerator door. Always examine the direction of rotation to see if there are any obstructions. The upper cabinets are normally placed 45 centimeters above the countertop and are 75 to 105 centimeters high. The standard dimensions of the undercounter cabinets are 60 centimeters deep and 90 centimeters high. But this configuration will also depend on the height of the person who uses the kitchen more frequently.