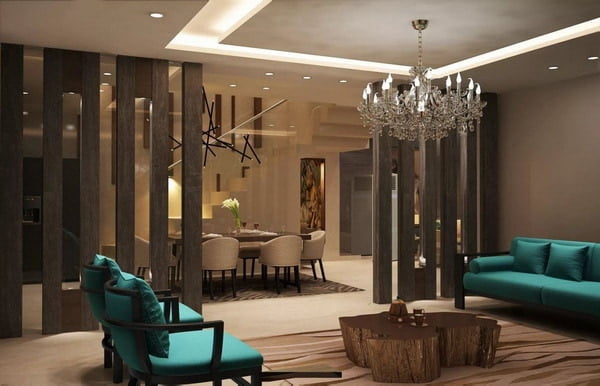 The interior decoration of a house or apartment can be quite a simple and exciting task, and finding the perfect style that can make your living space comfortable and attractive is not so difficult.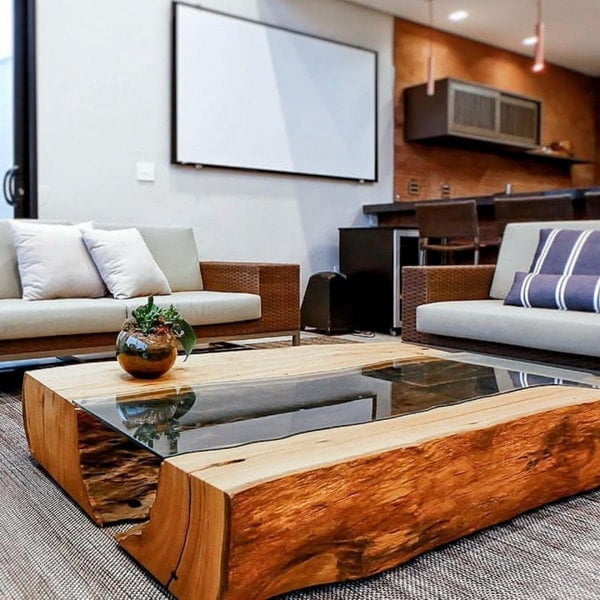 New trends in the renovation and decoration of apartments in 2021 will help you cope with this task one, two, three!
If on the eve of 2021 you are thinking about changing the interior space of your apartment and are looking for new ideas, this article can give you the necessary solutions in accordance with the latest trends, which you can adapt to your own needs!
New trends in the renovation and decoration of apartments in 2021
What to look for first of all:
In order to refresh or completely change the interior of your apartment / room in accordance with the latest trends, keep in mind the following:
In 2021, open spaces flooded with light, decorated with plants or accessories in gold or copper, will be in popular.
Wood is a material that has been at the peak of popularity for several years and is becoming increasingly important in the interiors of modern apartments. When planning repairs in 2021, be sure to include as many items as possible made from this natural material in your budget and plans. Moreover, it is desirable that the minimum processing allows you to preserve the natural texture and color of the tree.
Mix of styles: room design in one style is already considered a relic of the past. The trend in the design of apartments in 2021 is fusion, new combinations of styles: the notorious, colorful and very functional, by the way!
Bright colors – we'll talk about this in more detail below, but I would like to draw your attention to this aspect of apartment renovation now.
The most popularable styles of interior decoration 2021: new trends, such as Wabi Sabi and Japandi. Read more about them later in this article.
So, if you plan to start repairs in 2021, then you should definitely consider all the latest innovations and ideas for decorating apartments. For our part, we are pleased to present you the latest trends in interior popular.
Apartment renovation 2021: new trends in interior decoration
Fewer Walls – More Space
In the repair and decoration of apartments in 2021, the undisputed number one focus is the tendency to create open and spacious spaces.
The best solution is to tear down the kitchen wall and combine it with the living room or hall. Optimal zoning trends of such open spaces suggest the presence of open shelves or glass sliding doors and screens instead of walls.
The dining room, integrated into the living room, is the best solution to make the apartment look more spacious. Good lighting is another key to creating cozy and spacious rooms. Open the windows to breathe fresh air, turn off the air conditioner from time to time and let the breeze in. Do not forget that we need fresh air in order to feel alive and peaceful.
Natural materials
New trends in interior design for 2021 that need to be considered when repairing are the emphasis on natural materials.
You can choose marble, wood, cork, rattan, bamboo, straw, hemp and jute wicker elements for decoration, furniture or accessories to bring your apartment in line with the latest trends in interior popular.
Use natural flooring. Wooden, cork or bamboo floors underfoot will look much warmer and more comfortable than artificial coatings.
Nature has an undeniable appeal, and, as we have said, it is vital to integrate it into our daily lives. Life in big cities separates us from direct contact with natural elements, to counter this, we try to bring nature to our homes.
New trends in the design of apartments 2021: Wabi Sabi and Japandi
You have probably already heard about Wabi Sabi and the Japandi style, both styles of interior decoration are of Japanese origin, it is difficult to call them new, but new trends are quite possible!
When repairing your home in 2021, you must know about these styles!
Wabi-Sabi (WabiSabi) – a style that is to use the beauty of the imperfect, including – and the old. A mirror in an old wooden frame with traces of patina, without polishing, grandmother's lamps, a rocking chair in a vintage style – in general, you cannot find a better way to use old things in a trendy interior!
Wabi Sabi is a minimalist interior with a neo-rustic mood, with neutral colors, natural materials and fabrics, finishes with the most natural textures, organic forms and a consistent overall impression.
Japandi is nothing more than a combination of Scandinavian style and Japanese. Both choose minimalism as the key to success in interior design, although each has its own characteristics.
Coming from different parts of the world, japandi gives us a sense of relaxation provided by white and gray colors, and a sense of order due to the absence of excessive decorative elements.
Look for the difference between Japandi and Scandinavian in the warmer colors of the interior decoration, due to which the room becomes more comfortable.
Black returns to the kitchen
This applies to both furniture and surfaces, as well as sinks painted in this color.
The trend of interior decoration during renovation in 2021, which cannot be called new, but this is a combination that, of course, will not go unnoticed. Black door cabinets with various finishes are combined with natural stone countertops in black as well.
And in order not to violate monochrome, the devices are also matched in the same color. The result is impressive!
Tip: if you want a kitchen that exudes elegance and sophistication, opt for black stainless steel.
New actual colors
Burgundy, red watermelon, lilac and various shades of green and yellow, which vary from lemon to mustard, from spring greens to emeralds, are ideal colors to create a warm and welcoming atmosphere in the interior, decorated according to the latest trends in 2021.
For those who prefer the classics, we recommend combining white with warm shades of gray, beige and black.
Interior Design 2021 | Best ideas
The relevance is represented by fresh trends observed in interior design this year. There are no global changes, but some innovative accents sound more and more significant. There are certain preferences in the selection of style, materials, color shades. The main requirement is that the 2021 interior should look respectable and elegant, regardless of how much money has been spent on repairs. Let's study the main popular trends of this year in the field of interior design and try to figure out what the secret of the ideal interior is.
Trending styles
Among the novelties of the season, the dominant position is more clearly manifested, corresponding to the art deco style with unobtrusive smooth lines, elegant shapes, harmonious contrast of deep colors and minimalism in solving space.
The Scandinavian style is gradually giving way to more expensive materials, modern sounding rich color combinations, understated functional furniture.
The Art Nouveau style, embodying the elite interior design of 2021, is still at the peak of popularity. Eclectic interior looks no less modern.
Memphis style is gaining popularity, organically combining the most original forms, juicy accent shades, geometric patterns. Here, paintings, collages, a variety of textures and materials are appropriate.
Actual color solutions
Of interest is the color dominant of 2021, corresponding to modern trends. Increasingly, there is a shade called "spiced honey". This is a color with caramel sound, which in different variations takes a sandy, woody or amber tone.
Depending on the light, it acts in different ways. It can soothe, make soothing notes or, conversely, stimulate, activate, induce to action.
Advice! The rooms, made in caramel colors, look visually warm and comfortable. If you add a white finish to the interior, an amazing harmony arises.
Among the popularable contrasting solutions that dominate the stylish interior of 2021, white and brown colors are noted, which gradually replace the dark tones that have been popular in recent years.
A competent combination of colors in the interior is when every detail in it harmoniously fits into the overall ensemble. The sound of the former for a long time in oblivion takes on a rich blue color. Its combination with white and gold accents and black and white accents is welcome.
Golden notes give the interior a sophisticated glamor, and an achromatic addition allows you to balance all the components of the surrounding space, making it restrained and elegant.
Another popularable color of Marsala, which is a muted aristocratic burgundy shade with brown notes. It harmoniously fits into the interior, solved with the dominance of a golden-brown sound with the addition of raspberry decor.
Interior Design 2021: Five Trendy Colors
Among the popularable design accents, five neutral colors stand out. Their use, in addition to comfort and beauty, will help to give a special character and originality to any interior.
French Vanilla. A creamy yellow tone in any interior brings a sense of sunlight. This tone visually expands the space, which is important for small rooms where there are no windows. Looks great in a children's room, creates comfort in the bedroom, living room, in the kitchen.
Mint. Muted peppermint color has a relaxing effect. Easily muffles excessive expression of red and orange, if a similar combination is used. It looks organically in any surrounding surroundings.
Hazelnut. A prestigious and balanced light brown tone always creates a calm atmosphere. Valued for the ability to visually increase the surrounding area. Most often serves as the dominant color of modern sophisticated living rooms.
Gray green. Sounded in full force last year, the gray-green color scheme remains relevant. When introduced into the interior 2021 – it has a refreshing effect, allowing you to install furniture, made in blue, white, beige colors.
Warm gray. This achromatic shade still remains in leadership positions. He nobly supports any color, highlighting and emphasizing their merits. Not addictive.
The use of natural materials in the interior of 2021
Analyzing the types of materials that in 2021 are gaining particular popularity, designers note marble. This stone has long held a leading position, but in the modern interior has received a new sound.
The trend is black, gray, blue, pink marble with large expressive veins. From an additional finishing material, an aristocratic stone turns into an accent component, appearing in all rooms in the form of the design of window sills, countertops, fireplace portals, floor coverings.
Natural wood, especially ash, oak, teak, walnut, remains in demand in the design of surfaces, as well as in the manufacture of furniture.
Sounded original and modern finish with embossed interspersed – terrazzo. It is a seamless coating for which stone, multi-colored marble, glass of different fractions are combined and fastened with clinker cement.
Due to its high strength, floors were previously trimmed using such a technique, as well as stairs. In modern interiors, terrazzo appears on walls, lamps, decor, furniture facades, dishes.
Designer's Tips for Creating a Popularable Interior 2021
Black metal, gold, and brass retain their leading position. Gilded motifs that were previously used metered and very carefully sounded especially strong.
In modern interiors, golden accent walls, furniture facades, columns, fireplace portals are becoming a hit of the season.
Elegant trendy velvet, which acts as furniture upholstery, is becoming another trending material. This fabric attracts with its rich colors, pleasant softness, grandiose tints, some theatricality and irony.
The leather lining gives the space a restrained, elegant look. It is especially advantageous in combination with marble and gold decorative elements.
The room is filled with light and air by an abundance of transparent glass, which has imperceptibly risen to the peak of popularity. From this material, choosing special durable options, they create not only lamps, dishes, vases, but also interior partitions, shelves and racks.
Modern furniture in the interior 2021
The completeness and comfort of any interior gives the furniture. Headsets with handmade elements are becoming a popular trend in 2021. Many major manufacturers are striving for exclusivity, moving away from mass.
The vintage furniture of the period 30-70 years of the last century, which received innovative sound, is in demand with classic forms, rounded decorative details, and noble tones of upholstery.
Small coffee tables will help diversify any interior
Thanks to the pleasant external aesthetics and multifunctionality, furniture made of transparent plastic strengthened its position. It is almost invisible, does not clutter up space, enhances the perception of space.
This airborne material that is resistant to external influences is predicted by a real boom in the near future by interior design experts.
Room decoration options
An interesting analysis of the new products offered in the solution of different rooms of the apartment in accordance with popular trends. We list some of the popular accents worth paying attention to.
Living room
Increasingly, blue is used in the design of walls in a modern living room. At the same time, harmonious transitions of several tones of this color are selected. Still relevant are art wallpapers that are placed on one accent wall. They allow you to transform the surrounding space, deepening and expanding it.
The enlarged images of birds and flowers are popular. Clouds, galactic star placers, large multi-colored brush strokes sound interesting on unusual walls.
The carpet is gradually becoming one of the dominant decorative components of the interior. Increasingly, bright patterns and interesting ornaments are being selected for such a flooring.
The trend of 2021 is the combination of several carpets with different textures, differing in color and stylistic solution. They visually zonate the space, make it more orderly and functional.
It is advisable to choose a carpet so that its decor has a shade identical to the upholstery of upholstered furniture or the general tone of the wall surfaces. This will make the overall space of the room complete and comfortable.
A colorful carpet with several rich contrasting colors will be in harmony with light walls and furniture with neutral facades. Again, wall mats are becoming popularable, serving as a bright decorative design.
It should be noted the popularity of imitation masonry when decorating living rooms. She appears on part of the walls, looks organically on the fireplace facades. Furniture with this approach should be made of light natural wood.
Another important element that allows you to instantly transform the entire space of the living room, are 3D-curtains. You can pick them up with rich floral or abstract motifs. Landscapes and elegant ornaments look great.
On a note! Wall panels that are made with different surface textures or are equipped with a backlight that reveals the depth of the applied pattern belong to popular trends.
Bedroom
Since the bedroom is supposed to accommodate only the necessary furniture (bed, bedside tables), the main attention is paid to the decoration of ceiling and wall planes. Popularable elements are phytopanno. Varieties of dried plants are selected for the overall color of the room.
Advice! The beds in the bedroom become more comfortable and safe if the foot and headboard are sheathed with soft textile, pleasant for tactile sensations.
Kitchen
Along with functionality, the emphasis on exclusivity and sophistication stands out in the kitchen. With the general light design of the facades of the headset and wall planes, decorative elements play a special role. This is especially true if the apartment has a small kitchen.
The modern wall decor looks elegant and unusual: mirror inserts, bright moldings, apron made of noble marble, hand-made panels, textured painting of individual sections of the walls.
Furniture in a modern kitchen must certainly be comfortable, practical and as reliable as possible. Chairs and table should not have sharp corners. Combining all these requirements you will get a cozy and stylish space.
Bathroom
The 2021 season boldly introduces a blue-blue palette in the design of sanitary zones. Against such a background, brass or gilded fittings stand out nobly. When decorating the door with a mirror film, the feeling of crowding a small space completely disappears.
Present in the design of the bathroom spectacular wallpaper from a line of materials with waterproof primer. They can be glued in combination with traditional tiles or plain parts of the walls.
Advice! The trend remains the mosaic solution of various surfaces, including the facades of the cabinets, door jambs, and the floor. Increasingly, a combination of monochrome tiles with a 3D effect sounds.
Plumbing fixtures decorated in marble, ceramics, steel with mirrored hinged cabinets are interestingly combined. Shells can be round, oval, rectangular, in the form of a flower or even a piece of wood with a wave-shaped indentation.
The execution of shower cabins with inconspicuous racks and shades of chrome, silver, bronze meets the new trend. Furniture with wood texture under ash, walnut, pine, oak is gaining popularity.
With its calming effect on a person, the white color of the walls in the bathroom makes the whole space around relaxing and peaceful.
Emphasis on the ceiling
Another important and unexpected trend in 2021 is close attention to the beautiful design of the ceiling. Designer spotlights, chandeliers, and pendants remain popular. Along with this, geometric patterns and colorful bright ornaments appear on the ceiling. Such a detail immediately attracts attention, making any room memorable.
Ceiling Design Ideas
The ceiling is decorated with an elegant bas-relief, sockets of different sizes. They paste beautiful wallpapers on it, contrasting well with the color of the walls in the room.
The chic of the interior is given by onyx tiles, which form part of the ceiling plane. This translucent material, when mounting the backlight from the LED strip, mysteriously flickers and glows, revealing the richness of the beautiful stone texture.
A sophisticated pattern looks in a delicate lilac-pearl tone on the mirror ceiling. It is advisable to perform the same stained glass decor on furniture facades and door leafs. Such a decision creates a romantic, peaceful atmosphere.
A beautiful chandelier with an unusual design will look good on any ceiling, regardless of whether it is made of wood or plasterboard
Each new season offers interesting innovations in the field of interior design. Among them, you can pick up exclusive ideas, interpreting them to your own tastes and preferences. It is necessary to carefully analyze any changes made to your own home, as comfort, coziness, and homely warm atmosphere always remain the dominant requirement.
Apartment design 2021, Photo and news of modern apartment design in 2021
The design of the apartment 2021 is freedom and democracy with maximum comfort, and also – rapprochement with wildlife as a follow of the global social trend. It sounds simple; the more striking the new designs of apartments 2021 – unexpected and bold, unusually warm and stylish, and for all tastes and financial possibilities. The design of apartments in 2021 is becoming more and more homely, slightly closed and very intimate. The ideas of "open spaces", or the merger of a home into one transparent studio – have long been accepted, tested in practice and are still relevant; but at the same time with the tendency of minimalism, maximum openness of the home with a minimum of things and walls, completely opposite concepts are gaining momentum: luxury – as the strongest emotional component of comfort, an attribute of well-being, a powerful incentive to a good mood and not only.
Designs of apartments without interior partitions are changing: separation is still necessary, but if you want to make the house free of the "cellular structure", you can make these partitions more interesting – for example, in the trend there is a transparent stationary partition "floor-ceiling" that is soundproof and does not allow unnecessary air flows from kitchen area while cooking. At all other times, the partition can be opened, because it is lamellar or lamellar — individual plates have axial fastening, and can rotate around this axis. Perhaps both vertical and horizontal fastening of partitions – a very modern, just the same "space" option. Opaque models of partitions are also interesting, and the choice depends on the general interior style.
Photos and novelties of modern apartment design in 2021 show how easily modern designers embody the ideological revolution: a person is not a prisoner of the reinforced concrete jungle, but a free part of nature. And in the apartment you can also feel a kinship with wildlife – modern materials allow this. The main decoration forms in 2021 are firmly connected with wood – panels and cladding, tiles and parquet, original furniture designs and classic massifs.
The solid wood furniture facade, solid wood and veneer, as well as any high-quality eco-friendly finishes, have only one minus – a very, very high cost. Therefore, new products are increasingly popular – materials from eco-plastic, laminates and ceramics with textured imitation of natural wood. Very solid brands also produce surprisingly light and durable furniture cases, upholstery and floor materials from inexpensive raw materials.
Feeling of a natural corner is perfectly provided by living plants – a clear sign not only of eco-style, but also of almost any modern design. Huge plants in tubs are returning to the interior popular again – ficus and monstera, fan palm trees and curly vines. Flowers need sunshine: a modern dwelling does not always have a panoramic glazed exit to the street, and this floral problem is solved with artificial lighting – an added bonus: an interesting lighting scenario and additional bright accents in the interior. For a country house, a greenhouse and a winter garden of any type are possible – built-in or separate.
Democracy and versatility of interior designs have long been commonplace, and dictates and social prohibitions have long gone down in history. And yet, some rules and schemes have to be followed when designing a popularable interior. Modern styles 2021 are increasingly eclectic, the most relevant areas of minimalism and eco-style are mixed together, while features of high-tech, industrial and glamorous loft, rustic and rustic styles, and not only, are possible. Raw rough boards for furniture, pallets and pallets in the house are in popular, but this does not mean at all that the classic interior can be called backward.
The new color gamut is trending – interesting fresh shades of mint greens and calm blue, a dusty rose and the entire gray palette, and of course, monochrome, white, black and beige designs are in popular. Pastel is considered a very modern solution, and bright accents in 2021 are milky orange and the color of currant wine, violet and purple, graphite, mother of pearl and metallic. Very fresh and strong colors in blue, light green and white can become ultra-popular, and for interior decoration, and for textile decor – furniture upholstery, window frames and even for home clothes.
Wooden finishes are the most popularable and stylish in a modern house. The natural theme is also reflected in the wall finishes with wallpaper, tropical and plant prints, leopard and snake skin, huge fern leaves and large flowers on the wallpaper triumphantly return to popular – a figurative symbolism of the person's desire from the concrete urban jungle to freedom. But if tropical paintings in the house do not like, then you can finish with no less popularable geometric print, or paintings with the ombre effect. Gradient wall painting is an easy and democratic version of ultra-popularable design.
Snow-white designs are one of the most popular in 2019, and remain in trend. The most popular interiors in white with signs of eco-style include natural motifs – paintings and panels on natural themes, and, if possible, large plants and decor from fresh flowers. Furniture made of bamboo, rattan, wicker from a rod – perfectly suits the new eco-style.
Living Room 2021 | Popular Trends, TOP – The Best Designs
Any family wants to relax in a comfortable and cozy house, the interior of each room in which is created by the thoughtful decision of an experienced designer. First of all, we are talking about the living room, because it is a joint space for all households. It is in this room that the family gathers in the evenings, celebrates the holidays, close friends and acquaintances communicate here. Of course, often the living room acts as a dining room or study, but this does not detract from the fact that its design should be treated carefully in the general planning process, and working out all the details of the interior design of the living room 2021.
Living room 2021 – features of a modern layout
Every year new types of materials for decoration are developed, the variety of their color shades is increasing, the texture of wallpapers, textiles is changing, and the furniture design is becoming different. Some of this is quickly forgotten, but much remains in the trend. Therefore, you need to weigh everything well, and make the right choice, so that the flaws do not cut your eyes.
Let's talk in more detail about what is an absolute trend in modern interior design, and what should be taken into account.
Living room 2021 intended for relaxation should remain stylish, bright and spacious if it is used only for its intended purpose. You will be in an unconditional trend if you use the ideas for planning the living room 2021 in a minimalist or eco-style.
Advice! In a modern living room 2021, everything should be not only beautiful, comfort and ergonomics are important. The tendency to live in accordance with ecologically harmonious principles, the observance of ergonomic tasks – that is what has become the popular trend of the time.
Today, designers say that you can break the established rules, break the stereotypes that are so often advised. For example, to put a lot of furniture in a large room, and in a small room it will be limited to a small amount.
Creating a modern trendy design of the living room 2021 (photos are presented in the article), get ready for new approaches. The main thing is that your living room should be comfortable, functional, not overloaded with things and non-standard in terms of its design.
Advice! If the living room is done in the passage room, then the center of your whole composition needs to be shifted to the window, but the passage should be left free.
A very popularable option today is a living room with a bay window. If you are lucky and you have such a feature in the architecture of the house, this will be the highlight of the entire interior.
The bay window can decorate, make non-standard any seemingly ordinary layout. When planning your living room, the main role should be given to the location of the window openings.
On a note! Large windows are very popular today. They create magnificent natural lighting which gives comfort to a living room. To create additional effect of latitude and space, a high ceiling will help.
Zoning – a popularable way to decorate the living room 2021
Zoning of space is the leitmotif of all the original solutions for the modern design of the living room in 2021. If the room is large, then it must be divided into several functional zones. For example, in one place you can arrange a place for a comfortable passive rest, watching programs on TV in the evenings of the whole family.
The interior design of the living room 2021 can be called ideal when different spaces imperceptibly and smoothly flow into each other, while resonating in their style and well-chosen range of different color shades.
Designer Tips
If you properly zoning the space, then a very small room can be divided into several functional zones: a place for passive relaxation, a zone for entertainment, a small office, a small dining room. Everything in this regard depends only on the traditional lifestyle of family members; it is important to consider their interests when arranging a living room.
A popularable solution when zoning the space is small folding decorative screens, several stylish partitions, small podiums, as well as decorated load-bearing beams. The use of these elements visually cuts the space into several parts.
A simple but still popular technique of zoning a room is through carpet or textiles. Wall decoration with contrasting or similar in tone, but with different textures, wallpaper inserts will help to highlight several functional areas in the living room. Various lamps on the ceiling and walls, LED lighting, original decorative elements will complete and emphasize the effect.
Trendy colors in the interior of the living room 2021
To paint the walls this year, you can safely use various pastel colors, that is, light brown, light ocher, beige, sand, light yellow colors still remain relevant. However, if you are interested in an ultra-popularable shade, then this is a light menthol or light turquoise.
You can use these colors as complementary, as a decor. Gradient-style painting does not lose popularity, dark shades should begin immediately below, near the floor and the higher, the brighter it becomes. By the way, this technique visually expands the room.
Living room 2021 which popular trends do not cease to amaze, accepts and brighter colors. If the general style allows, they can be used for wall decoration or decoration. Saturated green color, shades of emerald, burgundy, purple (plum shade) will look stylish.
This palette can do color accents and spots. But you need to remember that when you use a bright color when painting a wall, you need to "support" it with decorative elements, the color of curtains, and upholstered furniture. Otherwise, your living room will not look harmonious, the color accent will seem superfluous. Bright spots on the wall look beautiful and very modern in shades of white around.
The ultra-popularable in the modern interior of the living room 2021 will be such a thing as a total identical color. This means that all the decor, wall decoration, furniture – everything is done in one color.
In the minimalist style, it can be a snow-white color, milky or grayish-white in a loft, shades of beige are always relevant, shades of pink are good for a young girl.
In order to make the beautiful design of the living room 2021 more practical, it is better to use as the main color (walls, floor, ceiling): shades of white, sand, beige, gray, and achieve uniformity with the help of additional accessories.
Bright curtains, curtains, soft pillows, lamps, dishes, decorative elements, ottomans will look good. In addition, they can always be replaced with other colors at any time.
It is worth mentioning the prints, which are still in popular. Today, the trend is geometry, contrast, dynamic and rapid. Applying prints, one must not forget about a sense of proportion. If you are sure that the sense of style and taste will not let you down, you can use several different prints, but similar in theme and color scheme.
Furniture & Accessories: Living Room Ideas 2021
When choosing furniture for a modern living room, you need to remember that the ideal choice of the last seasons will be elegant, but at the same time as simple, even laconic things. The most valuable for contemporary furniture is its ergonomics, convenience, unconditional naturalness, thoughtful functionality.
The top has simple, very clear shapes and lines made of materials: marble, glass, stone, natural wood. Taking into account the general style, you can always choose the perfect option.
Today it has become popularable again, it takes care of nature, considering itself an inseparable part, and this is not a slogan, it is a modern concept that must be kept at the forefront when decorating the living room 2021, including when choosing furniture for the living room. For example, furniture can be solved in the style of "eco" or made using technology for processing secondary raw materials.
The most popularable, you can even say trendy reception when decorating a living room is the use of transformers. The most top-end is a modern and multi-functional table. The so-called "smart furniture" is in great demand today.
Sofas made using this technology turn not only into beds, but also into a space for the game. Very small tables are transformed into huge tables, and chests of drawers, and seemingly large nightstands, easily and simply add up as temporary uselessness to something that is an elegant piece of decor.
On a note! Another interesting interior solution can be called – the presence of small mobile coffee tables in the room, which make the life of a housewife much easier.
Incidentally, the modern living room 2021 – this room is without a standard, and, it seems, boring to many, sofa. Instead, alternative places for comfortable sitting are placed in the room today: various chairs and small couches of irregular shape. It is better to purchase furniture upholstered in natural fabric, and, of course, in the same style and color scheme.
All mirrored large and small surfaces are in trend, the use of mirrors in the living room today is considered not only appropriate, but also a stylish technique. Therefore, it is worth making some facades of large cabinets, a small piece of the wall, and even a ceiling or part of it, be mirrored.
This will seem strange to someone, but the screens are back in popular again. Naturally, they acquire a modern look, and are used not only as an element of the simplest zoning, but also as an independent accent, which brings a pleasant "zest" to the living room.
It is worth mentioning that brass decor is considered very popular, not only in the kitchen, but also in the living room. Lamps or small decorative elements from this metal, if they fit into the style, will be appropriate.
However, do not turn the living room into an exhibition or gallery, "congestion" today is considered an outdated and out-of-date reception.
Lighting in the living room 2021
It's no secret that there should be a lot of light in the living room. The times when the "darkness" were held in high esteem have departed. The room can have several sconces, a pair of table lamps, a floor lamp and a large chandelier. Only a huge ceiling chandelier and a floor lamp, as it was before, are not enough today. Additional illumination will help with zoning space.
For several years, fixtures of simple geometric shapes have not gone out of popular, they fit perfectly into all modern interior styles. Simplicity and emphasized clarity of the main lines are more relevant than ever. Designers continue to praise the original asymmetric luminaires, known for their efficiency due to the modern design. Highlighted "technogenic" sconces and floor lamps are good in the style of loft and high-tech, they are still popular in the minimalistic direction of design.
In the light of the aforementioned, all lighting fixtures should be ergonomic, very practical, safe and convenient to use, as well as multi-functional. Only high-quality lighting devices will help you create a special interior popular space that will be thought out in the smallest details.
Today, various LED backlights are very widely used. Such a technological and innovative light on a person makes interesting impressions of a peculiar futurism, which is very appropriate if you want to get a popularable design of the living room 2021.
It is also worth noting that, in addition to design solutions, LED lighting significantly reduces energy costs. This is not an unimportant factor for people used to save. Taking into account the general concept of the design of the living room, it will be stylish and always relevant.
It is worth noting once again that experiments in the interior of the living room 2021 are more relevant than ever. For example, if the room is large, two absolutely identical chandeliers can be hung on the ceiling. This technique is considered very unusual, original and stylish.
By the way, chandeliers can be crystal, giving a beautiful refracted light, they will give your home a feeling of cozy warmth, illuminating the room with luxurious light. This is not to say that crystal has gone out of popular, rather the opposite.
The modern interior of the living room 2021 is environmental friendliness, simplicity, pronounced functionality, and, of course, the ability to observe the style. Without the last circumstance, nothing will help to make the living room cozy. A few original details, a little imagination, and you are the owner of a popularable living room.
Apartment Design 2021: Key Popular Trends
The interior of the apartments changes every year, and therefore, if you plan to carry out repairs in 2021, then it is worth emphasizing for yourself several popular trends that designers offer. In addition, if you want a beautiful and high-quality repair, then you should entrust it to specialists, for example, the Classic Repair company, which carry out European-quality repair of apartments in Podolsk, taking into account all the trends. Of course, the main decision is up to you.
Popularable shades in the interior 2021
The first thing to start is to decide on a color palette. In which colors you imagine the living room or bedroom. Referring to the official data of the website Decor Design Trends, in 2021 the earthy color, presented in such shades as:
sand and brown;
red and green;
coral.
Designers offer to merge in the interior with nature. In addition, it is these colors that can create cosiness in the room. They are nice looking, do not bother and have a calming effect. Therefore, the bedroom can be decorated in sand tones, and the kitchen – in white and green colors.
Popular trends in the interior 2021
Surprisingly, the designers propose to refuse to finish the interior from expensive materials in favor of already recycled ones. Environmental trends are becoming increasingly popular. For example, furniture from old wood looks stylish.
The second trend is ethical patterns and expressive textures. They are present, both in the design of the walls, and in the decor. At the same time, designers recommend being inspired by African culture.
The next trend is lamps, as an element of an art installation. It is lighting that is given special attention. The modern lighting of the room should resemble a real installation, consisting of many light bulbs, wires. Thus, do not dwell on only one light source.
The design of apartments 2021 is also also proximity to nature and filling the room with green plants. Biophilia is a key trend in interior design. However, the apartment should be filled not just with potted flowers, but created using their interesting compositions.
Popular furniture 2021
As in previous seasons, modular furniture is still relevant, which is fully adapted to human needs and meets modern architectural features of the interior. But regarding the style, the superiority branch belongs to the Scandinavian style in the vintage version. It looks like this: a white base, wood and natural materials in the decoration, but decorated in a vintage style. The advantage of this style is that it is universal and can be combined with other styles: retro, vintage, industrial. It remains to choose what is more to your liking.
Wallpaper for walls 2021 – popular trends and design novelties
Trends 2021: 10 popular trends in decor
A new year has come, and with it new trends come to our interiors. According to trend hunters, many trends that will be at the peak of popularity in 2021 are united by a common feature – this is the beauty of imperfection, manual craftsmanship, the desire to slow down the rhythm and return to the basic colors and shapes. Interpreting the motives of the past or creating something completely new, designers offer their vision of how we will remember the coming season.
Imperfect forms
Imperfections, bends and seemingly random roughnesses, lack of symmetry – these qualities attract more and more designers and make us remember the movement of "Arts and Crafts". Such objects seem carefully crafted by hand or as if extracted from stone. In a neutral interior, they can become key elements, and in a brighter one they will help to place accents.
Low chairs
The trend for low chairs seems to confirm the need to slow down, return to basics. Located closer to the ground, made of natural materials, they create a more relaxed, informal atmosphere.
The waves
Vases, carpets, mirrors, and even bed linens and tablecloths – waves in 2021 will decorate all possible decorative surfaces. The trend returning Art Nouveau, the style that has practically appropriated this form, is again in the spotlight.
Fresh Mint Color
An invigorating peppermint is associated with summer heat, however, the interior will be appropriate at any time of the year. Pastel, but at the same time bright and fresh color will also look good in the exterior.
Antique decor
Seeking inspiration in the architectural forms of Ancient Greece and Rome is a classic technique that can now be applied in decor. Bowls, vases, columns and busts of the gods, turning our eyes to the past, make the interior relevant beyond time trends.
Fabric boucle
Textured boucle fabrics do not lose relevance in the new season. A pleasant to the touch texture and natural shades in the upholstery of sofas and armchairs will help you survive the prolonged winter in comfort.
Leg Decor
Flower pots, vases and other decorative objects tend to gain height. Particularly popular this year will be objects on three pillars – slender forms, again referring to the classic examples of the past and the aesthetics of manual labor.
Handmade pottery
A new surge of interest in ceramics and clay work arose as a response to standardized mass production, and more and more young ceramic studios appeared on the scene (we talk about some of them here ). In 2021, ceramics will strive to occupy all free niches: we advise you to pay attention to dishes, vases and sculptural objects.
Modern serving tables
A serving table made of wood, metal or glass looks charming thanks to the clean geometry of the lines. The cute retro accessory that gained popularity last year is easy to move from one room to another and adapt to the situation.
Tableware with watercolor print
Subtle and delicate patterns and shades that seamlessly transition from one to another are another popular decorative trend of the new season. In the overflow of colors and the dynamics of colorful spots, designers have found an endless source of inspiration.