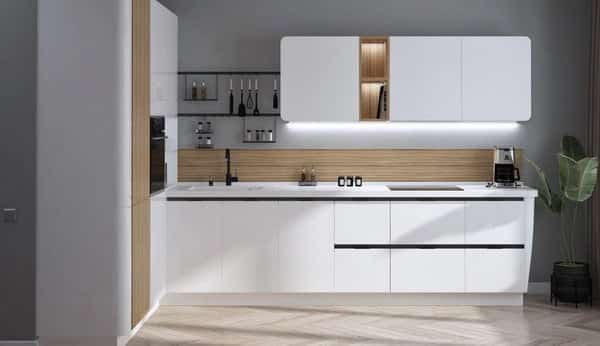 Modern kitchen design 2024 is an elegant combination of simplicity and practicality. Gilding, excesses and flashy colors have given way to muted shades, noble matte texture and minimalist solutions. We tell you how to easily choose a trendy kitchen among a variety of styles and materials.
Kitchen design trends 2024: Popular styles
The modern design of the kitchen combines external conciseness and thoughtful ergonomics. Graceful simplicity, straight thin lines, laconic accents have returned to fashion. Furniture compositions in which these elements are present are elegant and comfortable, and it will not be difficult to choose the right kitchen. In 2024, the following styles are at the peak of trends: modern, neoclassical, Scandinavian and minimalism.
Modern style
Modern style kitchen – a combination of discreet design and practicality of use. Modern style does not recognize a clear style framework, it combines the features of a variety of trends: minimalism, scandi, loft, hi-tech, neoclassicism. This is a unique new interior trend that allows you to design dissimilar, very functional interiors. From each of its predecessors, modern style in 2024 has taken the best to help create a cozy, beautiful interior for comfort and relaxation.
A distinctive feature of the modern style is that it is ideal for creating a harmonious interior in tiny studios, as well as in spacious kitchen-living rooms and open-plan apartments. By designing a kitchen in a modern style, it is easy to create compact sets for small spaces. And if the area of the room is large, the interior can be expanded and supplemented with a bar or an island, a dining area, a corner for work and a sofa for relaxation.
Scandinavian style is one of the top kitchen trends for 2024. Scandi is based on a combination of white surfaces with light wooden elements. Headsets in this northern style look airy, elegant, they are very comfortable and functional.
An absolute taboo for the Scandinavian style is expensive luxurious jewelry, bright colors and gilding. Scandi is grace and seeming carelessness. In the interior of the kitchen, such "non-ideality" is very practical: even a small mess created during cooking does not spoil the atmosphere.
The concept of "northern design" combines restraint, loyalty to traditions and a reverent attitude towards nature. Textured surfaces, muted fabrics, natural light – all this makes the interior warm and lively. The surrounding space is easy to change, periodically rearranging the furniture, experimenting with textiles and adding interesting accents, such as an unusual lamp, an author's vase, a wall panel or a cozy blanket.
Minimalism
Fashionable kitchens in 2024 look very concise and stylish. Their sign is the purity of the lines and the absence of unnecessary details. Even the handles are integrated and become an organic part of the straight, smooth facades. By saving space on the decor, the maximum amount of free space for living is achieved.
The change of fashionable vector to minimalism is dictated by life itself. The most valuable thing for us is time, and it takes a lot of it to clean carved cornices and decorative elements. The simplicity of the facade is the ease of cleaning and many more free hours for your favorite activities.
One of the important features of the layout of a fashionable kitchen in the style of minimalism is the right lighting, which visually expands the space even more. Different areas of the kitchen are equipped with separate lighting fixtures: spotlights above the dining group, LED lights in the work area, decorative and functional lighting in the storage area. Dispersed lighting is a trend in 2024. It is important that diffused soft lighting turns the kitchen into a cozy chamber space in the evenings.
Neoclassical
Supporting the 2024 fashion for practical use, neoclassical combines straight facades and the characteristic relief of a classic style with modern and functional solutions: thoughtful storage systems, high-tech appliances, and bright elements. This mix helps the kitchen look fresh and stylish.
Neoclassicism is characterized by:
single color scheme
lack of bright knock-out details,
materials imitating natural
quality fill lighting.
Accents of novelty in neoclassicism are usually functional: glass hobs, modern chrome faucets, latest generation appliances.
Kitchen color trends 2024
Popular kitchen color 2024 is muted and very natural. Catchy shades have gone out of fashion, giving way to pastel colors in the interior. Designer trends are headed by gray, white, beige kitchens with light unobtrusive accents. The calm shades of the facades are continued in the upholstery of chairs in the dining area, upholstery of the sofa in the living room area, wall panels and aprons.
Pastel shades
Fashionable furniture for the kitchen this year can be multi-colored: green, blue, pink. It is only important to choose not bright clean, but muted pastel shades of colors. Delicate pastel visually expands the space. Even more light and space will give such a kitchen white or very light walls. And if you want to make the kitchen chamber, you can choose a contrasting tone for the walls, for example, velvety gray.
Pastel shades can be used in a variety of style interior solutions. For example:
for a scandi-style kitchen, the facades are not snow-white, but a warm shade of baked milk;
loft-style suites with light facades do not look as monumental as with dark ones, the kitchen turns out to be light and not overloaded with details;
modern style furniture looks great in muted shades of blue, green, terracotta.
Pastel-colored furniture looks good under both natural and artificial lighting. Its appearance and texture are emphasized by diffused white light and additional LED illumination of individual zones.
Natural shades
The key trends in the 2024 palette are the calm colors of nature: brown, green, terracotta, blue, wine. The color of the kitchen evokes thoughts of sea waves, sky blue, natural shades of foliage, bark, baked clay, sand. The motto of modernity is no flashy brightness, everything is natural and calmingly muffled in fashion.
Wood shades
Another kitchen color trend for 2024 is woody colors and wood imitation in kitchen furniture. Such elements are especially relevant for Scandinavian-style kitchens, where they are considered a standard addition to the interior. No less stylish details of the wood-colored facade look in strict minimalism, and solutions in which wood-like shades are dominant are interesting.
Wood and its imitation in the interior of the kitchen supports the general trend towards natural materials in design. Therefore, adding an oak or walnut countertop will not be superfluous when designing a trendy modern kitchen. Eco-friendly decor, such as live houseplants, will help to beat it even more.
With special care, you should approach the issue of designing a kitchen if you plan to combine two different wood textures in one interior. It's as difficult as making friends between a zebra and a leopard. Even for designers, the task can be daunting. But the combination of wood with white or black details, with plain matte surfaces, imitation of stone, concrete or oxidized metal is guaranteed to be flawless.
Gray tones
Gray is one of the most winning options for stylish kitchen design in 2024. Smoky colors go well with almost any of the trendy styles: in gray tones, restrained minimalism, strict neoclassicism, and functional modern style look noble.
Much depends on the intensity of the shade. Even the same kitchen design project can look different in dark gray and very light gray versions. A light gray kitchen feels comfortable to most people, regardless of taste, and the color itself pairs well with just about any trendy color this year. Darker options give the kitchen an atmosphere of rigor and solidity, but are more suitable for spacious rooms.
Beige color
One of the trending design colors for 2024 is neutral beige. This base color is easy to match with pastel shades of other colors and with any style of furniture. Beige is a very multifaceted color, it varies from delicate powdery tones to rich caramel shades close to brown. And without even going beyond one beige color, you can create many different non-boring options for trendy kitchens in 2024.
The advantage of a beige kitchen is the warm, cozy, psychologically comfortable atmosphere created by this color. In any light, the beige room evokes a sense of peace and is well suited for cooking and for pleasant family gatherings at dinner.
White and black
Black and white facades are a timeless solution. Such furniture looks very impressive. By changing the proportions of black and white, you can get completely different cuisines. The combination in equal proportions allows you to develop an original kitchen and create a visual zoning of space. If there are more white elements, the room becomes more spacious and bright, and if dark facades predominate, it becomes more strict and solid.
White headsets look great in Scandinavian style, Provence style and classic, modern style. And so that the excess of white does not create the feeling of a hospital, you can complement the snow-white cabinets with a contrasting countertop and bright accents.
The black kitchen looks luxurious, respectable and unusual. Almost any style can be realized in this color: modern, loft, hi-tech, classic and neoclassical. Total black is not combined only with the Scandi style. This solution is not suitable for small spaces. And regardless of the area of the kitchen, in such an environment you should not save on lighting so that the kitchen does not feel like a cave.
A laconic black and white set will look very stylish and modern. In order to make such an interior more expressive, a couple of bright accent details will be enough – for example, thoughtful landscaping.
New kitchen trends 2024: materials and textures
Modern materials from which practical and durable facades, cabinets and countertops are made allow everyone to choose a beautiful and stylish option that meets the wishes, habits and ideas of beauty of its future owner. Here are some design trends to watch out for.
Matte surfaces
A novelty of the interior in 2024 is the matte surfaces of the facades, which give the interior nobility and status. Therefore, acrylic and MDF, pasted over with plastic, temporarily fade into the background. Matte facades are easier to clean, they do not leave fingerprints and stains. They retain their appearance for a long time and are perfectly combined with other materials.
The absence of glare in the kitchen is achieved by painting the facades with matte paint and using frosted glass for the manufacture of facades and stained-glass windows. This solution is appropriate in any style of kitchen, turning the set into an excellent backdrop for catchy accents.
Material simulations
Among the fashionable textures for facades in 2024 are imitations of a wide variety of natural and man-made materials:
wood, burnt wood
concrete and cement
tweed fabric,
linen matting,
oxidized metal,
anthracite,
natural stone: marble, granite
ceramics.
The surface can be made of almost any modern materials – compact board, chipboard, veneered MDF, plastic. Textures and colors that imitate fabric are new for the 2022-2024 season, such facades are well complemented by matte ones, especially in loft-style solutions and in a modern kitchen.
Kitchen trends 2024: Features and decor
As one of the accents in a laconic design, you can use one of the walls painted in a contrasting general range. Often, built-in furniture in a darker color or a contrasting finish of the area above the work surface is used to create contrast.
Fashionable apron
When deciding which backsplash to make in a fashionable kitchen in 2024, you should pay attention to the tiles. It can be plain, textured, with geometric patterns. Wall panels can emphasize the overall range of the headset or, on the contrary, stand out against the general neutral background with a bright accent.
A fashionable feature of kitchen design in 2024 is a countertop and an apron, made in a single solution and one material. Important: to design such a structure, the walls must be perfectly even. The most organic unity of countertops and wall cladding looks in artificial stone, quartz agglomerate and waterproof compact plate. An apron made of the same material as the countertop harmoniously complements the overall design and gives the kitchen an expensive, solid appearance.
An unusual and bold choice is to install a narrow, 30-40 cm, apron over the cooking area. This is not only stylish, but also an economical solution, however, it requires more frequent cleaning of surfaces during operation.
Transformer kitchen furniture
Furniture that changes its profile depending on the situation and tasks is a key kitchen design trend in 2024. This is a progressive solution, available in styles such as modern, loft or minimalism. Such a transforming kitchen, which helps to clearly zone the space, is ideal for a kitchen-living room or a small studio.
Bar counter and island
The bar counter for the kitchen in 2024 is a modern and practical detail. The rack can be freestanding or integrated into the island. In this case, it becomes an additional place for a quick breakfast, dinner serving or a work surface for cutting and slicing food.
The island can combine several functions at once: serve as a dining area, work surface, storage area. When planning a kitchen even at the renovation stage, you can think in advance about the possibility of transferring the sink and hob to the island, equip it with a suspended hood and turn it into the logical center of the entire room. Such a solution can be seen both in minimalist kitchens and in classic sets.
Dining room
The zoning of the kitchen, combined with the living room or dining room, is always very clear. In spacious rooms, this allows you to organize a dining area – a separate table and chairs.
Depending on the chosen style, the size of the room, the habits of its inhabitants, the table can be round or rectangular. Ideally, if the surface of the table has something in common with details in other areas, for example, it is made of the same material as the wall backsplash or countertop, or be the same color as the fronts of kitchen cabinets.
Mezzanine storage
Very high, ceiling-mounted facades designed for storage are a trend that does not give up its positions in 2024. The kitchen ceases to be only a household room with a clearly defined function of cooking. This is a place for living, in which there should be a place for storing things, for collections, for stocks for the winter, for working materials. Mezzanine cabinets in the upper tier of the kitchen set help to competently use every centimeter of space, this is not only a fashionable, but also a very practical solution for small apartments.
Kitchen interior design 2024: Decorative accents
Stylish kitchen interior design 2024 is not only beauty, but also maximum practicality and functionality. Today, the kitchen is a space that brings the whole family together, where they spend a lot of time. And this means that all family members, young and old, should be comfortable and pleasant in this space.
Wall decoration
Monochromatic walls are in trend, they can be painted with matte paint or wallpapered in neutral tones. Any set will look perfect in a room with white or very light walls. But this choice will not always be ideal, for example, for a family with small children: easily soiled light walls can be more of a minus than a plus. Another fashionable option is imitation of brickwork. Natural red is perfect for a loft and minimalist kitchen, while painted white is a great backdrop for a Scandinavian style kitchen.
Open storage
Open shelves or showcases with transparent glass inserts and lighting are a bright decorative accent that creates a mood of well-being and comfort in the kitchen. Such elements can be placed not only on the front of the headset, but also, for example, at the end of the cabinet. So the surfaces in the kitchen are used to the maximum benefit.
Corner sofa in the kitchen
In modern free-planning apartments, more and more often the kitchen is combined with the living room, and in the studio – also with the working area and the bedroom. In such combined spaces, the corner sofa becomes a very important detail, helping to separate the food preparation area from the seating area. To this end, the corner sofa is placed not in the corner of the room, but in the center of the room.
Houseplants
In the hot atmosphere of the kitchen, fresh flowers in a vase feel uncomfortable. Therefore, indoor plants can become the only color accent in spaces that are neutral in decoration. Preference is given to unpretentious, easy to care for and unusual. A fashionable and practical solution for ecology lovers is the organization of a smart home hydroponic mini-garden. Spicy herbs, mint, as well as some varieties of vegetables are great for growing in them. Of the indoor plants, chlorophytum and coleus with colorful leaves, as well as medicinal aloe and succulents, feel good in the kitchen.
Window decoration
If the kitchen and walls are plain, you can add fashionable novelties to the interior with the help of curtains with a geometric pattern. In scandi-style interiors, white matte tulle is appropriate, which does not block natural light. For a minimalist design, roller blinds or Roman blinds in light shades are suitable. But cascading lambrequins, ruffles and voluminous folds are a thing of the past along with country-style interiors.
In 2024, designers recommend paying attention to calm interiors with strict lines and low-key muted colors. The trends included modern and Scandinavian styles. Minimalism and eye-catching solo accents are valued in the decor. It can be quite difficult to develop an actual design of kitchen furniture, taking into account the peculiarities of manufacturing, materials and fittings, so it is better to seek advice from professionals. Experts will help not only to choose fashionable solutions, but also to help with their implementation in practice.