In the autumn of last year, numerous kitchen manufacturers and manufacturers of electrical appliances presented the kitchen trends 2025 at the trade fairs. Of course, we don't want to withhold this from you. Feel free to use these innovations as inspiration for your new dream kitchen.
The topic of sustainability plays a particularly important role in the kitchen trends 2025. Whether it's the materials for the fronts and worktops or the production – modern kitchen manufacturers take resource-saving and environmentally conscious action very seriously. It can also be seen from our customers that when selecting the kitchen and the appliances, great importance is attached to sustainability. That's why we made a conscious decision a long time ago for manufacturers who act in a climate-neutral and environmentally friendly manner.
Kitchen styles 2025: Japandi style kitchen
One of the new kitchen trends for 2025 is the Japandi style, which transforms the home into a mix of Scandinavian coziness and Japanese minimalism. The concept impresses with clear lines without frills, fronts without handles, high-quality furniture and natural materials such as wood, marble or natural stone. When choosing colors, natural tones, but also strong color nuances such as black, green and red tones are allowed.
New kitchen 2025: a change in color design?
Kitchens in dark tones such as black, anthracite and gray have been in trend for the past few years, and this trend is set to continue. But don't worry: the traditional kitchen in white will remain. Off-white tones are currently particularly popular, including the new-fangled color greige, a combination of gray and beige. The colors are then often combined with natural materials such as ceramics, wood or marble.
There are also many other colors to discover – above all the trend color green. But red or aubergine are also in fashion – regardless of whether they are used extensively or as individual splashes of color.
In addition, a new kitchen trend is emerging: the fronts of the kitchen furniture remain matte, which also applies to the electrical appliances. A special highlight is glass in matte black.
Kitchen design 2025: Fronts
Kitchen fronts with natural materials such as different types of wood are not losing their popularity. The new kitchen trends for 2025 also include wooden fronts with vertical grooves. These wooden fronts make kitchens look very light and delicate. They are available in light and dark designs and with grooves of different widths. The types of wood walnut and oak are particularly popular.
If you like the consistent look, we have news for you: Many manufacturers now also have furniture for different living areas in their range.
In addition to the classic kitchen fronts, there are other innovations: instead of real glass, smart glass is now used. Because surfaces made of polymer glass are extremely stable and robust. The special anti-fingerprint coating also reduces fingerprints, which reduces the cleaning effort.
Another kitchen trend is FENIX fronts, which are made of thermoplastic resins. Thanks to the closed and non-porous surfaces, the feel is particularly pleasant. The kitchen furniture has an ultra-matt appearance and is very robust and easy to care for.
Kitchen trends 2025: electrical appliances
When it comes to electrical appliances, the focus is also on sustainability. The devices should use as little electricity, gas and water as possible. In terms of appearance, the electrical appliances are presented in colors similar to the fronts and cupboards: black, anthracite and gray dominate – especially in matt. In addition, the kitchen trend towards smart kitchens will continue. Intelligent kitchen appliances with many functions are an absolute must-have.
Appliances that are part of the kitchen trends 2025 include:
Steam cookers and steam ovens: Modern ovens offer an innovative all-in-one function: the ovens with integrated steam cookers can, in addition to hot air, top and bottom heat, also grill, defrost, heat up and of course steam cook. All in all, this is a great investment for anyone who bakes and cooks on a regular basis.
Concealed extractor hoods (DownDraft and DownAir): Innovative extractor hoods that simply disappear into the hob are a constantly growing trend. Thanks to stainless steel or glass, the narrow appliances not only look chic, they also save a lot of space, are easy to clean and catch the odors and fat splashes that occur during cooking before they can spread throughout the room.
Hobs with induction: Oven and hob are separated – the hob is particularly popular to be integrated into a kitchen island. Although there are still different devices, most people rely on an induction hob.
New kitchen trends 2025: accessories for the kitchen
New kitchen trends for 2025 include faucets that offer hot, cold, filtered, boiling and even sparkling water. The memory and the electronics are hidden in the kitchen unit and the fittings look pretty. Boiling and sparkling water comes out of the faucet in a matter of seconds with just one click.
Continuing the popularity of dark kitchens, chic details in copper and gold tones will also play a big role. Used correctly, these accessories add an elegant yet industrial touch to both dark and light kitchens.
Shelves made of copper pipes, stools with metal legs, golden floor and hanging lamps and matte fittings are particularly popular at the moment. Vases and other accessories also look great in copper colors, especially paired with a fresh bouquet of flowers or herbs such as basil or thyme. Shiny details give the room a certain warmth and cosiness and ensure visual harmony.
Kitchen colors 2025: Black is the new black
(mei) Black is the new black, they say for kitchens in 2025. Matte black versions look classy and are particularly popular in open-plan kitchens. Kitchens in other dark tones such as anthracite, dark blue or aubergine are also popular, as are those in relatively dark green. The tones are always matt, high gloss is out. If the kitchen is in a separate room, however, dark colors should be used sparingly, as they make a room appear smaller. Incidentally, the fear of greasy fingerprints on the dark surfaces – or constant cleaning – is unfounded: Fingers hardly leave any traces on modern coatings. Kitchens in earthy, natural-looking tones are also popular. Despite all the color:
The kitchen is becoming more and more like the living room. The furnishing style Japandi makes it possible.
Kitchen ideas 2025: more living space than kitchen
As the bath, the kitchen is becoming more and more like the living room. This can go so far that the kitchen functions are hidden at first glance and the kitchen looks like a living room. This is made possible, for example, by handle-free fronts, sinks that can be covered, as well as filigree worktops and cooking islands reminiscent of sideboards. However, the look only succeeds if there is a lot of storage space and it is also used. If there are dishcloths and washing-up liquid lying around, the chic homeliness is immediately over. The new eat-in kitchen therefore requires a rather minimalist furnishing style– like Japandi – and enjoy keeping things tidy.
2025 kitchen trends: wood and natural stone
Sustainability is also finding its way into the kitchen. Keywords are materials made from renewable raw materials such as wood, recyclable kitchen appliances with low energy consumption and climate-friendly production and transport. The material of the hour is and remains wood. Combined with black (or another dark color), natural stone like marble and matt black glass, this creates an elegant yet natural look. Rustic country kitchens with large knobs are less in demand. Vertically grooved surfaces are a big trend in the kitchen in 2025. Accents are set by fittings and accessories in copper and gold tones. Stainless steel, on the other hand, is used sparingly.
Kitchen faucet trends 2025: Water tap and sink
In 2025, the sink and its tap deserve special attention. Two simple things, one might think. And wrong: the sink has actually become a place of work. Where once "only" food was washed, dishes etc. washed and drinking water was taken, you can now prepare and cut things and stow away kitchen utensils. This is made possible by built-in knife blocks, integrated cutting boards and containers for the food you are working with and for storing the washing-up utensils. With so many extras, the faucet naturally also has a lot to offer: in addition to normal, still drinking water, it also dispenses sparkling, chilled, warm and boiling water. The temperature and the amount of carbon dioxide can even be set precisely. The sink can be covered after use.
Kitchen design trends 2025: Smart function technology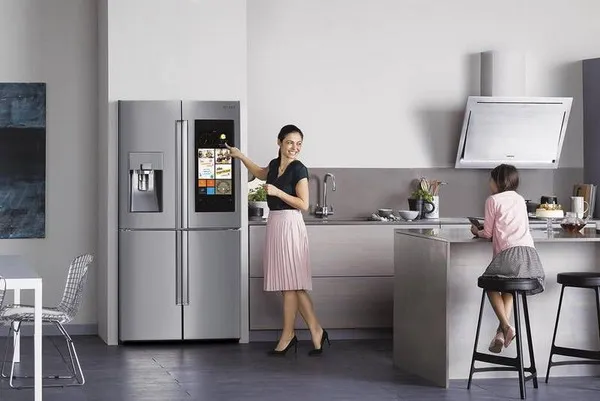 Smart technologies make the modern kitchen more sustainable. Thanks to the latest induction technology, the energy consumption during cooking reduce to the minimum. Refrigerators contain different climate zones – with different temperatures and humidity levels – so food stays fresher longer and food waste is reduced. The oven and dishwasher can be controlled with touches and voice commands and do some of the work independently. Thanks to so much support, you can concentrate on the essentials: cooking to your heart's content.
FAQ
Which kitchens will be modern in 2025?
Classic white kitchens are just as trendy as country-style kitchens. The kitchen trend towards dark kitchens is also continuing. The Japandi design with clear lines is new. This is a combination of Scandinavian style and Japanese minimalism. The new kitchen trends for 2025 can also meet the growing demands for sustainability.
Which kitchen color is trending?
Dark colors in the kitchens will continue to exist. Kitchen fronts in black and anthracite are often combined with fittings and accessories in gold and copper tones. The kitchen appliances, on the other hand, appear in matt colors. A new kitchen trend is that the kitchens can now appear in bright green or red.
Which color goes best in the kitchen?
Basically, you are responsible for the choice of color for your kitchen. Whether you opt for natural colors, dark shades or a strong, eye-catching color like green is up to your personal taste. We would be happy to advise you on which version best suits the ambience of your home.
Is high gloss still modern?
The high-gloss look will be replaced by a matt look in the 2025 kitchen trends. Nevertheless, high-gloss kitchens naturally remain modern, which we would be happy to implement for you on request. Because the most important thing is that you feel comfortable cooking and eating in your kitchen.