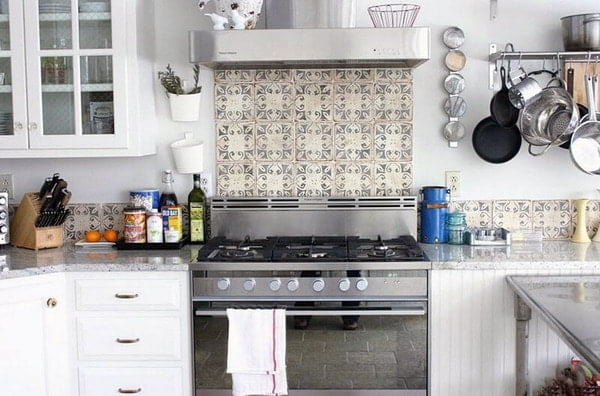 Initially, the kitchen backsplash served as an extremely practical element that protected the surface of the wall near the stove from the accumulation of fat, moisture and splashes during the cooking process. After all, even a good and powerful hood does not completely save this area from frequent contamination. However, over time, so many variations of the kitchen backsplash trends 2022 appeared that it acquired another function and became an original decorative element.
Today we will talk about what materials are used in the manufacture of kitchen backsplash, how to correctly calculate the size of the decorative coating and what design and shade to choose.
What is a kitchen backsplash?
Let's start with the basics and figure out what a work backsplash is in the kitchen. As a rule, this is a wall covering near the sink and stove, which is located between the countertop and the upper cabinets. It is in this area that the most steam and contaminants from cooking tend to accumulate. And it is here that it is so important to protect the wall from moisture, dirt, steam and grease.
Usually, the backsplash in the kitchen is placed along the entire wall, but you can partially cover the base with moisture and steam repellent material, for example, only above the hob or sink.
Important! To prevent drops of fat and moisture from running down the wall right up to the floor, install a special plinth between the tabletop and the backsplash. This will help to avoid swelling of the cabinet panel, the appearance of fungus and premature damage to the furniture.
In the process of repair, many people think about what to put initially: kitchen furniture or a backsplash on the work area? The ideal option is to install the kitchen unit only after the backsplash. In this sequence, a lot of advantages are hidden:
you can put a backsplash with a margin for a more beautiful kitchen design;
in the process of work, the furniture will not be damaged or stained;
the kitchen furniture will not interfere with the master, which will allow you to finish the work faster.
The only significant drawback is the gap that appears between the furniture and the backsplash. However, this disadvantage can be easily eliminated with a plinth.
Dimensions of the kitchen backsplash
When choosing a kitchen backsplash, its dimensions are calculated in advance. This will allow you to purchase the required amount of material and adhesive. Be sure to think over the location of furniture and household appliances, as well as carefully measure the wall.
A backsplash in the kitchen is usually placed at a height of 45-60 cm. However, everything is individual – the height of the protective surface varies depending on your height, the height of the working area, the dimensions of the stove, etc.
Tip: The distance between the stove and the hood is also taken into account. According to safety standards, it should be 75-80 cm.
By the way, if your kitchen does not have an upper set, the backsplash can be located right up to the ceiling or on ¾ of the wall. It also looks original and unusual.
In order to avoid contamination and steam accumulation on the wall to the maximum, you can also arrange the backsplash zone not only along the working area with a table top, but also in the area of the hood.
Important! If the sink in the apartment is located in the corner of the room, install the backsplash also on the wall located perpendicular to the work surface. This is also where dirt is most likely to accumulate.
What can you make a backsplash in the kitchen?
What are the types of kitchen backsplashs? First of all, it is customary to divide them into several categories, based on the materials that are used in the manufacture. Until a few years ago, ceramic tiles were the only option. Of course, she still holds leadership positions today. However, many more original and non-standard options have appeared:
glass;
MDF or chipboard;
plastic;
mosaic;
mirror;
metal, etc.
Let's take a look at the advantages and disadvantages of each of these types.
Tile kitchen backsplash
The tile backsplash remains the most popular space design solution. Ceramic tiles are resistant to high temperatures and mechanical damage, and are also available in a wide variety of variations. Moreover, the tiles are as easy to clean as possible (especially for smooth glossy tiles).
The most popular tile sizes are: 15×15, 10×10, 20×30 cm.
Advantages and disadvantages
ideal price-quality ratio (more expensive than plastic backsplashs, but cheaper than glass or mirror ones);
durability – lasts from 20 years or more;
a huge selection of colors up to imitation of wood, stone or leather;
You will not be able to lay it on your own – also include the work of the master in the cost of the backsplash.
Wall panels for the kitchen made of polycarbonate (for tiles or wallpaper)
Also, often recently, among the models of backsplashs for the kitchen, there are polycarbonate products.
Advantages and disadvantages
favorable cost;
the ability to do the installation yourself;
if damaged, the panels are easily replaced;
the wall panels are transparent, so under them you can glue any wallpaper you like or paint the wall in the desired color;
ease of care;
moisture resistance;
polycarbonate panels are completely seamless, which creates the original effect of a smooth, ideal surface;
they are even mounted on an unprepared wall;
less wear-resistant (especially compared to glass or ceramics);
the service life is short;
suitable for induction hobs (if you have a gas stove, you will have to constantly use the hinged cover).
Plastic backsplash for kitchen
Another budget, but more presentable option is plastic wall panels. They are not transparent, like polycarbonate, and often imitate other materials or have original patterns.
Advantages and disadvantages
low cost;
ease of care;
you can mount the backsplash yourself;
installs even on an unprepared wall;
like polycarbonate panel, not suitable for gas stove;
scratches quickly appear on the surface;
the material is not resistant to sunlight and quickly loses its bright shade.
Tip: Plastic panels are not durable. Therefore, if you are doing renovations in a rented apartment or in the country, this is ideal. However, if you are planning a renovation for several decades, it is better not even to consider this type of backsplash.
Laminate backsplash
Laminate is one of the most popular floor coverings. At the same time, today many designers suggest using it when decorating a backsplash in the kitchen. Of course, for this it is worth choosing water-resistant models of the 30-32 class.
Advantages and disadvantages
ease of care – can be cleaned with any detergent;
quick and easy installation;
profitable price;
wear resistance and durability (serves from 15 years);
noble wood grain finish creates a cozy atmosphere;
environmental friendliness.
not resistant to high temperatures (not too close to the stove).
Mosaic kitchen backsplash
Mosaic is more likely not a material, but a design of an kitchen backsplash. Such a composition can be laid out with both ceramics and porcelain stoneware, stone, glass or even metal. Usually, the mosaic is sold ready-made in a suitable combination of colors, folded in a matrix – a special grid for a more understandable installation.
Tip: Small mosaics look best in a spacious kitchen. In small rooms, it will create the feeling of a squeezed space.
Advantages and disadvantages
usually made of high-strength materials;
ideal for walls with minor defects;
the ability to create an original composition;
you can choose any combination of colors to your taste;
long service life – the mosaic will last 20 years without losing its original appearance;
resistance to mechanical damage;
there will be seams between each part of the mosaic that require special care;
high price;
independent installation is not possible (moreover, the installation of the mosaic will be more expensive compared to the installation of tiles due to the complexity of the work).
Tip: Want to get a mosaic effect while saving time and money on installation? Special tiles with a similar effect are on sale today.
Backsplash made of MDF or chipboard
Most often, MDF or chipboard is used for countertops or facades of kitchen furniture. Recently, however, laminated board has also been used to decorate the backsplash. It is important here to choose the right thickness of materials (the most optimal option is from 5 to 15mm).
Tip: For the most harmonious result, choose a backsplash made of MDF or chipboard based on the shade and texture of the countertop.
Advantages and disadvantages
beautiful imitation of wood, which gives the kitchen a special comfort;
favorable cost;
the fastest possible installation;
you do not need to pre-prepare the walls (you can even install on a curved base);
ease of care;
the minimum number of seams;
in case of damage or at the end of its service life, the plate can be easily dismantled;
suitable exclusively for induction cookers due to flammability;
panels must not be washed with aggressive agents.
Tip: If you install MDF or chipboard as a backsplash in a kitchen with a gas stove, it is better to put a material that is resistant to high temperatures and open fire directly next to the stove.
Brick backsplash in the kitchen
Such a backsplash finish for a loft-style kitchen is especially relevant. Of course, it is not necessary to leave a rough brick (although, this option is also possible with proper processing).
Today you can find materials that mimic brickwork. It can be either more budgetary plastic or a hog backsplash made of ceramic tiles.
Advantages and disadvantages
due to its shape, it allows you to visually expand the area of \ u200b \ u200bthe kitchen and stretch the room;
gives the interior originality;
when choosing a durable material – the backsplash is durable and wear-resistant;
laying a backsplash with imitation brick requires a lot of time and experience (it is better not to try to carry out the installation yourself).
Glass backsplash for kitchen
Many are afraid to install a backsplash in a glass kitchen, because usually this material is fragile and fragile. However, special tempered glass is used for the kitchen. It is distinguished by high impact strength, does not lend itself to mechanical damage and is completely safe.
Do not forget that the glass kitchen backsplash, reviews of which are mostly positive, has a number of disadvantages.
Advantages and disadvantages
the glass does not break, but cracks (this avoids a heap of small fragments on the floor);
can be washed with any detergent, cloth, sponge or even a stiff brush;
the glass is absolutely resistant to fire, not afraid of ultraviolet radiation and high temperatures;
transparent glass panels can be installed under your favorite wallpaper, painting or poster;
high price;
stains and fingerprints are visible on the glass.
Interesting! Modern equipment allows for original photo printing on glass. Such backsplashs are called skinals and can reproduce original drawings with a 3D effect.
Mirror kitchen backsplash
Mirror tiles are especially relevant for a small kitchen. Thanks to the reflective surface, it visually enlarges the area of the room. In addition, this is an original backsplash, which will undoubtedly become a highlight of the interior.
Advantages and disadvantages
high strength, wear resistance and resistance to high temperatures;
increases the area of the kitchen and makes the space brighter;
any streaks, stains or dust are visible on the mirror;
to get the effect of a visual increase in space, it is better not to force the backsplash with kitchen utensils.
Metal backsplash
Agree that stainless steel looks very original as a backsplash. It gives a stunning shine and is ideal for high-tech and minimalist kitchens.
Advantages and disadvantages
metal has an original and noble texture;
ease of care;
scratch resistance;
resistance to aggressive detergents;
long service life;
fingerprints and stains remain on polished stainless steel;
not suitable for all kitchen interiors.
Kitchen Backsplash design in 2022
A modern kitchen backsplash can be either plain or with original patterns and prints. If you want to get a more creative result, take a look at these fashionable kitchen design solutions:
Pictures with groceries or ready meals
Such motifs come in handy in the interior of the kitchen. A backsplash with a picture of fruits, berries, vegetables, a cup of coffee, pasta or pizza improves appetite and mood.
Pictures with cities
It can be both modern megalopolises (especially important for high-tech style), and images of old cities or cozy small villages (which is great for a Provence style kitchen ).
Floristic motives
The images of plants and flower buds add tenderness and naturalness to the interior, making the kitchen more comfortable. These can be photographs of flowers or original art.
Photo printing
If you want a truly unique interior, you can print your backsplash by choosing a photo that you like. It can be either a picture from the Internet, or a memorable photo taken by you.
Also, the trends in the design of the backsplash in the kitchen in 2022 got:
abstract motives;
geometric patterns;
concise quotes and phrases;
marine theme.
Choosing the color of the kitchen backsplash
When choosing a shade of an kitchen backsplash, it is important that it blends harmoniously with the colors:
countertops;
furniture facades;
other walls;
floor covering;
kitchen textiles.
So, for example, a bright accent backsplash is ideal for a bright kitchen, which will become a highlight of the interior. Of course, if the accent is hidden in something else ( curtain, dining table, etc.), the backsplash itself can also be made in a light shade.
For a small kitchen, light colors of backsplashs with a glossy finish are ideal – they allow you to visually increase the area and make the room more spacious.
A dark backsplash looks laconic and strict, but it is considered the least practical. Any spots and drops, as well as dust particles, are noticeable on it.
How to choose the shade of the backsplash depending on the color of the kitchen?
For a room decorated in black and white, a light green, red, purple backsplash is ideal.
For a yellow or orange kitchen, it is better to choose a white or beige shade.
A light green or orange backsplash will perfectly fit into a room with purple facades.
In a blue or blue kitchen, a backsplash can be red, gray, beige.
Tip: When decorating a backsplash, remember that there should be no more than 2-3 bright shades in one room. The rest should be in the background.
A backsplash is an indispensable item in any modern kitchen. All the more so today, when manufacturers offer hundreds or even thousands of different shades and coating designs. Consider the specifics of your kitchen, its size, interior design, the location of the stove and sink, etc. So you can choose a backsplash that will become a bright and practical element.