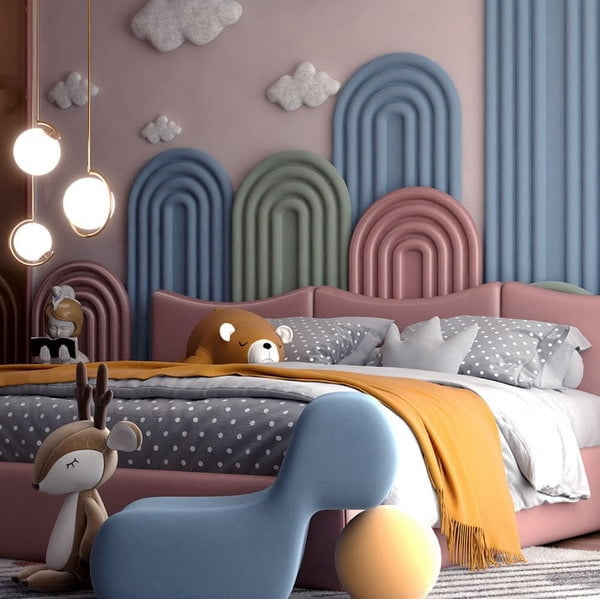 Comfort and convenience are the main components in creating comfortable conditions in the house. The interior of the kids room 2024 is a special case when you need to please the tastes of the little household. When planning it, you can play with your imagination and bring to life unusual design solutions.Unlike the design of other rooms, organizing the space of a room for a child is sometimes difficult. Kids room 2024 is a kind of transformer constructor that must constantly change. Children grow quickly, so the room should reflect their age and be versatile enough.
Interior design for kids room 2024
Before you start developing a design project for a nursery 2024, you need to find out what fashion trends and trends in the interior are popular this year. It is also necessary to consider whether it will be necessary to adjust or make significant changes to the design of the space of the room in the future.
For example, if your child is a preschooler, then the room should be divided into only two functional parts: a play area, since young children usually learn by playing, and a recreation area. Absolutely necessary safety measures!
The interior of a modern kids room 2024 can be considered completely safe if all the furniture in the room has rounded corners and the floor is covered with cork marmoleum (natural material). If there are still objects with sharp corners in the room, in order to ensure the safety of children, it is necessary to stick special soft pads on them.
As for school-age children, the reading area is very important in the kids room 2024. In order for them to concentrate on their studies, a well-lit room is essential. With sufficient lighting, it is easier for children to concentrate on doing homework.
Simple practical nursery design 2024 can eliminate (or reduce) unnecessary clutter in the room, in other words, there will be fewer distractions in the room.
Children over the age of 12 who are entering puberty need their own space, so they must have a separate room during this period. The most important thing in adolescence is learning, so a room with separate areas for reading and relaxing is ideal. Parents can involve children in its planning, listen to their opinion and consult with them before creating this room.
Nursery 2024 – wall design
Many parents have had to experience children's "arts" more than once – drawings on wallpaper. In fact, it is quite difficult to stop the curiosity and "creative inspiration" of the child in the study of the surrounding space. In this case, the kids room should have several easy-to-clean and waterproof "graffiti" walls. And if you want to make the wall even more fun, you can choose a two-in-one magnetic whiteboard for drawing with colorful crayons and a marker.
Fashion trends and current trends in kids room decoration 2024 tell us that an art wall will help make the room more colorful. Parents can allow the child to participate in the process of collective drawing. It will become a fun entertainment for adults and children.
What colors are suitable for decorating a nursery 2024
When choosing a color for decorating a fashionable interior design for a kids room in 2024, the main criterion is taking into account the gender of the child. Usually rooms suitable for little girls are in soft pink and pink-purple, and for boys – blue, green or gray.
It is worth noting that in the era of equal rights for men and women, many people are trying to break gender stereotypes. Therefore, if it suits parents and the children themselves like it, boys can also choose the pink series, and girls can choose stylish and creative masculine colors. A blue palette with yellow hues will look especially attractive.
If you're looking to decorate a kid's room 2024 for a schoolboy, then neutral earthy tones are usually perfect! So that the interior does not seem monotonous – use textiles in bright colors for decoration. For example, cute wigwam-shaped pillows, modeled after a tent.
Traditionally, the rooms of little princesses are decorated in white and pink colors, the walls in boyish nurseries are painted in blue tones. In recent decades, many parents have begun to move away from stereotypes. For a child's room, choose pastel or, on the contrary, bright colors.
GLOOMY (DARK) SHADES ARE NOT SUITABLE FOR CHILDREN:
Important! It is impossible to cover most of the wall area with too active saturated colors, for example, red, yellow or orange.
To design a kids room in 2024 in a modern style, they choose finishing materials, decorative elements, painted in light soft colors. Very bright, dark colors have a depressing effect on the child's psyche. The child will not be able to rest in such a room.
When choosing a color, first of all, you need to consult with the child. He will definitely choose the tone that is most pleasant to him. Calm, balanced children are suitable – gray, turquoise, beige, vanilla. Too active kids will feel good in rooms with olive, grassy, blue wallpapers.
When choosing colors for the kids room 2024, remember that, according to the observations of psychologists, kids prefer rich "energetic" colors (purple, pink, red) and unusual geometric shapes.
For children a little older (9-11) years old, warm, but not so "flashy" colors are suitable – orange, yellow and green. Teenagers who are fighting for the right to their own style in everything from boots to the shape of chairs will certainly not give up on expressive blues or dark greens.
Children's interior experts have formulated three main rules that parents must adhere to when decorating their child's room:
firstly, do not overdo it – let there be more free space in the room;
secondly, give preference to furniture made from natural materials;
thirdly, do not forget to ask the child what he wants to see his room. After all, he has to live in it.
In any case, with the growing and changing character, the tastes of the child will also change. Therefore, once every 5 years, repairs in the nursery will be necessary.
Furniture for kids room 2024
Furniture in the interior of the kids room 2024 plays an important role. It is needed for organizing a sleeping place, and a place for leisure, and for a storage system. When choosing furniture, you must remember the rule that the forms should be smooth and streamlined. No sharp corners, otherwise injuries cannot be avoided.
So, what kind of furniture is better to choose in order to get a modern and trendy design of the nursery 2024? Probably, there are no such parents who would not face such a problem. The choice of furniture depends on the actual needs of the children. If the child is still at the preschool stage, it is better not to put heavy furniture in the room. This will prevent accidents as small children love to climb on cabinets.
Furniture items should be functional and safe, but also easy to use. It is desirable that the child could use them independently. If the room is for a baby, then you should definitely install plugs in all sockets, put stops on the doors and locks for the doors of cabinets, wardrobes.
It is not recommended to buy furniture "for growth". Ideally, if the height of the table is slightly higher than the elbow of the child standing next to it, and the size of the chair allows the baby to firmly rest his legs (bent at right angles) on the floor or the lower stand of the desk. It is desirable that the table be spacious, stable, with an inclined table top. The requirements for the chair are stability, not too soft seat, high and comfortable back.
When children grow up and become schoolchildren, you can think about choosing high-quality transformable furniture (for example, three-in-one modular furniture that combines a sofa, bed and table). This will help make the modern design of the kids room 2024 more practical and convenient, reduce your costs for the purchase of room furnishings and save space in the presented room.
In typical apartments in big cities, there may not be an isolated kids room. Therefore, we will consider a few practical and useful points that will help in solving this issue.
The child must sleep on the bed. Couches, sofas for children's rest are not suitable. The decorative design of the bed depends on the imagination and financial capabilities of mom and dad.
Ready-made modular sets are well suited for a child's room. They save space. Slides with sharp protruding corners, glass elements are not suitable for kids rooms.
Advice! To make the kids room 2024 cozy, comfortable and very beautiful, you should listen to the opinion of its future inhabitants. Children very subtly feel harmony and beauty and rarely make mistakes in matters of design.
Decoration Materials
When choosing finishing materials for the nursery 2024, the first thing to consider is the age of the child. If the child is of preschool age, he will most likely resort to trying to draw on the walls. To ensure the convenience of cleaning the surface, you can use dense non-woven wallpaper, plastic panels.
The color should be soft and warm shades, so as not to irritate the occupant of the room. As for the pattern, it is better to choose something unobtrusive and universal. As a rule, children grow quickly and prints with bears will no longer be relevant for a seven-year-old child, just like for a teenager – with transformers or barbies.
If, nevertheless, there is a great desire to decorate the beautiful interior of the kids room in 2024 – thematically, then you can choose the right wallpaper. Also, special slate paints that cover the surface, or mobile slate boards, will help solve the problem with drawing.
The floor in the playroom should be warm. Suitable coating materials: parquet, laminate. The ceiling, walls can be painted, painted, pasted over with colored wallpaper with pictures. Lighting in the nursery should be bright. Three light sources need to be installed:
ceiling chandelier;
table lamp;
wall sconce.
Lighting trends 2024
Today, with the help of light, you can give the interior of the nursery 2024 a little magic. Children love fairy tales and are fascinated by magic. You can simply buy a chandelier or lamp in the form of the sun, stars, some heroes. And you can order the manufacture of a stretch ceiling with a pattern of space, for example, and set the alternating inclusion of light bulbs, which will be an imitation of the sparkling stars.
For this effect, you can also use simple phosphorus figures attached to the ceiling. But do not forget that artificial light should be evenly scattered, without sharp drops and dark corners.
Carpet on the floor
Safety and comfort are top priorities when designing kids rooms. Therefore, it is desirable that a small carpet with a soft pile lay on the floor in the kids room. Pillows in bright colors or rubber modular mats can be used to provide a springy landing for the child in the event of a fall.
Some parents prefer to lay carpet directly on the floor, but it should be noted that natural wool products easily accumulate dust, they are not suitable for families with pets or children prone to allergies.
In terms of choosing conventional scratch-resistant hard floors, PVC, plastic and vinyl floors are ideal. No matter how strong the destructive manifestations of a child, floors made of artificial materials will withstand everything!
Modern kids room 2024 – design ideas
The room in which children live should perform several functions. In this room, the younger members of the family do their homework, draw, sculpt, sleep, play. There is a wardrobe with clothes, a play area, a sleeping area.
When planning the modern design of the kids room 2024, parents should consider the growth perspective of the child. A maturing child will need different colors of wallpaper, other furniture, more strict curtains.
Choosing a room for a nursery 2024
The personal space of the child undergoes changes 3-4 times from the moment of his birth and before entering the institute. From a fabulous design, there is a transition to an interior that meets the needs of a teenager.
Significant changes will become necessary when the child enters school. When the child overcomes the age threshold of 12-13 years, parents will again have to renovate his room.
Teenagers have their own vision of beauty and the correct organization of space. Friends will come to visit the student, so it is illogical to allocate the smallest room in the house for the nursery.
From the first year of life, a child needs space and convenience. A properly planned nursery has several zones:
game;
resting-place;
study;
Spacious bright rooms are suitable for the nursery in 2024. A child who grows up in a dark small room experiences fears and complexes.
How to divide a room into separate zones
If you follow the classic design rules, then for your beloved child, you should select a room that faces east or south. Such an arrangement will have a beneficial effect on the health of the child. The sun-drenched space promotes proper growth, harmonious development of the individual.
HOW TO ORGANIZE THE SPACE – EXPERT ADVICE
Raised floor (space below the surface). It will allow you to combine a chest of drawers for storage and a bed in one movement, thereby bringing uniqueness to the design elements of the kids room 2024, improving its practical space.
Multifunctional transformer. The combination of a soft floor and sections for storing toys, the location of which can be freely changed. This design combination will bring joy to your child just by looking at it.
Double sided bookcase. It will help to symmetrically divide the modern interior of the kids room 2024 into functional zones (left and right). At the same time, children of different sexes will have their own space for learning and recreation, as well as a space between the beds for children's activities and games.
For small children, rooms that are too far from the mother's bedroom are not suitable. The functionality and convenience of the nursery depends on the competent zoning of the room. It is important to highlight the zones in the kids room:
sleep and rest;
games and entertainment;
developmental and educational activities.
Toddlers aged 2 to 5 need a large play area. A small child learns the world through the game, this is his main activity. Starting from the preparatory group of kindergarten, the child begins to regularly engage in educational activities. The room should appear: a desk, a chair, a computer rack and a bookcase.
Parents of schoolchildren replace the playing area with a sports corner. If there are two children, each should be provided with their own desk.