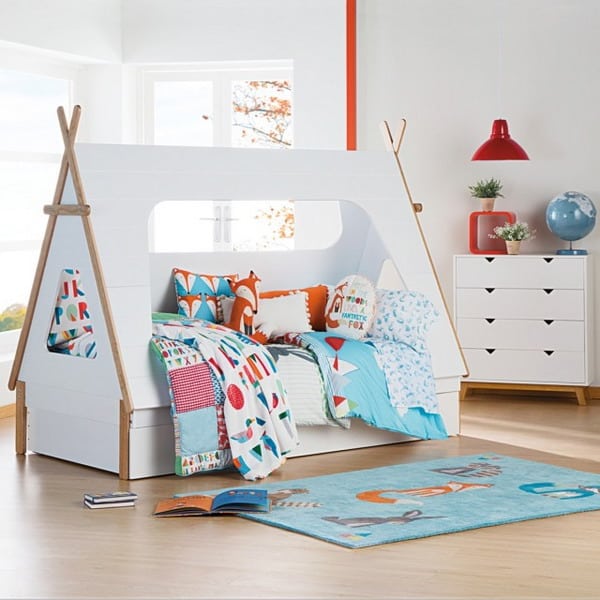 We bring you the latest trends 2024 in bedroom decoration for children, do not miss them! Do you want to surprise your children with a new bedroom? You are in the perfect place because we are going to show you the decoration, furniture and perfect colors for the children's bedroom.
In the market you can find modern, fun and very original designs that also constitute a unique play space for children, such as a car bed, a princess room or a tree-house bedroom.
Decoration of bedrooms for children 2024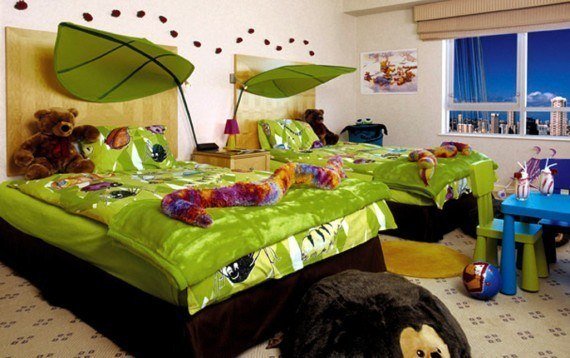 A bedroom for children a place to play, learn and dream. The kids become familiar with their surroundings, their room is like their little world. If your children like cars, or sports, princesses or animals… always take into account the opinion of children.
In the photo you have a bedroom inspired by racing. Red Ferrari next to the black and white squares of the car races. The bed mimics a car, with bedding and curtains set. Desk and chair in red. You can put pictures of characters like Walt Disney Cars on the walls.
On the other hand if you do not have the budget to choose a furniture like the one we see here, but you really want a thematic room for the smallest of the house, you can always choose the colors that are similar for furniture and walls, (taking the same example try to buy furniture in red and paint the wall in white, with the odd streak in black) and why not, hang some picture or car vinyl.
Themes of Decoration of bedrooms for children 2024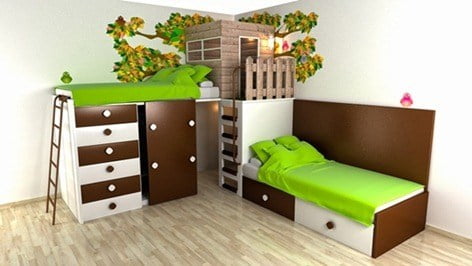 We continue with themed bedrooms for children. In this case, imitate a castle in which your offspring will feel like real princes and princesses of fairy tale. To give even more ambience, the column is covered with lightweight concrete that imitates the stones of a castle, but without being hard at all to prevent damage.
In the room where we see the armor is the child's bedroom with a bunk bed with slide.
The next room we see is the girl's bedroom with a bed full of cushions with curtains. The beds have built -in lighting so they can read smoothly.
The truth is that it is a challenge to get a type of decoration like this, and more when it comes to a shared room ; It is a matter of choosing a theme that is common to both children and that we can develop for each one of them.
A house-tree bedroom. Kids will love this bedroom. Bright green moss on the bedding with bunk beds in coffee and ivory.On the wall a nice decorative mural of a tree. The bedroom has two beds, storage space and also a secret place to meet with your friends.
In this example we see clearly what I have recommended to you at the beginning; use colors to achieve the desired effect with respect to the theme, since they have used brown, green and white to represent nature and have also helped with vinyl.
An Indian-style children's bedroom. In this child-style decoration, the intense orange color predominates on the walls next to turquoise blue and traffic blue. The bed is made of forged iron in copper color and the blinds and bed linen in colored stripes of the range of oranges.
This bedroom is really striking although I think that the orange so intense makes the space look maybe, too small. Perhaps it would have been a better option to choose to paint a single wall of orange and the rest of orange or have chosen a slightly softer tone like beige, or cream and then make a orange stripe.
Photo number 5. A story princess, any girl would feel that way in this room in pink and ivory.Grid bed in French style furniture. Desk, chest of drawers, bedside table and chair all in wood finished in ivory. Romantic style lamp.
It is a somewhat "old" style for some children today, but for mothers (and parents) who like the "vintage" style for any bedroom, they should definitely choose something for the children's room.
The color is the key in this bedroom since even the bedspread and cushions are strawberry-colored, and the wall goes in a pink coral color. Why is it that almost all girls love pink?
Colors for children's bedrooms 2024
A youthful bedroom with lots of color. Quilt in patchwork, turquoise walls and wooden bed. A guitar and surf posters contrast with the intense color of the wall. This type of room is ideal for children in pre-adolescent phase as well as being very simple to get.
Girls' bedroom in strawberry and green, fashionable colors. Berth in pale pink, carpet with retro drawings in fuchsia. The wall in a lime green. The mixture of opposite colors makes this bedroom can serve for a girl and also for a teenager.
A child's bedroom in pale blue and white. Wooden furniture in white with details in pictures, carpet also with pictures. A rocking chair, trunk and white squares highlight the blue color of the wall. Another style quite appropriate for teenage bedrooms.
Dominant color in the bedroom
Use a color that dominates the bedroom. My advice is to use different textures on the wall, on the fabrics and on the floor so that the children's room is not so boring.
For example, in the photograph above we can see that they use the blue color mixing it with the wallpaper next to the plastic paint, dividing them by a wooden molding. In addition, in this bedroom, you can see that several upholstery cushions have been used to cover or dress the bed and on the floor a fluffy carpet has been placed, perfect for children's games.
How to decorate a Children Bedroom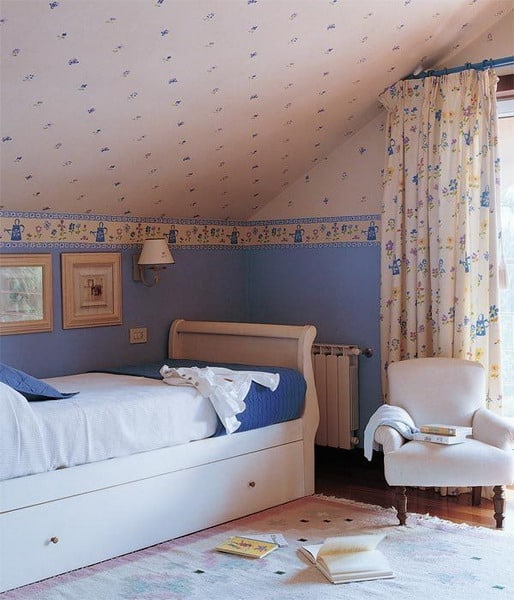 For this type of bedroom you should study the distribution well. My advice for dormers is to place the bed where the ceiling is lower. Thus, the central part of the room, will be free for children to study or play.
Place the bed under the window to gain space
Place the beds under the windows if you have these with sliding opening in the children's bedroom, these will not be any obstacle to distribute the beds, even in shared dormitories. For example.
In this way the room will gain a lot of space to create a playground or study area. You must make sure that the windows are watertight so that there is no leakage of water or air during the winter.
Bedrooms with furniture appropriate to the age and height of children
For small bedrooms, I always recommend removing the nightstand. Placing a large chest of drawers in its place to help expand the storage area, whether it be clothes or toys. As in the next image.
In this bedroom, the closet that we see next to the bed is perfect because it has a small door and some drawers not very long to the height and age of our child, not being too heavy. Another example:
Beds for children's bedrooms 2024
Extendable beds for bedroom decoration
The years go by and the children grow at a great speed. Why not choose extendable beds to decorate the children's room? I leave an example of this type of beds in a bedroom.
Beds and mattresses are adapted to the height and ages of children. Do you like it?
Modular bunk bed to decorate children's bedroom
The beds can be placed in the form of a train and in its lower space can be used to place any furniture such as a closet, a desk,… In the photograph above we can see the litter on the wall, with a lighter tone of wood in the beds.
It does not overwhelm the space because with this type of beds we can leave the rest of the bedroom much more comfortable.
Nest bed for children's bedroom
The trundle beds are very versatile. With them you will save much space in the bedroom of the child and you will have an extra bed for when you come visits: friends of children or relatives. Also this type of bed can be transformed into a sofa during the day if you put pillows, cushions or dolls. A good idea!
Furniture for children's bedroom 2024
Natural wood furniture
The natural wood in the bedrooms provide warmth. A wooden bed, for example, with a grain that is beautiful, never goes out of style.
You can cover the floor with a terracotta colored carpet to provide a much warmer air.
Tips for decorating children's bedroom
Anyway, first of all we must be clear that children should feel comfortable in their rooms, so it is very important that we find a decoration that we like and like while allowing them to rest and do their homework without distracting them. Let's see some of the tips that we must take into account:
The colors
It is important that the rooms have color, as this helps the children to be in a better mood and find themselves in their room. Anyway, we should avoid those colors that can make them rest poorly at night and is that some children are more affected by colors than others.
Therefore, if you paint the room in a bright green or an electric blue, you can see that your child does not adapt and does not rest well. In this case, or if you already know that your child is very sensitive to colors, you will have to opt for more classic colors or pastel shades.
The furniture
To talk about the furniture and accessories of the children's rooms, we are going to make two separations of the most important things: babies and children.
In the first case it is necessary that we have adequate furniture to be able to dress the baby and a closet and drawers for all your things. As it will not be the child who is going to dress alone, we can choose them according to our measurements, but if we want the room to be usable for when it is bigger, we should look for furniture in which the child, when he has about 5 or 7 years, can access alone.
At this age, we should also think about the plastic table and some chairs so that the child can play, paint and do his homework if he already takes them from school. We should also think about some plastic crates and cubes in which to save your games.
On the other hand, if the child is already bigger, we will have to change the drawers and the cubes, maybe a puff for when his friends come and we will have to change the children's table for a big wooden table and a suitable chair, since the hours of study they are more and more In this sense, we must look for a chair that is suitable to maintain a good position of the back and a table that is high enough to go well with the chair so that the child is comfortable in them.
If, on the other hand, we have a space at home, the studio, where we can have all the children's books, tables, chairs, etc., we can leave the room with only the furniture necessary for the rest and let the Studies are carried out in the other room. A room with a lot of space is ideal to feel much more comfortable and relaxed in it.
Accessories
In addition, we must also look for accessories, such as cushions, lights, etc., according to the design of the furniture as well as the use we want to give the room, either just to rest or to rest and study, etc.
So you can continue to find information about children's bedrooms, do not miss these items that we have chosen for children's decoration: