We don't want to overwhelm you, but 2021 is just around the corner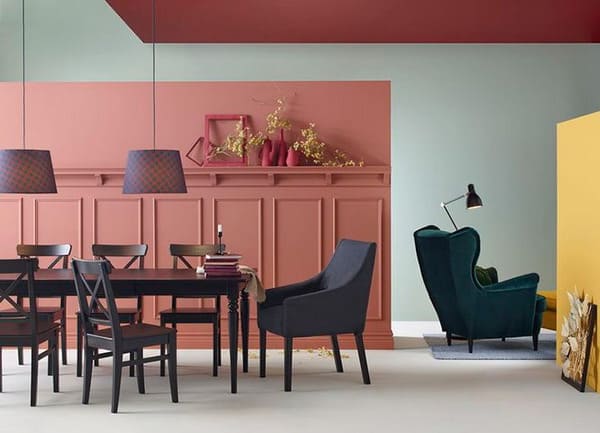 A few days ago Instagram was filled with creatives that reminded us that nothing comes 2021 and although the truth is that the intention of these publications was the most noble – they invited us to make the most of that time before starting with the balance sheets of the year and the new purposes – all alarms went off at us: 2021 is just around the corner and we need to know what it will take to decorate our houses.
New home interior decor trends for 2021
If to the already arduous task of reforming the house without great dramas and finding a decorative style that fits with us now we add that the whole process decor to align with the trends that will reign next year.
And how will we know what the new decor trends 2021 are? Well, we must confess that we have no magic ball, but we have toured the studies of our favorite interior designers, the decoration stores that we like most right now and, of course, we have looked at the new IKEA catalog that comes loaded with good ideas. With all this we have made a selection of essential home decor trends that you can already let in your home to be up to date next year.
The walls keep talking
They are a form of expression of the human being from its beginnings – see the time of the caves. They will continue to see those that are completely covered with pictures and those that surrender to the wallpaper – which we have already seen, is not only for the walls – but what will really triumph next year is the mix. Half terrazzo walls, half pastel paint; two, three or four color walls, walls with moldings…
Curves come
Apply this especially to lamps. In 2020 we have experienced a boom of rattan and natural fibers that were already beginning to curl. The next course we will live the return of the rounded and sinuous forms that bring life and sensation of movement to the spaces.
Look more at the ceiling
We detected it in the last edition of Casa Decor and as we have learned little by little, the ceiling will continue to be a protagonist in 2021. To follow this trend we must have a clear premise: eye with overloading the space. Most of us are not accustomed to decorating this part of the house so opt for wallpapers or neutral and versatile paint tones.
Ah! The twist is when ceiling and wall merge into one.
Orange attention
Let us apologize Pantone for meddling a little in this matter. It is true, this perhaps more than a prediction is a declaration of intentions and it is that we see that this color may be the right and necessary detail for our new decoration. We refer to three shades specifically: an orange closer to yellow –Butterscotch–, an orange that melts with yellow –Dark Cheddar– and, our favorite, a vibrant and energy-filled orange –Orange Tiger– that will be perfect in your sofa, armchair or dining room chairs.
Lighter
It is a reality, the houses are getting smaller and the rooms no longer have a single functionality. That is, the living room is no longer just for watching television because in many houses on the sofa you also eat and have dinner, just as in the kitchen it has also become an office. This means that we should think much better which furniture we choose for each space, taking into account these new activities but ensuring that the space flows. Is it time to recover the less is more?
Smart furniture
This tenure that will clearly be imposed in 2021 is one of the innovations brought by the latest IKEA catalog. In fact, the Swedish brand has already signed up this year for the manufacture of smart furniture and will continue next with a collection of lamps, bedside tables and desk tables that charge the battery of your mobile without wires.
Eastern Aires
'The Japanese' will continue to be very present in our homes and that is very good news. Marie Kondo helped us with the issue of order and many of us have already introduced the Wabi Sabi  – which invites us to take advantage of the beauty of the ancient and imperfect and recycle and take advantage of elements. The next level is to surrender to japandi, a decorative style that combines Scandinavian and Japanese style, both quite minimalist, simple and functional. That is why your house will be filled with natural wood, furniture materials and organic forms and much, much, much white.
Beige is back
With permission of so much white, we must celebrate the return of this color so many times reviled and how well it does to the decoration. Beige comes ready to enrich the classic neutral color palette with shades ranging from the color of the sand to the softest chocolate color. It is ideal for a wall, for a very leading piece of furniture or to combine with that orange that we really want to see next season.