Purchasing a new carpet can often be a big investment and look out of the box. Therefore, spending time acquiring knowledge of the latest trends in this area definitely pays off. The world's leading designers pay attention to six major trends. Following them, you can not worry that in a year your new carpet will no longer meet the world's top trends 2025.
Carpet Trends 2025: unusual carpet in color, shape and texture
If you need to create a dominant element in a austerely furnished room or make it feel special, original small size rugs are perfect. In this case, opt for a bold combination of colors, patterns or an asymmetrical cut carpet with several textures.
Almost all bright colors and shades will be a hit in 2025 – these are terracotta, orange, cherry red, yellow, light green and beetroot.
Carpets 2025: Natural Fibers
If you want a carpet that is guaranteed to never go out of style and, most importantly, never get boring, follow a simple rule. Choose natural materials. Carpets made from natural fibers are attractive, environmentally friendly and perfectly combined with each other. They fit into any space – be it minimalism, boho, country or spaces with a historical touch and touch. Carpets in earthy tones with a distinct texture in sisal, wool, and jute are good choices. Different rugs in open spaces, layering and combining different textures will make your home cozier. You can use carpets of different textures or colors to create interesting zones for open spaces. Use one rug in the living room, another in the seating area, and another under the dining table. Of course, they must comply with the general scheme of the interior.
Carpet Design Trends 2025: High Pile Carpets
One thing is for sure – long pile carpets are back in trend. Carpets and rugs in the style of the 70s are returning to the interiors, delivering tactile pleasure. They are surprisingly soft and add a touch of luxury. Choose ones that are easy to care for, as the long, thick pile is a good place for dust.
Carpet Design 2025: Irregular Shapes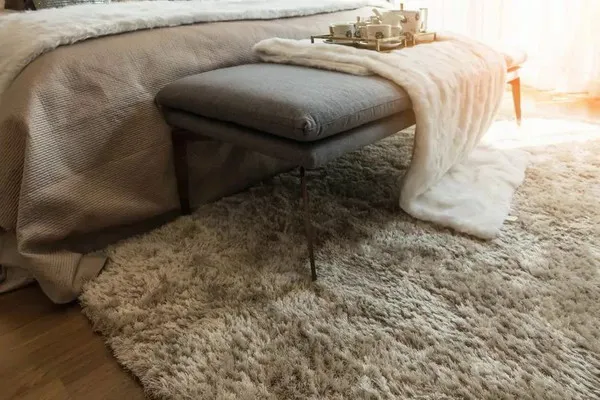 Perhaps next year's biggest trend when it comes to rugs is unusual shapes. Soft, flowing shapes, typical of modern organic style, can beautifully combine empty space into a single whole.
Carpet Ideas 2025: Vintage Carpet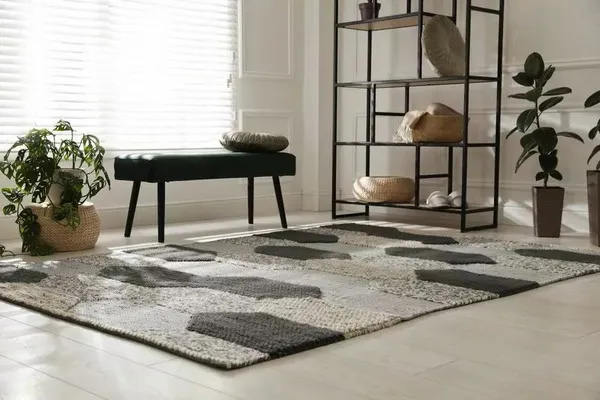 Do you prefer vintage rugs? In this case, Turkish and Persian are still popular, especially in a shabby form.
Perhaps you have a carpet somewhere that has acquired a natural patina over the years and is a collector's item.
Carpet Trends 2025: Wondering if Carpets Are Still in Fashion?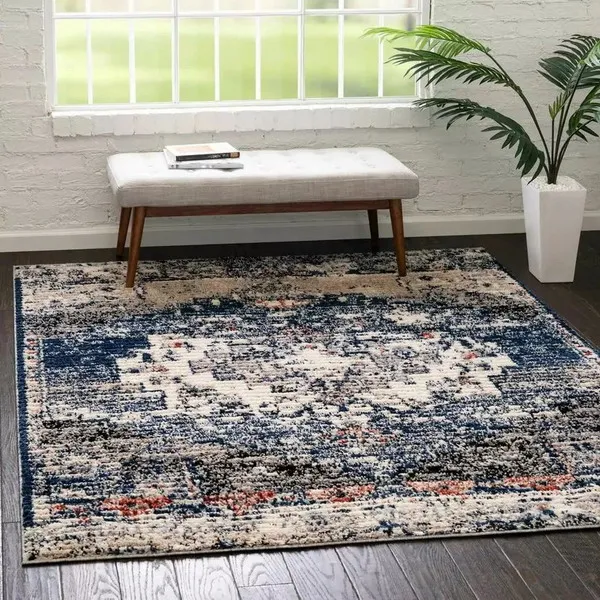 The answer is clear: yes, carpets are still considered very appropriate in modern homes. In some interiors, especially industrial ones, they are not used or used to a lesser extent, as this would be contrary to the intention of the designers. However, in most interiors, they still fulfill their role – they make the room cozier and warmer.
How to choose carpet for your living room to make the space cozy and give the room a new dimension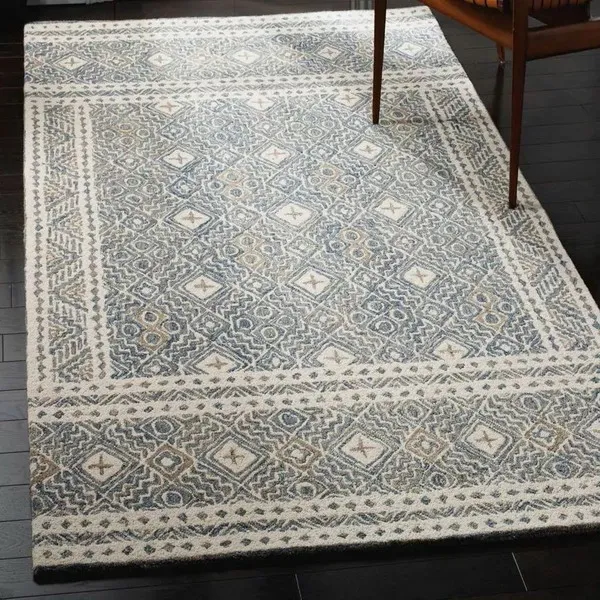 If you manage to find the right carpet or rug, the living room will look completely different. Carpet can tie the whole composition of a room together, even if you use many contrasting shades, patterns or different colors. A properly used rug can create perfect harmony in a visually disparate space.
Choose the right carpet size
First, measure the area of ​​the room and find the right size rugs. Many designers recommend choosing the largest carpet size. It should cover the area intended for relaxation, so that it protrudes beyond the sofa or couch on both sides by at least 30 centimeters.
The coffee table and at least the front legs of the chairs and armchairs that complement the seating in the living room should also be on the carpet. If you have a good wood floor, leave at least 12 inches of space around the carpet on each side so the wood can be seen.
Think about the atmosphere you want to create
The right rug will add character, texture, comfort and perhaps even color, pattern and your own personal style to your living room. It is important that the carpet complements the overall idea of ​​the interior. For example, if you prefer the cozy and rustic feel of a living room, a thick wool rug will do the trick. If you love the boho style, carpets with a pattern in the form of an ornament or simply colored ones will do.
For a formal living room, choose a short pile carpet or a combination of short pile and flat weave. The fibers can be made from silk, wool or linen, and combinations of the two different textures are also possible. Hand-woven hemp carpets with an unusual texture are very popular.
Don't Forget the Practical Side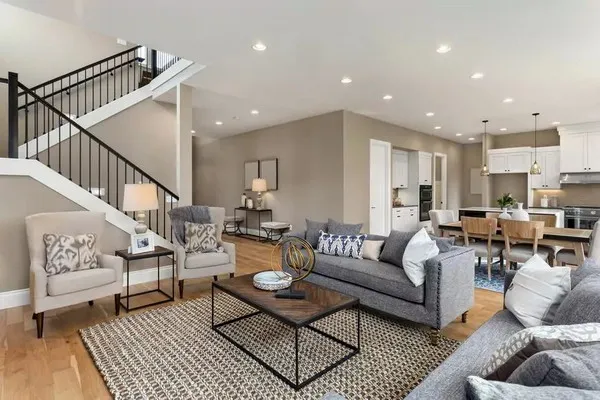 An important criterion when choosing a carpet for the living room is practicality. Choose a durable material with a texture that will not lose its appearance even after many years of use. If you have children or pets, choose a carpet that can be easily cleaned or washed.
Carpet as the main element of the room
If you have a simple neutral color scheme and minimalist shapes in your living room, spice it up with a brightly colored or patterned rug. To make the rug blend in with the rest of the space, use the colors or shades of the living room accessories in the pattern of the rug. You can achieve the best effect by choosing a carpet in a darker or lighter shade of the base color.
The direction of the pattern is also important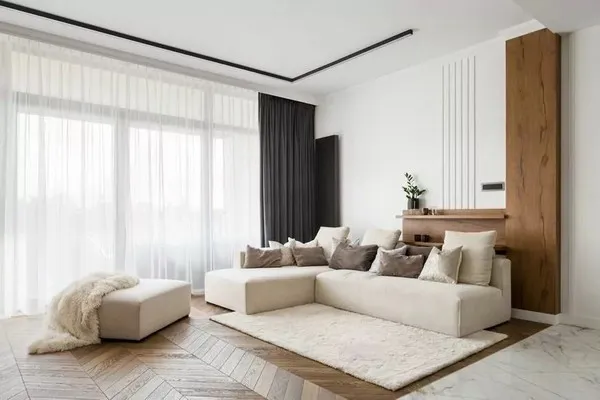 If the carpet you have chosen has an attractive pattern, the walls and furniture should be plain. However, how the pattern is located is also important. Do you want it to make an impression when viewed from the entrance to the room? Try different options and choose the best one.
Carpet with an abstract or classic pattern
In recent years, there has been a growing interest in carpets with abstract patterns. The latest technology allows designers to experiment with countless colors and crazy patterns. Such carpets can create amazing dynamics in static spaces. This artistic rug will bring freshness and fun to minimalist rooms decorated in muted classic colors.
Round carpet as a new trend
Round arches are currently a trend and an emerging trend in interior design. This was reflected in the patterns of carpets of round, oval and even irregular shapes. The classic rectangle is versatile, but a round rug pairs well with an L-shaped or curved sofa to create an interesting and dynamic space.