Decorating a bedroom in strict accordance with a certain style is no longer in fashion. When creating a design, follow the colors and shapes, choose creative ideas and follow the top trends of the year. What decor to choose for the bedroom in 2025?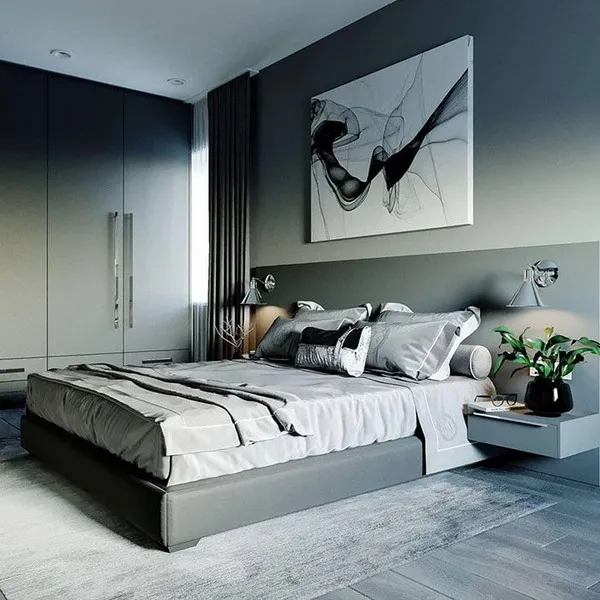 How to choose a bedroom design in 2025? The trend is conservatism and symmetry, environmental friendliness, space and urbanism, practicality and pragmatism, manufacturability, elegance and bright accents.
Bedroom design trends 2025: Conservatism and symmetry
Correct geometric lines, a minimum of decor, muted tones with catchy and often paired details organize the space and create a sense of balance and peace. It is with these features that the design of the bedroom in a classic style is endowed.
When choosing a classic, designer expert advises to take into account the fashion trends of 2025:
colors in pastel shades with bright accents of red, pink, mint colors;
natural materials for wall and floor finishing;
comfortable and practical furnishings.
The bed is selected wooden with a carved or upholstered headboard, and the bedding is made of natural silk or linen in the main shades of the bedroom. Bedside tables should be the same size to create symmetry, as interior designer Halle Milstein recommends.
The floor of the bedroom in a classic style is made of parquet, parquet or marmoleum. A soft carpet is placed near the bed. Paintings and mirrors in carved frames are hung on the walls. Floor vases, a crystal chandelier, lamps with beautiful lampshades, indoor plants in tubs will complement the comfortable atmosphere.
Bedroom design 2025: Practicality and space
What bedroom design is relevant in 2025? This year, high-tech bedroom design is in trend. The design in this style is suitable for people who seek to expand the space and are ready to abandon unnecessary elements in the bedroom interior.
High-tech style features:
varnished and chrome-plated surfaces;
minimum number of decorative elements;
artificial finishing materials;
white and gray colors, black and red colors as an accent.
Warm shades are not used so as not to break the general concept of the urban style. Applying geometric patterns to the wall with paints is popular. Comfort in the bedroom is created with the help of modular lamps.
Furniture is better to choose white to expand the space. The accent is made by decorative pillows with red and black ornaments.
Bedroom ideas 2025: Environmental friendliness
To decorate the bedroom in eco-style, natural materials are used. What is the best color for a bedroom? The mint shade is considered trendy this season. It is connected with nature, which is suitable for eco-style. House Beautiful magazine also highlights beige and red-orange shades, which are combined with natural colors.
Natural finishes are used for walls and ceilings: mineral or textured plaster in pastel shades, wood panels, natural stone.
Southern Living writes that this year, ready-made bedroom furniture sets are losing their relevance, so the necessary functional furniture made of wicker, wood, and reed is selected for the eco-bedroom.
Bedding, curtains and draperies are chosen from natural fabrics. Local lighting is provided by bedside lamps covered with lampshades made of straw and other natural materials.
The floor is covered with parquet or laminate imitating wood with cork. These floor coverings have low thermal conductivity. The interior is decorated with live plants, a decorative panel made of textured material imitating reptile skin, and dried flowers.
Bedroom trends 2025: Urbanism and no borders
Urbanization is a trend in the development of modern civilization. Therefore, the fashion for industrialism, functionality, pragmatism, a sense of large space has become part of the design of residential premises. The loft style allows you to create a room without partitions and as functional as possible.
The fashionable trend of mixing patterns makes it possible to carry out the zoning of the bedroom. Separate zones are decorated with brickwork, given the location of windows and doors. To do this, use textured wallpaper, tiles, or leave open brickwork. For the rest of the walls, white or gray plaster is suitable.
The floor is made bulk or laid out with porcelain stoneware. Other floor coverings in gray, beige shades with a geometric pattern are also suitable.
The main piece of furniture in this style will be a vintage bed with a metal frame. For convenience, a modern mattress is placed on it. Bedding is chosen in light colors with a black or red pillow.
Interactive installations, paintings with an abstract composition are suitable for decorating walls. Local lighting is arranged in the ceiling and on the walls, using lamps with a swivel arm or black retro lighting.
Modern bedroom 2025: Elegance and bright accents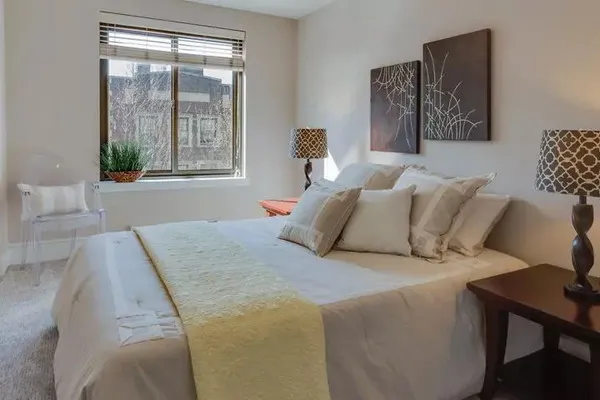 The neutral background of the room will allow you to decorate it with bright accents. Such features are inherent in the Scandinavian style. You can design a bedroom in this style according to this principle:
colors in muted neutral shades combined with white make the room spacious and comfortable;
accent objects (ceramics, carpets, pillows and works of art) in bright colors fill the space with life and character;
windows are opened to light using light curtains or blinds;
for lighting use fixtures with simple matte shades, decorative candles;
planks of natural wood are laid on the floor, covering them with light varnish.
The choice of bedroom accessories should support the general trend of rapprochement with wildlife. The design team recommends choosing zen accessories for the bedroom: candles, diffusers, houseplants, knitted throws, rugs and placemats.
In the design of the bedroom in 2025, natural materials should be combined with technological modern interior details. To create a bedroom interior, designers use an eclectic approach using elements of different styles that create an overall picture of comfort and tranquility.
Creating the design of the bedroom 2025, taking into account popular trends, do not forget about the main purpose of this room. It is important as a result to get not only a beautiful, but also a comfortable room in which you can fully relax.
Popular bedroom design 2025
Choosing the design of the bedroom 2025, take into account current trends focused on the design of this room. There are several trendy nuances that are easy to transfer to your own interior:
Accent headboard. It is logical that the bedroom is dominated by the bed. Analyzing the design of the bedroom 2025, presented in the photo, one can note such an attention-grabbing technique as an unusual headboard. It can be massive, carved, painted with bright ornaments.
An accent wall often brings a stylish touch to bedroom 2025, as evidenced by a photo of an unusual wall design adjacent directly to the head of the bed.
Zoning. A convenient practical bedroom design in 2025 can be obtained if the room is visually divided into functional zones. They use different techniques: partitions, multi-level floor or ceiling planes, the use of finishes that differ in texture or color.
Asymmetry. If there is no adherence to the classical style, they equip a more dynamic bedroom, devoid of strict symmetry. For example, they replace one bedside table with a comfortable shelf or an elegant table, set the bed not in the center, but with an offset.
Bedroom Interior Design Styles 2025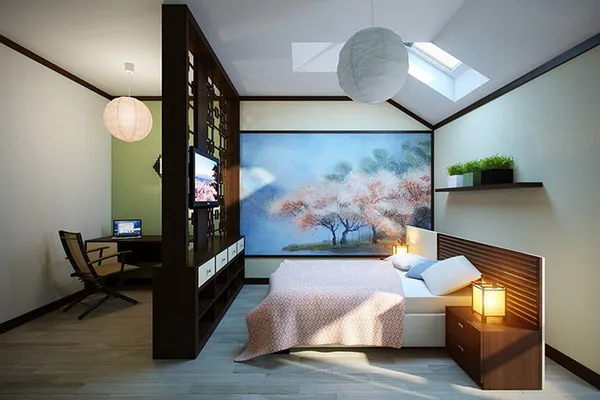 When decorating a bedroom, different styles are used, selecting all the furnishings in accordance with the functionality of this room.
Scandinavian style
It should be borne in mind that the main characteristics of the direction involve filling the room with light. This is not very suitable for people who, due to the specifics of work, require daytime sleep.
Basic details:
large windows guaranteeing an abundant flow of daylight;
furniture with clear lines made of natural wood;
linen or light cotton curtains;
the predominance of restrained achromatic shades (white, gray, black) or neutral tones (brown, beige).
Minimalism
The style, characterized by conciseness, turns the bedroom into a room where functionality and order reign. This decision will not appeal to people who gravitate towards an abundance of decor.
The main features of minimalism:
simple but graceful lines;
natural quality materials;
the presence of only the necessary things;
neutral colors;
comfortable cabinet furniture;
roller shutters on the windows;
multilevel lighting.
Modern style
Arranging the design of the bedroom in a modern style, they study preliminary photos of the current interiors of 2025. This contributes to the proper design of the room.
Basic features:
convenient layout;
decoration from natural materials (stone, wood);
rounded contours;
symmetry and clear lines;
soft noble shades.
Bedroom design in modern style 2025 allows a combination of elements of orderly minimalism with stucco, bright accents. The built-in roomy corner wardrobe fits perfectly.
Classic style
A bedroom with elements of a luxurious noble classical style is recommended to be decorated in a fairly spacious room.
Character traits:
symmetry of the layout;
natural finishing materials;
arched structures;
columns;
rich stucco;
fireplace with tiled portal;
pastel noble shades;
paintings in carved frames;
floor painted vases;
luxurious textiles;
perfectly polished furniture made of valuable solid wood.
Loft
For the bedroom, the revolutionary bold loft style, which allows for the mixing of eras, involves the introduction of some characteristic details:
plain walls or finishing one surface under light brick or concrete;
a spacious bed that can be raised to the platform;
elegant ottoman covered with luxurious velvet or genuine leather;
retro lamp;
colorful posters and posters on the walls.
Provence
The refined Provence style with characteristic warm shades used for the bedroom allows you to create a relaxing, cozy atmosphere.
Main differences:
vintage headboard of a comfortable bed;
light, visually pleasing muted shades (honey, caramel, milk);
natural plain or with elegant floral patterns textiles;
flooring with imitation of boardwalk or stone;
painted chest of drawers;
wicker comfortable chair.
The dominant criterion in the selection of the stylistic direction in the bedroom are individual preferences. Then you can analyze the design ideas. This allows you to create a functional cozy interior.
Bedroom interior colors 2025
It is important to provide a relaxing, comfortable, peaceful atmosphere for a room reserved for relaxation. It is recommended to apply when making no more than three tint nuances.
Analyzing the current colors of the 2025 season, several trendy options can be noted:
Blue with a red undertone, recognized by Pantone as the dominant color of 2025. When brought into the interior, it manages to create a fresh and intriguing atmosphere. Deep and rich tone easily maintains proximity to different colors.
White is associated with purity, freshness, visually expands the space. More often it acts as a base background, against which any color combinations look advantageous.
Beige is a soothing, sophisticated color. It brings a quiet, warm energy to the surrounding space. It harmonizes well with bright saturated colors.
Light grey. Elegant aristocratic stylish color is excellent when combined with any other. The gray background enhances the sound of other color varieties, bringing them to dominant positions.
Muted green. Symbolizing the spring awakening of nature, life-affirming and pacifying, not very bright, with noble notes, the color for the bedroom is recognized as one of the most suitable options. It organically supports juicy various color shades.
Blue is another option for a successful and fashionable bedroom design. A fresh light blue background of walls or textiles fills the room with a sense of calm and tranquility. Such an atmosphere is relaxing, contributing to quality rest.
Sunny yellow. The dominant shade last year does not lose popularity in the 2025 season. This energetic, cheerful option is used as accents.
Violet. When using this majestic noble shade, it is recommended to avoid its dominance in the bedroom. It is advisable to give preference to the inclusion of a small amount of violet mystical accents in a more calm interior in color scheme.
Pink. The presence of such a delicate nuance in the patterns of a bedspread, curtains or bedside rug is uplifting.
A monophonic solution in the bedroom is rarely implemented, because it can be tiring. It is advisable to select the base tone, complementing it with harmoniously combined color notes, but no more than two colors.
Bedroom furniture 2025
Analyzing the criteria that directly affect the choice of furniture, the following important characteristics are noted:
functionality;
style matching;
convenience;
reliability;
decorative;
environmental Safety.
You can immediately purchase a bedroom set in the same style. If desired, a set is selected independently from individual modules. If you need to fit exactly into a non-standard layout of the room, it is reasonable to contact companies for the individual manufacture of furniture.
Among the popular trends of 2025 is the rejection of bulky wardrobes. Preference is given to multifunctional items that leave more free space. Increasingly, furniture sets made from natural materials that ensure environmental safety are being chosen for the bedroom.
A good option is built-in furniture, merging with the tone of the walls. The trend is furniture facades without handles, which open with the touch of a palm. Such storage places do not create a feeling of crowding and help maintain perfect order.
The main piece of furniture in any bedroom is the bed. Its shape and decorative elements should match the chosen interior style. It is important to pay attention not only to the external decor and structural strength – you need to choose a comfortable mattress that provides a good night's sleep. Enhances the functionality of the drawer located under the bed, where any bedding can be easily placed.
Modern Bedroom Decor Ideas 2025
To obtain a complete harmonious design at the final stage, it is worth considering which decor will solve this problem.
The paintings fit easily into various styles, provided that the frame is correctly selected. In minimalism, it should be simple, and in a classic interior it is worth picking up a carved wooden frame.
Flowers. Living plants that bring natural notes to the atmosphere in the bedroom should be present in small quantities. It is better to give preference to compact small-leaved varieties, but keep in mind that in the dark the flowers absorb oxygen, respectively, carbon dioxide enters the room.
Textile. With a plain general background of the walls, decorative accent pillows, a blanket, a rug will successfully fit in. You can pick up blackout curtains in the bedroom with bright inclusions. Design 2025 allows contrasting combinations, but does not welcome gloomy colors. If light curtains are selected, they are complemented by blinds. Roman curtains look original.
If wallpaper is chosen for decoration in the bedroom, you need to consider that in 2025 graphics, abstraction, and floristry are in trend. You can include mysterious frescoes in the design of the bedroom.
Lighting trends for bedroom design 2025
Thoughtful lighting plays an important role in providing a relaxing and comfortable stay. With the obligatory presence of lamps on the ceiling, it is necessary to provide additional devices.
The modern design of the bedroom 2025 involves the placement of floor lamps, sconces or table lamps on the sides of the bed. Switches and sockets should be mounted in a convenient place so that you can reach it without getting out of bed.
The lighting installed in the closet increases comfort. You will need a separate lighting fixture above the dressing table.
Bedroom Interior Design Tips 2025
In stylish and functional modern bedrooms, any design that is fashionable in 2025 is applicable. It is recommended to focus on photos of finished projects and take into account the advice of experienced designers:
Paying tribute to the basic trend of the 2025 season – multifunctionality, it is important to avoid piling up unnecessary furniture items and accessories.
To give softness and elegant chic to a monophonic ascetic interior, it is diluted with gold blotches on textiles or in the decoration of the headboard.
Clear black strokes will help to achieve completeness even with excessive variegation.
To give a low room more volume, an accent wall is made behind the bed in a rich fashionable blue-red tone, which also captures part of the ceiling.
A soft headboard may not be limited by the size of the bed. Increasingly, it is made along the width of the wall. An interesting option with a high headboard, reaching the ceiling in some interiors.
When decorating the walls of the bedroom, you should not limit yourself to just painting. A stylish interior can be obtained using decorative plaster, different types of wallpaper, including cork options. Popular floor coverings include laminate, parquet, and carpet.
Even with independent design, you will get a comfortable and functional bedroom, if you select the interior design taking into account the top trends of 2025. It is important to consider that for this room the main criterion is convenience and the creation of a relaxing calming atmosphere.