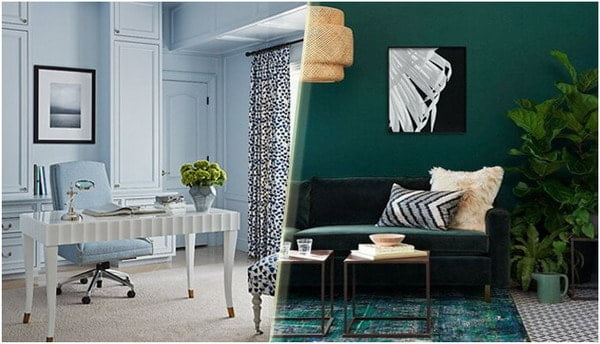 I already introduced you to the fashionable colors of the interiors of 2020, about which you can find out here , and now, when 2021 is just around the corner, it's time to talk about what designers see the interiors of the coming year, and what home decor color trends 2021 have already been outlined in this direction.
Although some new products are waiting for us, in general, tendencies in the design of living space continue, and continue to focus on creating the most comfortable environment . Therefore, no aesthetic shocks threaten us, and since the current interior fashion is primarily focused on the preferences of the people themselves, the interiors will be well thought out, calm, and, most importantly, inspiring creativity, communication, and relaxation.
And first of all, new color solutions will help in this. What kind? Let's get a look.
Specialists identified three coloristic dominants – these are:
light gray-blue color;
pale mint green color;
dense bottle green color.
Now let's talk about each of them.
New Home Interior Color Trends for 2021
Light gray-blue color – Bleached Coral
The Pantone Institute proposal to make this unusual shade the main color of 2021 came from Jack + Huei, an Australian design bureau. This choice was not accidental, because such a pale gray-blue color is acquired by coral reefs, which in fact died due to anthropogenic impact.
Choosing this color, Australian designers, on the one hand, decided to show its capabilities in the interior, since it is really very delicate and unusual,
on the other hand, they sounded the alarm, drawing the attention of the world community to environmental problems.
This color in the interior is good as a background, and so neutral and unobtrusive that it makes it possible to focus on the decor, helping it to reveal to the fullest.
This color refers to cold shades, and, representing almost transparent tones of the sea, it will bring freshness and spatial depth to the interior.
Pale Mint Green – Tranquil Dawn
And this color was offered by the world-famous British company Dulux, which produces paints and varnishes.
The inspiration for creating this color was the morning sky with subtle colors that change depending on the time of year. Moreover, the psychological message also has color, which is associated with the fact that in the age of high technology, emotional disunity of people is becoming increasingly apparent.
This topic is becoming more relevant every year, and therefore experts are constantly looking for ways to solve it.
Stopping at this color, so calm and serene, they recommend using it in the design of living space, as it calms, creates a peaceful atmosphere, and makes you want to touch each other, becoming closer.
Designers recommend this color as an alternative to white, and also, like the previous one, suggest using it as a background.
The color "Calm Dawn" is suitable for decorating the walls or ceiling of any room (living room, bedroom, nursery, kitchen).
Being an unusually light and delicate shade, it expands the space, and goes well with both calm and bright colors, revealing great opportunities for interior design.
Thick bottle green color – Adeline
And this color was announced by the British company Graham & Brown, which produces paints and wallpapers. Firstly, she not only chose a color that has excellent aesthetic properties for creating modern interiors, but also as a companion to it, developed a new collection of Bloomsbury Neo Mint wallpapers, made in the neoclassical style with English floral motifs in which roses are present, primrose and chrysanthemum.
By the way, the name of the collection Bloomsbury Neo Mint was not born by chance. This is a direct message to the so-called "Bloomsbury Circle", formed at the beginning of the last century, which included creative personalities, representatives of the Booms of London's Bloomsbury district, and the name of the color "Adeline" is directly related to the name of the famous English feminist writer Adeline Virginia Woolf.
But, if we talk about the color itself, it is strange that it still has not attracted the attention of designers. Luxurious, stylish and to some extent dramatic, it is perfect for both classic and contemporary interiors – for wall decoration, upholstery of upholstered furniture and accessories, combining history and modernity, connecting man and nature.
It is clear that, unlike two light favorite colors, dark green will attract all the attention in the interior, but …
This color is good because it combines with many other colors, for example, white, golden, pink, gray, and with various materials – wood, brick, metal and wickerwork, which makes it possible to balance it correctly.
So, we were offered three very unexpected and unusual colors in the interior, which provide an opportunity for maneuver to decorate the interior in light unobtrusive colors by choosing the first two, or to make it more impressive, serious and sound, using the color "Adeline". So the choice is yours.
Top 7 home decor color trends for 2021
Linked to the aspirations of the moment, the colors help create a modern house . At the heart of concerns, nature still influences decoration in 2021 with raw materials and associated colors such as green , brown or terracotta . In the waltz of trends, certain colors emerge with immediate success and others gradually tame by sometimes requiring several seasons to prevail. In the family of greens, blues, grays, yellows or reds , the shades come in a palette of colors more or less dark, more or less tinted . Discover the 7 strong colors in 2021 that are doing well in home fashion.
"When we talk about color trends and ranges , it is also associations that play, says Anne Emery, colorist for Zolpan. They are changing, evolving . The novelty is also that." Far from being as simple as it may seem, the world of colors holds great surprises with the emergence of certain forgotten tones, variations of unexpected shades . Like the orange which gropes back in the decoration. The need to slow down is always present but with a different, more contemporary approach. Through the eyes of Anne Emery, colorist for Zolpan, and Yoann Nicoli, Style manager at alinea ,the trends stronger and colors find in 2021 in the house .
1. In 2021, green continues in decoration
In reference to nature and ecological concerns, green has been an omnipresent color for several seasons and will always be there in 2021 but in a more measured way. The range of tones is also evolving to be closer to the desires of the moment. "The greens are less present, says Yoann Nicoli, Style manager at alinea. The color gets a little gray and softens by tinging with blue with a rise of celadon green and green of gray."
In 2021, green turns gray and comes in new shades.
Other colors also emerge with greens different from previous seasons. "The almond green, almost limestone and close to the water green appears, adds Anne Emery, colorist for Zolpan. It is a gray pastel to marry with light wood , white or a strong gray. For a modern aspect, the amandine green is combined with wrought iron. It is also appreciated alongside a pastel pink . "
2. Color trend 2021: the brown family is inspired by nature
Seen in 2020, the browns will last for the next few months. "They are close to an almost ethnic artisanal theme, specifies Anne Emery. The hazel fawn or the sisal brown recall weaving and weaving. They can be mixed with strong and solar colors like a ginger yellow. At ground level, a mineral coating supports the color and a wooden parquet extinguishes it. "
The browns evoke the material and go well with leather in particular.
Indentation
In the brown family, the glossy brown stands out and comes gradually. "It is coupled with materials such as leather, notes Yoann Nicoli. It is preferably in an environment with clear walls and greens for a plant universe."
3. The blues stand out with a varied palette
The color of choice in decoration, blue is timeless with multiple shades and as many personalities. "The blues represent a strong trend for 2021, warns Yoann Nicoli. Starting with a fairly dense blue, close to the ink blue, in less dark. Klein blue is also always very present. Very soft, bleached blue is adopted in collections of furniture, in painted metal or colored rattan, for example. "
Timeless color, blue continues to renew itself to better seduce.
In order to enhance its character and create several universes, blue blends with different colors. "With a natural side, Klein blue mixes well with beige, fawn browns, says Anne Emery. It becomes more modern with touches of white or black. In an ethnic palette, an ink blue, almost overseas desaturated, goes well with a brown and a terracotta. To bring it a more singular and chic spirit, we associate it with red and dark wood. "
4. From terracotta to burgundy, red is gradually coming in
Linked to nature and to the material, the terracotta color plays the extensions in 2021. It remains installed in the house fashion and turns out to be easy to handle for a great majority. "Terracotta is much easier to adopt than some reds, notes Yoann Nicoli. Referring to terracotta and its pots, it is in vogue in a strong plant trend where plants are omnipresent. It goes very well with palette of roses. Burgundy connotations are to be watched out of the corner of your eye … "
Discreetly but surely, the red family continues its ascent in decoration.
Indentation
This shade also helped to initiate the entry of reds into the house trend. "The red arrives in the furniture but also on the ground with an orange red, says Anne Emery. In mural, we find the red rather by touches. The real red is still difficult to adopt or so it is browned. It can be associated with shades of blue but the mixture is quite sharp. "
5. Pure, warm gray in 2021 color trends
With a new approach, gray is distinguished by a neutral character and deep shades. "In the dark tones, the grays return to medium colors, more neutral, without being tinted with yellow or blue, notes the colourist. The new associations combine these grays with natural colors and bleached pastels. All wood species They also warm up this palette of gray. These are very warm colors. On the floor, there is dark wood and, in the decor, lighter wooden chairs for a graphic aspect. "
6. Yellow prolongs its success in 2021, between straw and sun
Stemming from the shades present in the bouquets of dried flowers, the straw, rope, savannah, rose or slightly whitened terracotta colors evoke a very natural universe with slightly off tones.
We find yellow in 2021 with a natural palette from dried flowers.
Indentation
In another spirit, yellow is displayed with more summer colors. "In a solar palette, ginger yellow rubs against terracotta mixed with deep red and white. We can add a touch of parma for a bit of novelty, suggests Anne Emery."
In contrast, the tangy yellow is associated with a technological universe. "Through tonic shades, the acidulous yellow is present by touches or associated with white to soften", continues the colorist.
7. The surprise in 2021 color trends: the emergence of orange
Some are still skeptical, but orange is indeed present in the next furniture and decoration collections. Already spotted during the last Maison & Objet , it's a color to tame. "Orange begins to arrive with the dominance of a Hermès orange, notes Yoann Nicoli. Even if it is complicated to insert in the decoration, it can be declined in patterns or by notes of color on a cushion, for example. It represents a nice touch of light. "
Orange is a pointed color, to be tamed little by little for a bright decoration.
Thank you for reading the article to the end, and I am waiting for you on new publications.