When it comes to kitchen design, open kitchen shelves are the living trend in 2022. In the past, they were an emergency solution when there was a lack of space, now they have become an important element of the kitchen-living room. Because on the open kitchen shelves there is not only space for functional utensils and dishes, but also vases, home accessories, colored glasses and self-made plates. In the article we will tell you how to decorate them so that everything looks calm and stylish.
Living trend 2022: decoration for floating kitchen shelves
Floating kitchen shelves are a real eye-catcher if they are properly staged. Everything that has a decorative value can be placed on it: from vintage vases to wooden bowls and small-format paintings. If you still have great ceramic or porcelain dishes, you can also display them on the kitchen shelves.
In order for the decoration to look calm, you should think about the color palette in advance. A neutral warm wood color together with white and pigeon blue is perfect for the vintage style kitchen. The color trio brings a touch of romance from bygone times into the kitchen. Small oil paintings or retro photos of the beach and sea go perfectly with it.
Deco in copper, gold and terracotta is modern. According to the motto "opposites attract" you can combine decorative objects with matt and glossy surfaces. In the end, there are exciting contrasts that attract attention. A wall in anthracite or another dark color forms the perfect background for the chic ensemble.
For the industrial-style kitchen, there are plant pots made of glass and metal, illuminated letters made of wood and decorations made of natural materials in glasses. So that the floating kitchen shelves look charming in the evening, you can illuminate them with a chain of lights. Simply drape the light chain between the decorative objects.
For the shabby chic wall shelves, choose bottles made of frosted glass, decorations with sea glass, drawings with natural motifs in wooden picture frames and cups with floral motifs. Several white pillar candles and ceramic tableware with scratches and signs of use add the finishing touches.
A decoration in pink, white and gold is playful and charming. Motifs such as butterflies, birds and flowers as well as real potted plants bring a touch of nature into the house and give the decoration that certain something.
The next arrangement also gives the kitchen a lovely touch. Copper dishes, a painting with a gilded frame and a simple concrete vase with laurel branches form a charming trio. Perfect for kitchens with white fronts that would otherwise look too sterile and boring.
Old, new and homemade things harmonize perfectly in the vintage kitchen. Combine ceramic tableware with floral motifs from the flea market with simple white plates and homemade decorations in jam jars. Simply remove the stickers from the glasses and fill the glasses with mussels, sand or spices, coffee and salt. Glue a number on each glass at the end. Seasonal meadow flowers in a ceramic vase go perfectly with this.
Living trend 2022: decorating open kitchen shelves with clay plates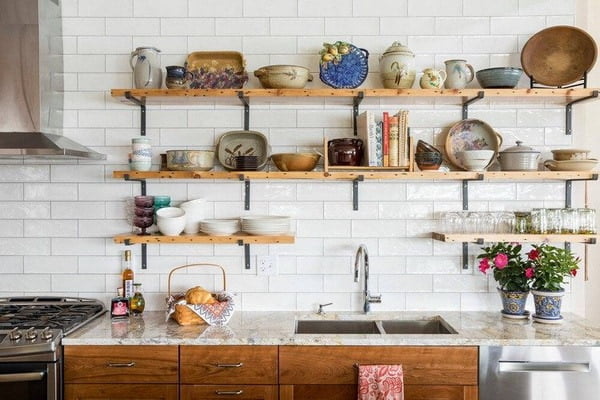 Handmade clay dishes give the modern country kitchen a charming touch. Whether homemade or from the local pottery, each clay plate is unique. The crockery has a brown tint and can also be hand-painted if you prefer.
Not old-fashioned: Colorful clay plates are not only decorative, they also look good as dinner plates. Clay crockery with a wavy edge brings a touch of nostalgia to the table and goes perfectly with the casual chic of the country house kitchen.
Plates in dark colors give modern French-style cuisine a special character. You can put together a colorful mixture of light and dark nuances, or you can opt for the monochrome look.
Clay dishes with color gradients are clearly in trend and are ideal for kitchens in the modern Japandi style. The natural material forms a natural duo together with wood and loosens up the clear lines of the kitchen cabinets with its attractive colors.
The retro kitchen can get really colorful. The white cupboards and the white tiled mirror form the perfect background for the collection of valuable clay dishes. Big, small, painted, glossy or matt – everything can be on the open kitchen shelves.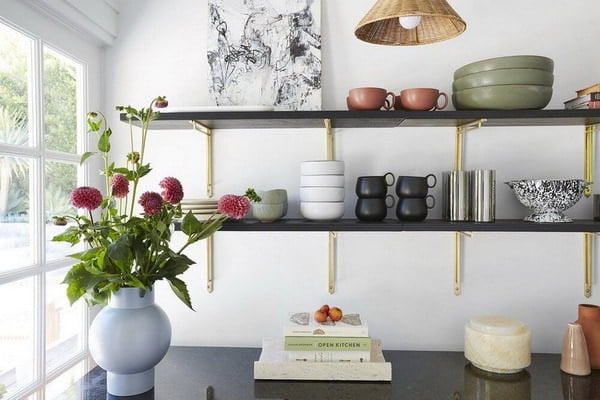 Round, single-colored plates, cups and bowls always look elegant. Group the dishes by color. The slightly sinuous shape and the matte finish are the connecting element between the groups.
By the way, in recent years another trend has crept into the hearts of kitchen designers. In the UK, more and more kitchens are being built completely without cabinet doors. There is space for crockery, cutlery and accessories on shelves. Such kitchens have an advantage: the cook always has an overview and can quickly find everything he needs. However, so that it doesn't look too chaotic, you should opt for cookware made of the same material.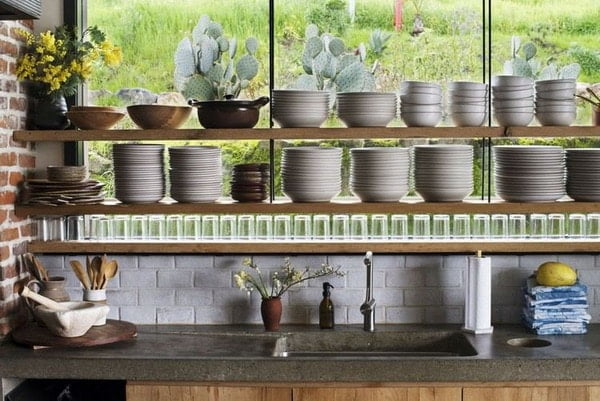 Not only clay dishes may be displayed. You can also arrange ceramic or porcelain stoneware sets on open shelves. It is important, however, that they look like they are handmade. Even if they are actually mass-produced.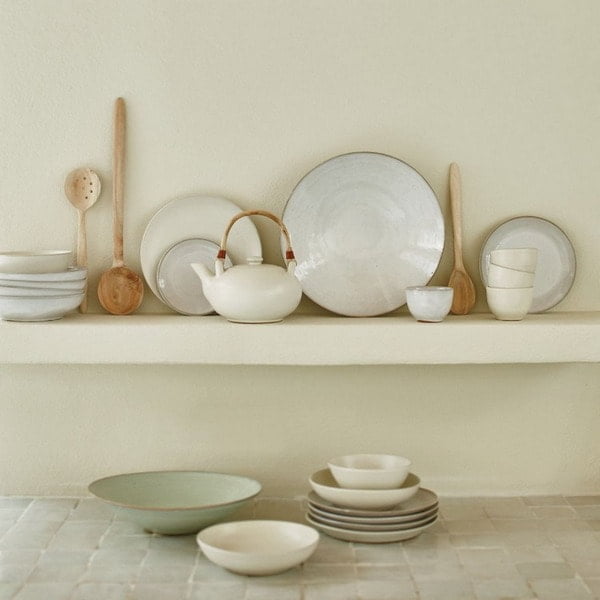 Living trend 2022: colorful glass dishes as an accent and possible combination partner
Colorful glass dishes bring a touch of luxury and sophistication to everyday life. Glasses with a patterned surface or beveled goblets show a lot of character. Create smooth color gradients by juxtaposing glasses in several shades from the same color family.
Proceed similarly to the clay plates and arrange the glasses according to color, shape or size. If you group the glasses by color, an exciting "rainbow" decoration is created that can spice up the white shelves of the minimalist kitchen.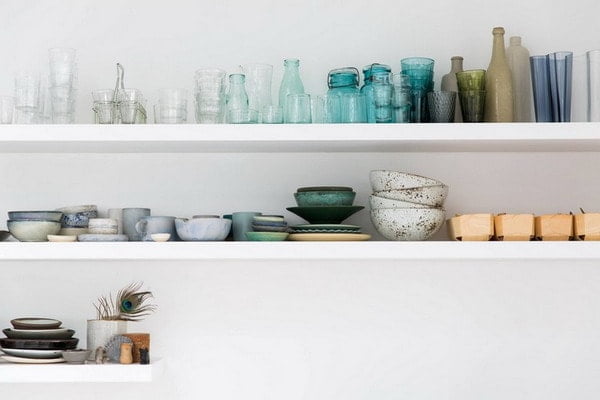 Colored glass dishes can also be grouped with clear glass, ceramic, metal or porcelain stoneware. Our tip: Try different variants. Make sure that all glasses, mugs, cups and plates are clearly visible. Otherwise the shelves will look crowded and chaotic.
For the purist or Scandinavian cuisine, it is best to choose a neutral color palette of earthy nuances and blue sea tones. Sand color, copper, turquoise, dove gray and sky blue make you dream of empty beaches with golden sand and give the interior a maritime touch.
Living trend 2022: cookware made of copper
Copper cookware is clearly in trend. If you don't have pans and pots from your grandparents, you can easily find them in stores these days. And now at a reasonable price. Copper pans, pots and teapots are not only very helpful when preparing food and drinks, they are also absolute eye-catchers.
Pans made of copper fit particularly harmoniously into the kitchen in the modern industrial style. The metal proves to be an absolute all-rounder and can be easily combined with gold, brass, antique silver and even rose gold.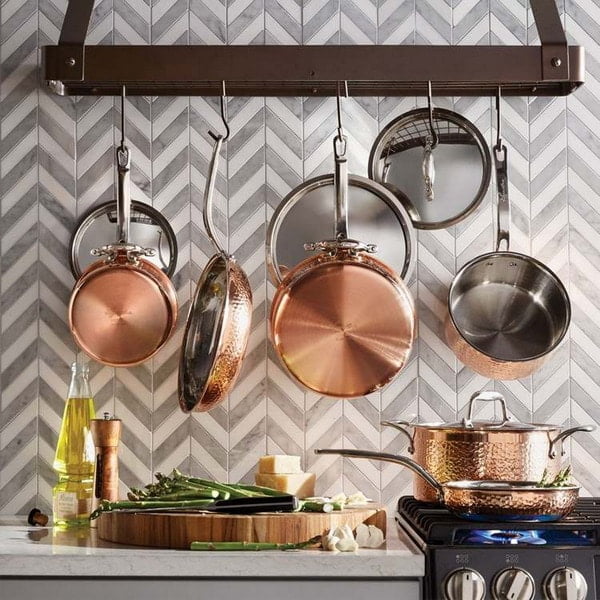 In the backdrop of the classic kitchen with its white marble worktop, white fronts and the tiled mirror, the copper dishes always look stunning.
The copper tableware moves glamorously back onto the open shelves. Discreetly dosed and together with high-quality marble bowls, the pots and pans make the kitchen look particularly elegant.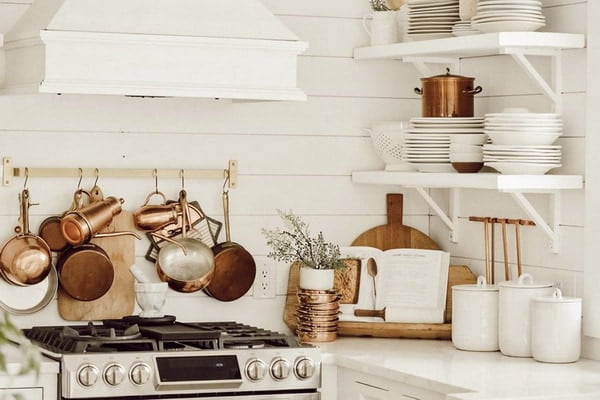 Even in the vintage kitchen, the pots, teapots and pans look very good in a red-brown copper tone. The copper dishes help highlight the open shelves. Combine it with accessories made of untreated wood. This gives the kitchen a nostalgic touch.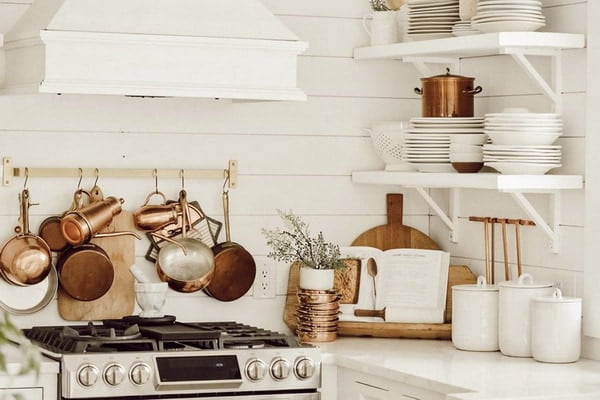 The white kitchen looks too sterile and boring? Use copper, because the material can warm up any interior and make it look cozy.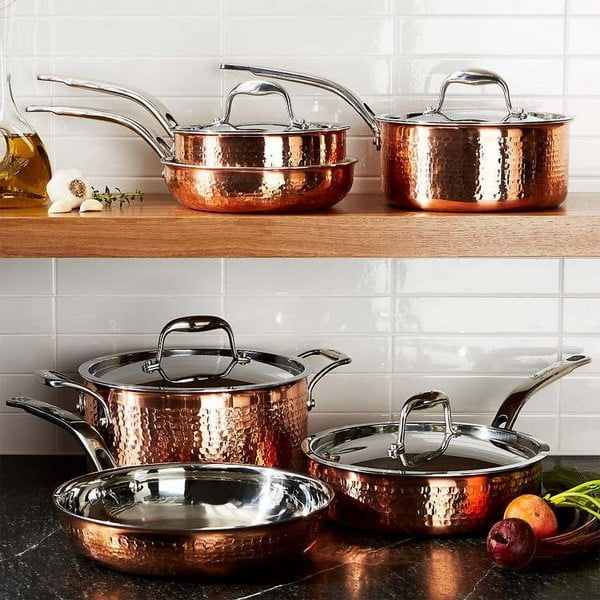 Proper care is essential to ensure that copper dishes retain their attractive shine after each use. Those who clean and polish the pan thoroughly will enjoy their dishes for a long time. But even when time is short and you just skip polishing every now and then, the copper pots still look attractive. In this case, a light patina forms, the metal loses its luster and becomes darker.
Living trend 2022: plate shelves in the kitchen
No way old-fashioned: plate shelves are more topical than ever and the living trend in 2022 par excellence. If you want to give your kitchen an individual touch, but unfortunately don't have space for open shelves, you can choose the space-saving alternative.
Incidentally, not only plates cut a good figure on the plate shelf: there is also space for small plants, books and even the new cutting board made of solid wood. The end result is a charming, eclectic ensemble that automatically attracts the eyes. As far as the plate shelf is concerned, the rule of thumb applies: the more eclectic the decoration, the simpler the shelf itself should be. It is best to opt for shelves in neutral colors with a simple construction.
So that plate racks fit harmoniously into the interior, they should be coordinated with the style of the kitchen. In the purist kitchen, for example, a simple wooden strip is sufficient.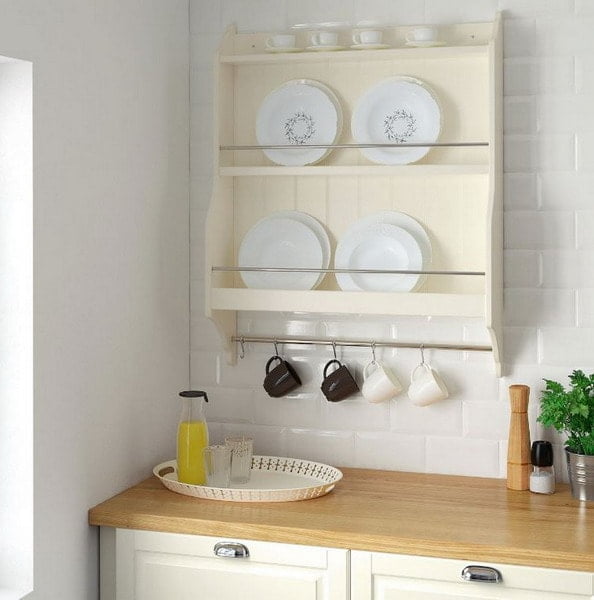 In the vintage kitchen with adjoining dining area, a plate rack can be hung above the chest of drawers or next to the breakfast bar. So you always have the dishes within reach in the morning.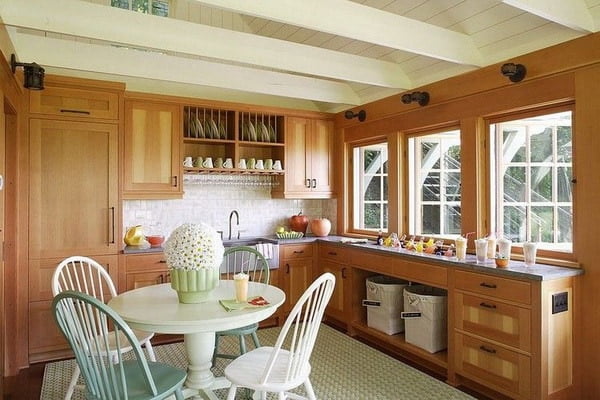 If you are currently designing a kitchen, you can also plan space for a plate rack. To create a coherent kitchen image, you can have it made from the same material as the kitchen cabinets.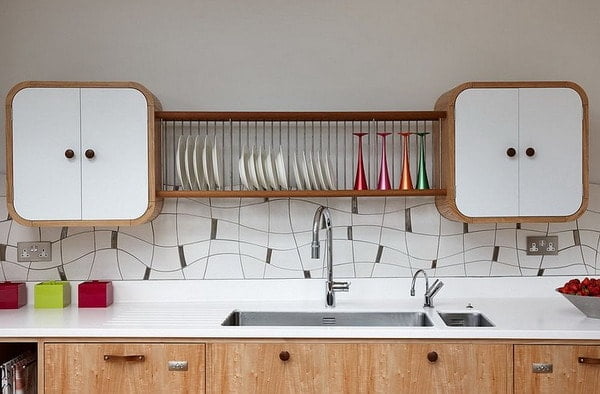 Open shelves give the kitchen more character and offer numerous decoration and design options. Above all, it is important that you match the color of the shelves to the kitchen and arrange the accessories in such a way that the ensemble looks harmonious. You can not only display your favorite crockery set, but also family pictures, cookbooks, vases and homemade items. The possibilities are just endless. So let your creativity run free.
Puristic plate shelves in anthracite gray arranged with white plates, cutting board and green branches
Space-saving plate rack on a kitchen cabinet
Rustic plate rack in the vintage or country kitchen