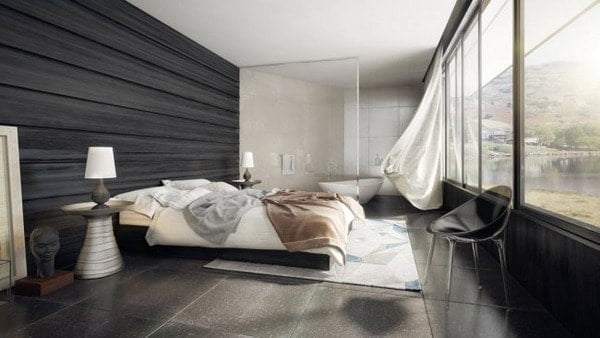 When we mention modern bedrooms, we do not mean cold-looking rooms, which many times out of ignorance we usually imagine. That is why today we wanted to present through this article, some of its main features, so you can learn more about this type of decoration and why not, also benefit from it.
If there is a room in your house that should really reflect your taste, personal style and that gives you the greatest comfort, that is the bedroom. It is a personal sanctuary that allows you to rest and have a moment of introspection, and it is often the room in which many of us spend most of our time at home. Let's take a look at the main bedroom decor trends 2021 that will shape the bedrooms in the coming months.
Trends in modern bedrooms 2021
Small modern bedroom trends 2021
Creativity and space planning is essential when it comes to small spaces. Using a light and delicate light wood construction, the designers separated a small corner for the bed platform.
Material continuity, high ceilings and abundance of natural light create a cozy space that has an elegant aesthetic in addition to its cleverly defined functions. This dynamic is very comfortable and functional. This design has one more advantage: it is created with modest means and is suitable for low-cost budgets.
Here the bedroom platform is a wooden construction that juxtaposes to the industriality of the concrete ceiling and the floor finish. Together with the cushions, it makes up a perfect relaxation zone.
If in the previous two examples the bedroom had become a part of the living room thanks to creative constructions, in other cases there is neither the space nor the possibility of separating the bedroom from the living room.
The sofa bed is also a possibility. New trends and design lines offer some very elegant examples to choose from.
Retro bedroom trends 2021
The retro style will play a significant role this season. A combination of geometric shapes and warm tones is capable of recreating old world atmospheres in a contemporary context.
Speaking of retro, we must take into account the return of velvet as a textile to achieve elegant and soft furniture, both sofas, beds or chairs. The colors are warm and bright.
Solid wood beds, another retro trend to consider.
United bedroom and bathroom design trends
The sleeping and bathing spaces together are growing in popularity, and some of the best examples can be seen in hotels.
Wooden structures and beams are juxtaposed to brick and marble walls, while delicate bedding brings refinement to the room. Exquisite luxury is combined with contemporary minimalism.
Materials for bedroom design
If possible, the materials used in the bedroom should be natural and with an organic origin. We all love wood, linen, cotton textiles, velvet or leather, they are rich in both tactile and aesthetic sensations.
Scandinavian style
Almost all decoration trends today are inspired by Scandinavian decoration, including shades such as gray and off-white, warm wood details and a penchant for interiors bathed in a torrent of natural light. Achieving this type of style is very simple and economical.
Recycled wood walls
Ecological awareness has shaped a good number of design trends in the last decade, such as the reuse of reclaimed wood. They are a smart economic and ecological option, for example, recycled wood walls bring texture beauty to contemporary rooms that are dominated by glass, stone and concrete. Of course, these impressive accent walls blend perfectly with any bedroom style.
Custom headboards
Homemade headboards are booming, and there are a lot of variants and possibilities, from paddles to quilts.
Wall wallpaper
A few seasons ago, we have seen a return of the wallpaper. It can be used on a single wall. They allow you to discover a world of fascinating colors and prints.
Many times the decoration of our bedrooms becomes somewhat monotonous. A simple way to bring this space to life is through wallpaper. One of the options, widely used today, is to use paper that simulates a natural wood cladding.
Another effective way to add style to the walls is to build a kind of large headboard, cover it with paper and attach it to the wall just behind the bed.
Many times with implementing them in a single wall (usually on the one to which it gives the headboard of the bed), it can be more than enough to achieve the desired effect. Since thanks to the greater prominence of a single wall, a greater and favorable visual effect is provoked.
Bedrooms with many amenities
Modern bedrooms are not just a place to sleep. They are becoming a "home inside a house" that offers almost everything that is needed without having to venture beyond the confines of the room. Some might want to put together the office in the bedroom, while others just need a small desk along with a luxury bathtub and a wall-mounted TV to create a room with all the comfort.
Colors of modern bedrooms
Neutral and pastel colors
One of the great features of this type of decoration is the inclusion of discrete textures and colors such as those of the pastel range, in order to recreate them, comfortable and functional spaces, but without visual overloads. On the other hand, accessories and works of art are kept to a minimum, in order to reinforce the idea of simplicity.
The colors may go according to personal taste, but it is advised that neutral ones, such as white, beige or gray, with touches of color in accessories or a single wall. It takes full advantage of natural lighting.
You can choose for the decoration of modern bedrooms, both warm and cold colors.
White modern bedrooms
The white color is one of the classics in the bedrooms, since, in addition to providing a lot of spaciousness and luminosity, it can be combined with all kinds of colors.
Using different shades of white and gray helps to give depth to the space we want to decorate.
Simplicity and minimalism
With regard to architecture, clean and straight lines stand out, one of the great features of minimalism , which are clearly merged into all modern decoration proposals, reminding us once again that "less is always more".
Modernity demands to be practical, leaving aside other decorative styles that are too ostentatious and overloaded, such as the bohemian style, the classic, the romantic, the shabby chic . All beautiful, but for those who lead a life full of activities and want to relax in a very relaxing bedroom, a modern and contemporary decorative styling is much better.
As we said, options abound. Above all, the simplicity of shapes and the very basic furniture stand out, without this being confused with austere or too simple. They resort to practical, elegant but very modern forms.
The furniture can be very avant-garde or the simplest, what this style demands is a modern look that is cozy, but very organized.
Modern bedroom lighting trends 2021
And one of the things that clearly cannot be missing in any bedroom that wishes to adopt this type of decoration, is the lighting, which reaffirms even more the softness of the colors and the spaciousness of the spaces. Therefore, special attention should also be paid to making it soft and warm, and that is where the dichroic lights have gained popularity, which allow us to regulate the light source according to our need.
Modern bedroom bedding trends
One of the simplest ways to give the rooms a modern decoration is to opt for bed sets of rich and colorful textures, in attractive fabrics and fabrics.
Bedding in shades such as pink, white, beige, gray, green and yellow are one of the most popular options, as well as striped and circle patterns, which give the bedroom a greater appeal.
Although the stripe and circle patterns are very popular this season, the rooms can also be brought to life through floral, geometric, ethnic, tree branches and leaf patterns.
Also stand out the spongy padding, numerous pillows and cushions, blankets of different textures, since this season plays a lot with the contrast of styles, textures and colors.
Those who prefer instead to decorate their rooms with more discreet designs, can opt for monochromatic duvet covers, since what they do not have in color they have in style and also gain popularity this season.
Modern double bedrooms design trends
After a day of chaos, the marriage bedroom is usually the only place where both can be in peace and alone, away from children and everyday worries.
Here we see some ideas where the features we mentioned at the beginning apply: minimalist decoration, neutral colors, wallpaper and wood.
Modern bedrooms for young people
In this type of bedroom, we can dare more to play with colors, to inject a more youthful spirit into the room.