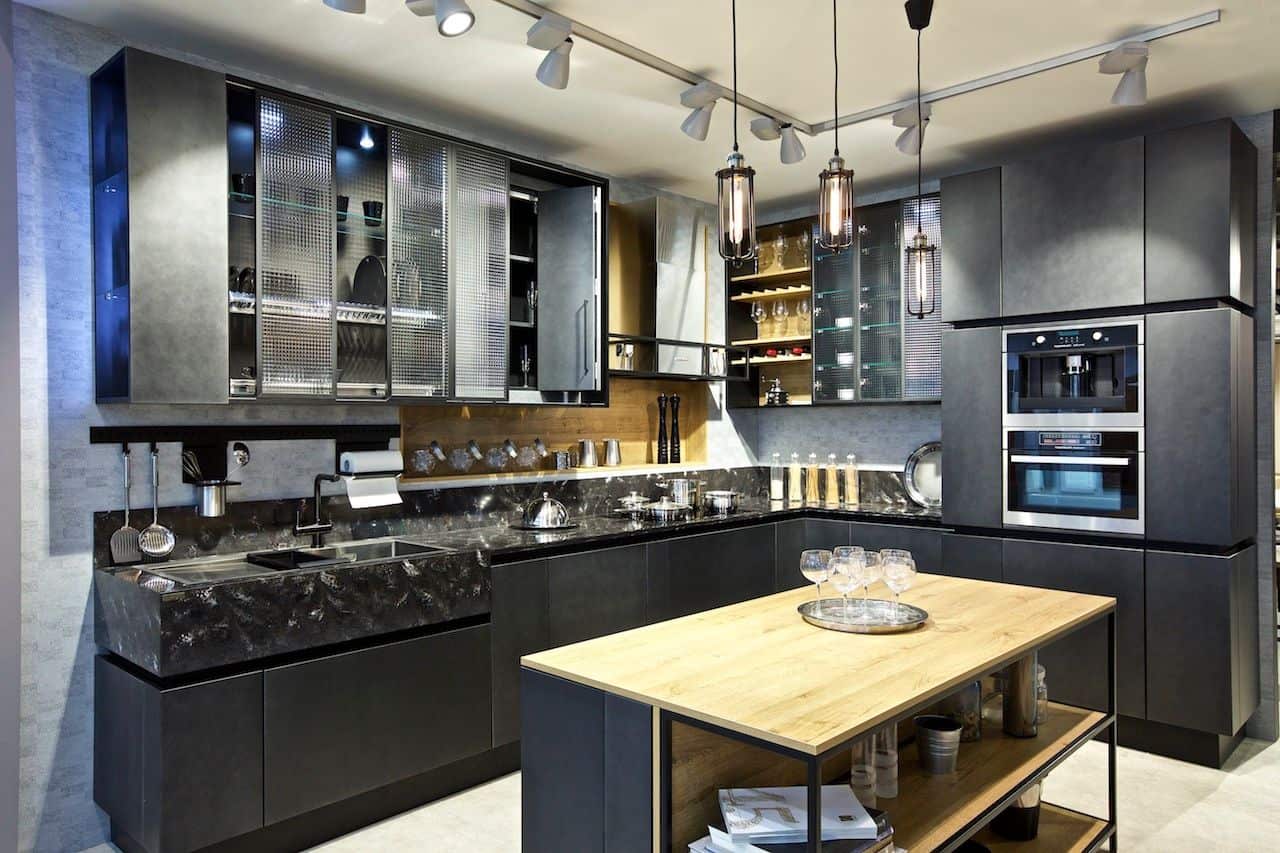 The interior design of the kitchen in the modern era is not just a minimalistic set, a light finish and high-quality materials. It is also technological innovations and gadgets that make the cooking itself more convenient, fast, enjoyable and even more professional.
The innovative design of the kitchen trends in our new article is covered on several fronts: household appliances built into the countertop, storage ideas and design options. Here you will find the most daring, modern and ergonomic solutions of the new time!
Countertop cooker
Such a gadget looks great built into the countertop. In this form, it is even more convenient to use it than a separate item of small household appliances.
Cooker hood (retractable or static)
A retractable hood usually presses a button to move up from the countertop and is located between the two cooking zones. And static options are essentially a niche. Both types can be switched on either at the touch of a button or automatically using a stove or steam sensor.
Wok panel
The black WOK panel with a round recess not only allows you to cook many traditional oriental dishes, but also looks designer thanks to the effective glossy finish.
Deep fryer
A fryer with a mesh colander allows you to make your kitchen a semi-professional culinary area.
Teppan Yaki grill surface and grill
The grilling surface is usually black, with parallel stripes across the surface, and the teppan yaki grill is steel and gray. Both types can significantly expand the home range of barbecue meat dishes.
Steam cooker built into the cabinet
Today, a double boiler can be built into the cabinet. Thanks to smart technology, such food is light, dietary, ideal for a healthy lunch.
Salamander Grill
Such a grill is usually used for heating and caramelization. Salamander grill takes up little space, but allows you to cook more complex dishes. It works with the help of an infrared heater, in a static position the grill itself is invisible, because it moves into the tabletop below.
Smart modular storage
Modular storage using boxes and delimiters greatly simplifies the organization of small items in boxes.
Extendable (from the countertop) oven
Surprisingly, the oven can also be retractable. The advantage of such an oven is primarily an aesthetic pleasure, because in a glass box with designer lighting you see how your gourmet dishes are prepared.
Buffet area behind the sink
A buffet zone of this type is used for dishes, most often for washed in a sink. But there are also compartments for jars of liquid soap, sponges, sometimes even charging gadgets from the side, etc. An additional 7 cm of space in this area makes the kitchen much more ergonomic.
Cutting board with scales
Such cutting boards are overhead, unlike other built-in units, which we consider in this article. Nevertheless, they have a special highlight – built-in scales that allow you to cook strictly according to recipes.
Household box for cleaning products
Such a box usually includes a bin for trash, cleaning products, cleaning accessories, and sometimes even a removable bucket for water. Here you can also store garbage bags, a stock of sponges for washing dishes and a full arsenal of brushes.
Extra sink for fruits and vegetables
An extra sink in the kitchen where you can wash vegetables and fruits is always a good idea!
Integrated Gas Hob
Gas hobs can also be much more modern in appearance than we used to think. It's not necessary to give up gas that is very convenient for cooking in order to get the futuristic look of the kitchen!
Built-in refrigerators
Built-in refrigerators of various formats (in high modules, separate cabinets, under the countertop) are now at the peak of fashion.
Sinks with cutting modules
Convenient sinks with integrated modules for cutting allow you to make the look of your countertops much more concise, even during active use.
Buffet areas with light under the countertop
Who said that buffet areas can only be in the upper lockers?
Built-in: microwave, oven and coffee machine
A modern trio of a microwave, an oven and an espresso machine can be located in one high module.
Extendable tables under the countertop
Convenient for a laptop, children's creativity near the side of my mother or as an additional surface of the countertop.
Compartments for bakery products
Such compartments can be in any module: side, on the island, in the countertop, in a high cabinet.
Multifunction kitchen backsplashes
One of the most promising trends is multifunctional aprons with shelves, rails, sockets, switches (including a place for charging gadgets, a switch for lighting, a grinder for kitchen waste and other interesting and useful elements).
Refrigerators with screens
Smart refrigerators control the supply of water, milk and juice, can show the weather. Through the screen, you can have access to the entire "smart home" system and even more – you can order food in a supermarket or in a cafe through a regular browser.
Double height island
Multilevel islands, which in fact are already considered the main modules of the kitchen, can be very convenient in open-plan projects.
Bionic design and flowing shapes
Flowing forms, furniture made of modern artificial materials (composites), bionic design, unusual details are what awaits us in the design of kitchens of the future.
Silent drawers instead of lockers
Drawers are gaining more and more space from lockers due to a completely silent operation, smooth closing and an incredible variety of internal organizers.
Professional designers will help you to keep up with the times, create new trends, and correctly integrate modern gadgets into the kitchen.